Marketing automation entails conducting research, creating leads, digital advertising, sales lead creation, website maintenance, customer service, plus many other things without extensive human intervention. Enterprises can automate the entire process to make operations easier and more efficient with ever-expanding industry digitization and increased mobile device adoption. The acceptance of IoT devices, availability of marketing automation platforms, data analytics solutions, business automation and detailed consumer insights will drive market expansion in future.
What is marketing automation?
Marketing automation enables enterprises to build more successful campaigns and lead-nurturing activities by utilizing the consumer and operational data it collects at various touchpoints. It enables organizations to make smarter decisions to capitalize platforms, including email, social networks, websites and more.
According to Gartner, "Marketing automation is software that assists marketers with customer segmentation, customer data management and campaign management. It provides marketers with the ability to offer real-time, targeted, data-driven campaigns along with enhanced efficiency and productivity."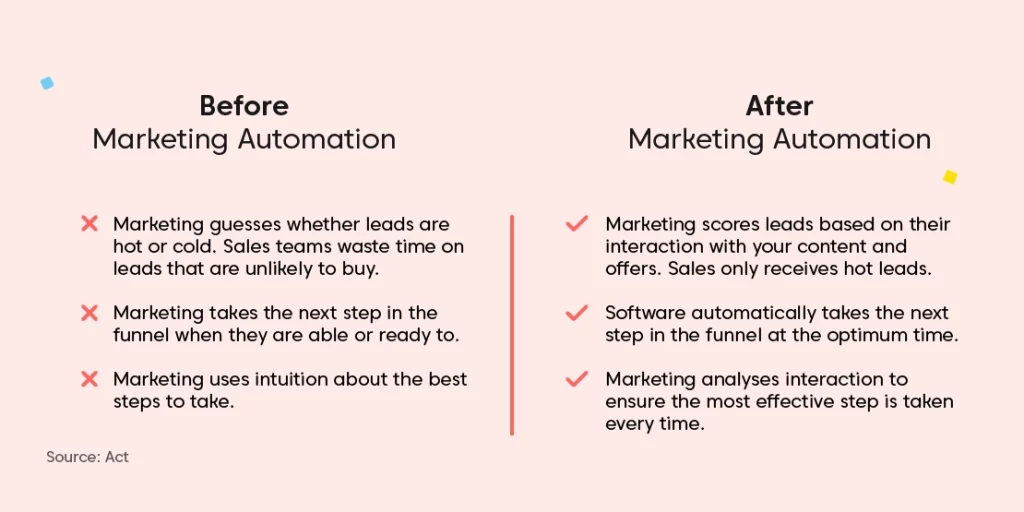 Advantages of marketing automation
Creating an efficient marketing workflow eliminates the need to do repetitive tasks. Organizations need marketing automation tools to collect the data, send messages and discover insights on many parameters.
Marketing automation allows businesses to cut monotonous tasks and mundane routines to focus on core strategies. With the right marketing automation platform, enterprises will be able to determine the channels through which their leads are coming.
1. Improves lead generation
Lead generation is a significant factor in the growth of any organization. By automating several steps between marketing and sales, the enterprise will have more time to focus on strategy or engage leads with real potential. This can translate to incremental prospects and paying customers.
Marketing automation can also provide a more complete and detailed view of possible consumer behavior. Marketing automation software can help the marketing team understand prospects' interests, their purchasing life cycle by using behavioral monitoring methods such as following a user's trip across the website and social media platforms.
2. Supports data-backed informed decision making
Marketing automation platforms offer a comprehensive solution for monitoring operations and anticipating customer behavior on a small business budget. They provide a unified platform for dashboarding, analytics, closed-loop reporting, data collection and storage. One of the many advantages of using marketing automation software is the opportunity and ability to create a comprehensive profile of prospects.
3. Boosts customer lifetime value
Marketing automation can help you boost clients' lifetime value. This implies encouraging existing clients to spend more money on your product. The retention and loyalty program is one of the greatest marketing automation systems for such situations. Organizations can use marketing tools to implement such initiatives.
4. Raises the average order value
CRM and marketing automation software also assist organizations in increasing their average order value. Organizations can upsell or cross-sell products they market across channels to attract and convert clients with specially designed campaigns.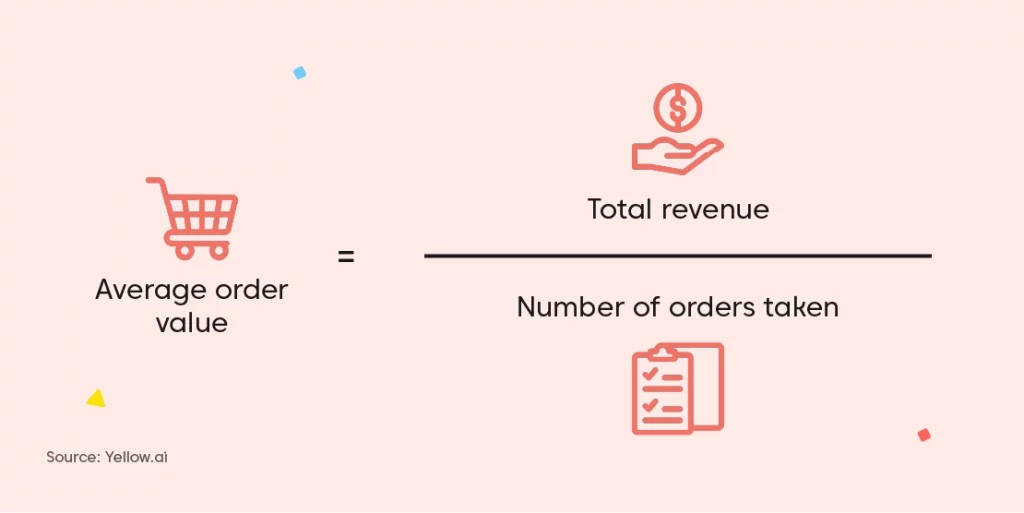 5. Reduces the time spent on ineffective campaigns
Get total visibility into what's working or what's not feasible by importing opportunity and revenue data from the customer relationship management (CRM) system. Instead of relying on gut feeling to make business decisions, make data-driven decisions regarding marketing initiatives and allocate marketing funds to ideas that will bring in the most money.
6. Increases employee productivity
With the right marketing automation technology, staff can take a break from monotonous, manual processes and focus on strategic challenges. Cutting down effort or time spent on mundane tasks makes their work easier, team more productive and work more interesting.
7. Converts a browser to a buyer
To drive a browser from the consideration stage to the buyer stage, organizations must deploy a multi-channel approach to facilitate sales funnel crossing at each touchpoint.
Keep users up to date with deals and promotions whenever they add a product to their wishlist. Alternatively, if a user adds a product to their cart but does not finish the transaction, trigger automated reminders within a few hours to get customers back.
Types of marketing automation
While marketing automation tools differ in customization, integration and personalization, similar capabilities for a range of processes do exist. Following are the top five characteristics to approach marketing automation: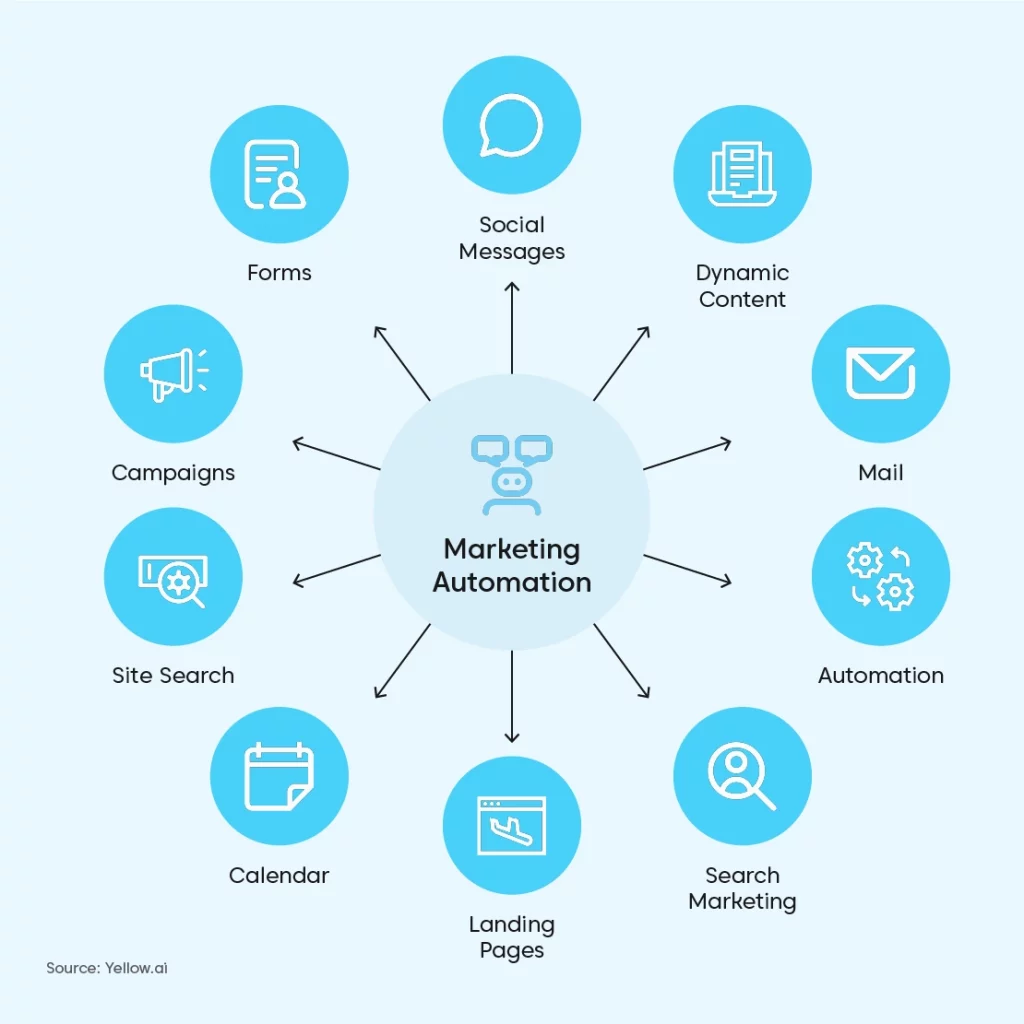 1. Email marketing automation
Email is one of the earliest forms of digital communication; it's still a quite powerful and effective way to connect with your audience. It's an appropriate starting point for the marketing automation process and it allows businesses to send targeted emails to specific groups of people.
After prospects take the bait by clicking a link, filling a form or downloading material, an in-built platform will trigger automated emails. Marketers can also utilize these marketing tools to develop, update and embed relevant-to-the-customer-journey forms on their websites for lead generation or email outreach.
2. SEO powered media and online advertising
SEO paid media and digital advertising tools built in corporate marketing automation software allow marketers to manage their paid and organic campaigns from the same centralized marketing platform as their other campaigns. Businesses may find handling these initiatives with free or standalone products suffices, but having all that data consolidated in a single interface for analytics is beneficial.
3. Social media marketing automation
Marketing automation software includes social analytics tools that display how many engagements each post received so that organizations can figure out what forms of content perform best. These capabilities allow businesses to plan their posts ahead of time and track their audiences footprint on social media. Companies can engage their audience by implementing surveys and referral programs using social marketing tools built into marketing automation software.
4. Conversational marketing automation
Conversational marketing automation enables your business to have a dialogue driven approach towards marketing. It automates gathering customer data and using it to provide relevant product suggestions to the customers and helping them complete their purchases without navigating through multiple channels.
Conversational marketing employs technology and systems to improve aspects of customer service, such as response times, efficiency, and the introduction of value-added services. It can be used at any point during the customer journey to raise engagement, increase retention, and improve the overall customer experience. 
5. Mobile marketing automation
Companies are increasingly including mobile marketing in their marketing automation tool kits as SMS marketing is powerful and effective. Text messages, just like emails, can be automated and triggered depending on time or activities; they do have a greater in addition to faster open rate.
Top 5 marketing automation strategies
Depending on the tools you employ plus the goals you specify, a marketing automation plan must be upgradable, versatile and flexible. To get meaningful results, using marketing automation technology alone isn't enough.
An upstream strategy is one in which automatic flows are part of a mechanism to offer personalized content to users. It helps cultivate and engage leads besides optimizing marketing time to track results.
Here are five great marketing automation tactics that may be used by large enterprises as well as micro-businesses.
1. Create buyer personas
This is an important step in aligning your marketing automation goals with the buyer's journey. To produce relevant information, you need to know who your ideal consumer is, learn about your buyers' demographics and where they go to find information.
Consider interviews and surveys with sales, branding and customer service data to construct and understand your buyer personas.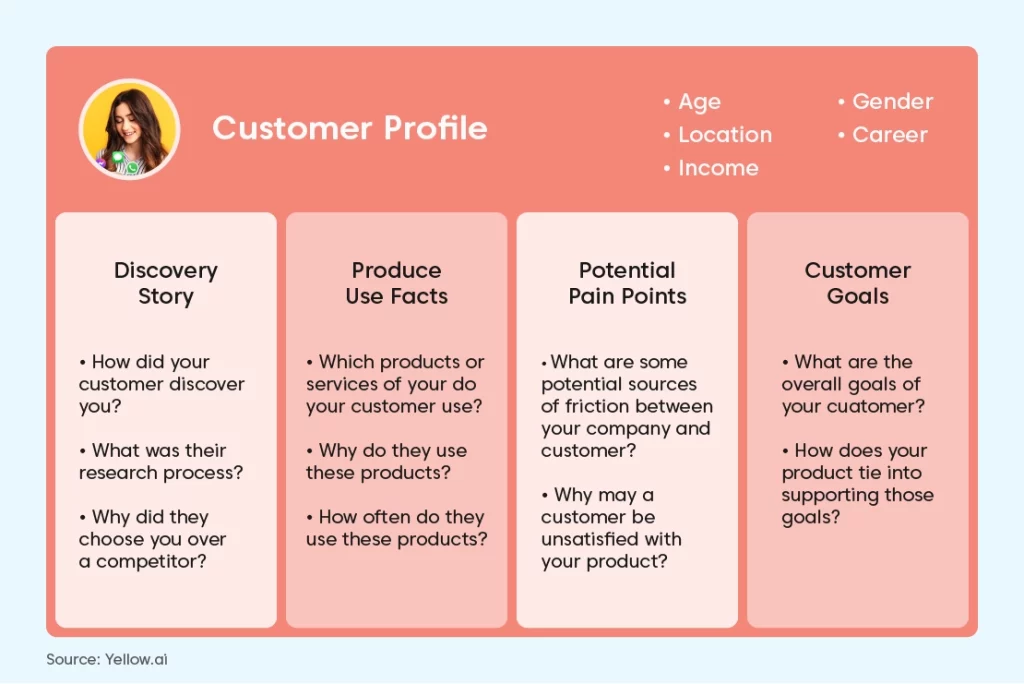 2. Understand your customer's journey
You're aware that your potential consumer will go through the buyer's journey phases of awareness, deliberation, decision and purchase. To get the most out of your marketing efforts, ensure your marketing automation goals align with each client journey stage. You should also have a firm grasp of the buyer's mindset and how they intend to contact and proceed with your company.
The ideal way to handle this is to make the following step in a potential buyer's journey as simple as possible. You should develop multiple pathways and opportunities for purchasers to engage in and advance along the journey to appeal to various buyers. With marketing automation software, you may send out emails, newsletters, and targeted text messages.
3. Send regular updates to customers
You can use marketing automation to send emails, push notifications, texts and in-app updates to your customers about new products on your shelves and notify them about special offers. To retain your existing consumers, you should always develop a post-purchase strategy using marketing automation.
4. Map your sales funnel
Mapping your company's strategy and marketing automation requires a deep understanding of your analytics.
Consider this scenario – you know how long it takes for a potential buyer to proceed to an opportunity and how long it takes for the opportunity to close. This data when fed into your marketing automation, can be used to speed up conversions.
To design an effective marketing automation plan for your company's success, you must first understand where potential customers get stuck or fail to move in the buying cycle. Understanding analytics can give you a lot of useful information.
How to get the most out of marketing automation?
Marketing automation as a system combines software and strategy. It enables enterprises to nurture prospects by providing relevant tailored information to ensure customer satisfaction and convert leads into paying clients. Organizations must nurture clients on an ongoing basis. Make customer delight the focal point of all marketing activities, rather than an afterthought at the end of the sales funnel.
Also, keep in mind that when it comes to marketing automation, the 'set it and forget it' idea will not work. You will have to constantly analyze what works and what doesn't, but creating real-time repositories of customer data can be quite challenging. Well, with Yellow.ai total engagement automation platform, gathering customer data has never been easier. Our platform also offers strategic ABM and campaign management that can improve your conversions and sales revenue with intent-triggered conversations. 
Connect with our experts to know more about how our voice and text virtual assistants can power your account-based marketing (ABM) and campaigns to achieve greater heights.