In conversation with Tejes Sreekant, Sr. Director, Global SI and Strategic Alliances, Yellow.ai

As businesses when we think of chatbots, we usually consider their role in a customer-facing scenario like targeting, engaging and retaining customers. How well-perceived are the business applications of these chatbots? Is the world waking up to the phenomenon of enterprise chatbots?
I agree, I think most AI platforms did start off with a point of view that they would in some manner, automate customer support. But during the pandemic organisations across the globe started asking two key questions –
How to cut down costs?
Secondly, how to improve business efficiency?
This is where Conversational AI has an important role to play by providing support to your most important stakeholder – your employees. To begin with, Conversational AI enables an organisation to provide a highly available work environment and with that I mean, employees can troubleshoot in real-time even in a remote working arrangement and get their queries resolved. This is far more efficient than the traditional methods of raising a request on a ticketing tool which are unidirectional and have a longer turnaround time.
A bot today can act as your digital assistant which can take your query in natural language, process it and offer resolution much faster, often real-time too!
This positively impacts business efficiencies, especially in enterprises and the C-level folks are certainly taking notice of this. So now we have CHROs, CIOs, and even CEOs of companies talking to us about leveraging Conversational AI to boost organizational efficiencies.
---
Statistically speaking, 69% of consumers prefer chatbots for receiving instant responses, and Gartner predicts that by 2022, 70% of white-collar workers will interact with them on a daily basis. What does this mean for businesses vis-a-vis bringing their focus back to employee experience as well?
What we are noticing essentially is that faster employee query resolution is of paramount importance globally because weekly mandated working hours are coming down. This makes it essential for employees to be more efficient in the time that they are putting into work. For example if you are working only 4 days a week, you cannot afford longer downtime with your devices or applications not working especially when you are also working remotely.
We are experiencing a significant increase in rates of adoption for Conversational AI and virtual assistants for internal-facing situations, especially employee experience in large enterprises.
For an employee today, there's limited reliance on IT dept., colleagues, etc. for quick query resolutions and digital assistants are promptly coming to their rescue, helping them self-serve and thus be more independent while working remotely.
---
Tell us about the business values that EX can deliver?
With a global pandemic shifting the working styles globally, enterprises now deem their employees as their most important stakeholders because it takes efforts on part of the company to have people working remotely from all over the world, yet remain focused on a unified goal. Talking from a service desk automation background, the goal is always to drive the Shift Left strategy which basically means that you automate most of the issues of a working environment in a self-serve manner without external dependencies. The importance of the Shift Left strategy is now being reaffirmed due to the pandemic-induced alternative working arrangements globally.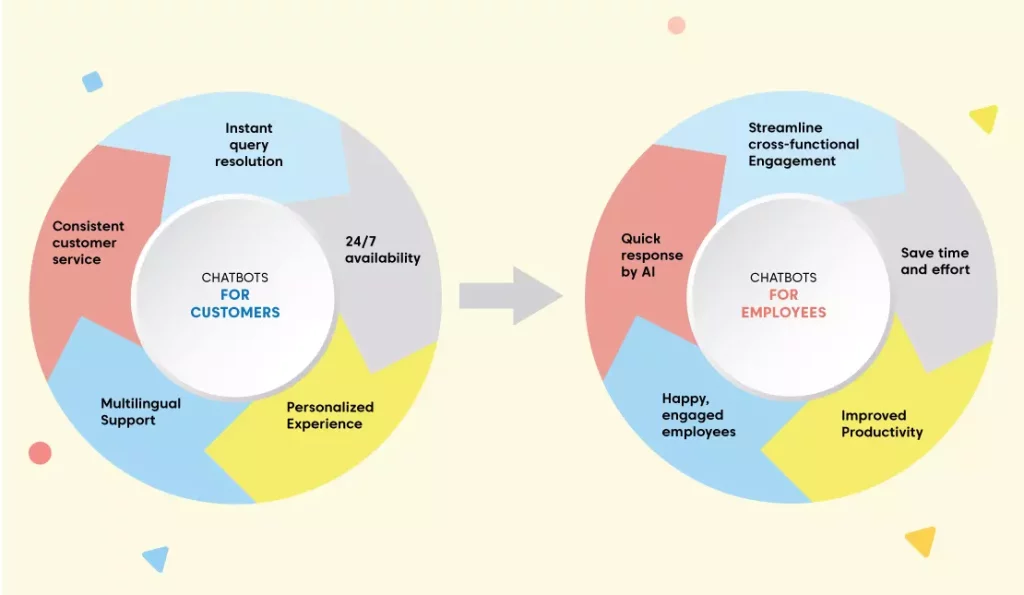 For example, we have recently worked with one of the top six pharma companies globally. They are very well funded, have the most efficient service engineers, and best ticketing tools at their disposal; simply put they have everything in place. Yet their employees were facing challenges in terms of getting their issues resolved on an immediate basis and that was affecting their efficiency. That's where we introduced an employee-facing bot for them and in the first 6-months of deployment, there were 50,800 messages exchanged, upto 60,000 tickets resolved and the employees rated a whopping score of 4.5 out of 5 on ESAT for the bot! That's 33% of queries resolved without any human intervention!
I am not saying a bot can solve everything, but this is a huge win and a tremendous support system for the existing HR and IT teams.
"Statistically speaking, companies with highly engaged workforces are 21 per cent more profitable than those with low engagement and also have higher employee retention."
---
Taking it ahead from the previous questions, how do you think enterprises can start tracing the line between CX and EX for driving growth?
Now coming to the aspect of quicker adoption of Conversational AI in CX; it's tied to the fact that customer support has always been the cost centre for organisations and thus also the focal point for possible cost-cutting. Thus, the rapid adoption of Conversational AI in CX in the first phase. However, in no time the organisations realise the need to focus on their employees as well to ensure that they perform during the testing times of a global pandemic. Another aspect of this was, that the pandemic posed a lot more challenges and concerns to the employees in terms of what the new work order would be like, when and whether they should come to the office, is the company extended any additional support in case of illness etc. etc. Thus, it became imperative for the organisations to provide a supportive working environment for their employees so they can continue to work efficiently for them. "So in my opinion, the lines between CX and EX are blurred now; it's just different stakeholders looking at them respectively."
---
What are some of the internal-facing bots that've been adopted well by the respective sectors/ industries that they are created for?
We at Yellow.ai started off with the HR virtual assistants and that in itself is a huge playing field in terms of the automating opportunities within that ecosystem. Also, in terms of offering the employees a proactive working environment, HR bots are coming truly handy. For example, imagine you are at the end of the quarter, you need to send an important report and your Outlook doesn't respond. In such a situation our bots can come to your rescue immediately prompting you with troubleshooting steps like clearing the cache, zipping the file, etc. The other area where our virtual assistants are proving to be useful in positively impacting businesses is Vendor Management. For example – We deployed a distributor bot for one of the largest petrochemical paint companies in India that could take order related queries from distributors in the absence of a field salesperson and successfully get orders placed through Whatsapp, get invoices, and check inventory and more. Hence, they not just increased their revenue by extending support to their field sales and distributors but are now exploring the upsell functionality as well through the bot by doing a product launch, sharing catalogues, announcing special offers etc.
---
Tell us about a significant internal-facing bot that uses yellow.ai as a platform?
Sure! An internal-facing bot which became a huge hit for us is the Sales bot. If you would know this, sales guys truly detest logging into Salesforce to log-in to meeting details, upcoming appointments etc. Now, our sales bot can not just fetch routine details about how a certain meeting went, a list of meetings for the day/ week etc, it can also give them their performance report for their pipeline compared to the last quarter, can keep the sales head informed about strong or weak performing regions and much more. All this information logged into Salesforce can be extracted by the bot and presented via Whatsapp. That's Conversational AI right there, making lives simpler!
What we felt is that Salesforce is the best application we have today for sales but because of its complex nature of navigation, we are only using it to about 30% of its potential. Now with a bot sitting on top of it, it makes the application more available to its users. So to round it up, I would state Marc Benioff that, if we don't make applications conversational, they are bound to perish.That's also a major reason why Salesforce invested in us. That's what I would call a leader's vision!
---
How can chatbots help in cross-functional employee engagement? What are the benefits of the same?
Yes, now that we are all working remotely, the need for ensuring cross-functional engagement is more than ever. We have put together so many tools for automating processes like the ERP solutions, the CRM, the HRMS etc. but all these systems are working in silos and they don't collaborate with each other to ensure proactive performance.
Let us understand this through a simple example – If marketing needs to run an event, it needs to place orders for giveaways, and invites, arrange gifts for guests etc. The process to identify onboarded vendors, getting quotes, and checking back with the procurement team is often disjointed and requires a lot of back and forth. This is where the digital assistant can act as a bridge by integrating directly with the vendor management system and pulling out the list of vendors, prices for products and possible delivery timelines in a matter of minutes. Then all you are left to do is put together a budget for the event and pitch it to your management, saving hours or even days of your time.
Companies can also choose to deploy a chatbot on all of their internal communication channels like messenger apps to make cross-functional communication seamless for their employees. Thus, I would say today Conversational AI can act as a communication middleware within an ecosystemand can help beat the silos of multiple processes by seamlessly integrating into them.