The launch of YellowG, the industry's first generative AI-powered conversational automation platform for enterprises, was a significant achievement in the field of conversational AI. It marked a new standard for automation, delivering highly accurate and human-like interactions.
But for some of the more complex use cases customers still prefer talking to a human agent. In order to truly transform customer experiences, YellowG goes beyond enabling autonomous conversations with Dynamic AI agents. In this blog, we'll learn how the platform's Inbox module leverages Generative AI to help support agents provide fast, effective and world-class customer support.
Challenges faced by contact centers
Optimizing support operations – Contact centers need to resolve higher volume of customer queries, quickly and effectively without increasing additional costs of hiring and onboarding
Providing personalized resolutions – Customers expect agents to have access to information pertinent to their query for example, past transactions, previous tickets, etc. to have a more contextual resolution.
Performance tracking – Need to monitor agent performance and productivity with real-time insights, analytics and more to constantly improve customer experience
Revolutionizing contact center operations with Inbox
Leveraging Generative AI, Inbox – Yellow.ai's omni-channel customer support help desk empowers your agents to deliver personalized and accurate resolutions, unlocking their potential to consistently enhance their performance and productivity. Built on multi-LLM architecture, here are the many ways Inbox leverages Generative AI:
Response suggestions – AI-powered canned response suggestions to agents so they can provide quicker responses and handle more queries effectively. Using canned suggestions also ensures faster onboarding of agents and consistent customer interactions.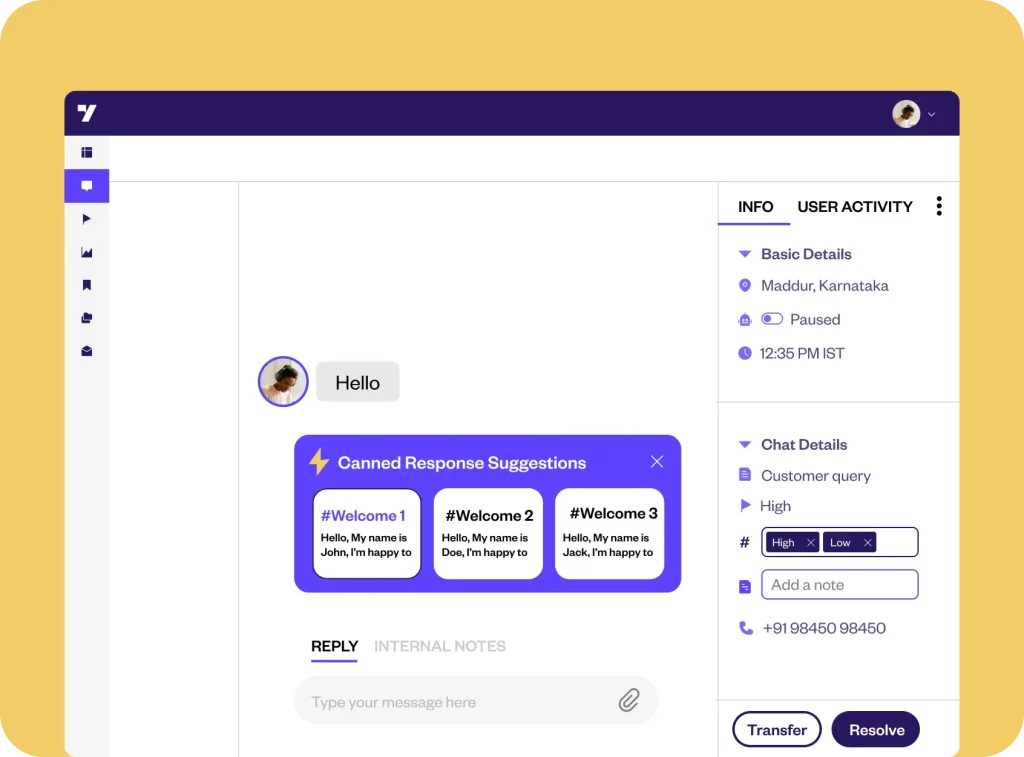 Coaching insights – Inbox continuously improves agent performance leveraging Generative AI to provide coaching insights based on past customer interactions, provide areas of improvement, and point to relevant articles and FAQs to improve quality of conversations.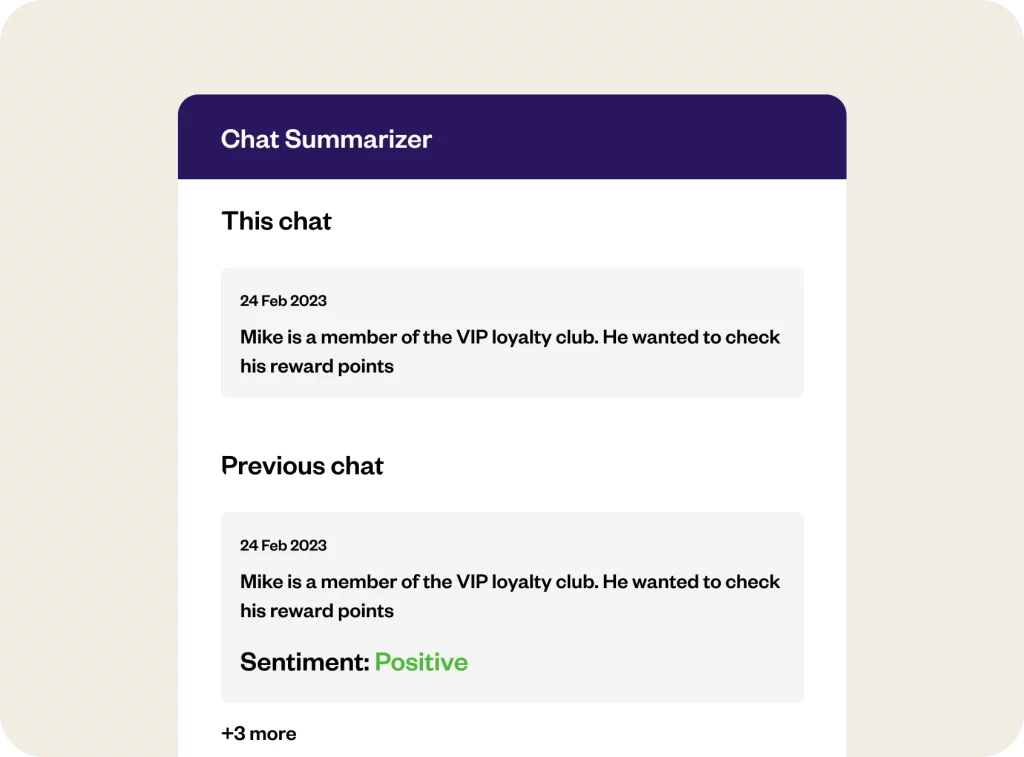 Chat summarizer – Improve agent productivity by leveraging Generative AI powered Inbox to summarize customer conversations. Now agents can go through summaries of past interactions to get a quick chat history instead of having to go through individual conversations to provide contextual customer support. Supervisors can also leverage this feature to get a summary of customer interactions.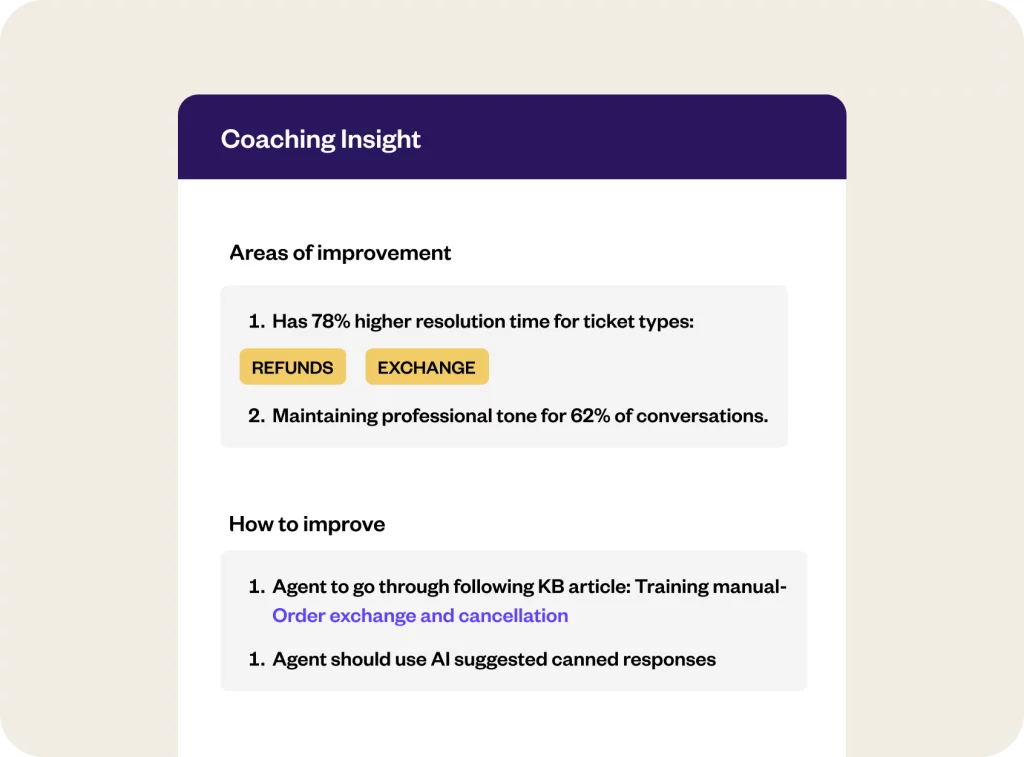 Key business value delivered
Contact center productivity
Agents are empowered with AI-enabled summarizations, response and tone suggestions for quick resolutions.
Workflow automation on business critical apps like, CRM, order management, etc. so that agents can focus on speaking to customers.
Inbox provides a self-serve knowledge base for customers with search functionality and easy categorization for quick access. This ensures that simple tasks are resolved by customers and only complex tasks reach support agents.
Agent performance
Measure and improve agent performance with custom dashboards, analytics widgets and reports
Inbox provides Generative AI-powered coaching insights & recommendations on agent conversations and conversation summarizer for performance review.
Automate quality audits with the help of Inbox's generative AI capabilities.
Overall efficiency
Cuts operational costs by upto 60% with Inbox facilitating faster onboarding and cutting agent training costs with canned suggestions and conversation insights
Boosts agent productivity by upto 30% by deflecting repetitive queries and reducing query resolution time