ABOUT SAYURBOX:
Sayurbox is a farm-to-fork, mobile-first e-commerce platform for purchasing fresh produce that is cherry-picked, and delivered directly from farms to consumers (B2C) and restaurants (B2B). They function in Banten, West Java, and Jakarta.
The deficient accessibility to the markets for farmers and the need for fresh, organic food by people gave birth to Sayurbox, which has since 2016 successfully bridged the gap between demand and supply without having to go through supply networks.
It has saved copious time and accredited farmers to earn their rightful wages. Consumers were quick to jump on to the farm to fork gumption. Customers particularly appreciate the box of groceries brought to them for their personal touch, rapid delivery, and health benefits.
Highlights of the Agricultural sector in Indonesia
Small family farms (93%) largely dominate the agricultural sector in Indonesia. They grow a bulk of staple crops including rice, corn, and cassava.
While in the last two decades, Indonesia's economy flourished and poverty has cut down to half, the small family farms contributing a whopping 47% to Indonesia's GDP still witness restricted access to credit schemes and technical help. Only 17% of small family farmers are beneficiaries.
A large portion of credit used for food and agricultural requirements/inputs limits smallholders from re-investing in credit.
Ergo, growing a fresh batch of produce takes a hit as farmers risk running short of farming essentials due to inadequacies of budget.
The entire demand and supply face a delay further on as farmers don't have access to the markets.
Indonesia is a growing digital economy amongst the connected populace, however, Internet penetration is low. Farmers being distant from cities rely on suppliers which is an extensive process.
Sayurbox has successfully brought the farmers, consumers, and restaurants closer, thus allowing peasants to yield better from the crops and investing in facilities needed to keep the cycle of crops growing.
Business Challenge:
The client serves an altruistic purpose of dis-entwining the demand and supply chain for a vast population and faced umpteen customer support queries with long wait time and limited agent help.
Solution:
Yellow.ai is helping the Agro-startup Sayurbox provide exceptional customer experience by combating innumerable customer queries and engaging consumers with our AI-powered virtual assistants, deployed on the single most popular mobile messaging app, WhatsApp, besides assisting users on their website.
Implementation:
The digital assistant answers customer queries and helps with placing, tracking, and confirming an order followed by COD payment through the API provided by SayurBox.
Customer grievances are captured, categorized, and routed to a live agent.
Provision for agents to tag the grievances as tickets, transfer them, and close the tickets by effective resolution.
Easy management of items, SKU discovery, and exploration of individual items plus combo packages.
Secure and robust payments by capturing and passing user inputs to the API.
Pull order status through the API provided by SayurBox for the customers.
A support web app for the agents that provides an array of tools and metrics to catalyze their deliverables.
Results:
END-TO-END SOLUTION: Previously, with the traditional ticketing system, the entire customer experience was still people dependent. The tickets didn't show a considerable decline, and the resolutions weren't concrete. A ticket was simply routed, not resolved. Our deployed solution has reduced the inflow of customer support queries and the number of tickets. The average handling time of a query resolution is also reduced drastically. Agents can utilize their time for critical tasks. The agents need not supervise the entire flow.
SKU MANAGEMENT: Items are organized efficiently for ease of access and exploration. The management of products has made it faster and easier for employees to pull records.
ACCURATE AND SATISFACTORY RESOLUTION: A support desk runs on a reactive basis wherein the query is simply routed. The Sayurbox virtual assistant searches multiple systems to find the best match for the query. The accuracy of this system querying increases with conversations. The more people converse with the chatbot, the better and more precise will be the resolution.
IMPROVED CUSTOMER EXPERIENCE: With the help of a virtual assistant that harnesses the potential of natural language processing and machine learning, query resolution keeps improving with time. This reduces the number of tickets and mostly grievances and complaints. Sayurbox has managed to get remarkable results in just a month of deploying the solution. The CSAT has risen by about 45%
REDUCED COST. INCREASED REVENUE: The traditional ticketing system didn't solve the problem of cutting down query handling time. It also required more agents for ticket management. However, with the chatbot, revenues increased and the need for more agents was eradicated.
SUPPORT ON THE GO: Sayurbox functions at full capacity amongst just 200 employees. Many employees take on multiple roles and sometimes it means assisting customers while they're not on-premise. Our support dashboard web app is also available on mobile. Now agents can cater to customer requirements anytime, anywhere using the mobile app that can be downloaded via play store.
OMNICHANNEL PRESENCE: Customers can interact with the virtual assistant on WhatsApp and Web.
Enhanced Customer Service and Engagement:
Sayurbox is providing remarkable customer service that has ensured greater retention and loyal customers.
Decreased Cart Abandonment:
Conversational AI has catered to the buying decision. The purchasing process is simpler ensuring customers can fulfill their orders.
Up-selling and Cross-Selling:
The virtual assistant analyses all conversations to predict the right time to upsell and cross-sell to each customer.
Drive Conversions Faster:
With pre-defined templates, the deployment of new campaigns and promotions can take up to only a day generating valuable leads.
Order Placement, Modifications, and Tracking:
With WhatsApp's new Interactive template, the purchasing process is simplified and requires little agent assistance.
Agent Assist Dashboard:
Agent assist dashboard for customer support enabled agents to push the efficacy of their strategy.
Ticket Analytics and Reporting: Our support dashboard gives key analytics to better their service. It includes average ticket handling time, online visitors, active and resolved tickets, assigned tickets, agent availability, ticket CSAT and more. One can search tickets by using contact number, ticket number, name, and email filter them by date, status, source, tags, and agent as well as download the reports for a specific duration.
Monitoring and Customization: Viewing and editing agent profile as well as monitoring all the conversations on one dashboard improved the agent productivity at Sayurbox. They can customize the ticket timeout settings, add tags, and canned responses (predefined answers to common questions) in a jiffy. Contrary to ticketing systems that required many integrated tools and platforms, here every conversation and grievance is captured and recorded on one dashboard.
Monitoring and Customization Dashboard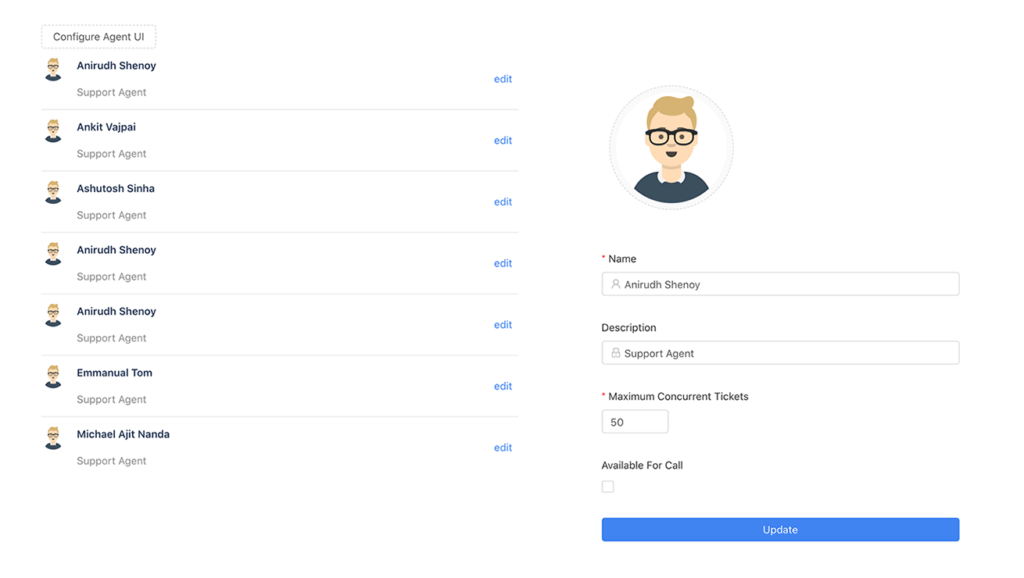 Access Control: The support admin is able to administer the levels of accessibility of each feature on the dashboard.