Modern workplaces function on multiple devices, tools, and software. It demands a competent management structure that seamlessly integrates tools and IT processes. This is where IT Service Management (ITSM) comes into the picture. At its core, ITSM focuses on delivering IT as a service and managing its end-to-end delivery to end-users.
This guide explores the concept of ITSM and how it can help us make the most of IT resources.
Deflect upto 80% of IT tickets to AI-powered virtual assistants and boost ITSM process efficiency.
Get started
What is ITSM?
ITSM is a set of processes, frameworks and policies that help deliver effective IT services and products. ITSM involves designing, developing, delivering, maintaining and managing the lifecycle of IT services.
IT Service Management deals with delivering, securing and maintaining all digital services we interact with regularly. The ITSM process assists business operations and other day-to-day processes, making IT Service Management a key to ensuring good IT practices for organizational use. ITSM is also essential for aligning business objectives with the available IT resources.
This robust management infrastructure helps improve existing IT products while supporting customers or end-users. The ITSM process essentially promotes customer-centric IT management.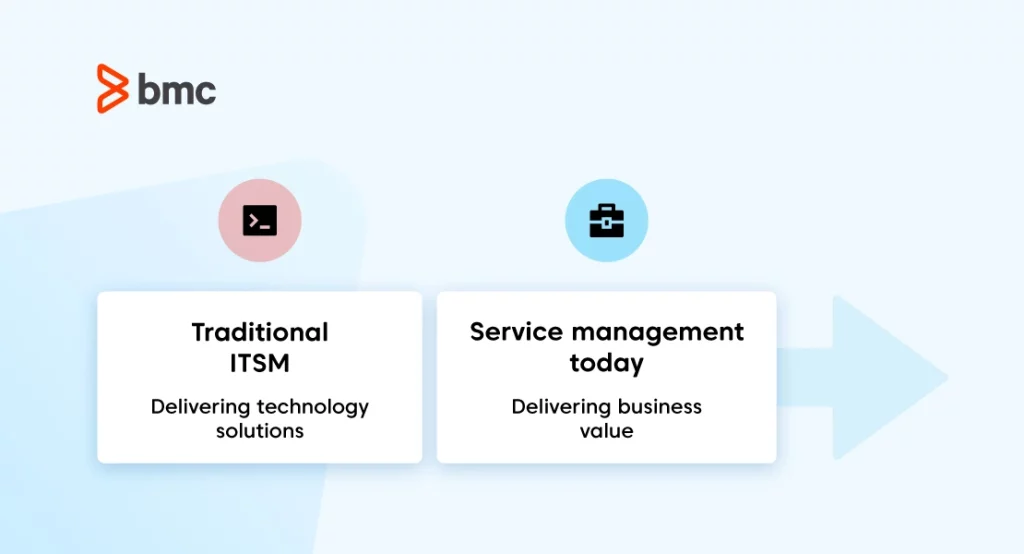 Let us take an example where a few team members have lost their passwords or cannot access their designated computer systems. In this situation, it would be up to the IT team to resolve this issue and take care of the disruption. ITSM tools and frameworks help resolve such issues faster and more effectively.
ITSM plays a significant role in business for several reasons. ITSM promotes the regularization of business processes and makes them easy to manage and compliant with regulatory standards.
ITSM facilitates documentation and monitoring of all services in daily enterprise use, further streamlining their security and maintenance operations.
Companies can also collect and analyze data generated from IT workflows (such as end-user interaction with a device). The insights gathered via data analysis will enable them to improve their services and make data-driven decisions.
More than anything, ITSM helps reduce costs. Companies can save a lot on repair and maintenance costs with the help of a solid ITSM framework. Damages and IT service disruption can also cost companies thousands (if not millions) within a short span.
Finally, ITSM allows companies to make the most of IT services, increasing overall productivity and allowing employees to use IT services more effectively.
What are the challenges of ITSM?
There are a few critical challenges of the ITSM process. However, ITSM process automation and ITSM good practices can effectively tackle most of these hurdles.
1. Adaptability
Adapting to different business requirements is one of the main challenges of ITSM.
2. Regulatory standards
Adhering to regulatory standards can become tricky at times.
3. Security Threats
Security threats and other risk factors can compromise ITSM processes.
4. Coordination
Coordination between team members and developers can be hard sometimes.
5. Framework compatibility
Some frameworks are not compatible with each other, thus creating problems.
6. Service disruption
Downtime or service disruptions can cause massive challenges for ITSM processes.
How many processes are in ITSM?
Many processes are a part of essential ITSM phases. Some are a vital part of a specific ITSM process framework, while some are essential for any ITSM process implementation.
1. Service strategy
This process helps assess end-user needs and determine the IT services involved with the business.
2. Strategy management
Strategy management helps evaluate and finalize the best strategy to use based on providers (vendors) and the capacity of these providers.
3. Financial management
This process involves aligning business goals with resources and investments.
4. Service portfolio management
Service portfolio management deals with accounting, budgeting and planning for predicted costs.
5. Demand management
This process ensures that services and vendors associated with these services have the necessary capacity to meet demands.
6. Service design
Service design helps develop new strategies, improvements and service offerings based on end-user requirements.
7. Design coordination
This process deals with the design of IT services and new design modifications.
8. Service catalog management
Service catalog management is crucial for providing service details and service status and checking interdependencies.
9. Service level management
This process is instrumental in negotiating service-level agreements.
10. Capacity management
Capacity management helps ensure the timely delivery of the agreed service level targets cost-efficiently.
11. Availability management
It evaluates IT structures, tools and procedures based on agreed availability targets.
12. IT service continuity management
This process ensures the supply of the minimum agreed-on service levels from IT service providers. IT Service Continuity Management considers disasters and accidents to reduce their adverse effects on services.
13. Information security management
Information Security Management helps secure company data's confidentiality, accessibility and integrity. It safeguards sensitive organizational information from IT services.
14. Supplier management
It ensures that suppliers meet their service commitments and business requirements.
15. Service transition
Service transition helps align the development and deployment of IT services.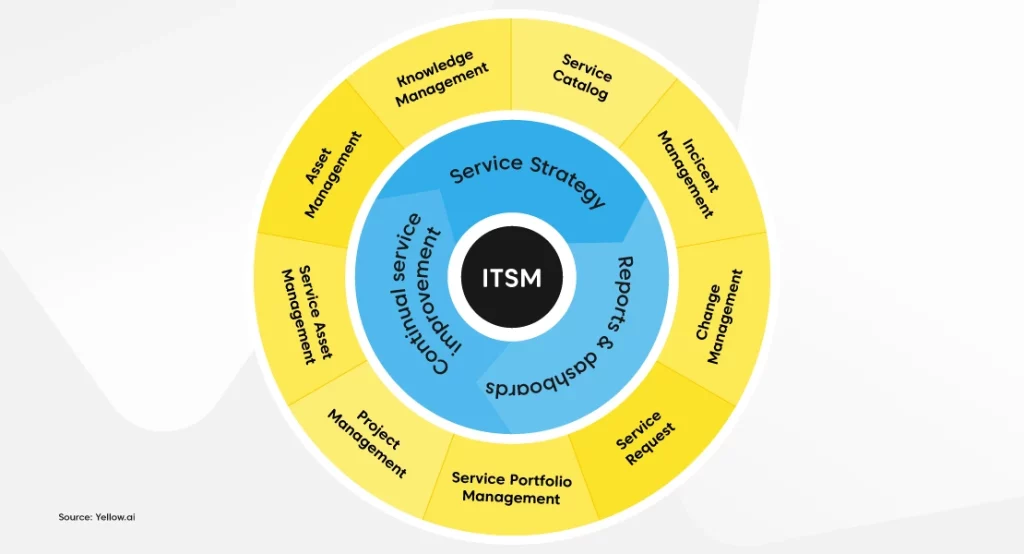 16. Transition planning and support
This process helps plan and deploy major releases or versions (software builds or service upgrades) according to the timeline and budget.
17. Change management
Change Management assists in implementing only the most essential changes that would cause the least disruption (or downtime) in the IT services.
18. Service asset and configuration management
This process helps manage configurations and the relationships between IT services and configuration items.
19. Release and deployment management
Release and deployment management helps protect the integrity of the target environment and this process also helps release the correct components in live environments.
20. Service validation and testing
It aids in the verification of deployed builds in live environments. Service validation and testing also evaluate whether the resulting services satisfy customer requirements and if IT operations can support them.
21. Evaluation
The evaluation process analyzes the major changes and builds before they can progress into the next phase.
22. Knowledge management
It involves gathering, analyzing, storing and sharing information or knowledge inside an organization to promote efficiency and productivity.
23. Service operation
Service operation helps in verifying that IT services deliveries are successful. It includes verifying service failure resolutions, routine operational tasks and the actions taken based on user requests.
24. Event management
Event management ensures that services and associated events are monitored, filtered and classified.
25. Incident management
Incident management helps in managing incidents and their life cycles. This process also ensures that IT services are returned as soon as possible.
26. Request fulfillment
It deals with fulfilling service requests.
27. Access management
Access management ensures that only authorized users can use a service while any non-authorized personnel does not gain access.
28. Problem management
It involves analyzing incidents and disruptions to identify patterns or trends that may help resolve problems faster and more efficiently.
29. Continual service improvement
Continual service improvement (CIS) helps in different ITSM phases and any ITSM implementation can benefit from this process. CIS is a lot like quality management and it helps improve service quality through learning from failures and successes.
Benefits of ITSM Process
ITSM brings many advantages to organizations. ITSM Implementation allows businesses to better cater to the needs of their end-users.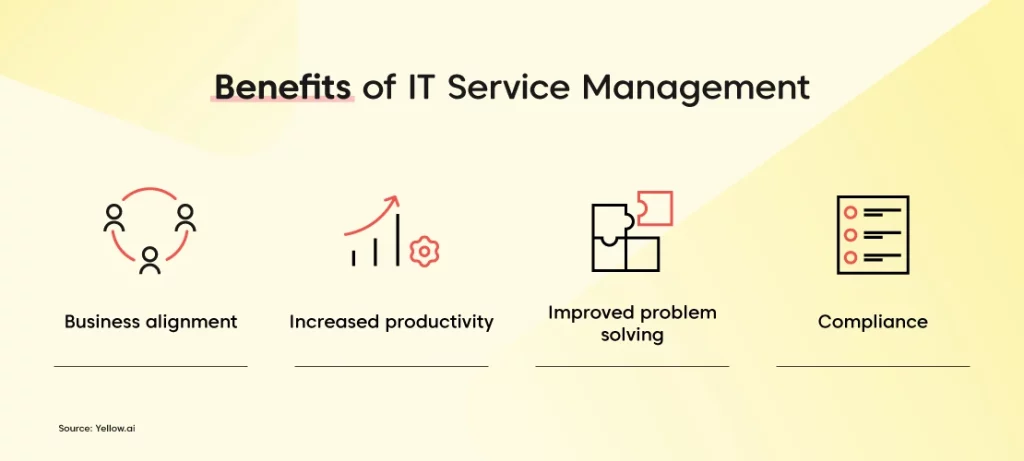 Let us find out about the benefits it brings to businesses and employees.
1. Business benefits
ITSM allows businesses to adapt to new technology quickly.
There is also more research and innovation due to the increased adaptability.
Companies can save money through better service management and increased efficiency of IT services.
Decreased IT-related problems
Companies can avoid IT problems and provide faster responses, thus, avoiding service disruption and associated costs.
With ITSM, companies can maintain regulatory standards and be compliant with industry requirements.
ITSM also allows businesses to provide better services to their customers or end-users.
Companies can create the bandwidth for handling more IT development processes without compromising quality.
Increased process efficiency
Processes become more efficient, allowing companies to save time, human resources and money.
Reliability and increased productivity
Employees are much more productive when the IT processes and services are reliable and efficient.
2. Employee benefits
Now, let us learn about the different benefits of ITSM for employees.
Employees can access IT support when required to ensure optimal utilization of IT services.
Through regular training programs, employees learn to better use available devices, services and resources for IT projects.
Employees can efficiently support customers and fulfill their on-job responsibilities. ITSM knowledge allows employees to understand the users' and business requirements better.
Effective project/team management
ITSM can structure teams to optimize productivity in the workplace through better allocation and management of responsibilities and accountability.
What is the main function of ITSM?
ITSM exists to help companies meet business objectives by using IT processes, structures and services. IT service management encompasses everything IT-related inside an organization and ensures smooth delivery of all associated services. It streamlines service requests, changes, IT asset management and incident resolutions.
By implementing ITSM best practices, businesses also benefit from the organized workflows between IT teams.
ITSM primarily offers the following functions.
Improves efficiency of IT operations
Automates process workflows
Enhances collaboration and process pipelines
Deploys IT resources in the most efficient model
Reduces disruptions and downtime
Provides insightful reports from data
Promotes transparency in IT services
Distributes roles and responsibilities effectively
Allows processes repetition in a controlled manner
Solves IT-related problems rapidly
Design, deployment, management and improvement phases are critical in the solid functioning of any ITSM process framework. ITSM process design is undoubtedly one of the most vital ITSM phases as it sets the stage for the entire ITSM process.
How to implement ITSM processes and workflows?
There are five steps for the ITSM process and workflow implementation.
Auditing – The current IT operations require auditing and identification of issues.
Educating – Stakeholders and managers should stay updated about the ITSM implementation process.
Outlining – Identifying performance benchmarks and other essential metrics and defining success factors.
Using ITSM tools – Relevant ITSM tools that automate processes can help cut costs or improve services. You can experience the power of ITSM process automation on Slack (the popular workplace messaging and project management software) with Flax, an advanced chatbot.
Feedback – Finally, services should constantly be looking for feedback for improvement.
What is the role of Dynamic AI agents in implementing a smoother ITSM process?
Dynamic AI agents such as chatbots can streamline ITSM processes and IT services. For example, an AI chatbot can help resolve simple customer service requests without involving busy technicians. An advanced ITSM chatbot can handle complex requests through natural language processing and proper training.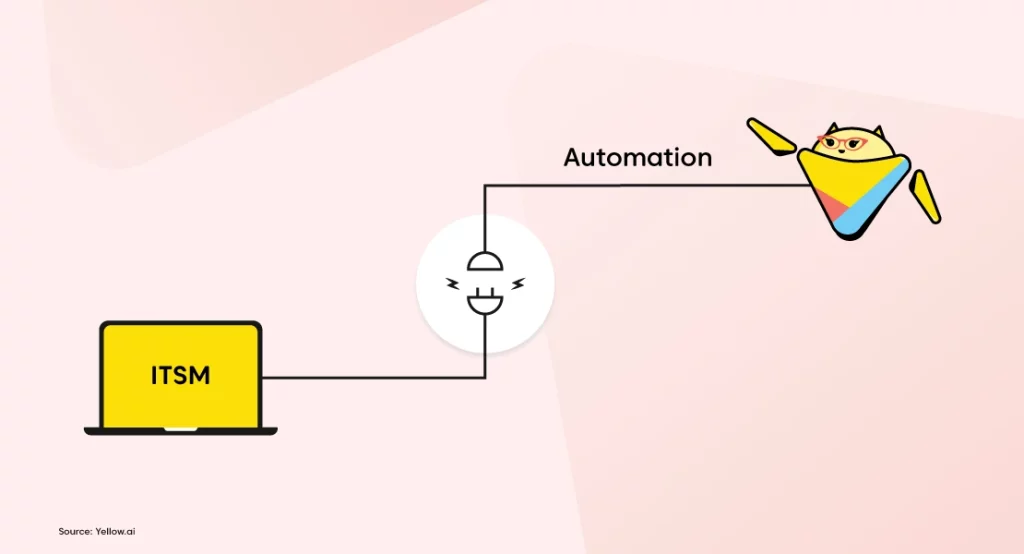 What are the popular ITSM frameworks?
Here are some of the most popular ITSM process frameworks.
TOGAF – TOGAF stands for The Open Group Architecture Framework and this framework helps in ITSM process design and setting a structural standard.
Six Sigma – This framework focuses on collecting data and analyzing it to compare it with core objectives. Six sigma helps in reducing defects and maintaining performance benchmarks.
MOF – MOF stands for Microsoft Operations Framework and this is a general service management framework. This framework offers guidance on managing services and functions running on Microsoft technologies.
COBIT – COBIT stands for Control Objectives for Information and Related Technologies. This IT governance framework declares maturity models, metrics and control objectives.
eTOM or Business Process Framework – It is designed to assist organizations and service providers in telecommunications operations.
FitSM – FitSM is a lightweight service management framework. It generally aligns with ISO/IEC 20000.
Things to consider while choosing an ITSM tool
Many organizations and IT teams face specific problems with their ITSM tools, mainly because they are not adaptive and flexible. Without the ability to customize ITSM processes, organizations cannot capitalize on the latest innovations.
Consequently, they face barriers such as data silos (data that's difficult to retrieve using automated means) and a lack of visibility across IT teams. Outdated ITSM tools are not scalable and cannot adapt to new requirements. Even if there is any scope of scalability, IT service deployment and management are generally complex with traditional ITSM tools. No doubt, it is best for organizations to adopt ITSM automation as soon as possible.
Here is the checklist you should refer to when choosing the best ITSM tool:
Is the tool easy to use and set up?
Does the tool allow collaboration?
Can the tool adapt to all the business requirements now and in the future?
Can it be integrated easily with other platforms?
Conclusion
ITSM processes help IT teams collaborate with stakeholders and the operations team to deliver the best experience to end-users and customers. ITSM process creates ample opportunities for businesses to grow, scale and make strategic, data-driven approaches. ITSM frameworks and processes help transform, scale and modify various IT-driven services.
FAQs
1. What is the purpose of ITSM?
The purpose of ITSM is to plan, deliver, manage and maintain all IT services an organization uses to cater to customer requirements.
2. What is the difference between ITSM vs. ITIL vs. DevOps?
ITSM is more focused on the end-users and is process-intensive. ITIL is similar to ITSM but more targeted to direct IT services than associated IT processes. DevOps is employee-centric and focuses on problems faced by the development or operation team.
3. What are the five stages of the service lifecycle?
The five stages of the service lifecycle are service strategy, service design, service transition, service operation and continual service improvement.
4. What is the difference between ITIL & ITSM?
ITSM process refers to the actual practices of managing IT services and operations, while ITIL is a set of standardized guidelines for ITSM.
Eliminate redundancies from IT processes and save hundreds of employee hours with ITSM automation.
Request a demo