Google My Business Services is a simple tool for businesses to manage their online presence across Google platforms such as Search and Maps. It lets you edit your business details and verify your business to help clients and potential customers discover you through Google search results.

With a free Google My Business website for your storefront or service area, you can convert individuals who find your business via Google Search and Maps into new clients.
Respond to enquiries on search or maps using an AI-powered chatbot that speeds up resolutions and build connections.
Get started
What is Google My Business?
Many businesses create a Google My Business listing to boost their prominence, known as a Business Profile.
Google My Business (GMB) is a service that lets you maintain and enhance your Google My Business Profile. Before elaborating on what Google My Business is and how it works, let's define a Business Profile.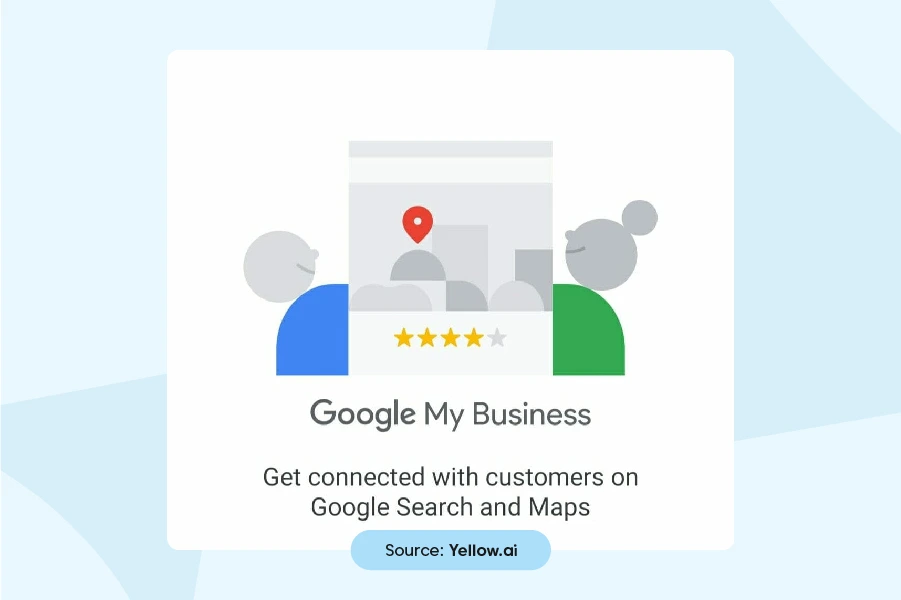 Your Google company listing is your Business Profile. Plus, Google Maps and Google Search local results include Business Profiles.
Regional company owners can use Google My Business to regulate and grow their profiles on Google Search. Optimizing your listing and page make your firm stand out in the local market.
The more space you take on the web, particularly on Google Search, the more possibilities your clients will have to view and interact with your company.
Most people begin their customer journeys on Google Search using relevant keywords, particularly when looking for local businesses to provide services. Using Google local business can help you boost your results compared to other online marketing channels and increase your profits.
Leverage Google My Business Messages for local marketing to acquire more customers
​​With greater competition, brands must do what they can to stay ahead in the race. Offering exceptional customer service is one way to set your company apart from competitors.
However, displaying your customer service email address and phone number on your website is no longer sufficient. You must be proactive in making your team available to clients and potential customers when they want assistance. One of the most effective methods to accomplish this is to use the chat feature.
Customers expect a real-time connection with the brands they do business with and more individuals prefer to communicate with businesses through online channels such as chat. If you don't satisfy their needs, they'll go on to the next company they find online.
Deliver consistent conversational experiences
Business Messages integrates Google Maps, organic search, and brand websites to provide a consistent conversational experience across all media, reaching customers where they are already on the internet.
Increase customer engagement
The Google My Business Messages Automation tool assists firms in engaging customers on their terms. Businesses can use Business Messages to provide timely and relevant interactions at scale. Real-time dialogues sync across Google's channels and keep conversations going without losing context even if participants leave and return later.
Seamless interactions with Business Messages foster trust, loyalty and recognition. When customers are happy, they will return to make purchases, inform their families and friends and leave favorable feedback about your company. The key is to make communication for customers personalized and hassle-free.
Stay available to your clients 24/7
People prefer buying from businesses that are available 24/7. Google My Business Messages equips businesses with the tools to increase sales and establish client loyalty. Rich features like carousels, tailored suggestions and product images help upsell products and boost income.
When customers demand detailed product information, connect them with a live agent. That way, you can be there to assist them every time they engage with you.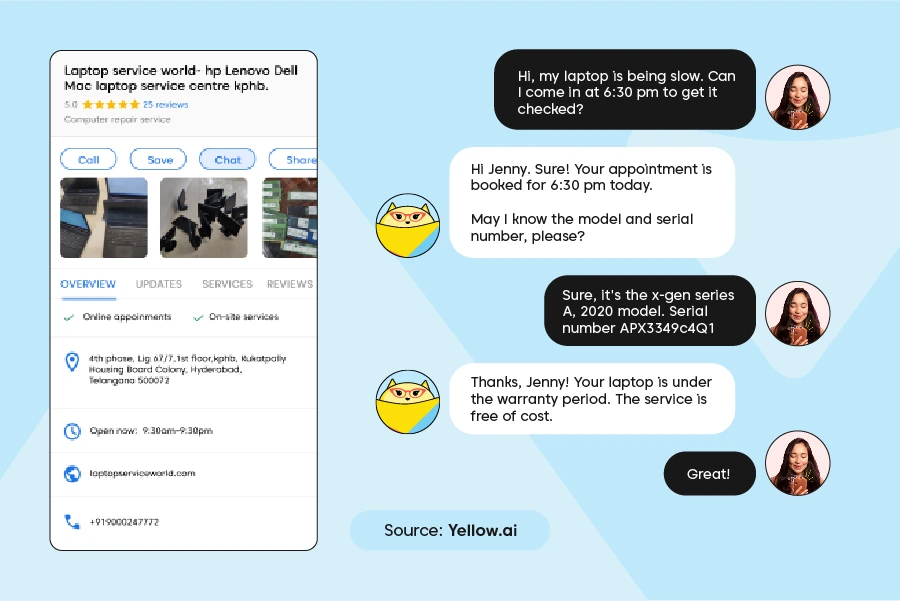 How does Google My Business help boost traffic?
The Google Local Pack controls Google search results on the first page. It lets users rapidly obtain the information they need and is the first item every Google user sees after entering any search query. Take a look at how Google My Business could be instrumental in boosting traffic.
1. Attract local clients
The Search Engine Results Page (SERP) feature lists the business locations relevant to your search. It also includes a boatload of other valuable information that would interest any potential client, such as where it is on a map, the business's phone number in case consumers have queries, make a quick reservation, know shop timings, etc. It's a valuable feature for the firm and its customers.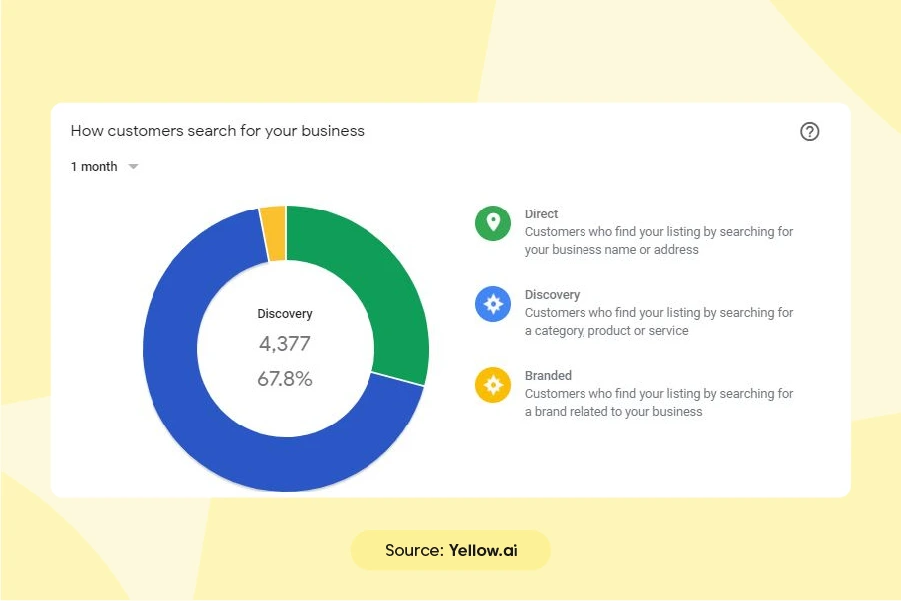 2. Keep your customers informed
Keep your customers informed about your business with an updated Google My Business listing with phone numbers, locations, websites, and social media. This helps customers quickly contact and find you if you change your location or use a different phone number, helping retain customers.
3. Optimize your business profile
Your Google My Business account might be one of your most effective SEO tools. However, simply including contact information is insufficient and you must optimize it to get the best results from Google My Business.
4. Get reviews from customers
Before buying, 90% of customers check reviews. Customers will be able to rate your business and offer comments for others to see if you have a Google My Business presence. As a result, you will get honest feedback on what you're doing well (or what you should improve) and a star rating next to your business on Google.
With time, you'll accumulate more reviews and a higher total rating. This is especially useful when trying to obtain a competitive advantage.
5. Facilitate more customer interactions
Google My Business accounts provide several chances for interaction. Potential clients can browse your website or call you with a single tap or click. The option to schedule a table or an appointment immediately from your ad is even more helpful.
6. Run campaigns to increase visibility
Running a Google Ads campaign is an excellent method to get to the top of Google, although budget can be an issue. What you can do in this case is work on your SEO. However, this strategy requires time and resources to establish your authority and position.
On the other hand, adding a business to Google provides quick and free Google advertising. Google My Business offers tailored exposure to the world's most trusted search engine at no cost. It takes less time to improve your profile than to launch a successful sponsored search campaign.
How to set up Google My Business?
Here's a guide on setting up google my business:
1) Create a Google My Business Account
Before creating a Google My Business page, first, you must register a Google Account. Google Accounts are open to the public and simple to use.
You can use an existing email address or create a new one to create your Google Account. To begin, go to accounts.google.com and click 'Create an account.'
2) Go to Google My Business
Go to https://www.google.com/business/ and click the green 'Start Now' button. You must either establish a Google account or sign in to an existing one.
Look for your company by name and address. Go to "add your business" and enter the necessary details. Log in if you already have a GMB page and edit it.
3) ​​Add your business to Google
Proceed by entering the business name to see whether there is already a profile with that name. If it does, you'll notice it appears while typing. If your business name doesn't appear, click 'Add your business to Google'.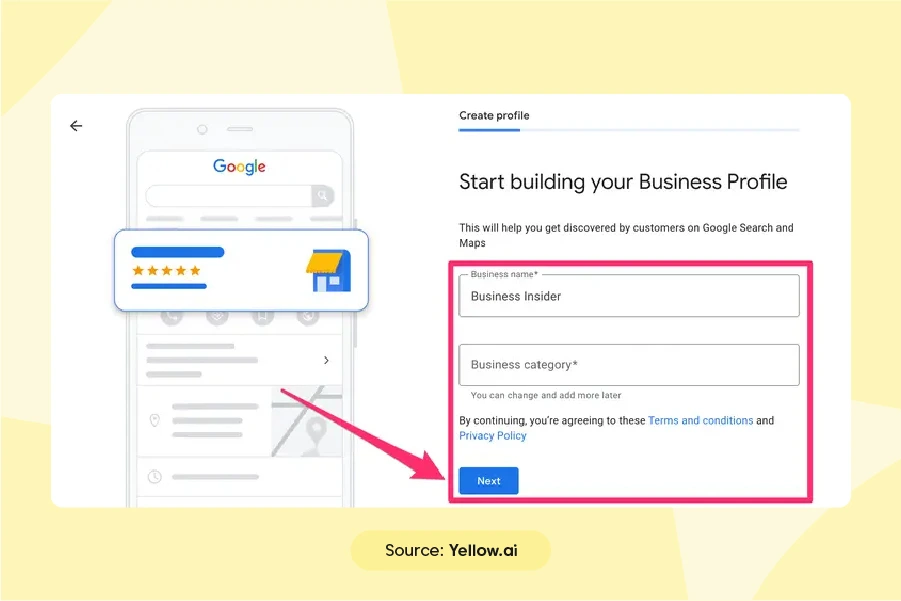 4) Include the company name and category of business
The name you use here should be identical to the actual business name. Ensure you do not include keywords in the name because this is against Google's recommendations.
Next, select the category that most closely corresponds to the company. You can update this inside your profile later and add more categories.
5) Add the physical location (if any) of your business
If the company has a physical presence where clients will be able to connect in person, you must now disclose this information. In this case, select 'Yes' and then click 'Next.' If the company only works online or has a physical presence but does not accept consumers in person, choose 'No.'
6) Enter the business address
If the company has a physical presence, you can include its address. You must place a pin on a map to validate the location.
Your address must be correct and comprehensive to avoid customer confusion or problems with the verification process.
7) Add the option of home delivery or services your business provides
If you choose 'Yes,' you must enter the locations to which the company services or delivers. You'll be able to change this information later and you'll be able to add more locations as the business grows.
8) Include contact information
The next step is to enter the company's contact information, including the phone number. You can also include the company website. If your company website doesn't exist, check the box on this page.
9) Verify the company
Next, you must select a verification method to demonstrate that the firm operates at the provided address. The most typical verification method is to mail a postcard to the company address, but you can do so via phone or email.
Use Google My Business messaging for the best customer experience
Google My Business Messages is Google's solution to the challenge of real-time customer assistance. It creates a conversation platform for your company that customers can access straight from Google Search, Google Maps, or even your channels, such as your website and Google My Business Profile.
Google My Business Messages allows your brand to be found across many channels and devices while also allowing interested parties to connect directly with your staff. The messaging feature makes your brand accessible and lets customers reach out to you to voice a concern or ask a question.
Type of Google My Business Message services
The chat features of Google My Business Profile Business Messages are modest, but they provide enough chat capability for local firms to fulfill potential clients' expectations. Google makes its Business Messages chat feature available through two channels: Google My Business Profile and Google's Business Messages API, used through partnerships with various third-party apps.
How can brands use Google My Business Messages for a better customer experience?
People will see your welcome message when clicking the Message option on your Google My Business Profile. Create a welcome message in which you thank clients for calling you and ask how you can assist them.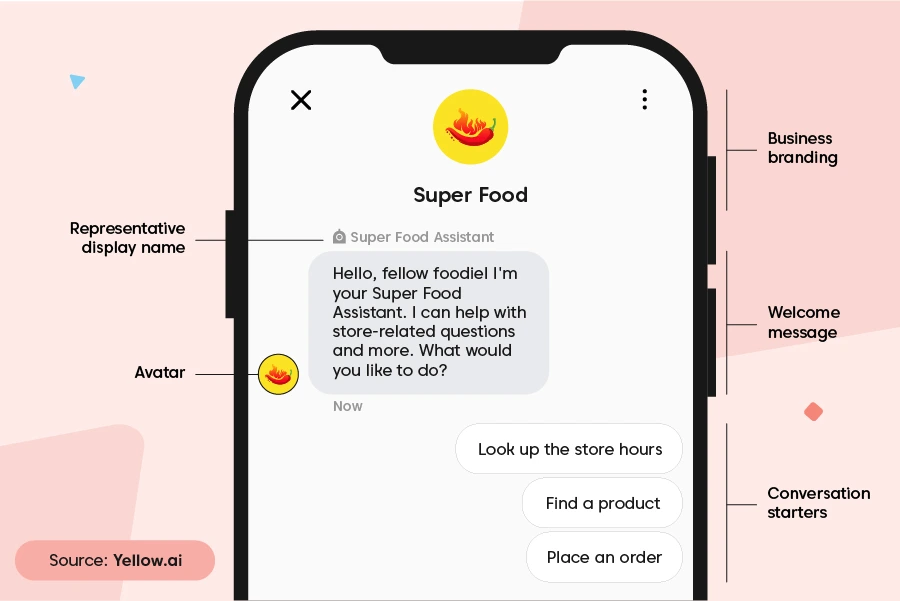 Most social media users who discuss or message a brand expect a response within 24 hours. Likewise, Google might disable chat for firms that do not react to questions within 24 hours.
Saved responses can serve as rapid replies to routine inquiries, but it's better to have service professionals tackle complex or uncommon customer care concerns.
When responding to a customer's question, be straightforward, concise and personable. During a quick Google's Business Messaging interaction, you might request or offer extra information if necessary.
Optimize your Google My Business profile
Sign in to your GMB dashboard and choose your company.
Fill out everything you can since your GMB business profile sends essential facts about your business straight to Google—and the ideal SEO approach is to offer as much information as possible.
Furthermore, the more detailed and precise your GMB profile, the more likely you will appear in local searches. Here are the components you would want to improve:
Use your genuine company name. Adding more keywords violates Google's Terms of Service and might penalize your listing.
Include a local phone number. An important indicator or ranking element is that you're an authentic local firm. If you're using a call tracking number, enter it in the primary slot.
Check that your operating hours are correct.
Create a captivating description. Make it known who you are. Don't keyword stuff this part, which is the practice of filling a page with keywords to enhance a site's rating because the description does not influence how you rank in searches.
Upload multiple high-resolution images, including images of the outside and inside of your business establishment and merchandise.
If you have videos of your business, upload them. Ensure the videos are not too long.
Benefits of Google My Business Message
Connect with customers
Google My Business Messages lets customers communicate with you through various sources, including Google Search and Google Maps. Customers don't need to visit your website. Instead, they can message you directly using Google Search or Google Maps' chat suggestion button. This is one less step in connecting and hence one less barrier to reaching you.
Give prompt and personalized responses
By lowering handling and hold times, Business Messages enables (human) agents to provide faster service. They can manage multiple asynchronous chats at the same time to deliver quick results and personalized engagement.
You can also configure conversational AI chatbots to provide automated replies to simple issues or common inquiries, allowing you to resolve issues faster while decreasing the burden on your customer care personnel. The chatbot might also offer anticipated wait times to consumers to create the correct expectations.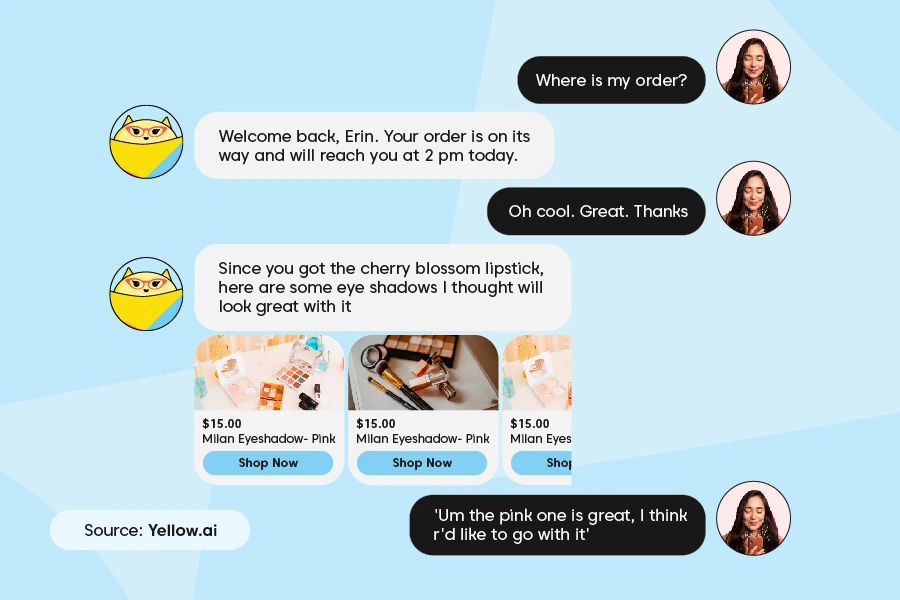 Boost conversions and revenues
Combining Google RCS corporate messaging with a revenue acceleration platform, your revenue teams can collaborate to offer exceptional, real-time digital experiences across the entire client lifecycle. The combination can aid companies in assisting clients throughout the discovery phase, hence increasing visitor-to-lead conversions. It might also help with client acquisition, renewal and growth, allowing you to increase revenue.
Provide seamless high-value service
Using the API, you can link Google My Business Messages with your existing messaging service or platform. Then you can automate communication and make communicating with consumers easier and quicker. You can also link it with other services, such as voice search and chatbots, to enhance the client's journey.
Improve your support program
As more customers opt to interact with companies via private messaging channels, you must be able to meet them where they are. Instead of forcing clients to use traditional voice or email support channels, you can instantly interact with them via messaging to resolve their difficulties. Google My Business Messages offers a way to achieve that.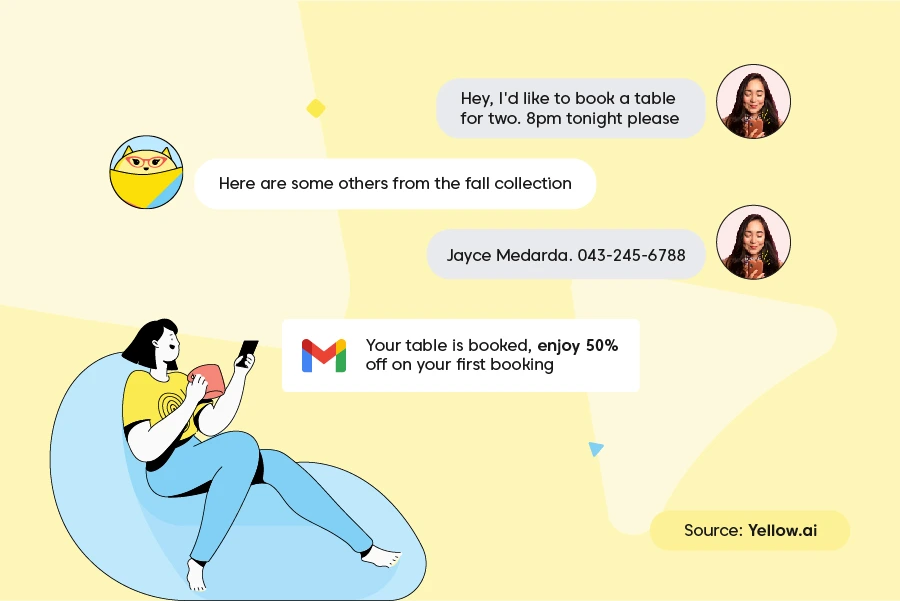 Manage your GMB Profile with Yellow.ai
It might be challenging to be available to talk with potential clients at all times and responding to multiple clients can sometimes be challenging. Yellow.ai Google My Business Messaging Chatbot helps businesses automate customer interactions and drive conversions through Google My Business Messages. Here are some ways to manage your business better with a GMB profile.
1. Assist potential clients
Using Yellow.ai, chatbots can assist you when consumers are researching items, seeking a local company, ready to buy, or need your assistance with a task in real-time. That way, you never miss any opportunity to assist a potential client.
2. Provide personalized recommendations
Our innovative Natural Language Processing ( abbreviated to 'NLP') engine plus Natural Language Understanding ( abbreviated to 'NLU') enables chatbots to give contextual replies and personalized product recommendations to customers, enticing them to return for more. From the start, our chatbots have a 95% accuracy rate.
3. Enable deeper customer engagement
A chatbot can analyze previous interactions using Photo Cards or Carousels right on chat, eliminating the need for users to switch applications and allowing for deeper engagement.
4. Collect consumer information
With our AI-powered campaign management tool, you can automate the collecting of contact information from consumers who are interested in your product and use it for retargeting customers or giving them promotion details.
Conclusion
For local firms, enabling chat through your Google My Business Profile is one of the best ways to boost online presence and increase visibility to local customers. With Google My Business, you can discover insights into how customers look for your company.
In Search and Maps, you can also find out how frequently people call your company using the phone number listed on local SERPs. Creating a Business Profile increases visibility across Google Maps and local Google search results and is a powerful SEO and lead generation tool.
Frequently Asked Questions
1. How do I start a business on Google?
Add your business to Google with Google Maps. You will have to sign in to Google Maps on your computer.
You can add your company in three ways:
Type in your address in the search bar and click Add your business in the Business Profile section on the left.

Right-click on any point on the map. Then, click Add your company.

Click Menu Menu in the upper left corner, then Add your business.
To finish signing up for your Business Profile, follow the on-screen prompts.
2. How to optimize Google My Business Profile?
You can maintain your company profile and change your information on the Google My Business Profile Manager page. These tips will help optimize your business profile:
Complete Your Profile Information.

Maintain the accuracy of business operating hours.

Include images of your business.

Manage and respond to customer feedback.

Keep in Touch During COVID-19.

Make use of the Product Catalog.
3. How long does it take for Google My Business Profile to show up?
For a new Google My Business listing to emerge, it takes 3-4 days, along with the time it takes you to put it up.
4. What are Google My Business Profile services?
With the help of a Google My Business Profile, you can choose how your local business appears on Google products, including Search and Maps. If your business serves consumers at a specific location or service area, your Business Profile can help people locate you.
Engage your Google My Business Profile visitors with AI-powered chatbots and convert them into paying customers
Request a demo