Is your customer lifetime value (CLV) lower than the customer acquisition cost (CAC)? Are you losing customers because of poor customer service? If your answer is yes, we have a solution- introduce conversational AI in customer service right now!
Customer acquisition is a costly affair and if you are not able to replenish the company accounts and have a higher customer lifetime value, you need to analyze your customer service and overall customer experience.
We are here with another article to answer your questions about the amalgamation of conversational artificial intelligence and customer service. With informational intent, we will throw some light on why and how can businesses adopt conversational AI and improve their customer service.
Let's begin by identifying the problems in traditional customer service methods and their impact on the growth and revenue of a business.
Why do businesses need AI in customer service?
The problem statement here is that the customer service provided by businesses is vulnerable without artificial intelligence. Bad customer service hurts the customer experience and customer satisfaction in such a way that businesses end up losing customers.
Research shows that 91% of customers with a poor customer service experience tend to leave without warning, 47% switch brands and 40% speak negatively about the brand.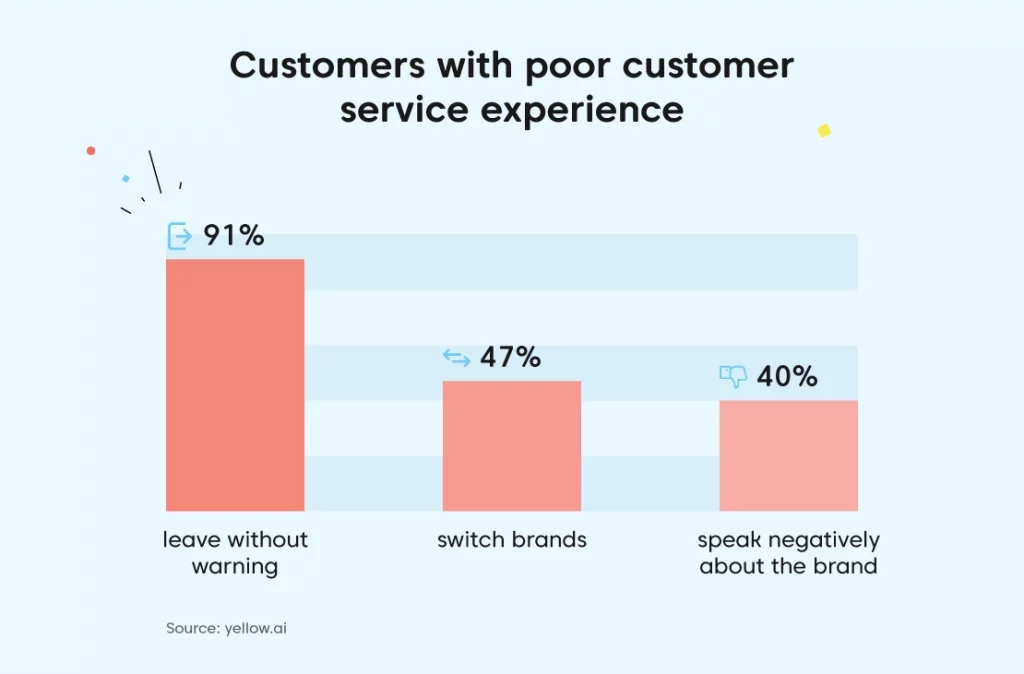 To address these shortcomings, businesses have already started flocking towards using conversational AI and are extremely satisfied with the results. We have stories where our customers have increased their CSAT score by 45% simply by using our conversational AI chatbots integrated with their business communication channels.
Businesses need conversational AI in customer service to improve their overall customer experience and also elevate operational efficiency. By 2025, customer service companies that embed AI in their multichannel platform will elevate their operation efficiency by 25%.
There are a number of benefits of conversational AI and that is why accepted by organizations across the globe for simplifying and automating their customer service efforts. Let us look at some of these.
Why should businesses implement conversational AI in customer service?
Conversational AI is such a versatile technology that it can blend with all business communication processes for any and every industry. Its benefits can never be overemphasized or hyped up because there is always something new with artificial intelligence and machine learning. Companies are looking at these benefits and are investing more and more in AI for customer service.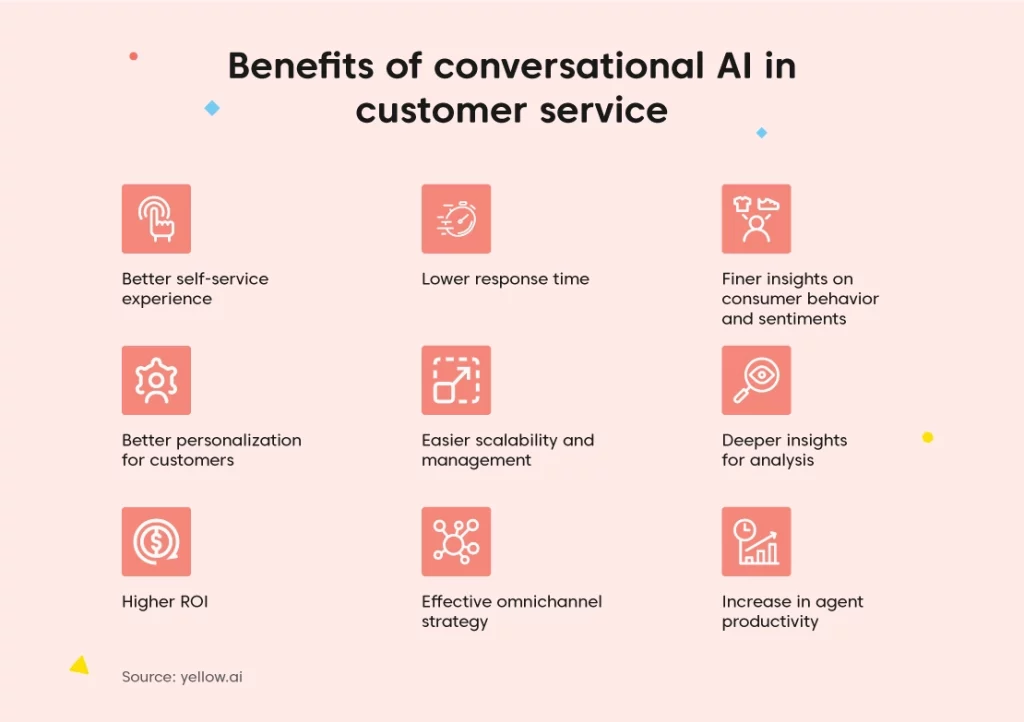 1. Better self-service experience
Customers, especially millennials, love it when they can solve their queries on their own, without talking to anyone. With conversational AI-enabled chatbots, companies can provide customers the privilege of an unmatched self-service experience.
Using natural language processing (NLP), chatbots can understand questions and answer them as per the data training. Not just can they provide responses, chatbots can also understand the intent and sentiments behind customer queries and respond accordingly.
Giving customers a delightful experience during customer service interactions, chatbots can inevitably improve customer retention and customer satisfaction.
2. Lower response time
Instant responses are one of the most important objectives of automating customer service. It builds a sense of credibility for a business from a customer's perspective. A low average response time is an asset for an organization's rapport with customers.

With AI and automation, businesses can provide 24/7 customer support without any barriers to communication. However, just having a lower response time is not enough. The goal is to resolve customer queries as quickly as possible.
Chatbots with artificial intelligence, when trained properly, can deliver astonishing results in regards to first-call resolution and customer satisfaction.
3. Finer insights on consumer behavior and sentiments
With machine learning capabilities, chatbots can perform predictive analysis over existing customers and summarize unbelievable statistics about customer behavior. They can predict from previous data if customers will speak positively or negatively about the brand, and whether or not they will depict customer loyalty.
Chatbots can also execute customer sentiment analysis and come up with deep and valuable insights after analyzing each and every customer service action taken by the organization. Understanding a customer's sentiments is essential especially in customer service because it is meant for satisfying a customer with the best you've got.
4. Improved personalization for customers
Gartner predicts that organizations that excel in personalization will outperform companies that don't by 20%.
Let's put ourselves in the shoes of a customer who needs to know about the status of his home loan request. Would you like it if you need to repetitively share your details with different departments again and again or would you like to chat with a bot that already knows about your request and can simply update you with the status?
Personalization ensures that customers feel valued and listened to during the complete customer journey, and they just love it. Conversational AI can help your business deliver the latter experience for your customers.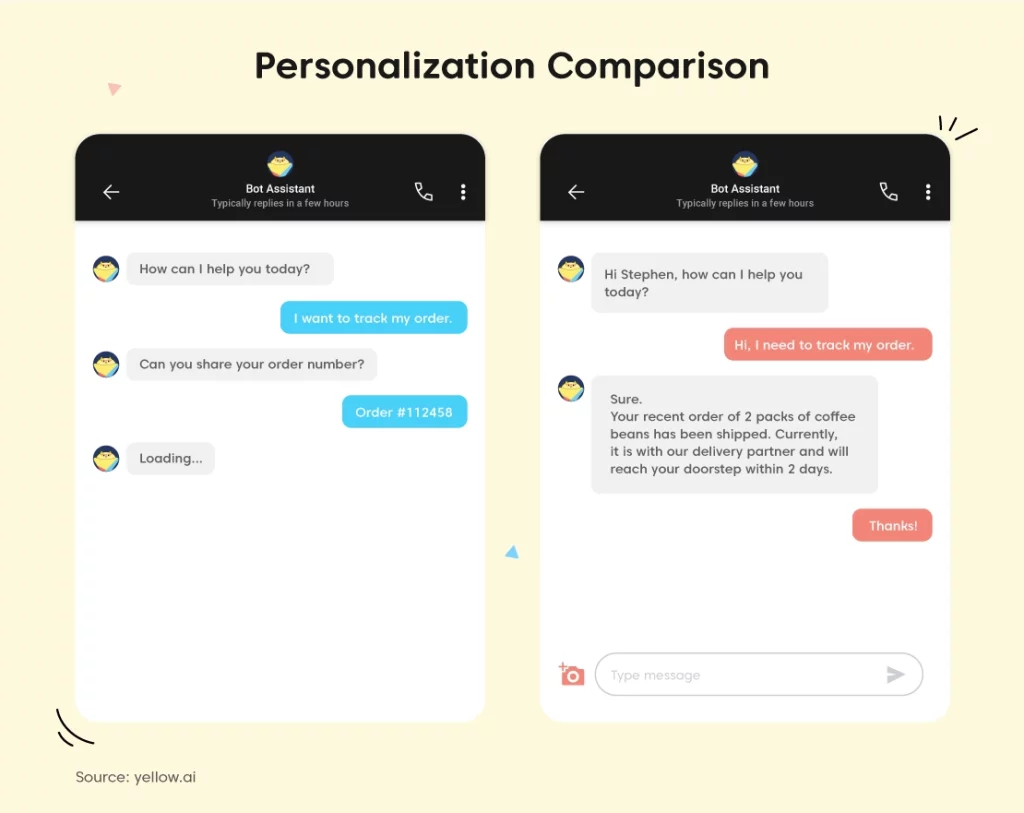 5. Easier scalability and customer support request management
AI and automation in customer support reduce the complexity of the complete customer service process and relieve executives from mundane tasks. With NLP-driven chatbots, customer support for an organization can be scaled up to a level where hundreds of thousands of queries can be resolved within minutes.
With abilities like automatic call classification and routing, chatbots can streamline the complete process of managing customer service requests. For organizations with a huge customer base spread across the globe, artificial intelligence for customer service is the best technology to leverage so as to achieve an exceptional customer satisfaction score.
6. Deeper insights for analysis
Customer service insights are essential for a business to grow. Today, customers are ready to switch brands for the sake of better customer service and delight. So, to keep up with the competition, businesses need to improve or channel their efforts where they are lagging behind.
This is only possible with deeper actionable insights about customers' interactions and their feelings towards the customer service efforts. Leaders need answers to questions like "how many times a human agent was called off" and "which business process is getting maximum queries and why".
With meaningful information, businesses can boost their customer loyalty far beyond their competitors and get a cutting-edge advantage from this knowledge.
7. Higher ROI
By deploying a chatbot, companies save a lot in the hiring and training process. The customer support being a tedious job, employees tend to seek organizations with a better work-life balance. Chatbot ensures that for executives as well as for managers and leaders. It serves as a personal assistant to every human resource working for customer support.
Automation in customer service can save a lot of time and operational efficiency by automating post-purchase communication. This includes answering FAQs, collecting feedback and resolving customer queries. All the simple and mundane tasks can be taken up by chatbots, whereas human agents can utilize their time in solving complex queries.
8. Effective omnichannel strategy
An omnichannel customer engagement strategy is no more optional. Customers expect contextual conversations over all the platforms from where businesses are generating leads.
AI in customer service can make sure that customers receive uniform support throughout all channels. With an omnichannel strategy, businesses can achieve an edge over competitors and win the hearts of customers through automated conversations.
9. Increase in agent productivity
Human agents in customer service can hand over a lot of routine tasks to chatbots, such as sending out review collection messages or answering FAQs. They can focus on resolving complex queries that need human interaction.
However, chatbots are not here to take up human jobs. They are efficient assistants for human agents but can never replace them. Human interaction will always be needed in customer service. It's just that the agents can take up priority tasks and work on them with their 100% potential.
This increases productivity and helps in quick query resolution and better customer support.
Now that we know why companies must invest in conversational AI for customer service, let us now look at how conversational AI can be deployed to organizations' customer support departments. With chatbots, many business operations can be automated, but let us understand the practical use cases that can actually be beneficial.
How to leverage conversational AI in customer service for the best results?
Organizations can get creative and implement artificial intelligence to as many business processes as possible. From product tours to collecting feedback, chatbots can take care of an end-to-end customer experience. Listed here are a few use cases where conversational AI can come in handy during customer support.

1. Recognize customer concerns using social media monitoring and automated ticket classification
Identifying the issues faced by customers is the first step towards resolving them. With natural language processing (NLP) and machine learning (ML), companies can automate social media monitoring and keep a check on customer behavior across all channels.
Businesses can address the complaints on social media and also make sure that they don't face any backlash.
With automated ticket classification, chatbots can redirect the queries to the concerned department as soon they receive them. This is done by bifurcating based on the keywords present in the ticket processed using NLP.
Using conversational AI for recognizing customer queries can help brands resolve the concerns instantly and make customer service, the process as a whole, more efficient.
2. Provide response suggestions
Most of the queries are simple and can be resolved by chatbots. However, for complex queries, conversational AI can suggest appropriate responses and make the lives of customer support representatives easier.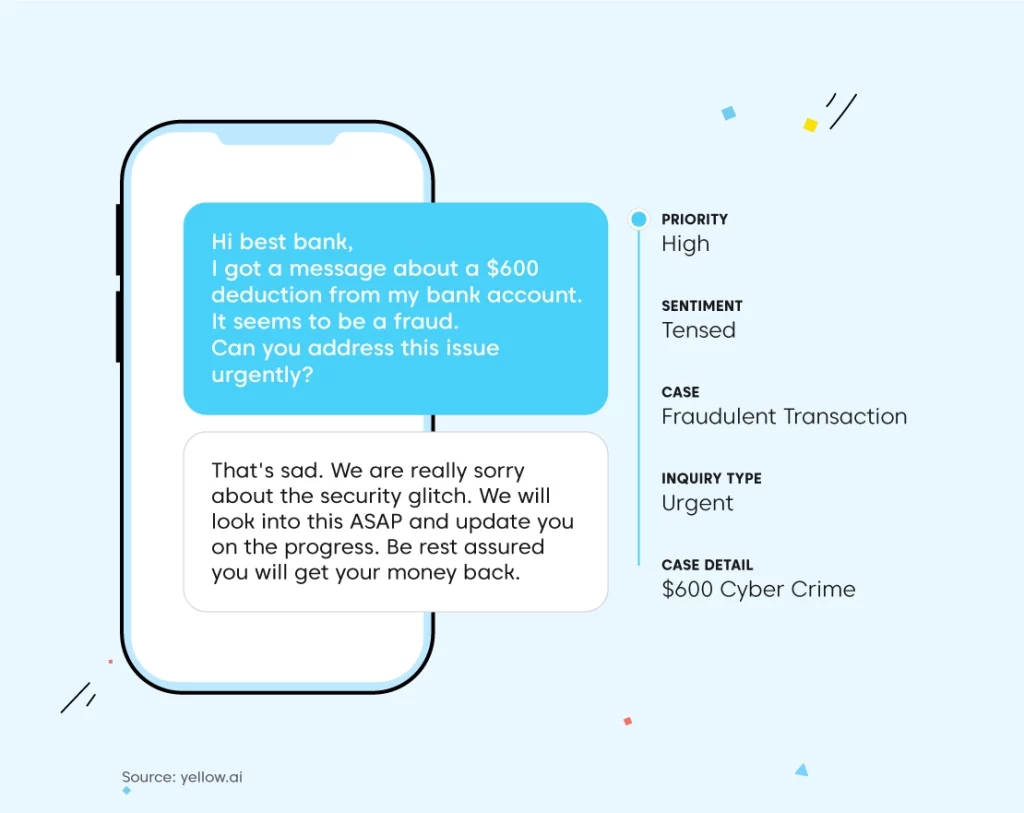 Chatbots can help the representatives by performing a thorough analysis of the intent behind the customer's query and providing all the relevant information related to the customer. This can reduce the time taken by the representatives to resolve and close a ticket.
With automatic call routing to specific departments and seamless agent hand-off, conversational AI platforms (CAIP) can be leveraged to attain a world-class customer experience.
3. Customer service analytics
Conversational AI platforms like Yellow.ai provide an analytics dashboard where businesses can analyze each and every detail about the interactions that happen via chatbots. You can clearly see how many customers leave the website or any other customer touchpoint with their queries resolved satisfactorily.
Businesses can track the metrics as per their requirements, and even get a customized dashboard with metrics of their choice.
Chatbots can also be used to collect survey forms and reviews from customers. These can also be analyzed to keep a check on the customer satisfaction score.
Now that we have understood why and how companies can leverage artificial intelligence in customer service, let us discuss why is it important to integrate it now.
Future of AI in customer service
Customer-centric businesses are focusing on a hybrid model AI chatbot where complex queries will still be resolved by humans.
Clearly, AI is not here to take up the jobs of customer service representatives but to assist them to reach out to customers with an easier approach and better results. With machine learning. AI-driven chatbots will become smarter and may address some complex challenges, but will not have the human touch of empathy and emotional intelligence.
In this post-pandemic era, companies are trying anything just to be far beyond their competitors because they now know the uncertainty of life. AI in customer service has proven to be a good resource and can help businesses achieve the extra mile against their competitors.
Is your business ready to use artificial intelligence as a solution for all your customer service-related issues? Are you ready to leverage conversational AI in customer service to boost your customer satisfaction score and customer retention rate?
Yellow.ai offers the best CX-related solutions to businesses. Be it customer support automation, conversational commerce automation, or building an omnichannel business communication platform, you can directly reach out to us.
Schedule a demo with us, share your needs and be rest assured that we will provide you with the best possible solution. Talk to our subject matter experts today and make sure you get that competitive advantage over your competitors with AI in customer service