All students, no matter the demographics, have a different pace of learning and understanding and this has been a challenge for educational institutions forever. Juggling between meeting the expectations of students, parents and teachers, the education sector has been compromising on giving a thought to students' learning experiences. There is a one-stop solution to all the hassle- the use of chatbots in education.
Educational chatbots are brilliantly transforming the way institutions interact with their students. They are working towards making it easier for students to learn and reach out to all the activities that they can do during their course of study.
Education Industry scenario in 2022
The education industry has been technologically advanced long before the pandemic. In fact, research shows that education is among the top five business sectors widely using and making profits with chatbots. They are being deployed over every platform on the internet, be it social media or business websites and applications. Tech-savvy students, parents, and teachers are experiencing the privilege of interacting with the chatbots and in turn, institutions are observing satisfied students and happier staff.
There are multiple business dimensions in the education industry where chatbots are gaining popularity, such as online tutors, student support, teacher's assistant, administrative tool, assessing and generating results. In this article, we will analyze all the possible applications of educational chatbots, the benefits of chatbots in education and build a future perspective about chatbots in the education industry.
If you are looking at the opportunities to deploy conversational AI in your educational institution, this article can provide you with a deep understanding of the topic and help you in making a wise decision. To start with, let's look at some of the applications of educational chatbots.
Use cases of AI chatbots in education industry
Out of the many use cases of chatbots, here are a few industry-specific applications of educational chatbots. Institutes that need assistance with any of the following use-cases can deploy chatbots and expect tremendous results.
1. Virtual personal tutoring
AI chatbots can have personal attention on students and their learning habits. They can closely observe the pattern of studying and content consumption and based on that they can help students excel in their streams.

With intelligent tutoring systems schools can deliver personalized learning experiences. Not all students understand and learn in the same way, some even have disabilities. To cater to the needs of every student in terms of the trouble-making topics or subjects, chatbots can customize the learning plan and make sure that students gain maximum knowledge- in the classroom, and even outside. They help students with all study material as and when they need it.
2. Student engagement
Amidst virtual learning during the pandemic, student engagement has reduced to hit the rock bottom. Student-teacher interaction and student-student engagement, both have taken a back seat. Teachers are trying to bring out their best so that the students gain knowledge and understand subjects.

Chatbots can help in this scenario by continuously interacting with students and clarifying their queries instantly. Students can take their help during and after their classes and make sure that they do not compromise on learning through a virtual platform.
Interaction between students is now exchanging messages over social media platforms once in a while. Chatbots can alter the situation and improve student engagement for good.

Students can create alumni groups or project groups on chatbots for students to exchange information about projects, assignments, deadlines, presentations, events and activities. Engaging with each other using conversational AI can help them create a better environment for studying and learning.
3. Student support
Global e-learning is expected to expand at a compound annual growth rate of 9.1% by 2026. People are opting for distance corporate training and courses so that they don't need a break from their job and family to upskill.
This growth calls for a strong student support strategy for educational institutions. Queries of students before the enrollment, during the course and after the course must be prioritized and solved instantly.
Educational chatbots can be a great help in providing excellent student support and delivering instant solutions to students' doubts.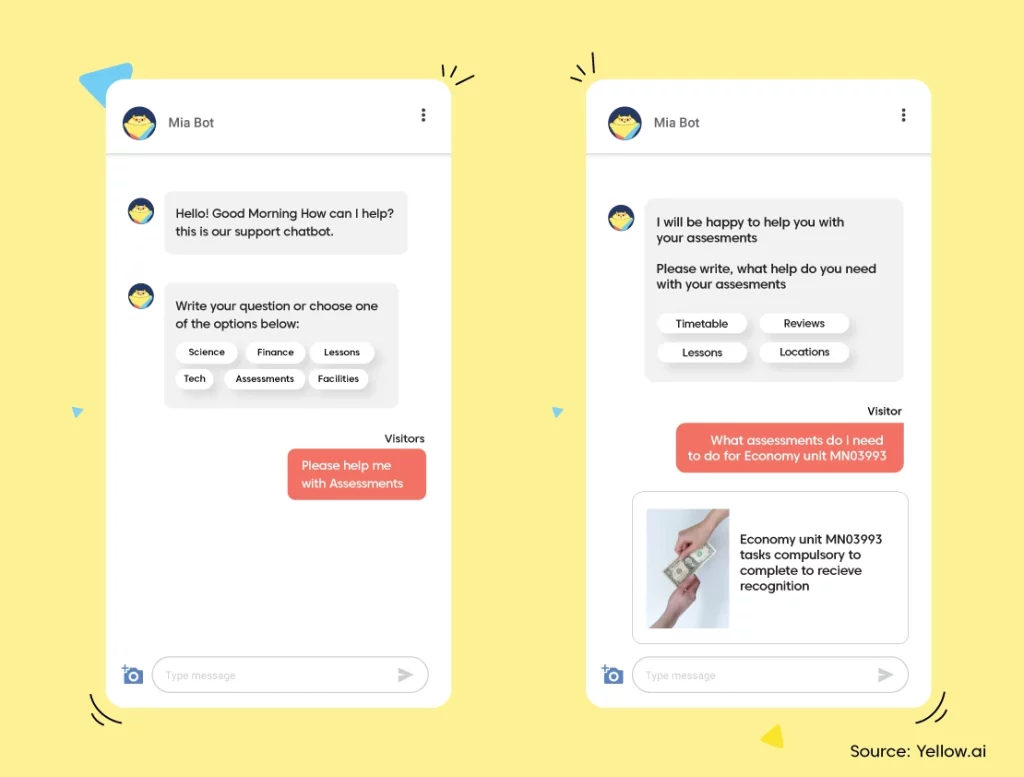 4. Teacher's assistant
Institutional staff, especially teachers, are overburdened and exhausted working beyond their office hours just to deliver excellent learning experiences to their students. Most of the tasks done by teachers are repetitive and mundane. For example, tracking student attendance, scoring tests or sending out assignments to students.
Repetitive tasks can easily be carried out using chatbots as teachers' assistants. With artificial intelligence, chatbots can assist teachers in justifying their work without exhausting them too much.
For example, if an institution automates the attendance recording of students, they have to make sure that the chatbots in school send them the notes and recordings of the lectures that were recorded during their absenteeism.
5. Administrative companion
For perspective as well as existing students, educational chatbots can be their administrative companions. Instead of visiting the office and waiting in long queues to find some answers, texting via chatbots to resolve queries is a better option.
| | | |
| --- | --- | --- |
| Obligation | How can chatbots help? | Example question |
| Course details and enrollments | Providing information about various courses available and answering questions related to admissions. | What is the basic qualification to opt for PhD in management studies? |
| Fee structure and other financial aid | Sharing all the details regarding the fee structure of the selected program and answering questions about instalments, scholarships and many more. | How can I apply for the scholarship? |
| News about the institution | World-class institutions need to share news about their highest package or top-performing students. Chatbots can share this information with all customers having conversations via chatbots. | What was the average salary package in the last academic year? |
| Campus guide and school events | Parents and students need to know about the campus and the exposure that students get during their course. Chatbots help them by answering related questions. | What are the annual sports events taking place in the institution? |
6. Proactive assistance
Chatbots in the education industry can be thoroughly trained to proactively help students with answers even before they ask. Assistance regarding the payments, or addition of a new module to the syllabus, or a deadline, all can be proactive and can prove to be helpful for a better student experience.
Schools can even send personalized messages like "Bring your water bottles, there is some issue with the school water tank" or "due to the storm, the school will remain off today" and build a communication bridge between students and institutes.
7. Feedback collection
A renowned quote by Ken Blanchard, "feedback is the breakfast of champions" can never go wrong. Collecting feedback on a daily basis is extremely important, no matter which industry you belong to.
For educational institutes, there is a lot to collect feedback on. From teachers to syllabus, admissions to hygiene, schools can collect information on all the aspects and become champions in their sector.
Chatbots in the education sector can help collect feedback from all the stakeholders after each conversation, or completion of every process. This can help schools in extracting useful information and attending to the matters with poor results.
8. Assessment and evaluation
Assessment is crucial for both students and educational institutions. Although MCQs and one-word answers are easily assessed by various software, subjective answers still need human assistance.
With artificial intelligence and machine learning, all student responses can be automatically evaluated and scored. Teachers can completely rely on technology and fill students' scorecards as per the results generated by AI chatbots.
As per the results, education chatbots can share study material and reference links to students for subjects that need attention. With this advancement, teachers can be relieved of the assessments and evaluations and work on giving this extra time to their students.
9. Data repository
Chatbots act as a data collection tool as well as a data distribution tool for the education industry. Students can upload all their details and feed data to get desired results. At the same time, teachers can use them to distribute lessons and other important information to all their students at once.
With automation in data collection and data distribution, the chances of mistakes reduce, and also the process can take place 24/7.
All data in a single place can ease the process of decision-making and problem solving for institutions and can be used to derive insightful conclusions.
10. Student sentiment analysis
Understanding student sentiments during and after the sessions is very important for teachers. If students end up being confused and unclear about the topic, all the efforts made by the teachers go in vain.
Chatbots understand sentiments and thus they can help teachers in modifying and improving their teaching practices to provide better learning experiences and clarify students' doubts right off.
Now that we know the efficiency of chatbots in the education sector and how can they be used, let us look at some of the business benefits obtained by deploying chatbots.
3 Reasons why Deploying Chatbots in Education Sector is Important
Along with being best friends for teachers and students, there are many operational benefits that can be obtained from the use of educational chatbots.
1. Smoother admission processes
Automation is essential for all the administrative procedures in schools. Admitting hundred of students with varied fee structures, course details and specializations can be a task for the administrators. Also with so many variations, there is a scope of human error in the process.
With artificial intelligence, the complete process of enrollment and admissions can be smoother and more streamlined. Administrators can take up other complex time-consuming tasks that need human attention.
2. Student performance analysis
One of the most important benefits of using educational chatbots is automation in generating results and providing honest feedback to students. Being data trained, chatbots can easily analyze the answers written by students using NLP.
AI chatbots can help teachers create an overall student performance sheet based on all the previous tests and assignments to check the progress and understand the areas of shortcomings for students.
The speed of a conversational AI platform for analyzing and generating reports is high and thus it saves a lot of time and bandwidth for teachers.
3. Active learning
Students today don't want to wait for several days or sometimes months for getting results or feedback on their performance. With active learning, students can learn by engaging with the course material through various activities such as discussions and role-play.
With chatbots, students can continuously engage with each other and with the course content to have a better learning experience. With active learning, students retain better and gain knowledge instead of mugging up all the theoretical material. This can bring a revolutionary change in the education system across the world.
From businesses to customers and now even students, everyone is finding conversational AI tools convenient and user-friendly. With the increasing popularity of AI-enabled chatbots, businesses are getting better at communicating and meeting the expectations of customers.
Conclusion
Conversational AI is revolutionizing the way businesses communicate with their customers and everyone is loving this new way. Businesses are adopting artificial intelligence and investing more and more in it for automating different business processes like customer support, marketing, sales, customer engagement and overall customer experience.
Yellow.ai is an excellent conversational AI platform vendor that can help you automate your business processes and deliver a world-class customer experience. With our AI chatbots in education, schools can engage with prospective students right from the point of admission to making learning fun for them.

If your educational institution is looking for an AI chatbot, schedule a demo and have a conversation with our experts. They can guide you through the process of deploying an educational chatbot and using it to its full potential.