The world has seen the transition from standing in queues for customer support to interacting with keyword recognition-based chatbots to conversational AI today. AI-driven chatbots, voice assistants and Interactive Voice Response (IVR) solutions have become a part Fof our daily lives. Businesses are adopting this technology at a tremendous pace and we can assure you that the future of conversational AI is already gleaming.
With a wide range of artificial intelligence technologies such as natural language processing (NLP), machine learning (ML), automatic speech recognition (ASR) and neural networks, conversational AI not only interacts with the users but also satisfies them.
Introducing this technology to businesses has only resulted in growth and development. AI chatbots are being widely used for customer support, ordering and booking appointments, lead generation and marketing. However, the indulgence doesn't stop here. According to the experts, the future of conversational AI is bright and more and more businesses across the globe will use it for automating their business processes.
Let us dive deeper into the present scenario of conversational AI and look at what are the experts predicting about conversational AI- how will an already sophisticated technology get more advanced technology and what should the businesses expect?
What is conversational AI?
Conversational AI is a technology that automates communication between a business and its customers using artificial intelligence technologies such as natural language processing, machine learning and data processing.
With conversational AI, businesses can simulate human-like conversations using a chatbot, voice bot or any other conversational agent. Just like there are virtual assistants (Siri, Alexa) in our personal lives, there are chatbots for professionals.
Businesses have been using it for many different purposes. These can be broadly categorized into three:
1. Customer-facing chatbots
Chatbots are placed as the first line of defense from the customer queries, where they resolve all the simple customer queries within a fraction of seconds based on the company's data. Usually, complex queries are simply forwarded to the human agents.
These chatbots can satisfy ToFu customers by providing information about the products and services. It can also help the MoFu and BoFu customers in document cognition and other business processes.
2. AI agent assistants
Chatbots are employed to help the customer service agents while they interact with the customers and solve their queries. AI agent assistants facilitate the agents by simplifying their tasks and providing them with all the required information.
It helps in considerably improving agent productivity and the number of requests they close in a day. AI agent assistants are now ready to be installed even in different business functions where they can help the teams at their jobs.

3. Internal employee engagement chatbots
Chatbots can be employed to help the HR and ITSM departments where they engage with the employees and help them with their queries. They can help employees by sharing important documents, leave calendars, scheduling their leaves and many other small repetitive tasks.
They can also help in closing IT tickets as soon as the problem gets resolved. Basically, employee engagement chatbots help the employees by sharing information about the company and resolving basic HR queries.
Present market scenario of conversational AI
The global conversational AI market size to grow from USD 6.8 billion in 2021 to USD 18.4 billion by 2026, at a Compound Annual Growth Rate (CAGR) of 21.8% during the forecast period.
Today, businesses from various industries have adopted conversational AI in one or the other way, running chatbots on websites, mobile applications or social media platforms. Let's look at some of the statistics that explain the present scenario of conversational AI in the market.
All of these statistics about conversational AI are from the research during or before 2021. These reports tell us the exact positioning of conversational AI in the market and help the experts predict the future.
1. Demographic usage statistics
USA, India, Germany, the UK, and Brazil are the top 5 chatbot using countries. The USA has the highest chatbots/1000 people rate.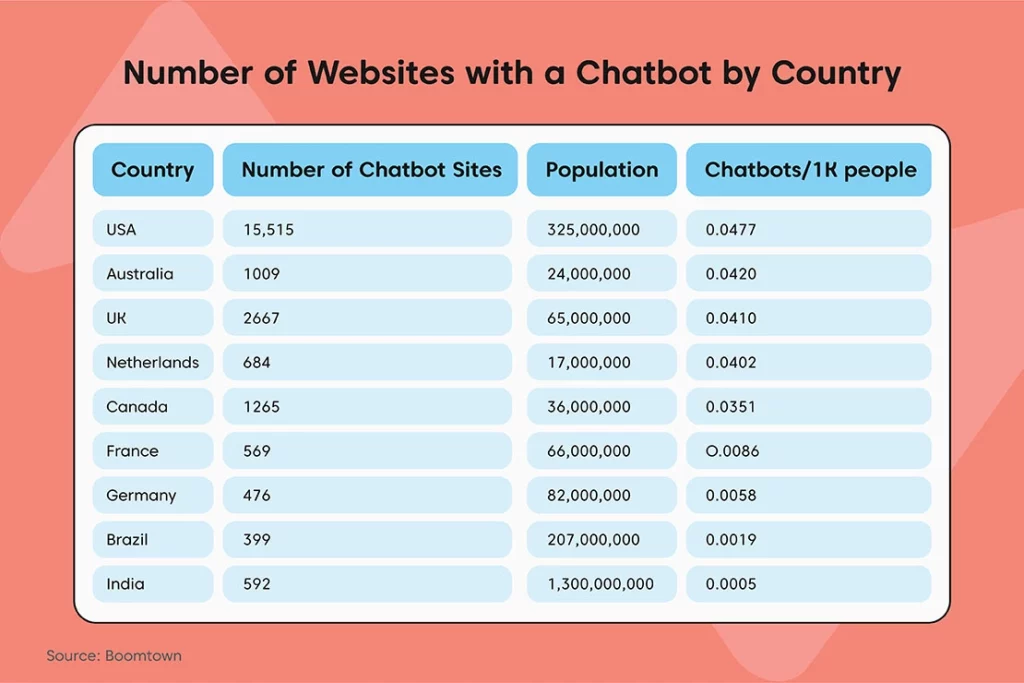 2. Consumer usage statistics
47% of consumers would buy items via a chatbot.
35% of people use chatbots to resolve a problem, or for getting detailed answers.
37% of users say they would use a chatbot to get timely responses in an emergency.
3. Feedback for conversational AI statistics
80% of consumers who have engaged with a chatbot report it as a positive customer experience.
61% of respondents said that they accept chatbots to answer their questions as long as the answers are correct and 2% even prefer chatbots to live agents.
Better bot experiences with more engaged audiences are getting 80-90% response rates. While even the least favorable experiences are in the 35-40% range.
4. Business benefits statistics
57% of businesses claimed that chatbot delivers large ROI on minimal investment.
64% of businesses believe that chatbots will allow them to deliver a more customized customer support experience.
Chatbots can help companies save up to 30% of their customer support costs by speeding up response times, freeing up agents for more challenging work, and answering up to 80% of routine questions.
Chatbot automation can lead to $23 billion in savings from annual salaries.
Chatbots are projected to save $0.70 per customer interaction.
5. Industry-specific statistics
The top 5 industries that benefit from chatbots are real estate (28%), travel (16%), education (14%), healthcare (10%), and finance (5%).
Looking at these statistics, we can observe that businesses as well as customers, both love conversational AI and chatbots. Businesses are readily adopting the technology and customers are eagerly using them to solve their issues. The popularity of conversational AI is increasing day by day and it has a very promising future in the marketplace.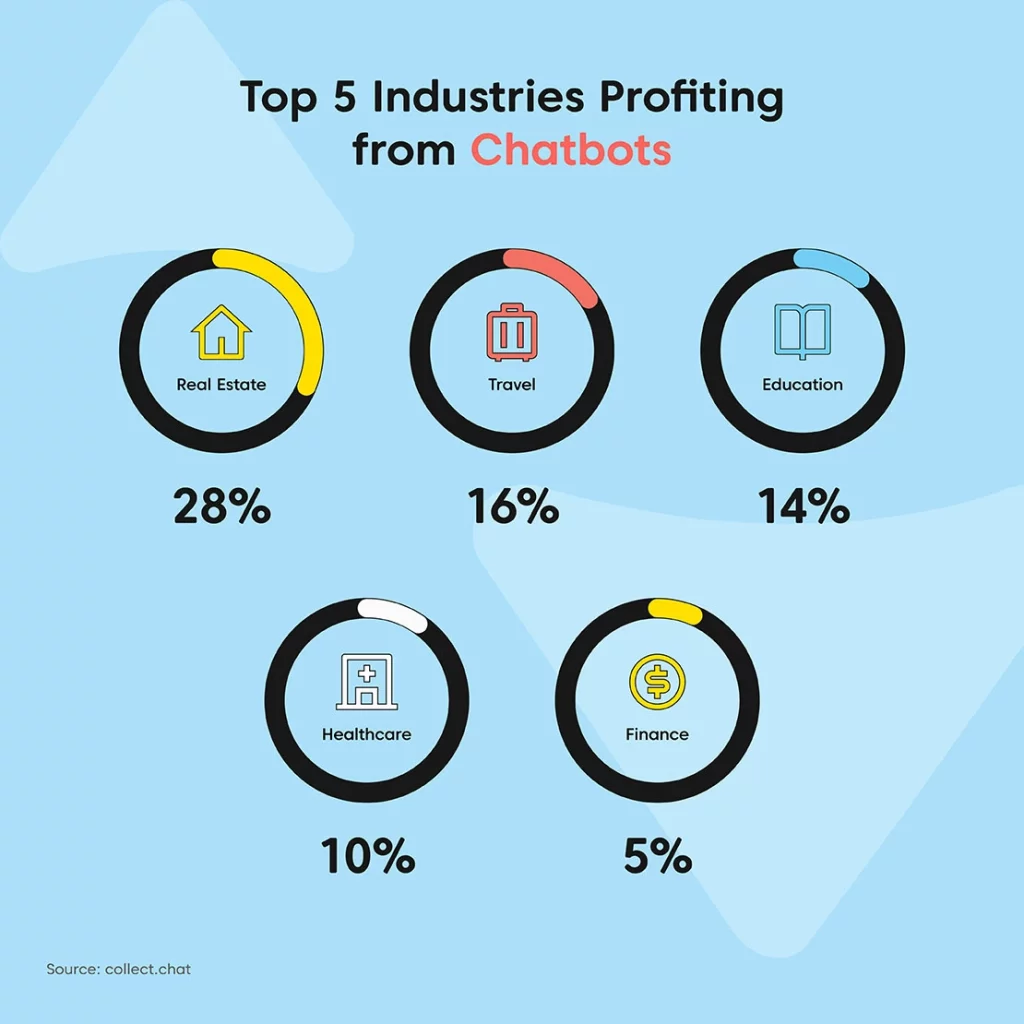 Predictions about the future of conversational AI
Experts have shared their views and given predictions about the future of conversational AI. We are sharing with you the most prominent predictions that will affect businesses in 2022 and beyond.
1. Emotional quotient (EQ) will make a difference
EQ will be the key differentiator for chatbots in the near future. Chatbots will need to have human emotions like empathy and inclusion and it must be depicted in the conversations they have with the customers and employees.
Cathy Pearl, Design Manager Google Assistant, Google would like to see diverse voices and personas coming together with conversational AI to meet the needs of the customers.
2. Optimized and personalized CX with data
Data needs to be used smartly in order to optimize and personalize the conversations. A chatbot or voice bot must know all the details about the interactions a customer has with the business over any and every channel.
Personalization needs to go beyond its limits with conversational AI. Currently, chatbots are able to use the name, order details and a few other details. In the coming future, it needs to customize the conversations by remembering the preferences and choices of the customers.
3. Multi-bot orchestration
In 2022, we might see a single organization having multiple chatbots for handling different business operations. For example, a bank can use separate chatbots for its account-related operations, mortgage and loans and insurance policies.
A master chatbot will direct the customers to different chatbots based on their requirements and queries.
4. Expansion in the metaverse
Inclusion of new technologies to take place with conversational AI. Chatbots in the era of metaverse need to be extremely targeted and result-driven.
Voice AI will become better and more advanced, leaving behind all the challenges that customers face today. The digital space is expanding with the metaverse and conversational AI would also need to expand with it.
5. Contextual awareness
Conversational AI and machine learning need to become more contextually aware. Chatbots need to know about the device being used, the history of the customers and other details while having the conversations.
As the conversations become contextually better, AI assistants will be able to deliver better responses and will lead to positive outcomes for the business.
6. Truly omnichannel CX
Omnichannel customer engagement is a must for today's marketplace. Your business needs to tear down the silos and have unified conversations over each and every channel.
The future of conversational AI will be more results-driven and strategic, and for that, an omnichannel customer experience is very essential.
7. Handle complex conversations
With machine learning and data training, chatbots in the future will be able to handle complex conversations. The technologies will be more advanced and conversations more intelligent.
The future holds a minimum human intervention customer support so that there is zero wait time and no probability of errors during the interactions.
8. Innovation in voice assistants
Currently, there are a few challenges that come with voice assistants such as the difference in dialects and pronunciations, the background noise and a few more.
Conversational AI specialists are moving towards removing these challenges and discrepancies and making voice assistants 100% error-free and reliable for professional usage.
Conclusion
The adoption and usage of conversational AI in businesses are running at their full potential. Businesses across the globe are leveraging chatbots and voice assistants to automate their business operations and fulfill their conversational needs.
We hope this article has proven its benefit and provided you with sufficient insights into what the future holds for conversational AI in the B2B marketplace.
If your business is yet to embrace the technological advancements in conversational AI, here is a chance for you to begin your journey. The future of conversational AI is highly promising and so should be the future of your business.
Avail chatbots and voice bots now with Yellow.ai. Schedule a demo with us and understand the possibilities of using conversational AI to its fullest potential