With over 1 billion active users, Instagram(IG) is seen as one of the top social channels for brands to engage with potential customers and support current ones. There are multiple trends that have lit the Instagram (IG) adoption by brands & influencers. Product/service inquiry and customer support turn out to be the top use-cases of the Instagram channel.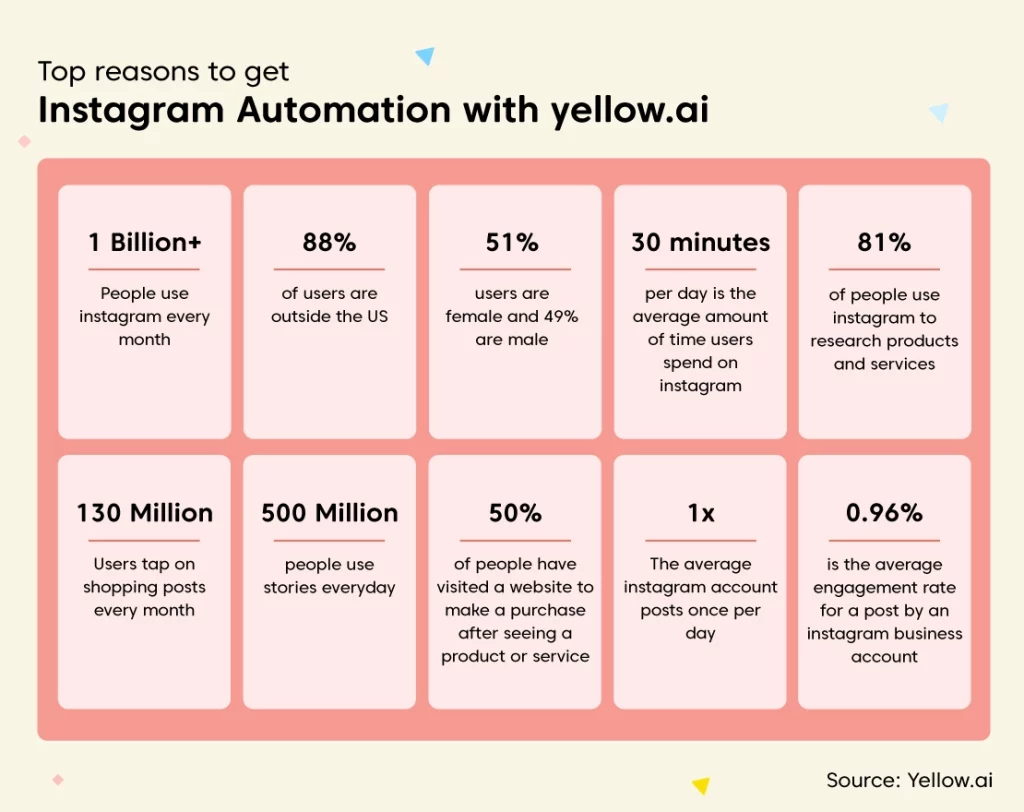 What is Instagram Messaging Automation by yellow.ai?
Facebook has extended its Messenger API to Instagram. Yellow.ai is enabling brands, influencers and organisations to automate user engagement, support or sales at scale.
Be it the simple FAQ, the lead collection, or the Back-in-stock alerts on IG, businesses can leave all of these and more to automation.
This way, your expert staff time is spent only on high-value conversations and escalations. This potentially can save hours of time for the businesses.
Sounds exciting! Now let's get into details.
No-code Insta Chatbot Builder
We truly believe business owners know their customers better. Hence, we give the power of building chatbot flows to the business/context owners.
For example, how relevant would it be for a support manager to build the support chat-flow use cases? Which questions to park under FAQs? Or, which ones to be transferred to a human agent?
Businesses can set up different conversation flows ( such as product discovery, newsletter sign-up, raising complaints) and build an Instagram chatbot all using Yellow.ai's chat flow builder with no code. The icing on the cake, they can connect their Instagram chatbot with powerful e-commerce solutions (such as Shopify), CRMs (such as Salesforce), and payment gateways (such as Razorpay) in a few clicks.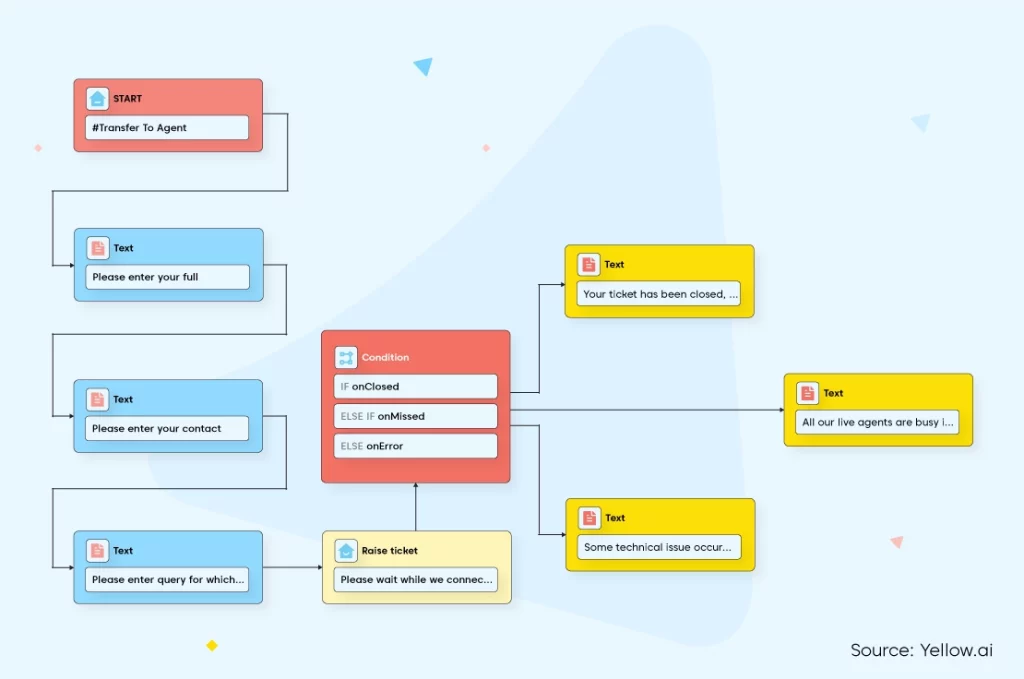 Direct Message Starter
Businesses can give different common options (as Quick Reply Buttons) for users to start a chat. Some starters could be 'Explore products', 'Connect with support agent', 'Book a meeting' or perhaps, 'FAQs'. This makes the lives of customers easier. However, with the Yellow.ai platform's NLP capability, brands can enable free-flow, human-like, friendly conversations in any language customers understand.
Free text like – 'Hey, may I know when my order is getting delivered?' or ' I am not happy with your service' is absolutely possible on your IG chatbot.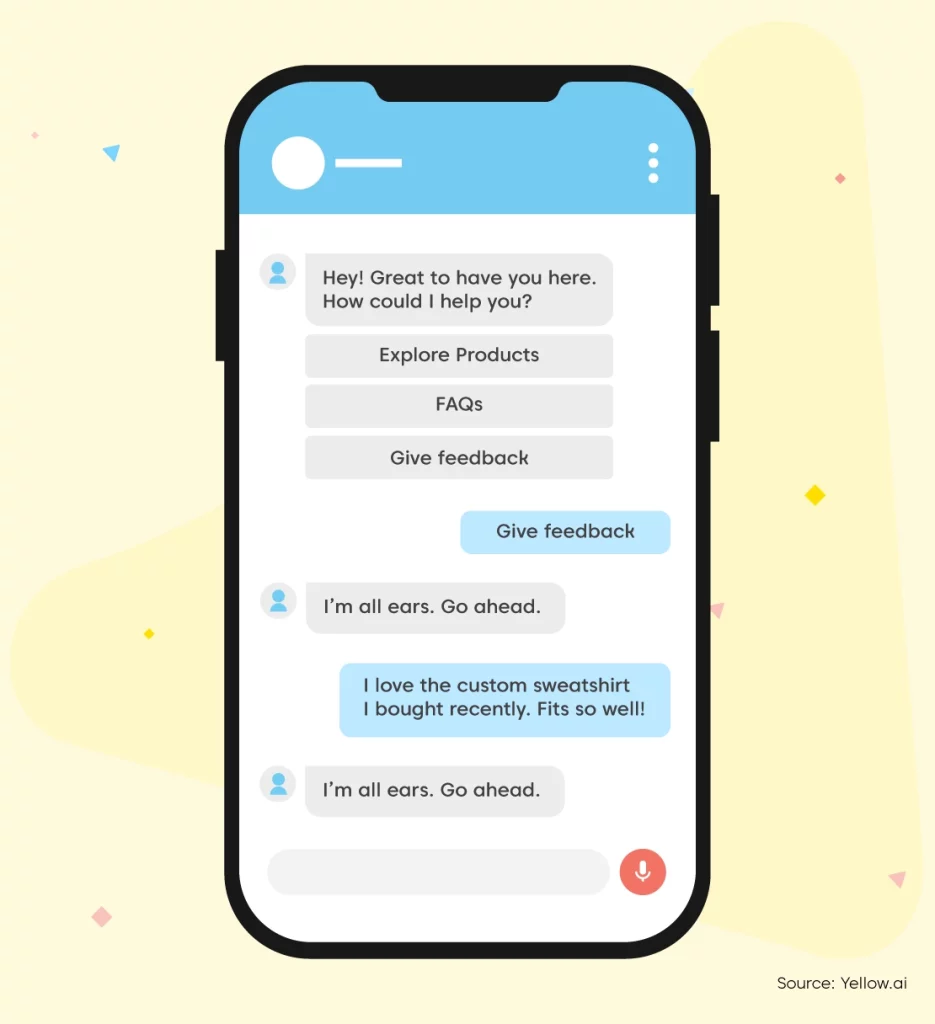 Instagram comments automation
Maintaining an active comments section is a crucial engagement goal for any brand. What matters most is how the brand quickly & contextually responds to customer comments.
Customers may comment their grief on poor delivery experience or perhaps brands may run various campaigns such as seasonals, give-away campaigns, or SALE ????.
Now, brands can automate their response in multiple ways.
– By responding to a comment with a ❤️
(for example, when a customer says they like the latest product offerings)
– By responding to a user's post comment via a comment reply
(for example, when a customer asks an influencer about the next 'Product review Live' session)
– By DMing (directly messaging) the user as regards post comment.
(for example, when a customer types a specific keyword that brands ask to post-comment as a part of a give-away lottery campaign)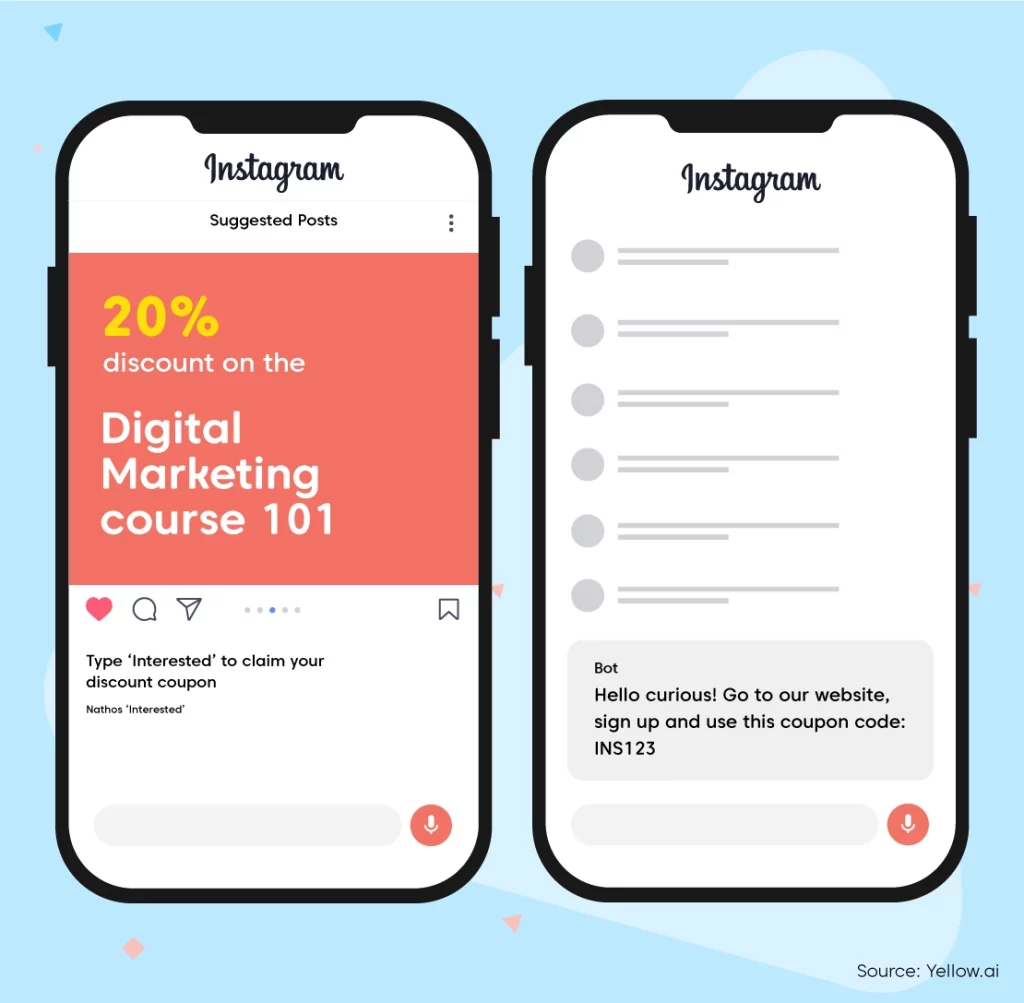 Instagram story mentions
'Insta Stories' is ruling the user-generated content space.
The richest ever brand validation could be straight from the customer's heart. The customers are taking to 'Insta Stories' on their fantastic experience with a product or service that brands have to offer.
Now with Story Mention automation, brands can automatically kick-off fresh engagement with the users.
A brand could thank a user's positive feedback and throw a discount coupon for their purchase
Or, when a user posts a story of a YouTube video of a digital marketing influencer, the influencer's page can trigger a 'Direct Message' to the user about the extensive 'Digital Marketing course' of the influencer.
Note: The users should @tag the brand for the Story Automation to work.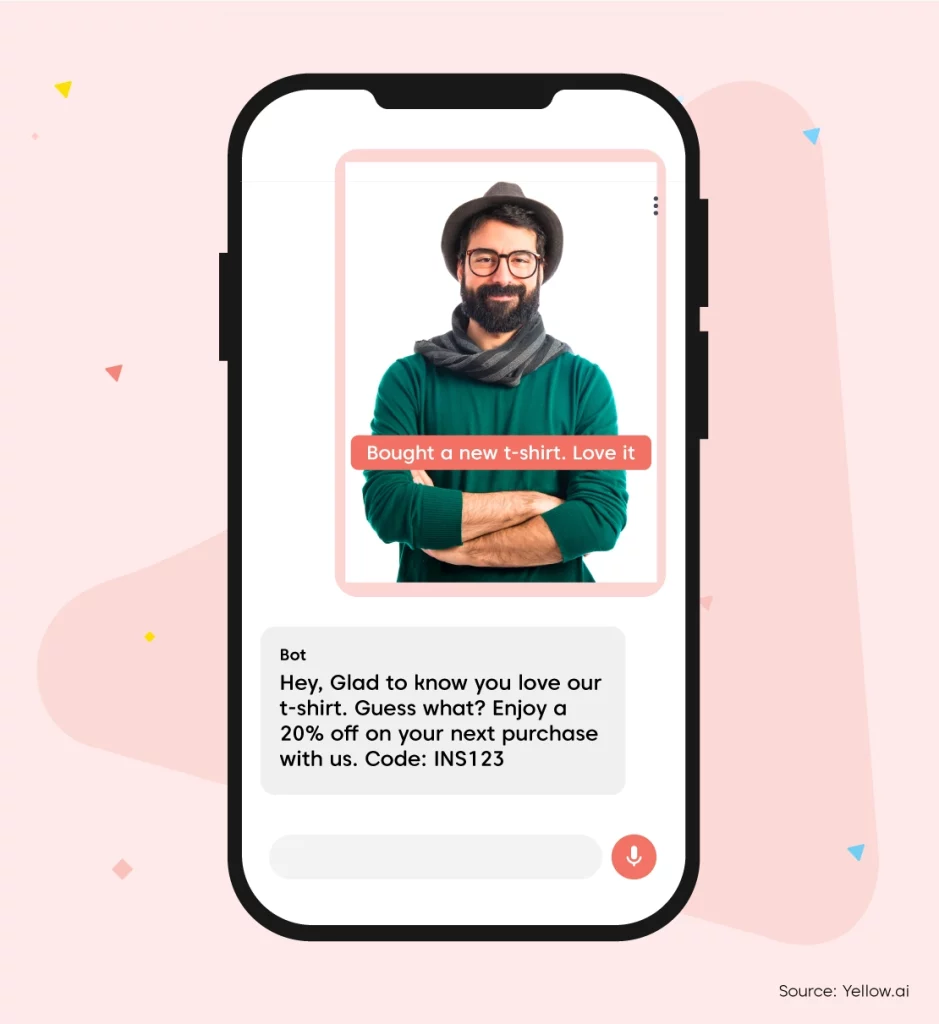 AI + Human approach to automation
We believe that human experts in your business add rich value to total customer experience.
Hence, we help automate around 80% of common products and support enquiries. This way, your business can offload repeated enquiries on Instagram to chatbot. At the same time, special cases such as support escalation or live-chat shopping can be transferred to human expert agents.
Some potentials use-cases
1. Having understood the features of Instagram messaging automation, let's look at some potential example use-cases.
2. A retail/e-commerce brand allowing IG users to check latest products, recovering the abandoned carts via notifications or letting users check the delivery status
3. An ed-tech or educational org adopting 'click-to-message' on course offerings ads
4. An insurance company allowing users book a call with the sales expert
5. A marketing influencer running 'Comment to win' discount campaign on their new course.
6. An apparel brand offering coupons on Direct Message to the users who mention the brand on stories and leave a positive feedback
7. A smart electronics company handling customer complaints with human agents.
Sign up Insta-ntly ????
Are you excited already about IG message automation?
Get your Instagram automation started with us.