The importance of digital communication channels for businesses has certainly risen, with an obvious acknowledgement that to deliver a superior customer experience, one has to look beyond the conventional medium of voice or emails. Online spending worldwide has been on the rise for the past few years. According to a study conducted by Digital Commerce 360, there is a likelihood of a substantial jump in the fraction of sales through e-commerce platforms in the coming years and it has become essential for businesses to offer an omnichannel experience to keep pace with the shift.
All businesses must get accustomed to a world where customers wish to purchase, share thoughts, find information, and ask for help on multiple channels: online, mobile, chatbox, through call centers, and in brick-and-mortar stores.
What is omnichannel?
Omnichannel emphasizes on delivering a unified customer experience irrespective of the platform used. It fulfills customers' demands at all touchpoints and offers the same experience and functionality across channels, regardless of how a consumer wants to interact. With omnichannel experience, businesses get to help customers at all stages of their journey- discovery, research, purchase, support, and customer service and help build an enduring relationship.
In other words, omnichannel experience is a cross channel approach that allows customers to reach your brand through several integrated communication channels, irrespective of where they are and offer exceptional service at all key touchpoints including email, social media, messenger platforms, websites, etc.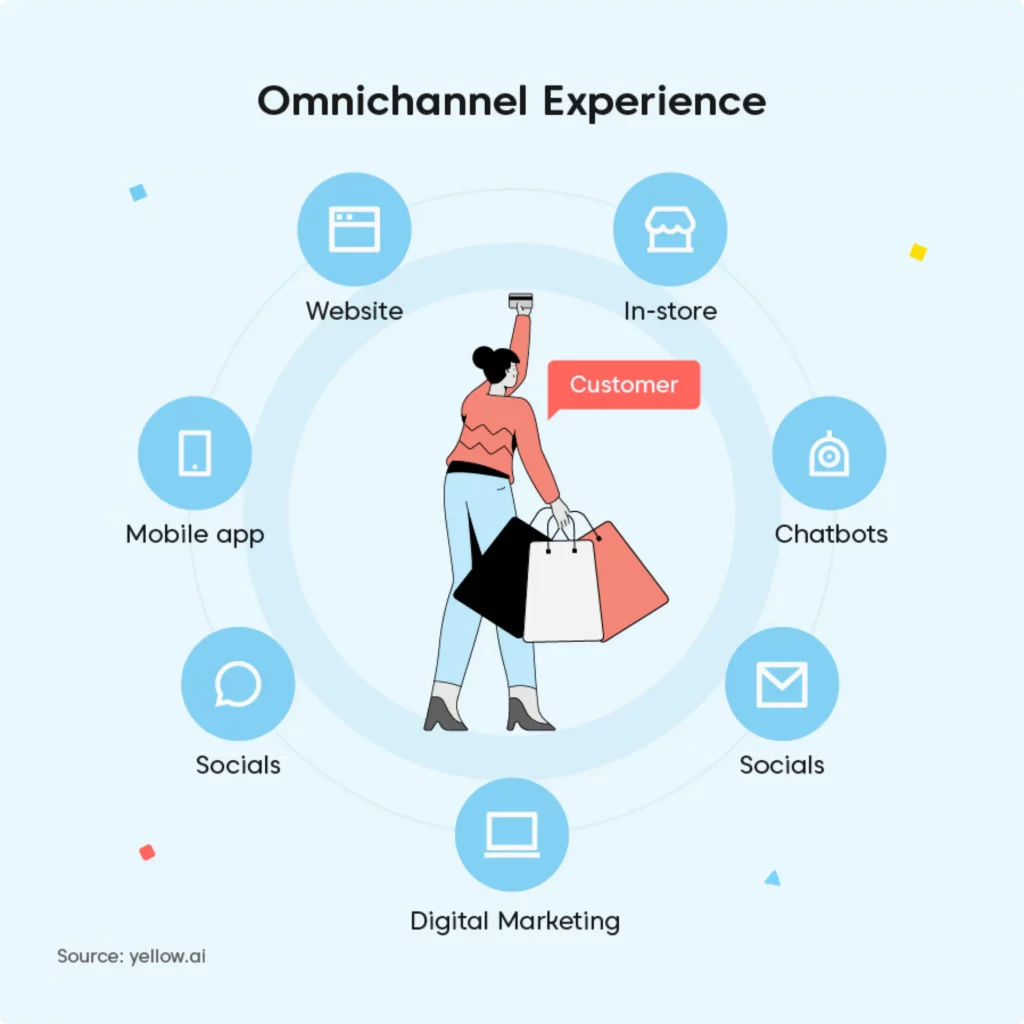 How does omnichannel work?
Despite having several moving parts, omnichannel works as a single, organized system. Each touchpoint offers a unique but connected experience that builds on preceding exchanges and leads the customer on the journey to a preferred outcome. Omnichannel allows a company to gather and combine customer data from several channels. The combined data offers a complete illustration of the categories of customers interested in a brand and their actions, which gives the brand the ability to personalize the customer journey.
Only by comprehending the customer journey can a brand personalize customers' experience. Omnichannel permits brands to establish a personalized experience. Establishing a personalized experience is key to omnichannel customers as they have a higher lifetime value over customers who purchase using only a single channel.
An omnichannel approach across producers and dedicated retail partners makes the whole journey smooth without forcing customers to input the same data, carry out the same tasks and ask the same questions across different channels.
Omnichannel experience trends 2022
In the rapidly transforming economy today, it's absolutely essential to stay updated on the modern trends shaping the world of omnichannel. Here's a list of some of the most popular developments in the omnichannel space:
1.The pandemic has given a boost to omnichannel shopping habits
The Covid-19 pandemic pushed countless businesses to switch to omnichannel over a period of a few months, unlike the multi-year rollouts they perhaps would have planned.
2. Brick-and-mortar continues to be a key component of omnichannel ecosystem
The pandemic hasn't nullified the importance of the brick-and-mortar stores, in fact, they have emerged as a key part of the overall omnichannel ecosystem. While the idea of physical retail spaces may have changed, they remain an essential element of the buyer's journey.
3. The popularity of digital payments continues to rise
The use of digital payment options such as mobile wallets, P2P payment platforms, real-time payments, other cashless alternatives, and even cryptocurrencies will continue to skyrocket.
4. More and more people use social media for interacting with brands
In the past ten years, social media has played an instrumental role for brands to expand their audiences, amass glowing reviews, deliver advanced customer support, and push traffic to their revenue-generating sites. Today, several social media platforms are taking retailer profiles to the next level by offering built-in shopping features.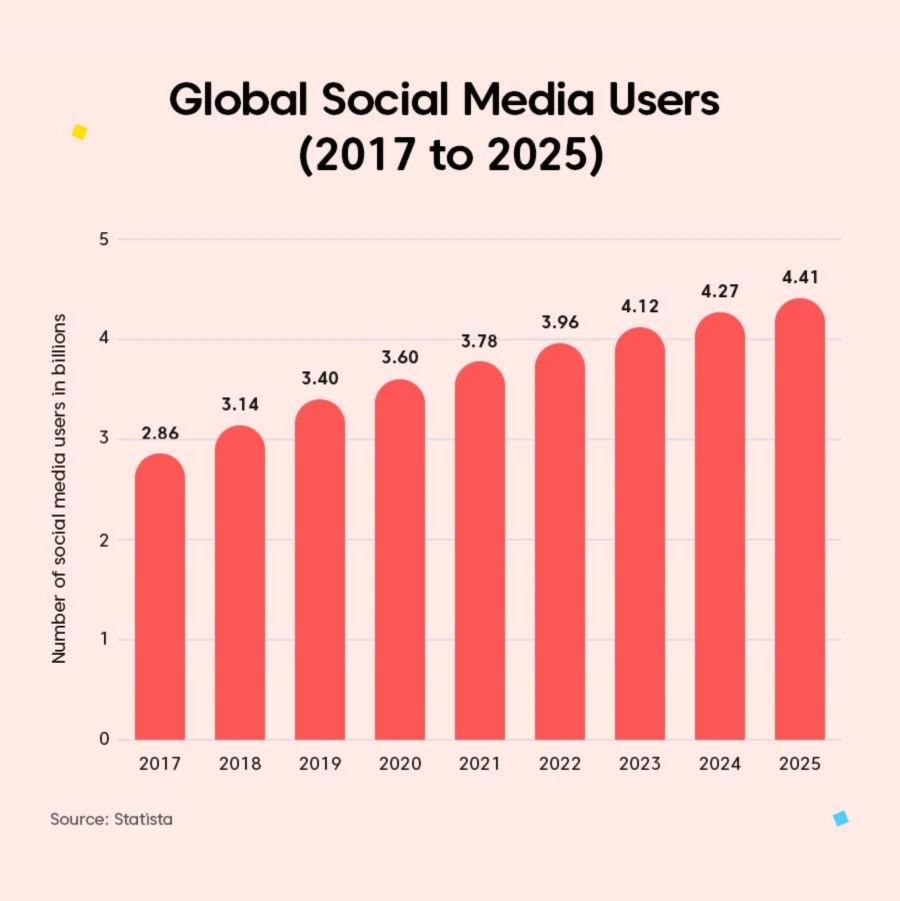 Omnichannel vs multichannel
Through an omnichannel experience, customers are able to connect to a brand seamlessly across various platforms such as websites, mobile apps, physical stores. It allows them to interact with a brand and address their concerns over the phone, webchat, social media, and email among others.
Omnichannel allows businesses to drive past the functional strategies of multichannel into a model that unites two or more channels and shares data between them. This enables customers to interact with a brand over multiple platforms without any loss of information.
For instance, if a customer who has initiated a chat with a business on webchat offers a little information, and then chooses to end the chat and call an agent instead, all the information shared on chat can be conveyed to the agent through an omnichannel solution. A business with multichannel capacities can assist the customer on both channels, but since it doesn't have back-end systems integration, the customer will have to enter all the details once again. On the other hand, with omnichannel experience, all channels are seamlessly connected. This implies that a customer need not enter or state the details mentioned earlier again and again and instead enjoys a unified experience across all platforms. There is much more to how omnichannel streamlines customers' experiences across channels.
1. No loss of information
Omnichannel offers a unified experience that doesn't depend on the channel chosen while multichannel offers separate experiences across channels.
2. Better personalization
Customers will enjoy personalized service supported by contextual data with omnichannel while there is a lack of insights to provide a personalized experience on multichannel.
3. Shorter sales cycle
Sales cycles are shortened and costs are reduced with omnichannel, on the other hand, it takes longer to close sales in multichannel leading to increased expenditure.
4. Streamlined cross-channel interactions
There is smooth cross channel communication with omnichannel while customers often struggle to shift from one channel to another in multichannel.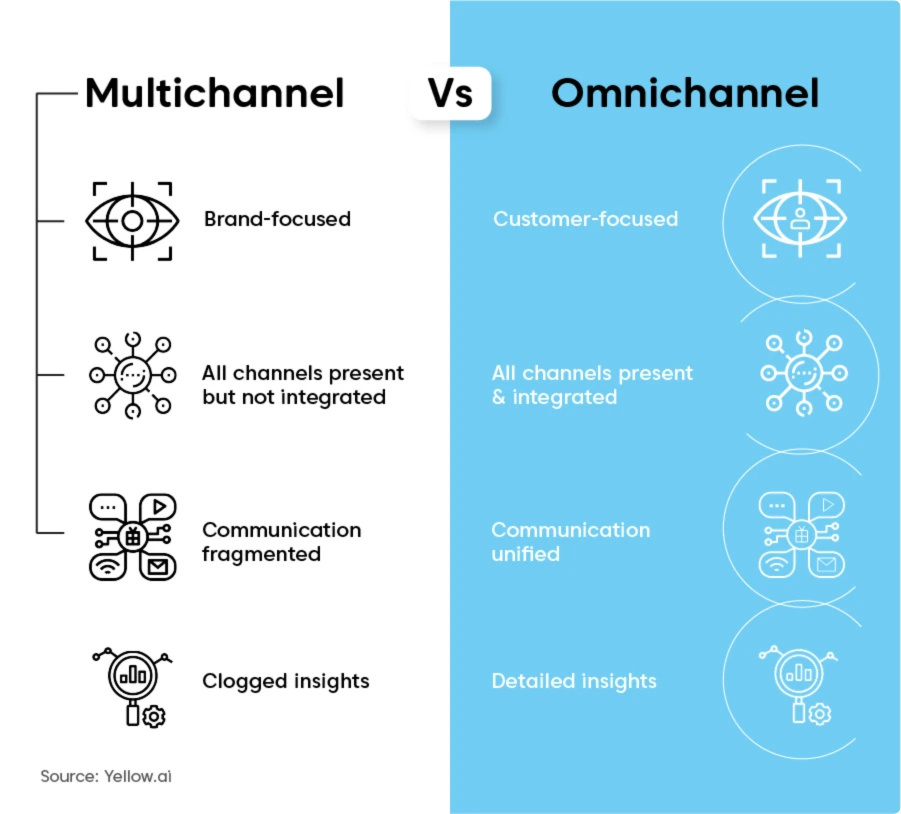 Benefits of Omnichannel Experience
With omnichannel experience, the various available channels are parallel as well as synchronized to each other. Businesses can manage customer journeys more efficiently by upselling goods and services, customizing marketing content, and proactively overcoming barriers. Some key benefits that omnichannel experience offers to both businesses and customers are:
Future of omnichannel
The future of omnichannel will revolve around connected experiences, personalization, efficiency, and convenience. Shoppers today are well-informed of the choices available to them. If you don't deliver experiences that are aligned with their expectations, they'll be quick to switch to a competitor. This is why businesses must offer such experiences to the customers that are more convenient and fulfill their changing needs.
Before jumping in, guns ablaze, transforming your entire strategy to omnichannel, it's important to take a step back. The focus should not only be on offering more channels but also, integrating them into a single-seamless experience. Let's look at how Yellow.ai can help you empower your agents to offer omnichannel support to your customers.
Delivering an omnichannel experience with Yellow.ai
Yellow.ai's INBOX, which is an integrated omnichannel customer support help desk, helps agents respond to customer queries across more than 35 conversational networks. With a perceptive UX, INBOX enables agents to manage requests from a single dashboard in any language, offering extensive customer history with exceptional context, thereby lowering query resolution time.
Easy to integrate with top CRM systems, INBOX simplifies assisting customers on different communication channels – email, voice, website, social media, and app by showing all the queries in a single contextual view, transforming customer support into a more efficient and logical process.
How has Yellow.ai helped businesses implement robust omnichannel experiences?
Yellow.ai's B2B omnichannel customer support helpdesk manages customer queries on numerous conversational modes. Here are two instances of how Yellow.ai's omnichannel solution has delivered an exceptional experience for the customers: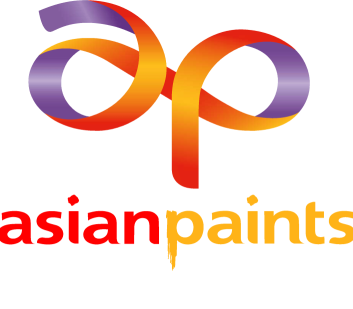 Yellow.ai helped Asian Paints, one of India's largest paint manufacturers by designing an on-demand service bot to respond to distributor queries nationwide in multiple languages. This has helped the firm achieve quick resolutions, along with providing a smooth customer experience.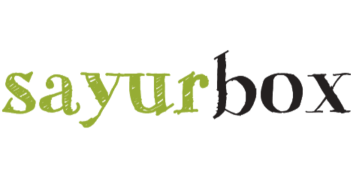 Yellow.ai built a digital assistant to answer customer queries and help place, track, and confirm an order to Sayurbox, a mobile-first e-commerce platform. Customers of Sayurbox can now interact with the assistant on WhatsApp and the web, and offer accessible support, thereby improving customer experience significantly.
Frequently Asked Questions
1. What is the difference between e-commerce and omnichannel?
Omnichannel involves using more than one channel to increase sales by concentrating on providing a unified customer experience regardless of the client's location. E-commerce meanwhile is the trading of goods and services, or the transmission of data or funds, across an /electronic network.
2. What does omnichannel mean in retail?
Omnichannel in retail illustrates a retailer's attempts to deliver a steadfast, coordinated customer experience across all customer channels through reliable, universal data.
3. What is omnichannel in banking?
Omnichannel in banking means that users can carry out all the banking tasks from a mobile app, website, a call center, the bank's branch, or any other relevant channel.
4. What is the difference between omnichannel and cross channel?
Cross-channel is the next level up from multi-channel while omnichannel takes the concept of omnipresence into account with customers having the ability to use various channels at the same time.
Automate customer support across channels with our next-gen total experience automation platform
Request Demo