From recruitment to onboarding, payroll to policies and employee engagement to experiences, there is a lot that falls within the domain of HR. However, most of their time on a daily basis goes into answering one-off queries and doing administrative work. 
To make sure that your HR team spends their time where it matters the most and your employees get instant support whenever they need it, you need an AI-powered ticketing system. Continue reading this blog to find out more about what a ticketing system is and learn why your organization needs one.
What is an HR ticketing system?
An HR ticketing system is an issue tracking software that manages and maintains employee queries from submission to resolution. The software systematically organizes all the support requests received over multiple channels like email and WhatsApp, in a single, unified dashboard.
A recent study by the Public Relations Society of America found that 95% of organizations still use email as their prime mode of communication internally. Even though email is convenient, it might not be the best way to handle employee queries.
There can be a lot of queries that require immediate attention, whereas, emails tend to get lost and can cause unwarranted delays. An HR ticketing software makes sure an employee's query gets resolved quickly by categorizing and allocating it to the right person.
9 Reasons why your HR teams should use a ticketing system
1. Simplifies communication and collaboration
The resolution of technical challenges often requires the collaboration of multiple people. At the same time, it's also critical to keep the employee informed about the status of their ticket.
A help desk ticketing system not only encourages transparent communication between individuals by enabling easy internal messaging, but also updates the employee about how the solution is progressing.
2. Organizes high volume of requests in a centralized location
The ability to consolidate and catalog all incoming support queries in one location is one of the most obvious benefits of a ticketing system. Not only does it make it easier for HR to manage a high volume of support requests, but it also reduces the likelihood of some requests going unaddressed or unresolved.
Moreover, because tickets can be prioritized, HR executives can decide which requests should be handled first. As a result, they don't have to worry about answering all of the questions at once.
3. Categorizes employee support requests
When it comes to assisting employees, it's important to identify which issue needs immediate attention. However, each employee expects instant resolution of their problem, no matter how big or small it is.
In such a scenario, by implementing a ticketing system that is integrated with a knowledge base, you can help employees self-resolve their queries. You can also deploy an AI-powered chatbot on your HR help desk to instantly resolve Tier-1 queries, so that you can focus on more complex escalations.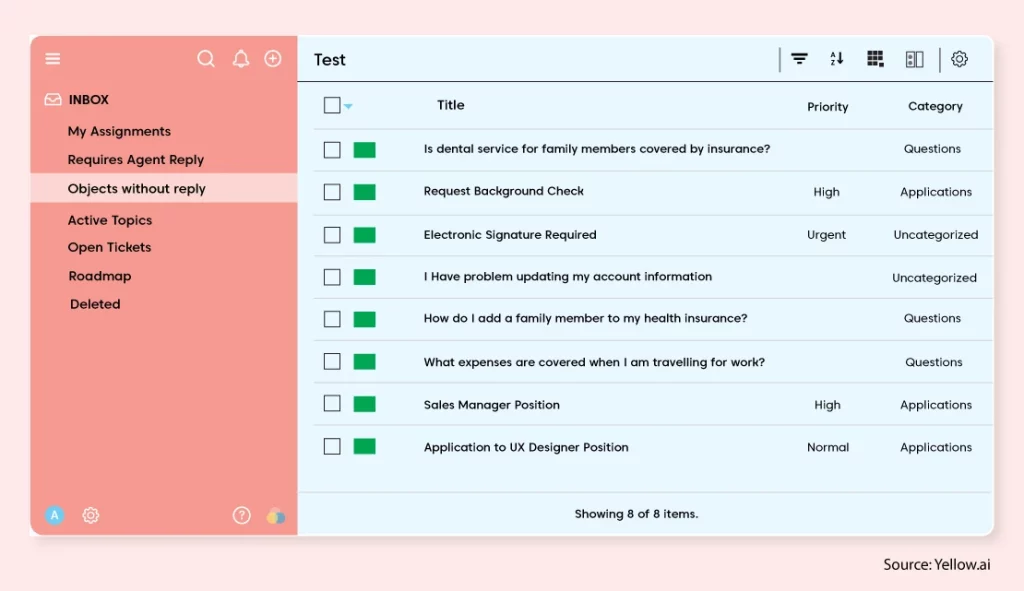 4. Consolidates interactions into one thread
Ticketing systems are built to work seamlessly in today's omnichannel world. If you offer support to your employees on multiple channels, the ticketing software can integrate the conversations from different channels into one unified thread.
As a result, your employees can use their chosen channel or even switch between channels while an issue is being resolved. Also, all interactions between the HR executive and the employee will be saved in the original ticket, even if the employee ends up dealing with a different executive, so that no information gets lost.
5. Keeps context of previous resolutions
With all that the HR team has to manage on a daily basis, it is impossible to manually keep a track of previous interactions. This is where a ticketing system comes into play.
With the help of a ticketing software, the HR team will have context of all the previous conversations and issues. This will help them stay informed so that they don't have to ask the same questions over and again.
6. Improves relationship with employees
Whether it's customers or employees, in the present day world when everything is on-demand, no one really likes to wait. Ticket management solutions make it easier for employees and HR to connect with one other because all interactions take place at one shared location.
Employees can check the status of their tickets and continue to communicate with the respective HR executive via internal messaging. In the event that the conversation needs to be continued by another representative, they will still have access to all previous conversations. As a result, the employee will receive a consistent and tailored experience.
7. Increases HR efficiency and productivity
Because of the organization and automation that ticketing systems provide, agents can work on cases that are appropriate for their level of knowledge, and they always know which requests must be answered first based on ticket priorities.
This translates to increased agent efficiency and productivity, fewer opportunities for human error, and faster ticket response times. Agents may effectively collaborate in the event of complex situations, resulting in faster ticket resolution.
8. Keeps track of important metrics and KPIs
AI-powered ticketing systems have built-in reporting capabilities, allowing you to track a range of employee experience metrics and KPIs. Channel utilization, ticket volume, ticket resolution time, initial response time, SLA compliance, HR productivity and many other metrics can be tracked.
These indicators serve as the foundation for evaluating your HR and employee support effectiveness, as well as providing useful insights into areas where your service operations can be improved.
9 Adds to your professionalism
A ticket management system, instead of scattered communications, will make you look more professional. Not only will you be able to solve problems faster but also make sure that no issue gets overlooked.
Resolving employee issues promptly will also show them that you respect their time and ensure that they have a hassle-free working experience with your organization.
By now you must have been convinced that a ticket management system is a must-have for your HR team. Let's look at a few things you need to know before choosing the right ticketing system for your company.
How to choose the right HR ticketing system?
Choosing the best HR ticketing system to help you reach your business objectives can be an overwhelming task. To get started, you'll need a well laid out plan to make a smooth transition to automation.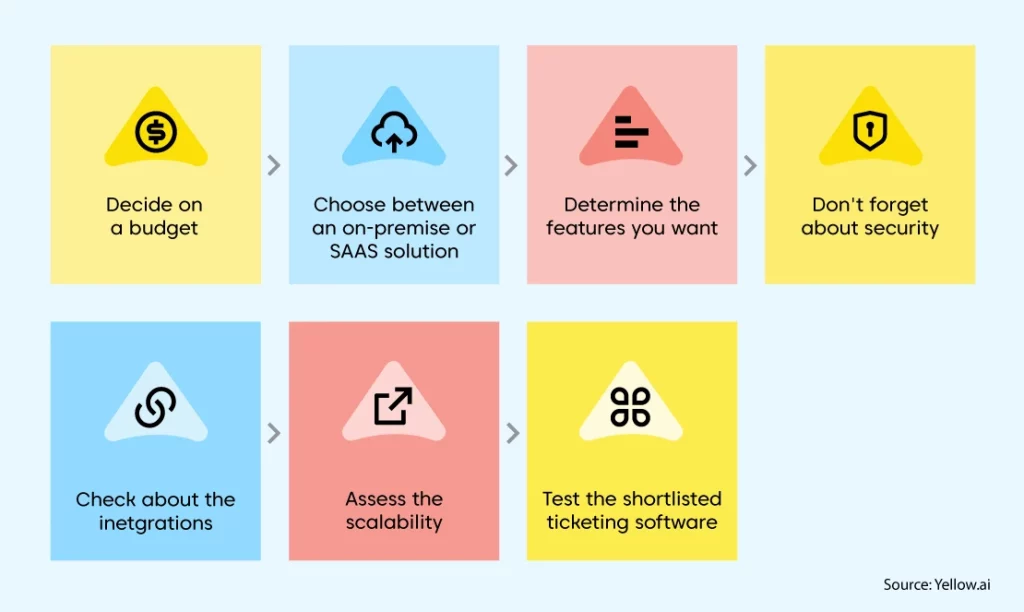 1. Decide on a budget
A lot of SMBs are reluctant to use ticketing systems because they assume them to be expensive. There are in fact a lot of affordable, pre-built systems available that you can use to streamline your ticket management process.
2. Choose between an on-premise or a SAAS solution
On-premise solutions are more customizable but expensive to build, since you'll install them locally on a server that you need to buy separately. You would need to hire IT professionals who will manage your system in the long run.
On the other hand, SAAS ticket management solutions are cheaper and have great time-to-market valuation. They may have certain limitations with respect to customization but you can buy a solution that meets your specific needs.
3. Determine the features you want in your ticketing system
Consult with your HR team and create a list of features that you would like to have in your ticketing system. For example, team inbox, chatbot and ease of integration with other HR management software.
4. Don't forget about security
Your ticketing system will be passing sensitive employee and company information back and forth. It is important to make sure that the tool you select is secure for data transfer. The exchange of information must be encrypted to keep the help desk software secure.
5. Check if the system can be integrated with a knowledge base
HR experiences an influx of repetitive queries on a daily basis. These can include questions about company policies, leave balances, holidays, benefits, etc. A ticketing management system integrated with a knowledge base can enable you to resolve such queries without any human intervention.
You can also deploy chatbots on your HR help desk to cater to these administrative queries. This will free up your HR team's time to focus on more complex employee issues. AI-powered HR bots are capable of offering round-the-clock assistance to your employees, even on weekends and holidays. They can extract employee data from your company's internal systems and deliver personalized experiences.
6. Assess the scalability of your chosen solution
It's important for the software you choose to grow with your organization over time. This is where scalability comes into play. Some factors that influence the scalability of ticketing software are the number of accounts that can be created, data storage capability, ease of channel and other API integrations.
7. Test the shortlisted ticketing software
Sign up for a free trial or a demo before you make the final call. It's important to check whether the features of the platform are in line with your requirements. You can, in fact, ask your HR team to test the ticketing system before you invest in it, as they will be heavily dependent on it for their day-to-day tasks.
How can Yellow.ai help?
With Yellow.ai no-code platform you can design a customized dashboard for ticket management depending on your needs and requirements. Our platform not only offers omnichannel capabilities but is also multi-integration ready with no additional efforts.
Moreover, our dynamic AI agents will not only address all the routine employee queries/requests, but also engage your employees into highly contextualized and personalized conversations, enriching the overarching employee experience.
Request a demo to know more about how our next-gen automation solutions can free up your HR's bandwidth to focus on high-value activities.