Why is reducing customer effort more important for improving loyalty?
A recent report by Gartner revealed that delighting customers may create "feel good" moments, but doing so has low impact on loyalty or repeat business. Infact, the idea that companies must "delight" their customers is making them pay a high-price in terms of misdirected investments and lost business.
So, what is it that drives customer loyalty and helps you get tons of word-of-mouth referrals? It's implementing a low effort customer service approach.
Why shift your focus from customer "delight" to customer "effort"?
According to a recent study, companies are trying too hard to satisfy their customers. What they forget is that every other company in the market is doing the same. In other words, the problem with satisfaction and delight is that competition has increased. There are many companies out there offering similar products and offers to the customers.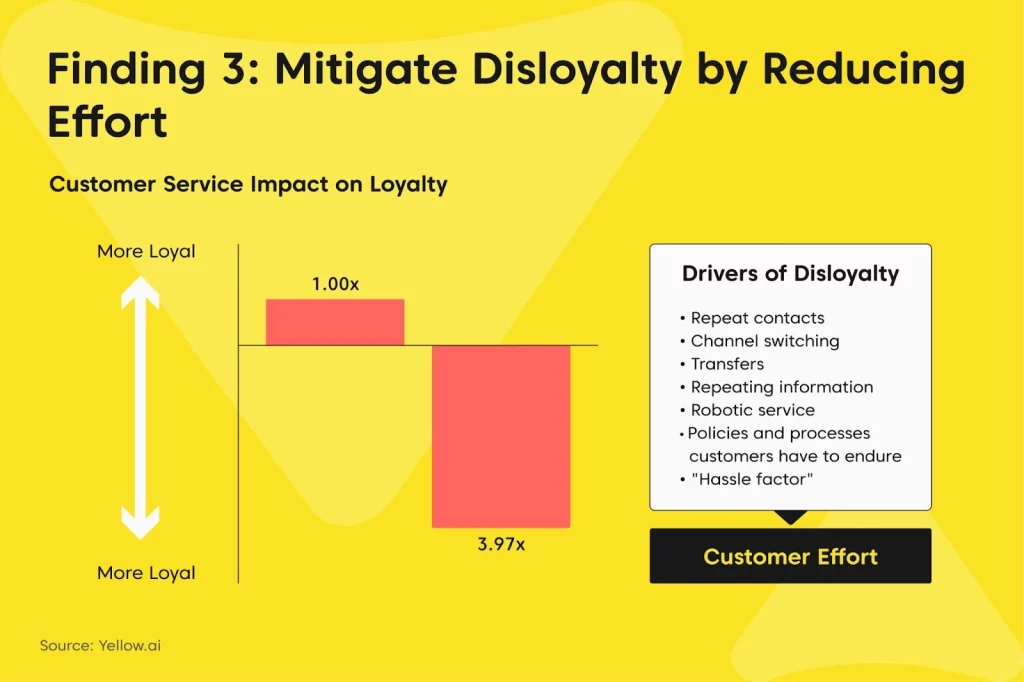 Going above and beyond by offering refunds, free products and services, expedited shipping is not sustainable and cost-effective in the long run. Moreover, it is not something that will help you achieve competitive differentiation and customer loyalty. What will, is how easy you make your customers' lives.
This raises the question if CSAT is still a relevant metric? While there's still certainly value in tracing customer satisfaction, there's a "newer" metric that better predicts customer loyalty – Customer effort score (CES).
5 Things you can do now to reduce customer effort
1. Never make customers repeat themselves
According to Harvard Business Review, the no. 1 frustration of customers is having to repeat themselves over and over. Internal dysfunction, outdated CRM technologies and lack of a customer-focused culture are all factors that contribute to this and it's the first issue you should address.
With an ever-increasing array of communication channels available, it may seem impossible to keep track of customer interactions. However, with the right technology solution you can integrate all these channels together and arm your agents with a rich context of each customer's problems.
2. Offer self-service options
Self-service allows your customers to find their own answers. They feel empowered because they can resolve their own problems without having to call customer support for every little issue.
An effective way to enable customer self service is by deploying chatbots integrated with a knowledge base. Customers can use chatbots to ask questions about products or services, pay bills and get help with account-related issues whenever it's most convenient for them.
3. Be proactive in resolving customer issues
In a study by inContact, 89% of people surveyed found proactive customer service to be a pleasant surprise or a positive experience. Proactive customer service is when you stay on top of customer issues and solve them even before they arise.
This means that in addition to focusing on first contact resolution rates, you also need to anticipate future problems. For example, when you are selling a product and anticipate that you can receive calls about its functioning, you can proactively email a user manual to the customer as soon as they complete the purchase.
Machine learning and artificial intelligence (AI) can help you predict customer issues by analyzing behavior patterns in real time to determine the best response and engagement channels.
4. Meet customers where they are
Customer journeys span across multiple channels today. To make sure your customers don't have to navigate between several channels to get in touch with you, you need to meet them where they are – on their preferred channel.
In an omni-channel customer support approach, you not only offer numerous ways for customers to interact with your brand, but also integrate multiple channels for effortless switching and better customer experience.
It allows customers to start communication on any channel and complete it on some other channel of their choice. The switch between different channels is hasslefree and without any loss of information, so customers don't waste time repeating their problems multiple times to multiple people.
5. Learn from unhappy customers
Many companies use post-call feedback to measure agent performance, but that shouldn't be the only concern. They should also focus on using that data to gather insights about what ticks their customers off and what works.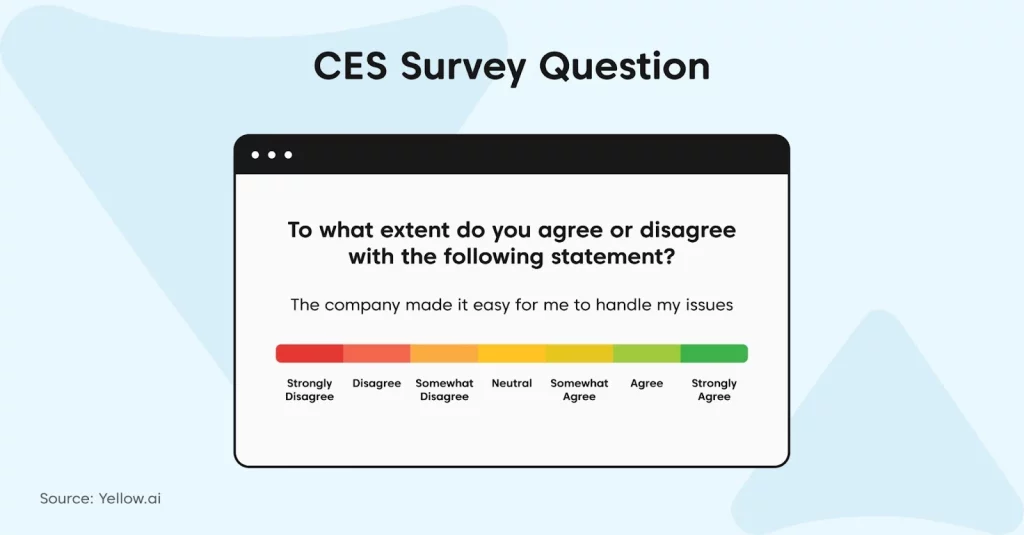 More importantly, unhappy customers give the most candid feedback. The insights that companies can gain from this feedback can guide their decision making and influence innovations and changes to their product or service.
You can also analyze customer journeys and identify, fix road blockers so as to save customers effort and time. Customers will value your attention to their problems and reward you with their unfettered loyalty.
How Yellow.ai can help you retain more customers while minimizing customer effort?
Our next-gen Agent Assist Platform, INBOX, is all that you need to add agility to your processes. It is an AI powered, automation-first unified inbox for agents to provide enhanced customer support across chat, email and voice.
Our platform will enable you to get a unified view of your customers' whole journey across channels and acquire superior context for improved problem resolution. They'll be wowed by the proactive notifications that you can send directly from Inbox to their preferred channel.
You'll also be able to equip your agents with AI-powered auto-suggestions to ensure response consistency, provide automated responses to similar requests and resolve open tickets faster with more contextuality.
Get in touch with our experts to know more about how we can help you improve your customer effort scores and make your customers more loyal towards your brand.