Introduction To Conversational AI and Travel
2020 has emphasized the importance of technology in every sector due to the onset of a global pandemic that took away the ability for humans to operate from workspaces in large numbers. Since a significant impact was faced by the travel sector incurring up to 85 billion Rupees in India, reforms in the method of providing business solutions to customers are the need of the hour.
The travel industry stands a great opportunity to make a comeback post pandemic with the help of Artificial Intelligence and automation.
Not only does conversational AI help travel companies cut up to 30% costs spent in customer service teams, but they also evolve with the times to provide a revolutionary business processing platform for tech-savvy millennials to make travel plans on the go. 
Machine learning and Artificial Intelligence have presented themselves as a boon to travel companies since conversational AI is the future of highly efficient traveling.
Wondering how? Read on to know what we're talking about!
What Is Conversational AI?
Conversational AI refers to a kind of artificial intelligence program that helps users to interact with a system that is empathetic to their cues and responses. You may know a Conversational AI as a chatbot available on several platforms.
Conversational AI is of great help to industries that majorly deal with customers on a regular basis, for example, e-commerce and the travel sector. Having chatbots to find the right product or service package, address grievances, make modifications and more such actions have brought a new level of convenience, especially in 2020 when offices can't operate at full capacity.
When the customer care centers and booking offices were closed during the period of emergency lockdowns, it was the chatbots that handled the majority of the booking cancellations and rescheduling.
Not only can a Conversational AI process information at high speeds, but it can also adapt and improvise its response by using its own logic. Conversational AI doesn't have a hard-set limitation to their solution creation, since they learn from themselves and can come up with unique ways to solve different situations.
Such progressive and prompt solutions mixed with an emotionally animated interface makes it easier for customers to interact and accept conversational AI in their lives.
Growing Importance and Involvement of AI in the Travel Sector
Customer service automation has a wide range of adaptability since it is not limited to a few sets of input and can create multiple pathways to provide the best travel-related solutions to any kind of client. Since travel companies can't have employees running operations from their office space or even from their homes to full capacity, conversational AI helps to bridge the gap and provide seamless services to clients without testing their patience.
A travel firm can survive the pandemic and establish a great head-start post COVID-19 if they manage to use customer service automation bots to resolve five of the most pressing issues their clients are currently facing globally:
COVID-19 Travel Updates
Impacted Travel Destinations
Booking Information and Reschedule Bookings
Handling Cancellation Requests
Refunds
Since these are the most common solutions that travel sector customers are looking for in the present, your 24/7 customer service staff is overworked conducting the same processes to handle other matters that require their attention.
Now that AI has been integrated into almost all technological gadgets, people enjoy the convenience and control it brings them, especially while arranging their own plans. The integration of chatbots on any platform let it be WhatsApp, Google Search page, apple chat, Website or Facebook Messenger can be done easily on Yellow Messenger's Conversational AI platform.
The conversational AI solution's use-cases have to be designed once and can be deployed as stated on multiple platforms. All the bots interact with each other, with the user interface bot to give the most humanoid experience to the user and agent. Helping the travel agency to keep track of multiple conversations coming in from many platforms.
Nearly 74% of people make bookings from the Internet and 80% prefer trip planning on chatbot since it gives them the opportunity to customize their travel and accommodation requirements.
Below is an example of Indigo's Travel Assistant, Dottie, baked by Yellow Messenger. Dottie helps travelers by giving them the information they would require the COVID travel policy of all states and countries. As well as changing any booking or canceling a flight.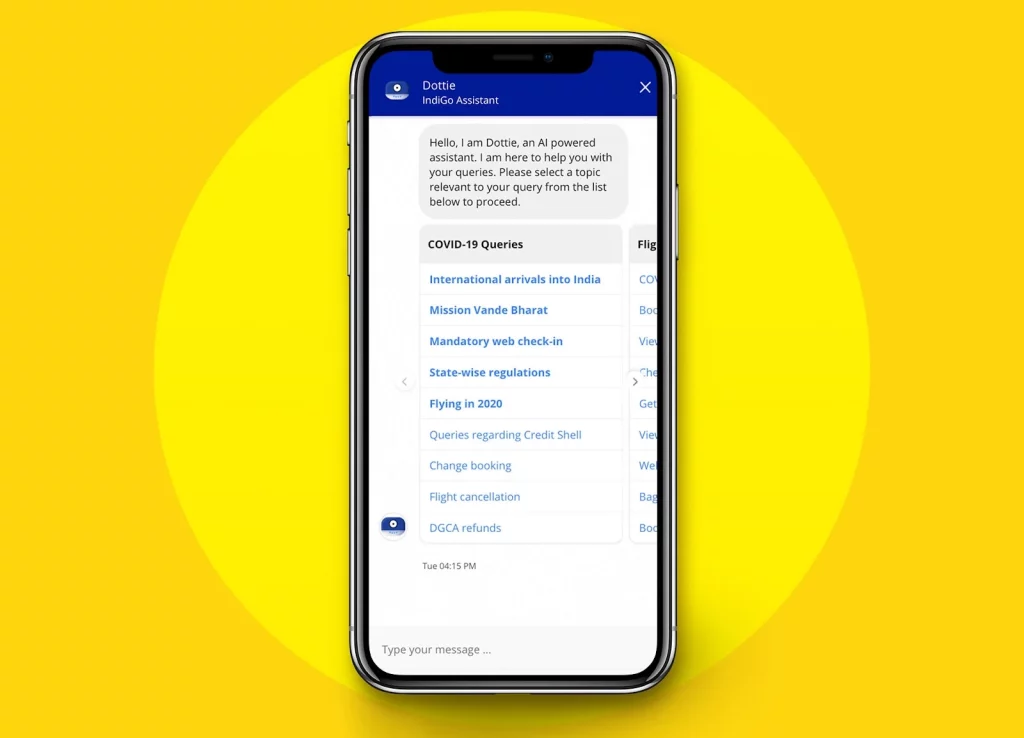 Conversational AI: Virtual Assistants and Smart Hotel Rooms
Intelligent Virtual assistants being installed in hotel rooms and Air BnB's increasing efficiency in self-help for the customers while such establishments work at less than half staff capacity is a genius move post-pandemic. The use of Conversational AI for self check-ins and check-outs, requesting for room service and cleaning, all while keeping human contact to the minimum not only protects both the staff and the visitors but also helps the staff to work on areas that really need their attention. Smart hotel rooms with electrical appliances and gadgets that don't need to be touched to reduce the chances of contamination will be extremely helpful to restart business in 2020 and post-pandemic.
Benefits Of Integrating Travel Sector With Conversational AI
The travel industries have a huge potential for growth and revival post-pandemic with the help of conversational AI due to the array of benefits it can bring, such as:
Providing better experiences with AI:
integration with AI will help travel companies bring better user experiences to customers by reducing delays in service. The scope of human errors also reduces with the usage of Conversational AI, along with the prompt resolution of grievances and processing requests. Such technology makes life simpler for the travel company, its staff as well as the customers.
Growth Potential:
This is the perfect time for travel companies to tap into the potential of increasing dependence on AI. Adapting to such changes in operations is the best way to set their trajectory for quick recovery. When customers can get their traveling plans customized without the need to frustrate themselves, you stand a greater chance to win more prospects over with smart travel and hotel stay AI integration.
Better brand image with futuristic technology:
Gone are the days of rickety physical booking offices or even websites. A travel company can revamp their entire brand image by integrating Conversational AI into their operations.
Such a futuristic evolution will add more appeal to your firm over other traditional ones for millennials, who travel more than any other generation. Such technological advancements will not only create a new way to travel and book trips but also set the tone for evolving with the times. Amazon and Tesla are hailed for the same reason: people love technology that makes life easy for them.
Conclusion
Employing the help of AI chat assistants and bots in the travel industry can prove extremely useful in providing great service to customers because once these priority issues are attended to, the customer service staff can focus on handling other matters that need human skills.
Yellow.ai strives to bring you the latest information about technological advancements and Artificial Intelligence in the economy through detailed articles, visit our blog to stay updated!