While some companies have adopted automation, others are still dabbling on the fringes, investigating how it can best benefit their organization. Regardless of your stance, now is the time to prepare your company for a future completely immersed in this suite of strong technologies. Let's look at the top 7 automation trends that will help organizations unlock new levels of efficiency in 2022.
Key automation statistics you should know about
Automation, like most new technologies, sprung onto the scene among a small number of early adopters, mostly large corporations willing to risk significant resources. However, as technology advanced, expenses decreased, bringing them into reach of more cost-conscious SMEs. This has led to the growth of the automation market – projected to reach $136.5 billion by 2026 growing at 3.7% CAGR during 2021-2026.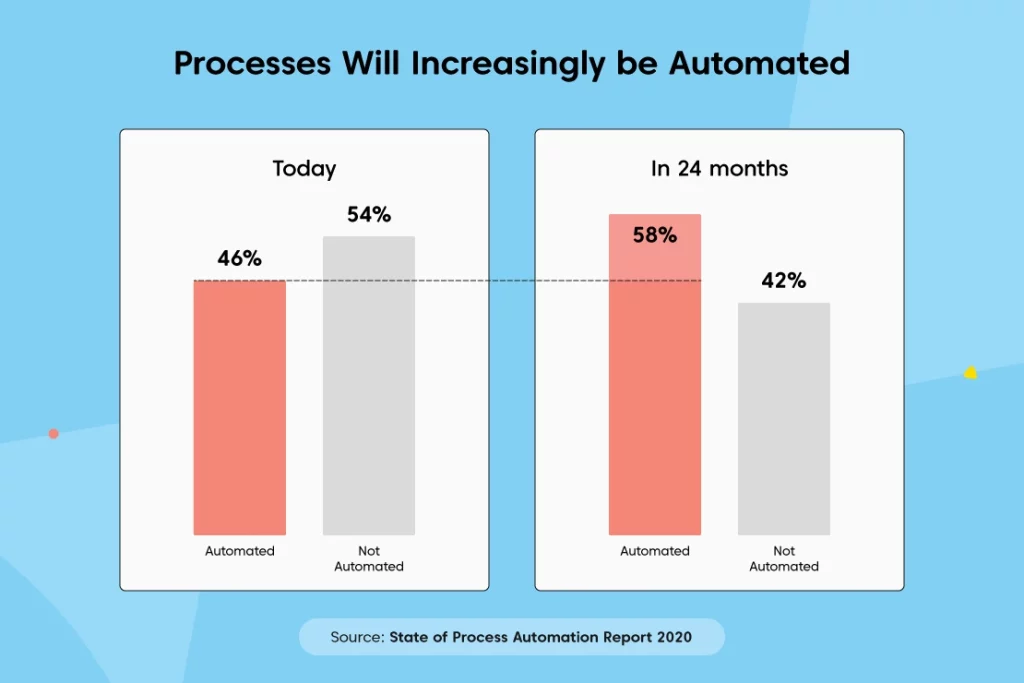 Any discussion about business process automation is incomplete without talking about RPA and DPA. Let's look at what the data says.
RPA (Robotic process automation) relies on bots to mimic regular cognitive human tasks. In 2019, the value of the RPA market was 1.4 billion USD. Research forecasts it to grow at a CAGR of 6% between 2020 and 2027.
DPA (Digital process automation) is a newer variant of BPM that is lightweight and needs less coding. In 2019, DPA had a market value of 7.8 billion USD. By 2025, it is expected to grow at a CAGR of 13%, reaching 16.12 billion USD.
What's more? Companies all over the world are relying on automation technology to relieve their employees of laborious and repetitive chores. In the near future, we can see automation playing a pivotal role in reshaping the workforce. According to Gartner, 69% of day-to-day managerial work will be entirely automated by 2024.
Top trends shaping the automation space in 2022 and beyond
1. AI-powered automation revolutionizes RPA
Empowering your bots to observe and understand tasks rather than follow a set of guided instructions to complete tasks falls right in the domain of AI-powered automation. It adds a new layer of intelligence to your bots, where they are able to recognise the process, understand what data is required and know where to obtain and move this data.
AI-powered bots have the potential to transform industries by democratizing automation and making it easier to scale. They use NLP and machine learning to use past data and complete a task accurately, without any human intervention.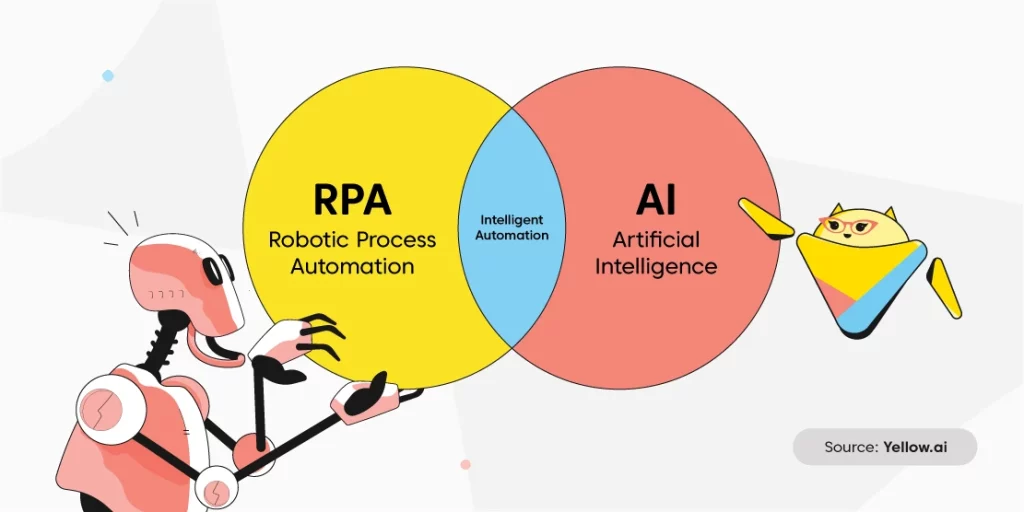 2. Hyperautomation takes the center stage
One of the Gartner's Top Strategic Technology Trends for 2022 is one that has made considerable waves in recent years – hyperautomation. Automation has been a blessing for increasing productivity in repetitive, everyday operations, but executives are also investigating how hyperautomation can be implemented in non-routine tasks as well.
According to Gartner, hyperautomation is a business-driven, disciplined approach that organizations use to rapidly identify, vet and automate as many business and IT processes as possible. It involves the orchestrated use of multiple technologies, tools or platforms, including AI, machine learning, RPA, low-code/no-code tools and more.
It opens up new possibilities for sales, client success, operations and other functions within an organization to not only deflect repetitive work to a bot but also think about the fundamental questions that hyperautomation can help them answer.
3. Low-code/no-code democratizes automation
Low Code/No Code (LC/NC) solutions are increasingly democratizing Automation by enabling high scalability, performance, security, and integration across enterprise applications. People with limited or no coding skills can use low-code/no-code automation solutions to automate repeatable business operations.
A drag-and-drop UI interface allows business and technical users to automate numerous business operations. As the next generation of RPA and AI technologies develop, such solutions are emerging as key enablers of digital transformation.
According to a recent Forrester report, the market for low-code automation is expected to reach $21.2 billion by 2022. Moreover, Gartner predicts that by 2024, more than 70% of large organizations will adopt low code development tools for IT application development.
Start your automation journey with low-code/no-code Conversational AI platform.
4. HR leaders prepare for a human-digital workforce
The workplace is experiencing a seismic change. Hybrid human-digital workforces will be prevalent within the next five years where people will collaborate with their virtual assistants on a daily basis, exchanging chores, delegating tasks and so much more.
But how can businesses make a smooth transition from where we are today to a workplace where people and robots work together? CHROs can start by democratizing automation where all of their employees can use automated procedures and digital assistants to work effectively.
They further need to develop multi-year plans to forecast where employment will be lost—and where it'll be created. Consequently, they'll plan the redeployment strategies as well as future upskilling, reskilling and hiring.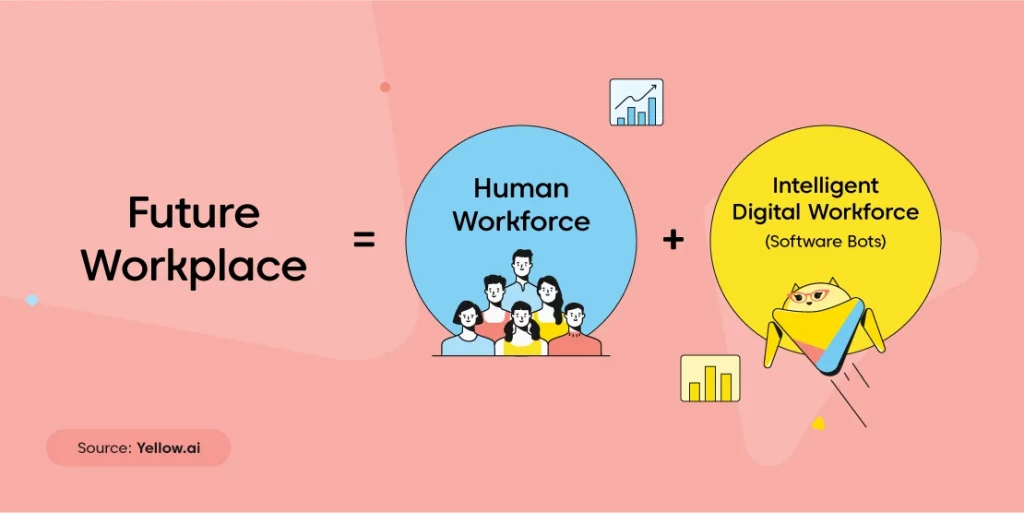 5. Just-in-time emerges as a new workflow paradigm
On a day-to-say basis, employees spend a significant amount of time navigating between enterprise applications like Jira, Workday, Salesforce, etc to get their work done. However, in 2022, a new workflow paradigm is evolving where people will receive a stream of just-in-time tasks on their desktops by their virtual assistants, helping them stay more productive.
This method saves employees from most of the complexity and fragmentation, allowing them to focus on vital and valuable tasks. They won't have to waste time opening, closing and navigating through applications, or struggle to execute workflows that span across numerous systems.
6. Automation COEs expand their scope into AI implementation
In a recent survey it was found that up to 64% of organizations took at least a month to implement a new AI model and 20% even took 6 months or more. In 2022, automation will serve as the perfect solution to the last-mile problem in the implementation of AI.
In simple words, automation will help expedite the launch of AI and machine learning to the front lines of actions, decision-making and analysis. This will require automation COEs to broaden their scope beyond business process automation to also cover AI and ML deployment.
7. CIOs lead the automation initiative
Automation has emerged as the top technology trend, according to McKinsey. Infact, in a recent Gartner survey, more than 80% of companies have stated that they will continue or even increase their spending on automation. This is where CIOs step in and take the initiative, defining the strategy, governance and technology.
As we see more investment in this space, CIOs will need to focus on what technology to standardize, how to balance centralized initiatives and individual team member initiatives, what capabilities need to be built and how to ensure governance, security and quality while keeping revenue in mind.
Summing up
The world of technology develops quickly, and automation is essential for staying ahead of the curve. Over the next year, businesses will try to uncover new ways that automation and machine learning might help them decrease costs and reinvent their present operations. Implementing or accelerating automation will continue to boost operational efficiency for businesses worldwide in 2022 and beyond.