With the world becoming more digital, legacy systems in the insurance industry are transforming. Customers now have quick access to information and are no longer left out of the loop. Digitalization has demystified insurance processes for the customers. Today, they can shop for policies online, read reviews and compare offerings of different insurance providers and even self service their policies.
Moreover, with rising competition in the insurance industry, customers have far too many options to choose from. So, if a provider fails to meet their expectations, they will quickly shift to a competitor. They expect seamless, on-demand services and a more personalized experience.
It would be difficult to imagine having these expectations met with old, complex processes. To bridge this gap, insurers and insurtechs around the world are investing in AI-powered insurance chatbots to enhance customer experience.
In this article today, we'll have a look at how chatbots are making a difference in the insurance industry and what does the future hold for them?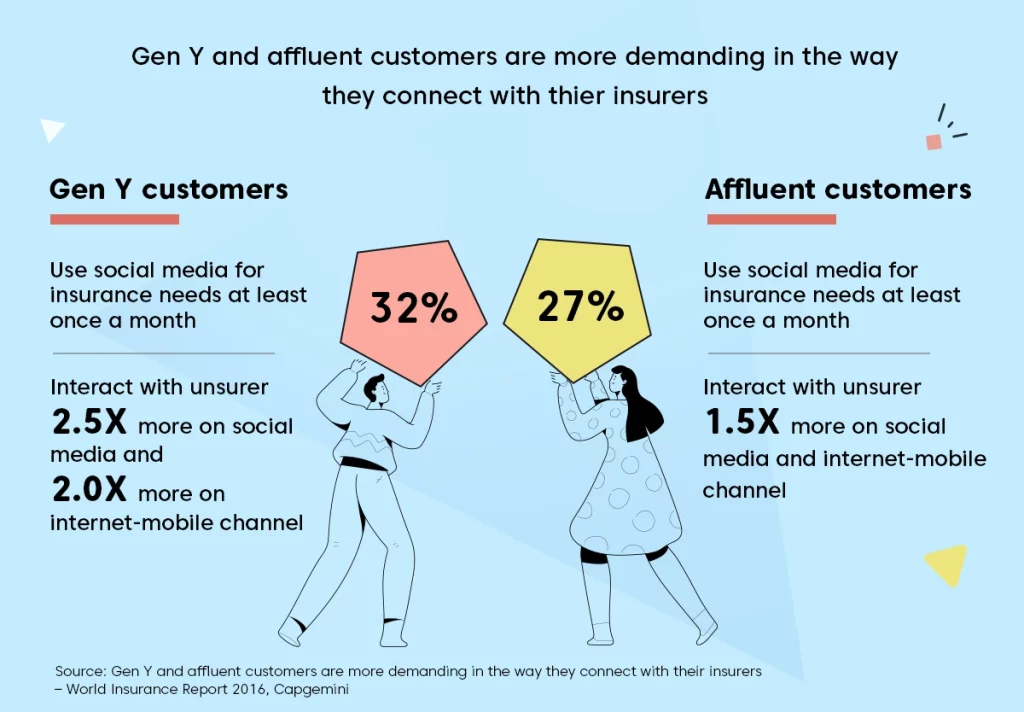 Global rise of chatbot popularity
The rise of messaging apps has made chat as the preferred mode of communication online. Customers expect to be able to communicate with brands over chat for instant resolution of queries.
On the other hand, the pandemic has accelerated the shift towards a digital world. Businesses around the globe are experiencing record high engagement from customers. It can get overwhelming for human agents to keep up and provide efficient customer service without the involvement of conversational AI.
Gartner predicts that by 2022, 70% of customer interactions will involve emerging technologies such as machine learning (ML) applications, chatbots and mobile messaging, up from 15% in 2018. 
7 effective use cases of AI-powered chatbots
1.  Customer engagement
The first step of interaction with a customer in the insurance industry is through inquiry. Usually, customer service executives spend a lot of time providing policy information to users.
Most of the time, the customer would ask trivial questions about the service, and the executives would need to answer those queries. But with a chatbot, these things can be handled easily.
With the chatbot's dynamic question and answering schema, most of the initial queries can be solved. With this, executives can focus on real problems, where they are needed the most.
2. Claims processing and settlement
Settlement of claims requires the involvement of providers, adjusters, inspectors and agents. It's a tardy process that takes around 30 days or sometimes even more. Meanwhile, the customers have to constantly follow up with a customer rep to check the status of the claim.
With the help of an insurance chatbot, making and checking up on claims is as easy as it gets. Policyholders just have to tell about the nature of the claim. The bot then asks for a few additional details, pulls up the customer's policy from the company's CRM and immediately initiates the claims filing process.
3. Premium payment collection
In the insurance industry, recurring payments and processing require the involvement of two parties. One is the customer who wants to make the payment and the field agent(s) who collect those premium payments. Although online payments are integrated, the customer still has a problem in deciding where to pay and how.
Chatbots can be set up to get this payment service running smoothly. Chatbots can help the customer find the appropriate channel through which they renew their policy. Customers can also find the relevant information required to make the payment.
For example, chatbots can be developed to guide the customer through the process of making the payment. It can make it easier for a customer to get acquainted with the platform better and make the payments effortlessly.
4. Lead generation
A lead is nothing but a potential customer. Leads are generated by the various marketing campaigns that a company runs. But they can also be generated by collecting valuable customer information with the help of a chatbot.
Not only lead generation, chatbots also play a vital role in scoring leads and making sure only qualified leads are shared with the sales team. With chatbots handling the lead generation and conversion, the marketing team can focus on devising more engaging and personalized campaigns.
5. Opportunity for cross-selling and up-selling
When a customer tries to buy a particular service or product, there is a small window of opportunity for cross-selling and up-selling. The most crucial thing to consider here is that making relevant product suggestions is extremely important for efficient cross-selling.
Chatbots can be integrated with learning models and recommendation systems that can logically guess which product the customer is more likely to buy. By remembering the profile of the customer and the product bought earlier, the chatbot knows well about the customer and can sell better. Chatbots can convert the opportunity for cross-selling and up-selling to a sale with a higher probability.
6. Personalized customer support
The insurance industry is getting highly competitive each passing day. The key distinguishing factor is how a company treats its customers. One thing that helps in making a better relationship is how well the customer is supported throughout the journey.
Many questions need to be answered, other than the phases discussed above. Customers need to feel that they will be assisted whenever necessary. Chatbots can make customer support available all the time on all platforms like WhatsApp business, Apple Business Chat, Google Search page, Maps with the help of Google's Business Messages. 
With chatbots handling the customer service requests, the staff can deal efficiently with customer's requests. Chatbots can help retain the customers by providing them with the assistance they require at all times.
7. Live Agent Support
The secret to a successful CX strategy is the amalgamation of human resource and automation. Bots should not be deployed at the cost of human touch. This is why customers should always have the facility of talking to a human agent if they want to.
A chatbot should be able to smoothly hand-off the query to a human agent in real-time or should be capable of scheduling calls and online meetings.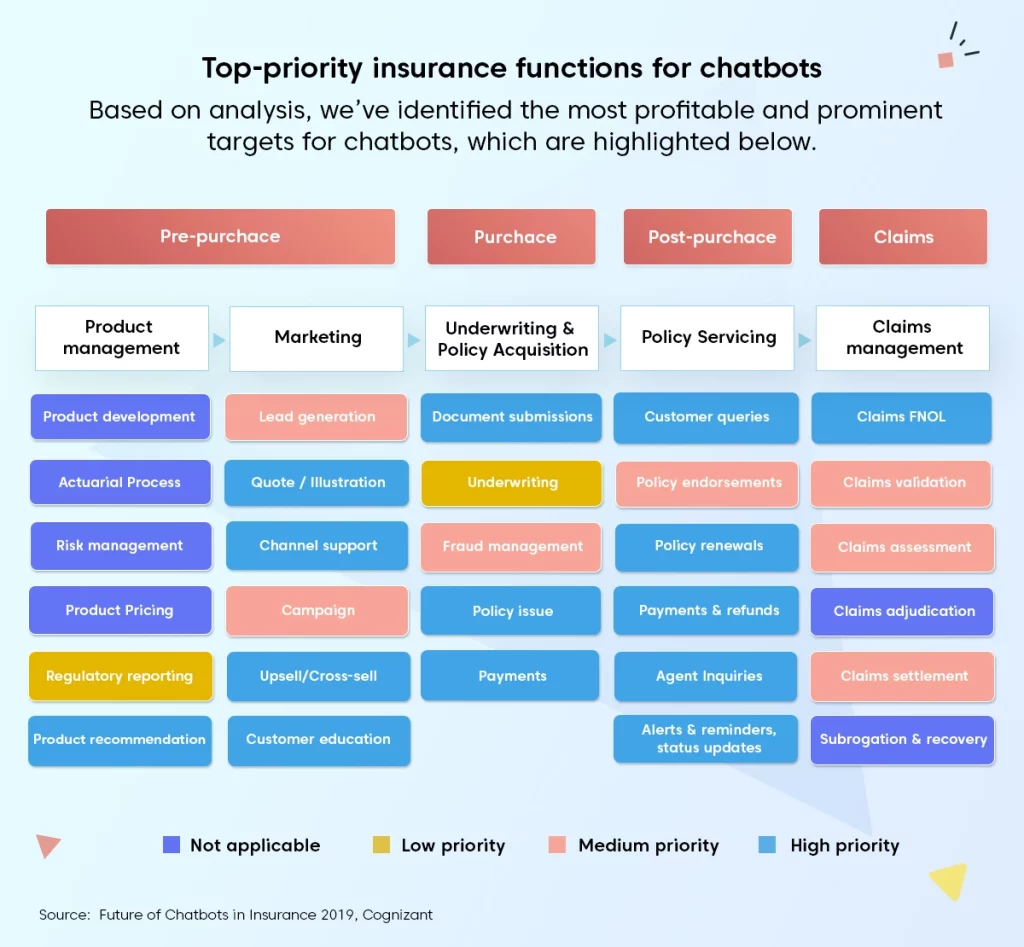 6 reasons to implement insurance chatbots
Insurance chatbots are beneficial for both insurance companies and customers alike. Where on one hand, chatbots empower support teams to provide a more proactive and personalized customer experience. They sure are making the customers' life easier as well.
1. Simplify complex processes
The insurance processes can be quite complicated and full of hefty paperwork. It's safe to say that customers don't mind getting real-time support throughout their journey. According to a 2019 Statista survey, 43% of customers are comfortable using chatbots to buy insurance policies. Whereas, 44% prefer using chatbots to make insurance claims. 
2. 24/7 Customer support
Insurance documents are a complicated maze of clauses, terms and conditions. This is because of stringent regulations in the industry. Companies make sure that the documents are comprehensive and cover all their bases in case of a large claim or a lawsuit.
So understandably these documents are very hard to read. It's natural for customers to have loads of questions. Intelligent chatbots that leverage natural language processing (NLP) will not only be available 24/7 but also solve 80% of queries without human intervention.
3. Improve agent productivity
Most of the queries that the customer support teams receive on a day-to-day basis are repetitive in nature. Such matters can easily be solved by an AI chatbot and the support agents can free up their valuable time to tend to more pressing customer problems. This way an insurance company can serve more customers in a day, deliver better satisfaction and improve team productivity.
4. Cost reduction
By using a chatbot, an insurance company can significantly reduce its customer support costs. A single chatbot can efficiently handle a major volume of queries that would otherwise require a large customer support staff. 
Chatbots are also able to provide instant resolution and fast response to the customers. It will be easier for an insurance provider to scale up its customer support efforts using an insurance chatbot instead of hiring and training a huge support team.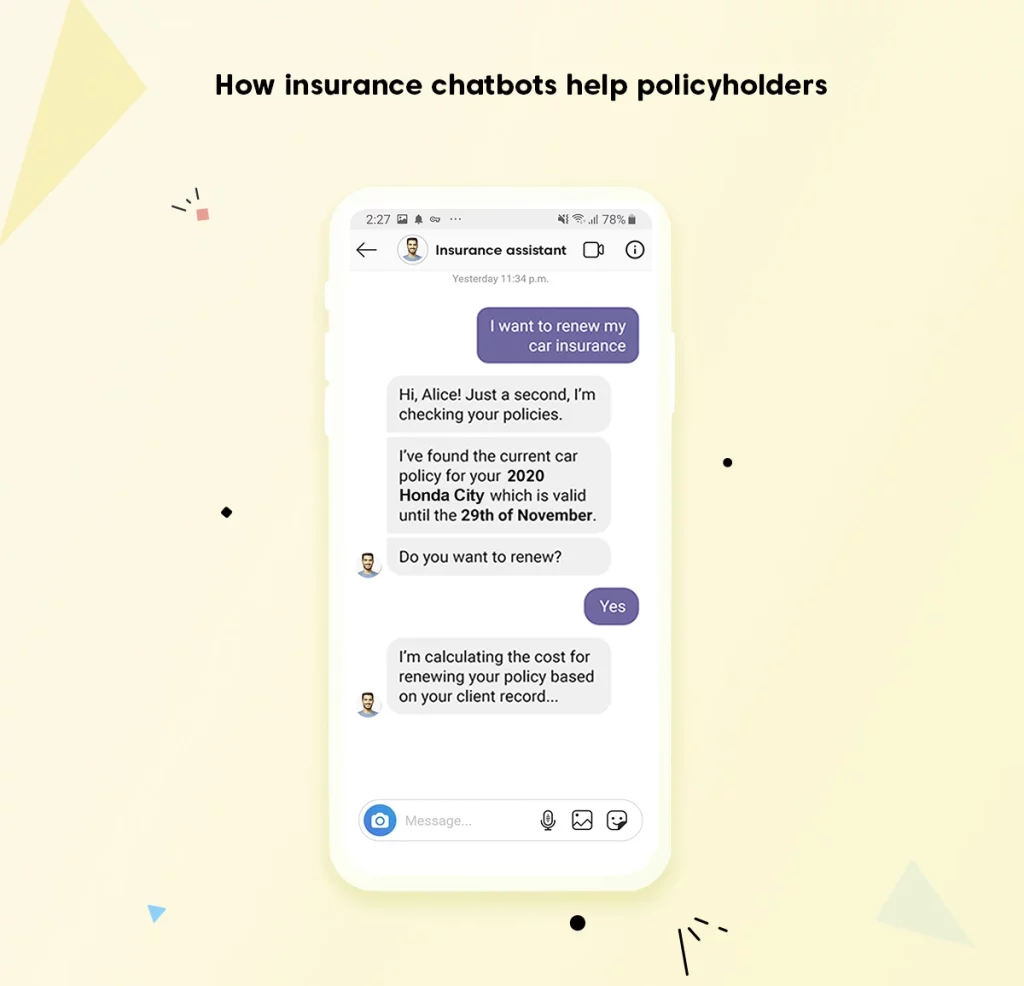 5. More engaged customers
The key to always having your customers' attention is by keeping them engaged. By using an insurance chatbot to send prompts and real-time notifications to customers will improve brand engagement. AI bots can keep customers informed about the status of their claims, premium due dates, policy renewals and any new offers or updates.
6. Assist insurance agents
Quite contrary to what people may believe, chatbots do not make human agents redundant. Rather, if used strategically, insurance chatbots can help increase the productivity of the support team. Chatbots not only solve menial queries for human agents but also equip them with better context about the customer's intent, requirements and risk profile.
Future of AI chatbots in the insurance industry
With multiple use cases in the industry, chatbots are expected to play an important role throughout the insurance value chain. Starting from pre-purchase, purchase, customer service, marketing and other back-end operations, chatbots are poised to be the innovation in insurance.
Consider this scenario a few years down the line:
You are driving to an out-of-town meeting when you meet with an accident with another car. As soon as the car stops, you receive a call from your auto insurer's chatbot who notifies you to take pictures of the damaged car. As soon as you send the pictures, the chatbot calculates the damage, makes the claim for you, and replies with approval, within minutes.
Yes, this may sound a bit far-fetched but in a few years, we can expect to achieve a level of advancement close enough to this scenario.
Human agents and chatbots: What does the future look like
The role of human agents will also transform from mere intermediaries to advisories. With the help of smart personal assistants, agents will be able to focus on offering relevant coverage to the customers and helping them manage their portfolios.
AI chatbots will be able to anticipate the future needs of the customers and tailor each conversation accordingly to meet the needs of individual clients. Chatbots will also make use of advanced technologies such as blockchain and IoT. New use cases and insurance products will emerge in the light of new technologies.
The pace of advancement is only expected to accelerate with time and the insurance chatbot frontier is bound to flourish far into the future.
Don't keep waiting! Start your journey of AI transformation with Yellow.ai's Virtual Insurance Agent – Request a demo!