Decision-makers in an e-commerce environment clearly understand the demand as well as the competition in the marketplace. In order to become successful in the B2C and D2C markets, you need to stand out from the crowd and reach consumers and engage with them like never before. Therefore, e-commerce chatbots are not an option anymore. You must deploy conversational AI to one or more communication channels and automate interactions with your customers.
It is expected that by 2040, 95% of sales will be conducted using e-commerce. During the Covid-19 pandemic, customers have experienced the vulnerability of brick and mortar stores and the comfort and convenience of e-commerce stores. From every day groceries to some rare out-of-the-ordinary goods, people are dependent largely on e-commerce stores for everything.
One of the major reasons for the surge is better customer experience. With the ease to order anytime, easy tracking and hassle-free shopping customers are ready to pay the price. Moving forward, customers would reach out to e-commerce brands on social media platforms such as WhatsApp or Facebook and place orders directly through chat.
In this article, we aim to give you an in-depth understanding of how brands such as Spencers or Sephora are leveraging e-commerce chatbots and what are the benefits they are experiencing. We will also cover the use of e-commerce chatbots on social media platforms.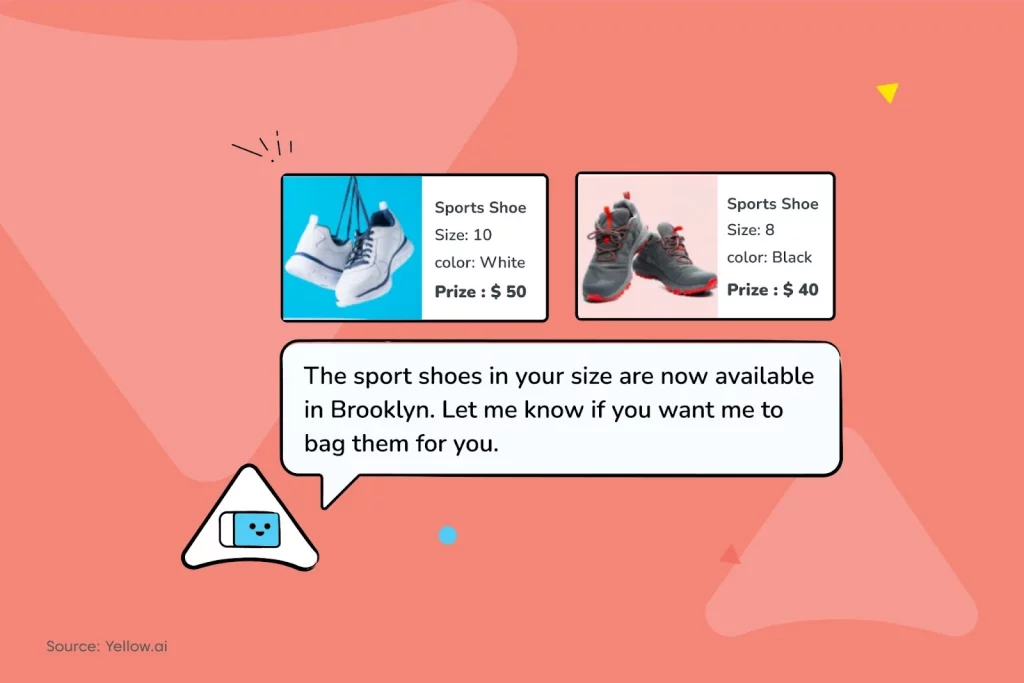 What are e-commerce chatbots?
E-commerce chatbots are AI-driven virtual assistants that interact with customers throughout their buying journey and assist them with product knowledge, order placement, order tracking, return or refund process, post-delivery services and a lot more. They are more like a store assistant who understands customer preferences and walks them through the sales funnel.
With e-commerce chatbots in play, businesses can provide customers with an exceptional experience where they can place orders without scrolling through thousands of products. Your brand can show them a very personalized list of products based on their choices and preferences.
Examples of e-commerce chatbots
In order to give you a better understanding of how you can leverage this technology, we are taking examples of some of our customers who use e-commerce chatbots to their full potential and experience excellent results.
1. Sephora
Sephora is a leading beauty retailer whose mission has been to create a welcoming shopping experience for all. It is the epitome of a customer-centric company that doesn't just welcome smart customers but embraces them.
The challenge for Sephora was that it wanted to attend to online customers in a similar way as it does in its brick and mortar stores. The brand wanted to engage with its customers and ensure a similar level of support and assistance.
Read full case study: Sephora virtual assistant
With a virtual assistant, the brand was able to provide personalized consultations and an excellent online shopping experience.
Try for yourself, how our virtual assistant works for Sephora- chat now.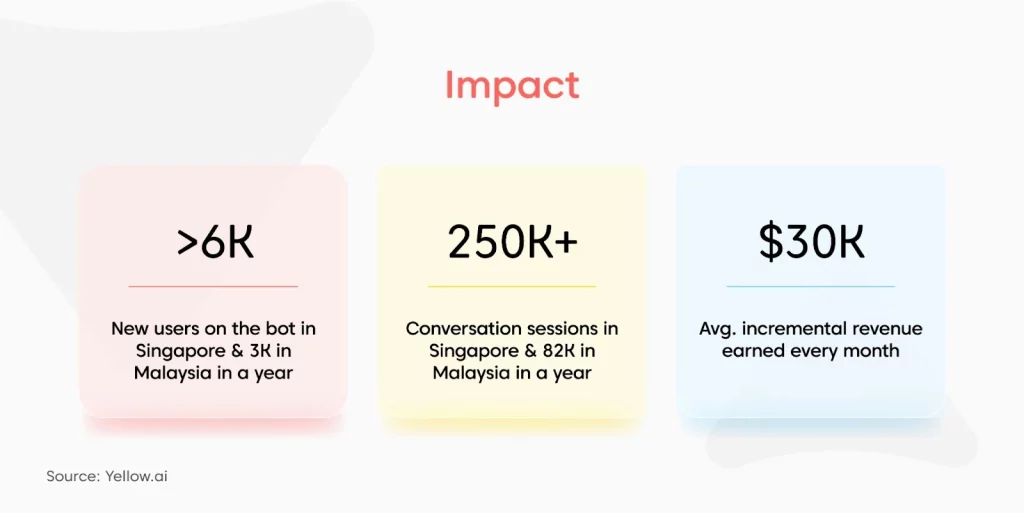 2. ZALORA
ZALORA is a premium Fashion & Retail destination in Southeast Asia with a perpetually growing presence in the fashion, beauty and lifestyle space.
Using e-commerce chatbots, ZALORA wanted to improve its support operations while working within the limitations of its current workforce.
Read full case study- ZALORA virtual assistant
The company was able to automate a delightful shopping experience for customers which led to higher customer satisfaction. Along with this, the brand expanded globally by proving customer support in multiple languages.
Zalora saved a lot of man-hours and provided excellent customer support without human intervention.
3. Sayurbox
Sayurbox is a farm-to-fork, mobile-first e-commerce platform for purchasing fresh produce that is cherry-picked, and delivered directly from farms to consumers (B2C) and restaurants (B2B). They function in Banten, West Java, and Jakarta.
The brand serves an altruistic purpose of dis-entwining the demand and supply chain for a vast population and faced umpteen customer support queries with long wait times and limited agent help. It wanted to manage the large volumes of incoming queries and lack of agent availability with an e-commerce chatbot.
Read full case study- Sayurbox virtual assistant
With an end-to-end solution, Sayurbox was able to answer customer queries and handle placing, tracking and confirming orders. With availability on WhatsApp and the web, the brand was able to meet its customers where they are and solve their queries accurately without fail.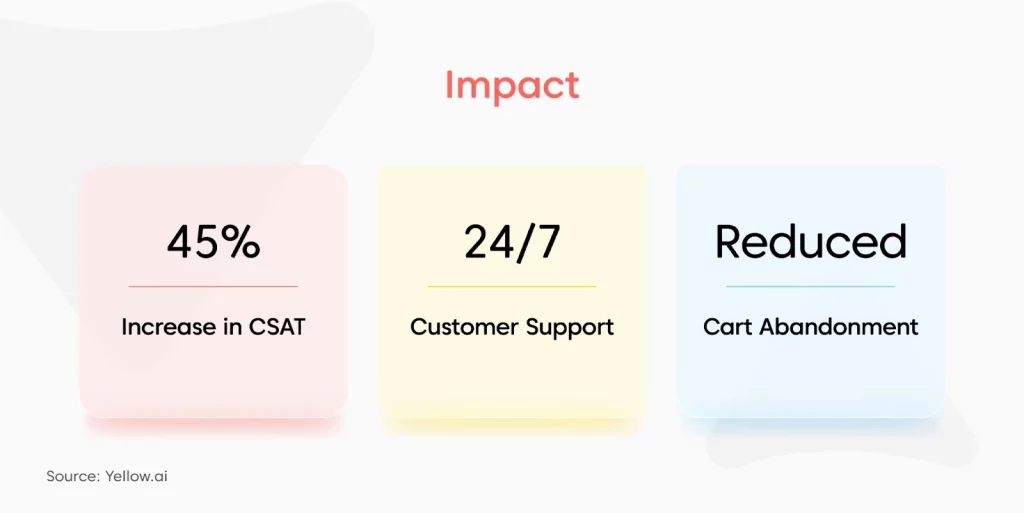 4. Kitabeli
Founded in 2020, KitaBeli is Indonesia's premier social commerce platform that sells packaged goods and daily essentials. Users can invite their friends to join the platform and form groups to receive bulk discounts from sellers.
As a startup in the fresh new space of social commerce, the brand wanted to engage its growing user base with chatbots that would enable multiple customers to place orders at once. They needed an intelligent solution to handle their volumes and give customers a delightful experience.
Read full case study- Kitabeli e-commerce chatbot
With a chatbot, Kitabeli was able to complete all the mundane and repetitive tasks easily. The company's chatbot handled customer queries efficiently using natural language processing (NLP).
The impact of the chatbot is yet to be seen as it was deployed recently by Kitabeli. However, we've review that was received from the company said that they were able to improve their overall customer experience.
We have a sample of Kitabeli's e-commerce chatbot for you to experience the innovation- try now!
5. Spencer's
Spencer's Retail is an Indian chain of retail stores headquartered in Kolkata, West Bengal having a presence in over 35 cities in India. Spencer's is based on the 'Food First' Format.
COVID-19 brought about an unprecedented upsurge in consumer demand amidst great panic for daily essential needs. Spencer's Retail started looking for solutions to further its unflinching mission to support the nation's cause and serve millions of households with daily essentials at their doorstep.
Solution- Spencer's grocery assistant on WhatsApp
Leveraging a WhatsApp e-commerce chatbot, Spencer's was able to manage grocery and daily essentials orders from across the country.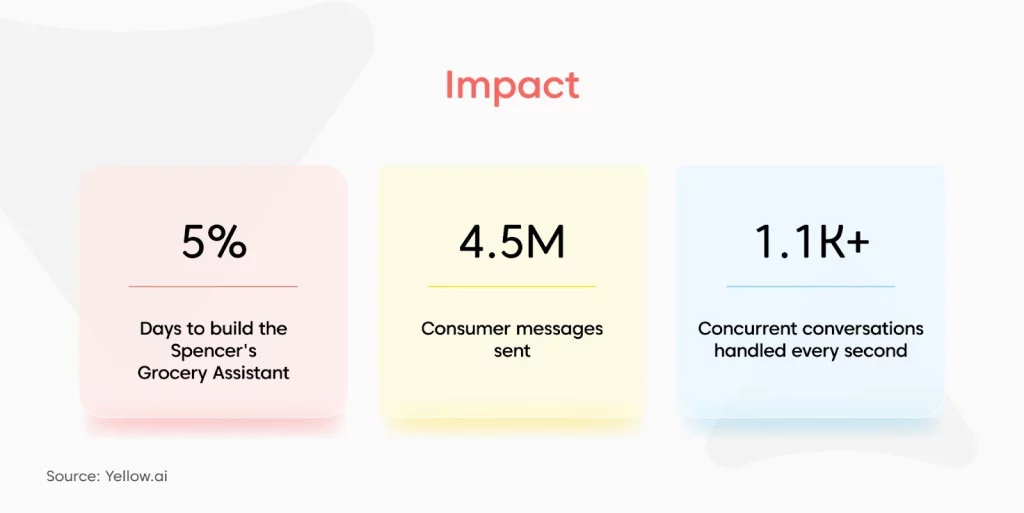 In the above examples, we could see that brands loved WhatsApp as a channel to connect with their customers and used WhatsApp business API for supporting their e-commerce business. Let's see how can the e-commerce industry use WhatsApp e-commerce chatbots.
Uses of e-commerce chatbots on WhatsApp
WhatsApp is a channel where you can find your customers active and responsive. Using the platform, you can engage, support and sell your products to your target audience without any hurdles.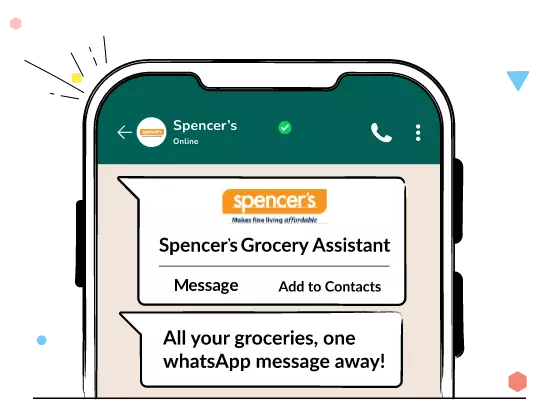 Let's dive deep into how enterprises can use e-commerce chatbots on WhatsApp and automate customer engagement.
1. Enabling end-to-end conversational commerce
Businesses can enable end-to-end sales processes on WhatsApp using WhatsApp business API. Customers can order, track, edit and return their orders simply through conversations over WhatsApp.
With WhatsApp Business API, businesses can integrate their billing and invoicing software with the WhatsApp CRM in order to automate and streamline the complete sales process.
Conversational commerce and social commerce have gained a lot of traction due to their high customer engagement and customer satisfaction.
2. Promoting through bot moderated groups
For any new products, deals or updates, businesses can use the WhatsApp chatbot to run mass promotional campaigns and notify their customers. The automated message can be sent to 3-125 people at a time without any human intervention.
WhatsApp chatbots for e-commerce save a lot of time for the customer support representatives by automating all the repetitive and mundane tasks and engaging with customers using conversational AI.
3. Marketing using QR codes
Businesses can market their WhatsApp channel by circulating the WhatsApp QR code via all the collaterals. Be it invoices or packaging material, a QR code can be printed to encourage the users to reach out to the business on WhatsApp.
This needs to be done because WhatsApp is GDPR compliant and does allow businesses to send a message without customers' permission. Customers need to initiate conversations and only then communication can be established.
4. Generating and nurturing qualified leads
WhatsApp is a highly secure social networking channel where all the people have qualified leads and there is no chance of getting fake leads or contacts. This saves a lot of time and investment for the companies and can help them in easy conversions.
Your e-commerce chatbot on WhatsApp can be one of the major sources of generating leads as customers find it very easy and secure to chat over WhatsApp.
5. Supporting customers 24×7
With features such as message templates and notifications, businesses can enable instant responses to customers on WhatsApp. Chatbots can either solve the customer queries if they are simple, or they can redirect the message to the customer support team.
In case the team is OOO, or the message has arrived after the working hours, WhatsApp chatbots can send a message to the customer informing them about the next available time.
WhatsApp is the best channel to keep the customers in a loop and engage with them on a timely basis. Customers love the platform, and today so does the e-commerce industry.
Conclusion
E-commerce chatbots have a way to enter the lives of the customers and encourage them to buy products from your business time and again. In the above examples, all the companies saw a growth in their sales and revenue while using AI chatbots.
If you are now ready to move ahead with improving the customer experience for your business, we are waiting for you. Schedule a demo with our experts and understand the possibilities of leveraging e-commerce chatbots for your business