Viber Business is one of the fastest growing messaging channels making it a perfect channel for leveling up the brand's customer engagement programs.
With 1 billion+ user on Viber worldwide, this is worthy of a platform for brands to engage with their customers.
What is Viber Business?
With Viber seeing an increasing user base on its messaging app, comes huge potential for the brands to interact with their customers on the Viber app.
Viber is seeing phenomenal growth in South East Asian countries such as the Philippines and Myanmar apart from Europe. In the Philippines alone, Viber is seeing daily active users of 9.1M.
With brands showing interest, Viber introduced the 'Viber for business' feature. Viber Business is the official, verified account offered by Rakuten Viber. Viber business shall act as the official, authentic account of the brands on Viber.
Reasons to sign up for Viber Business
Instant messaging
With users preferring to chat instantly with the brands, Viber Business is a solid platform for user interaction.
Verified account
Brands can set up a verified account establishing a sense of confidence among their customers.
High open rates
Viber app sees high open rates.
Automation
NLP-based conversations can be automated for significant use-cases like e-commerce buying & engaging with customers proactively.
Industry agnostic enabled by Viber business
Viber Business is very suitable for medium-large sized corporations and global brands across industries such as Retail, E-commerce, Banking, Logistics, FMCG, Healthcare, Govt orgs, Utility, and Telecom.
Attracting & interacting with customers made easy with Viber
Yellow.ai is an official partner of Viber Business helping retail, FMCG & E-commerce enterprises to automate and scale their customer engagement initiatives. Allowing customers to –
Attract the consumers with personalized messages

Engage with customers to deliver a delightful and frictionless buying experience

Collect customer feedback on the products & services

Keep consumers updated with transactions and order history
Personalizing offers with promotional messages
Yellow.ai's powerful user management can help in creating high-context audience segments. This coupled with Viber Business's rich messages can help send engaging and personalized promotional content that nudges consumers to take the right action.
New offers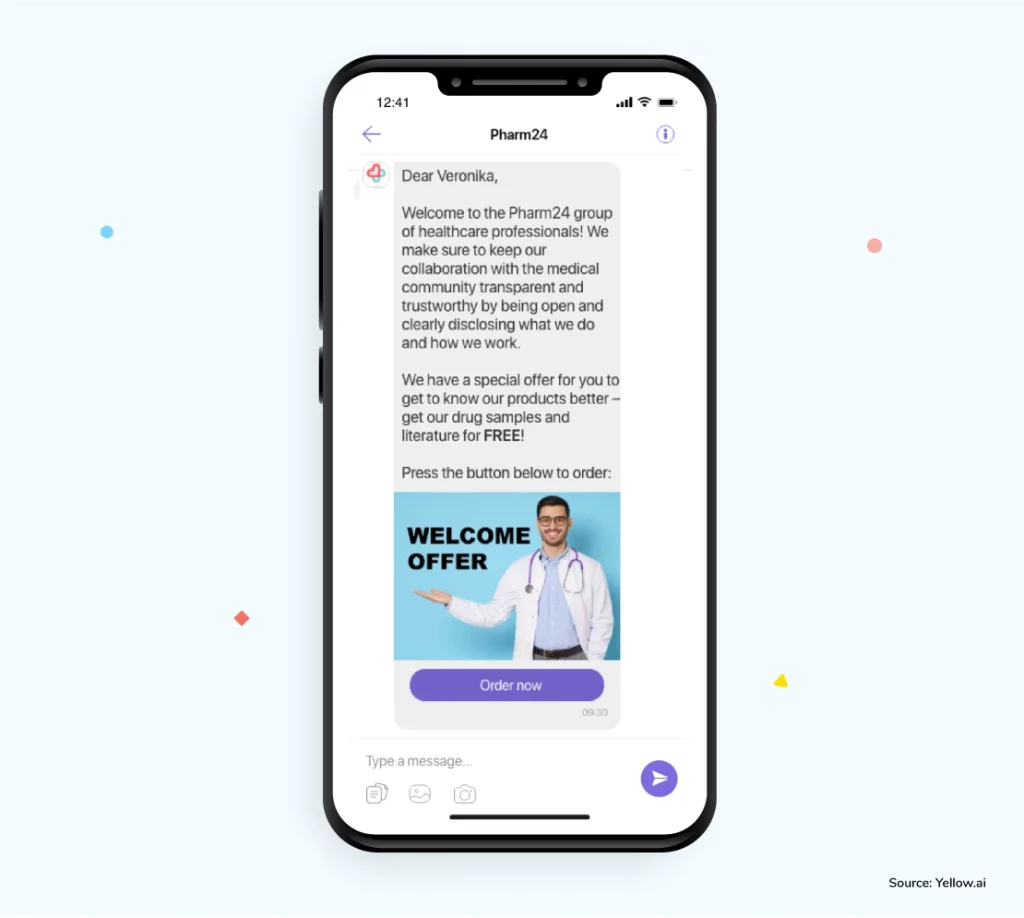 Cart recovery push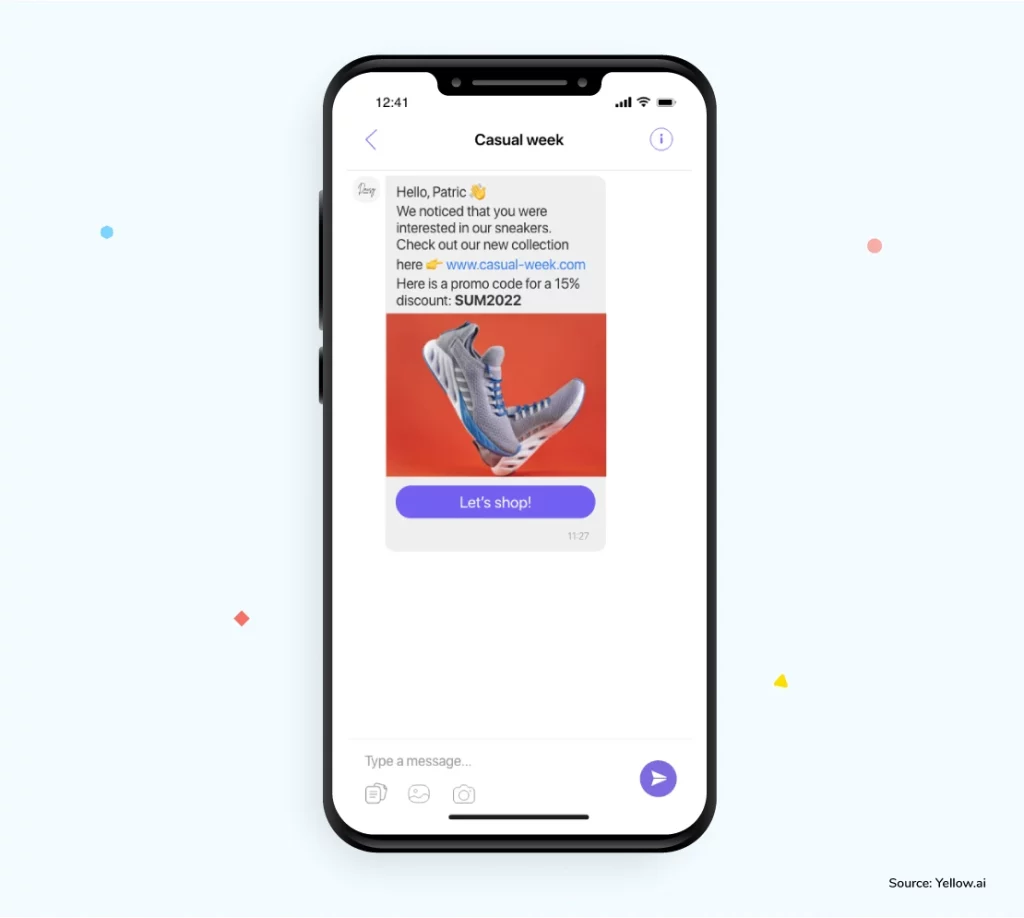 Keeping users updated with transactional info
With communications getting lost in between SPAMs on email and SMS, automating the entire buying journey on Viber business allows brands to keep their customers updated on their recent transactions and order details thereby reducing the number of repetitive customer support calls/queries.
Verification codes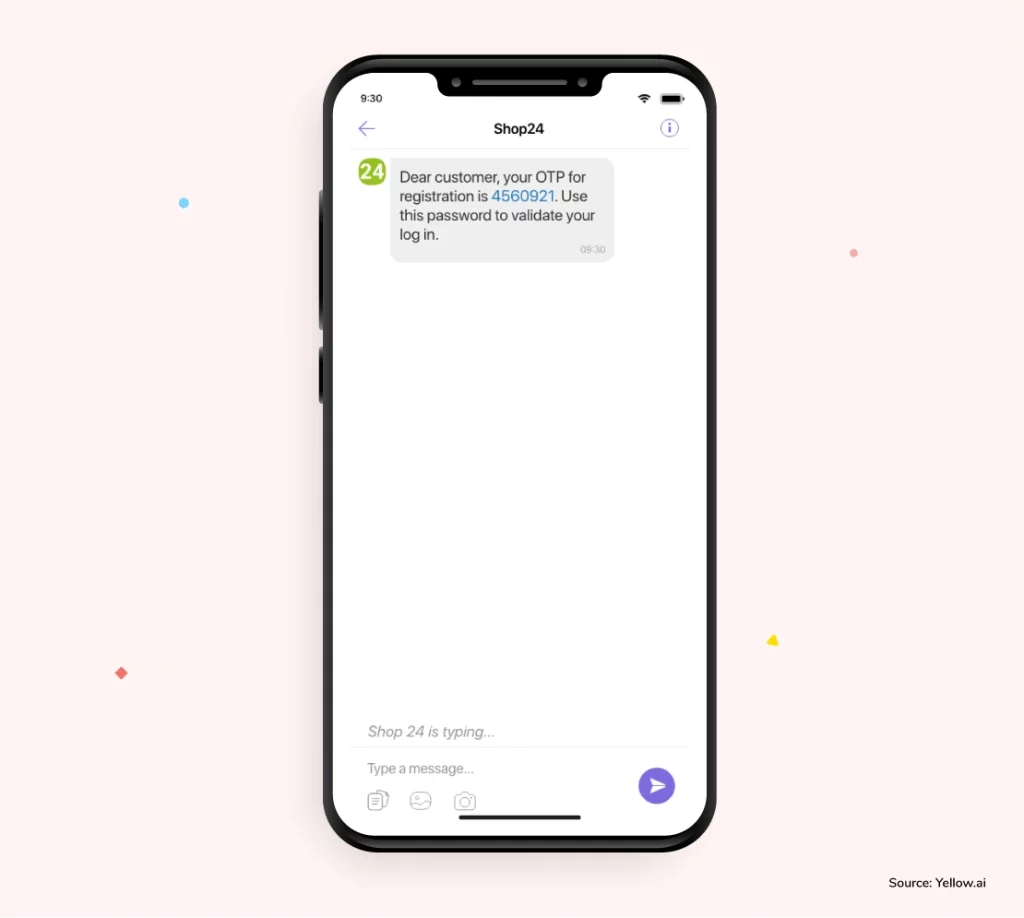 Delivery updates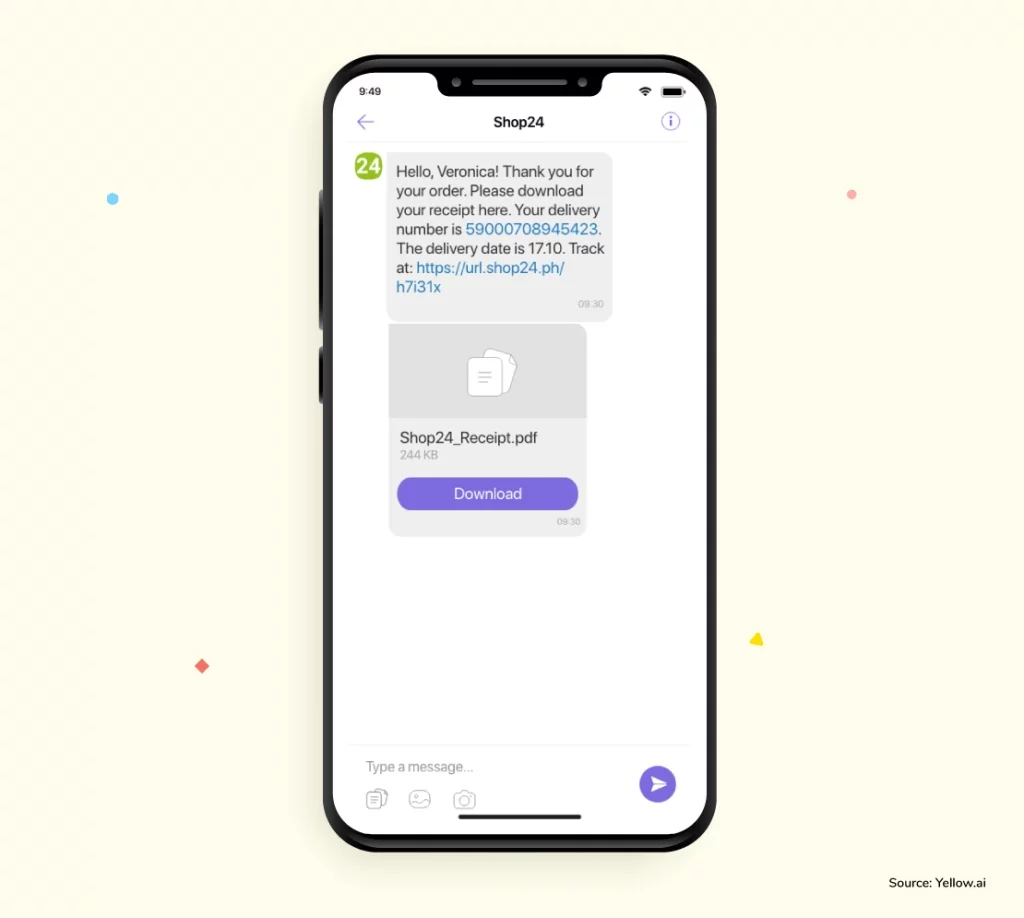 Building a loyal customer base
Delivering exceptional customer experience throughout the journey – from purchase to post-sales service – is more important than ever for brands to build strong customer relationships that's value driven.
Collect feedback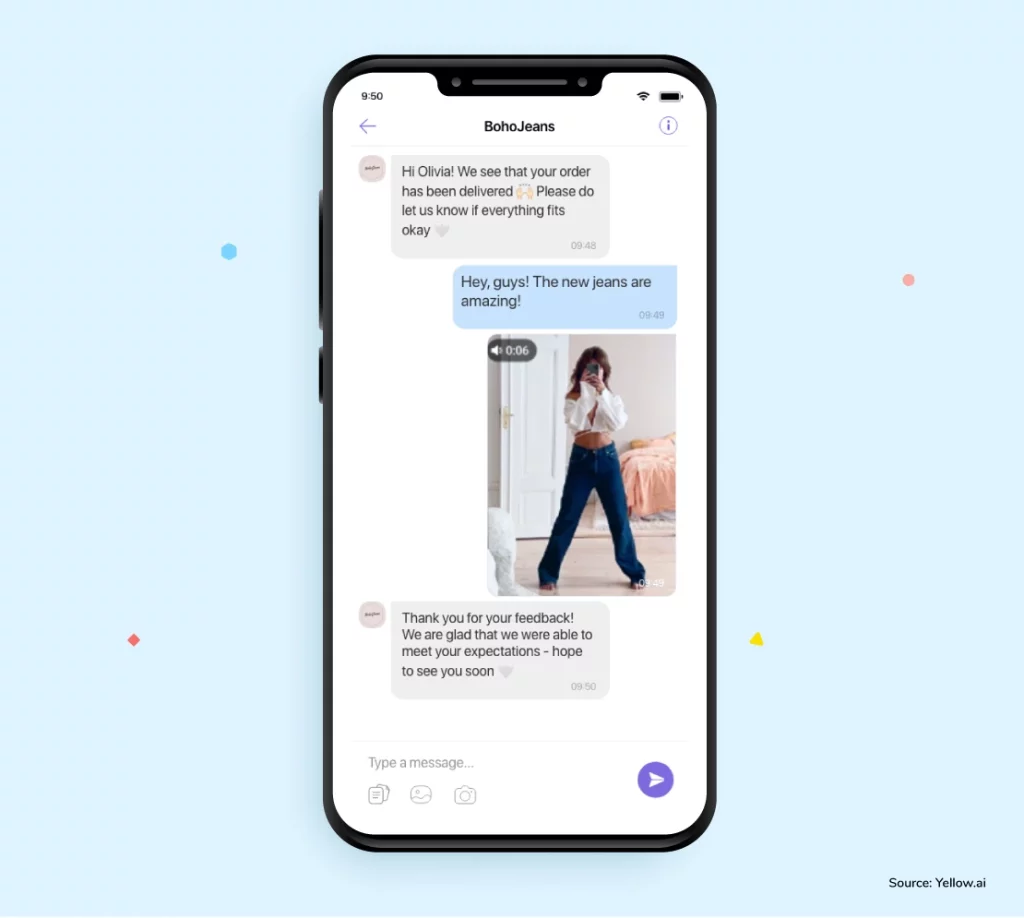 Running loyalty programs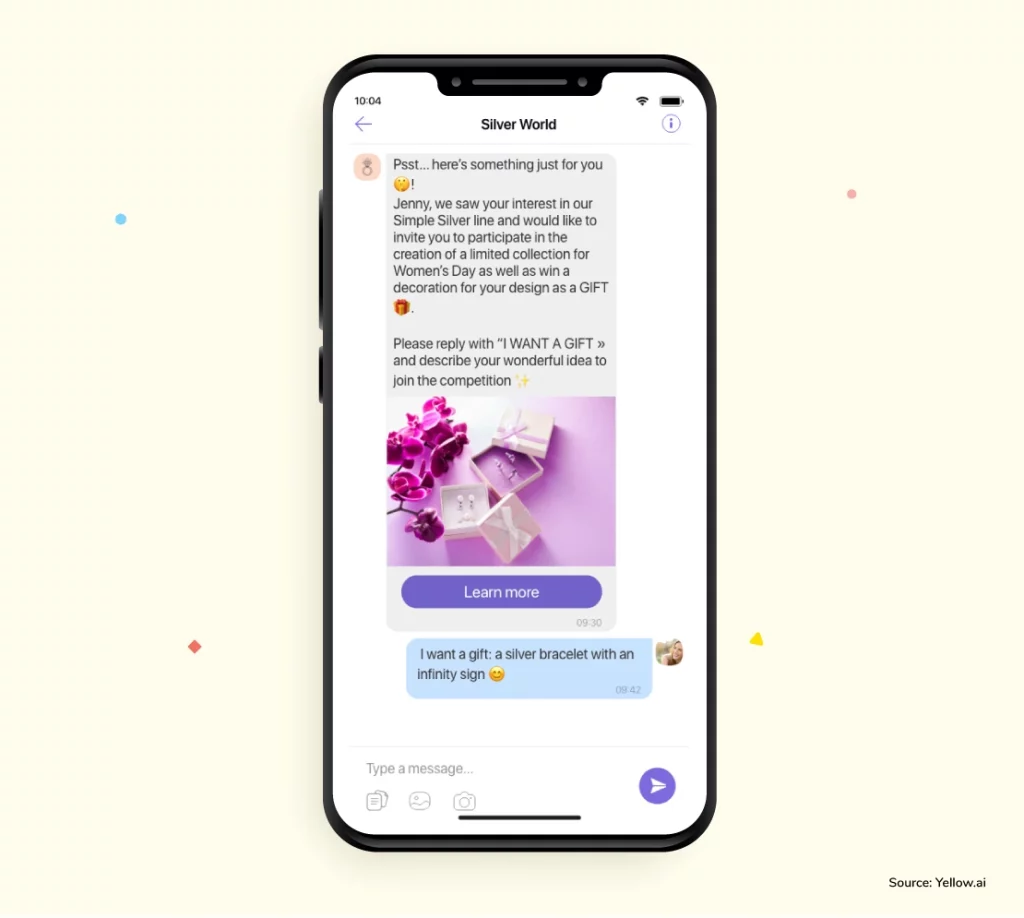 One platform to design and launch hyper-personalized campaigns
Yellow.ai's conversational marketing automation allows brands to leverage the power of customer data to build hyper-targeted segments.
Learn more on how yellow enables marketers to launch highly engaging campaigns with Unified user profiles.
Moreover, marketers can use yellow.ai's user-friendly template creation panel to create hyper-personalized messaging with rich-media content.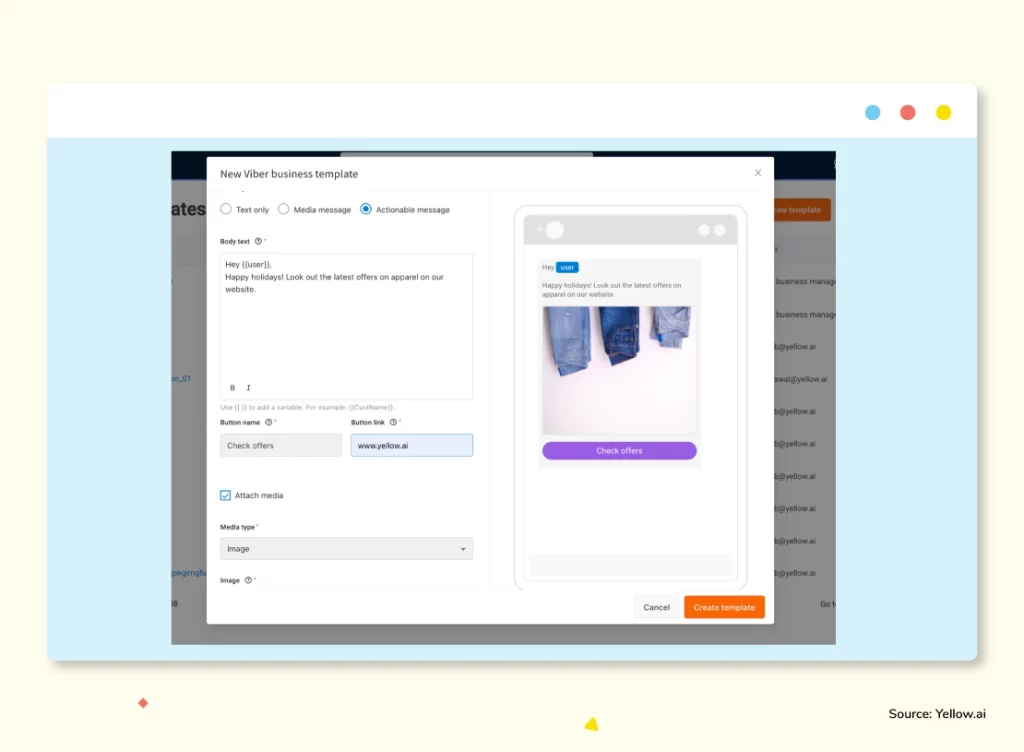 Summing up
Viber is witnessing a huge increase in its user base. This is a huge opportunity for the brands to interact with a massive pool of customers on the Viber app. Combining Yellow.ai with Viber can help you deliver a seamless and integrated customer experience for higher customer satisfaction.
Launch your brand on Viber Business
Would you like to see Viber Business in action? Contact us