To support B2B companies achieve their target growth, marketers are under pressure to execute on-point lead generation strategies. Engaging the audience with the right content and collecting quality data that helps to qualify the leads are the two biggest obstacles.
Chatbots and intelligent virtual assistants are extremely beneficial when it comes to scaling operations, cutting costs, and saving time.It has delivered up to a 70% reduction in operational costs, and a 40% improvement in operational efficiency with 80% queries self-served
Lead-generation chatbots allow website visitors to navigate through a myriad of options and enable businesses to actively engage with prospects, thus keeping them from leaving your website unconverted. Chatbots can have multiple responsibilities and the same chatbot can be extended to perform other actions. Actions that help companies connect with more prospects gather valuable insights and contact information, plus nurture prospects through the marketing funnel.
With advertising and lead generation, the humanlike sophistication in conducting natural conversations is the key to quality lead generation besides being spot-on with targeting the right audience, at the right time, with the right content. Humans can falter with targeting and segmentation, but because of the predictive analytics through NLP and deep learning factors of the chatbot, they learn patterns better and pick the prospects better.
Benefits of lead generation chatbot
Higher conversions.
Zero drop-offs.
Conduct multilingual conversations.
Connect seamlessly with your systems to store the leads.
Automated lead nurturing and engagement.
Increase in sales.
Reduction in costs.
Personalized experience.
Tips to Build a Lead Generation Chatbot
1. Define the audience clearly.
This is the most important step. It can set the tone and framework of the conversation for your chatbot so it can connect with the audience better. Target a specific audience by defining the demographics which include – gender, age, geographic location, nationality, income status, employment, family status, occupation and the psychographics which include personality, attitudes, hobbies, values, cultural interests, lifestyle
This will help you understand the lingo used and cultural differences in order to accommodate for all aspects.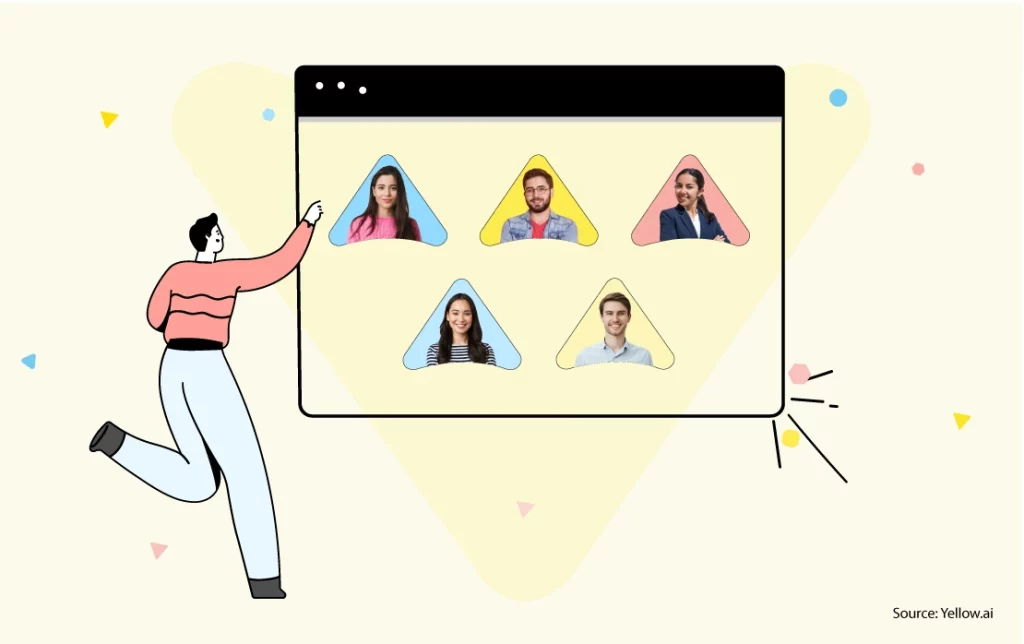 2. Define your goal and estimate the outcome.
What is the goal of your campaign? Are you trying to achieve more sales? Is it conversions? registrations? Subscriptions? What problem are you trying to solve? Defining the goal will affect the conversation flow and chatbot design in a positive way. Having a clear idea of what your goal is will help your chatbot perform with crisp accuracy. Also, if you're building this on the Yellow.ai platform your goal setting can help the campaign manager feature run automated campaigns across your channel of choice.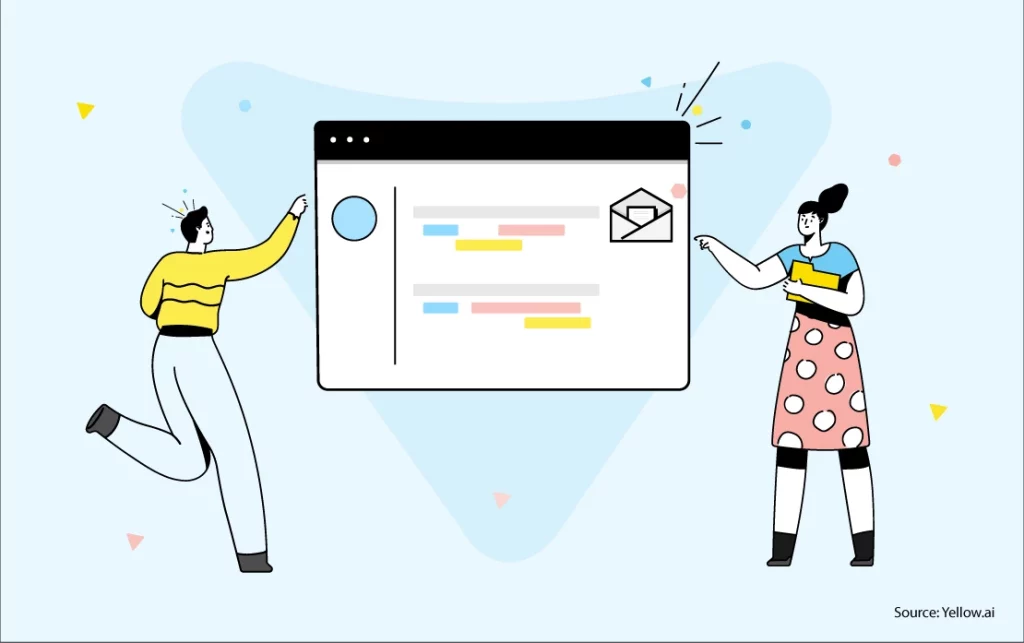 3. Define the channels where you will deploy it. (based on audience preference and your business).
Which channels work for your existing customers? Which channels work for your potential customers? Whether it's WhatsApp or Telegram, knowing which channel to use will help you realise the various templates that you can play around with when it comes to rich messaging using media formats and more. This can help you further increase conversions so choose carefully!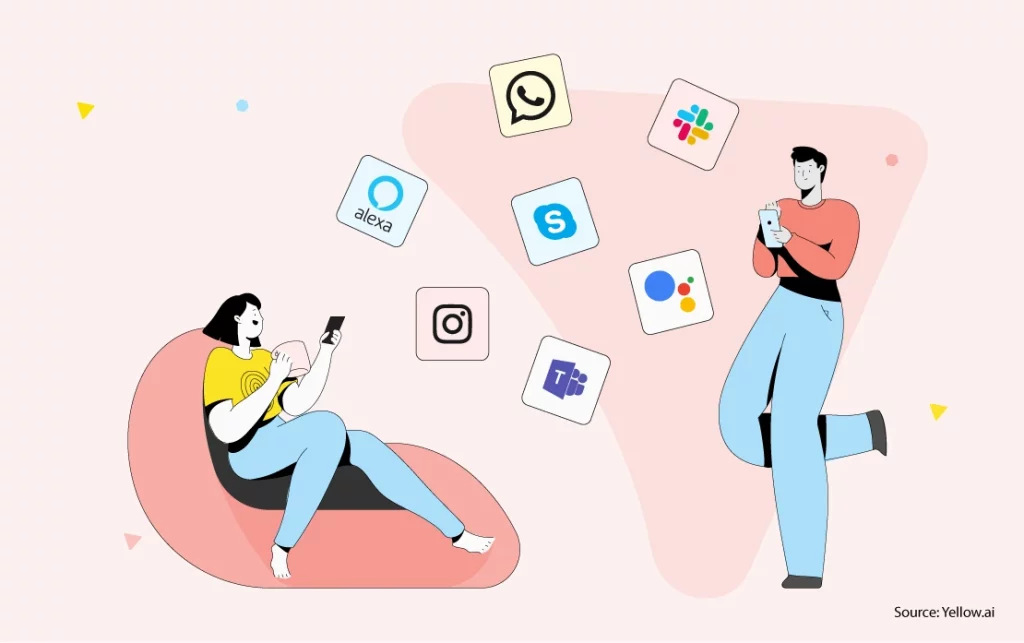 4. Make a list of details you need to collect
This is simple. Basis your campaign goal, you need to know what details are imperative for the future nurturing of these leads. Is it just the name and email address that you're looking for? How should you plug this conversationally? List down the details you will require from your prospects and make sure you don't ask for much because it can seem intrusive.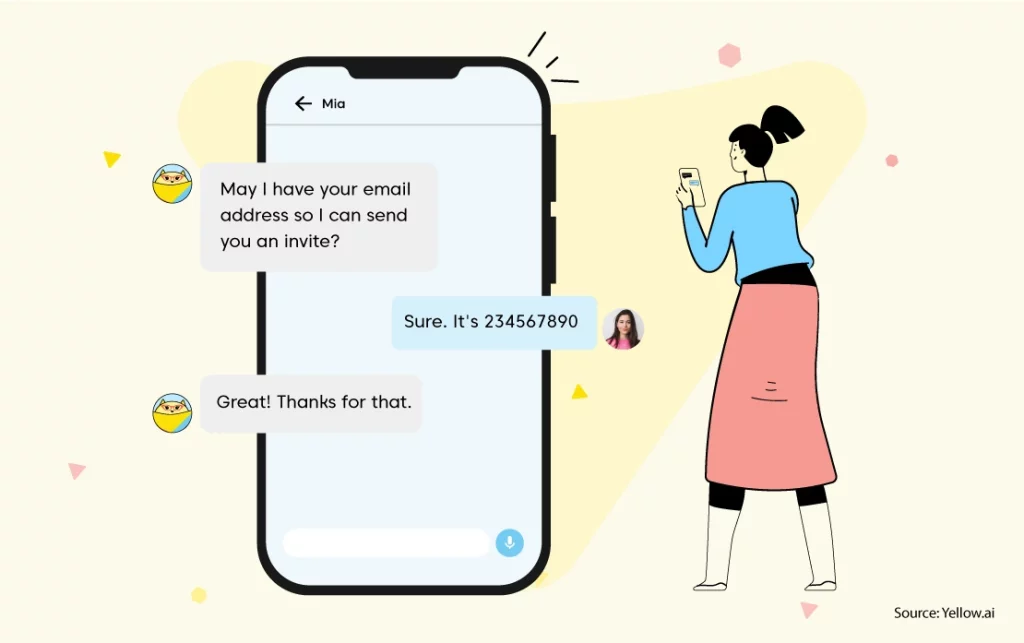 5. Choose a chatbot builder
There are many conversational AI chatbot builders available out there. When looking for a platform, look for the following capabilities –
Low code/ no-code builder
Integrations with backend systems
Integrations with social media apps
Pre-built templates
Support for building
A conversational AI builder will help you deploy chatbots faster. It will also assist in analysing and improving the performance of your chatbot by going through all interactions and looking for faults that can be improved. At Yellow.ai, our Bot Studio helps build a chatbot in under 10 clicks. You can check it out here.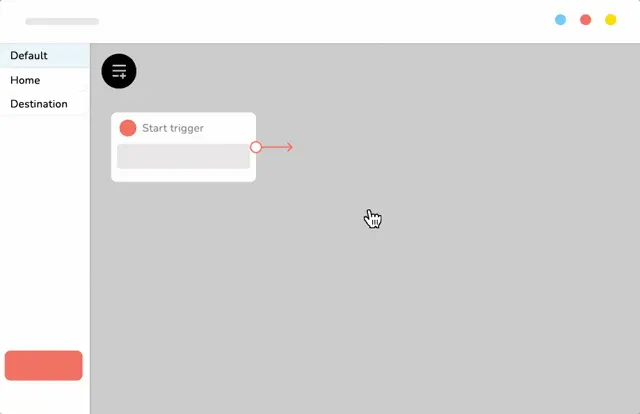 6. Create a chatbot persona
For most companies, this is an extension of brand persona. Brands already have their design, tone, personality and other features down. The chatbot persona is like a mascot for your company. Keep in mind that it's still a critical step, even though it may seem easy. Think about the lingo and tone of voice and how it should resonate with your audience.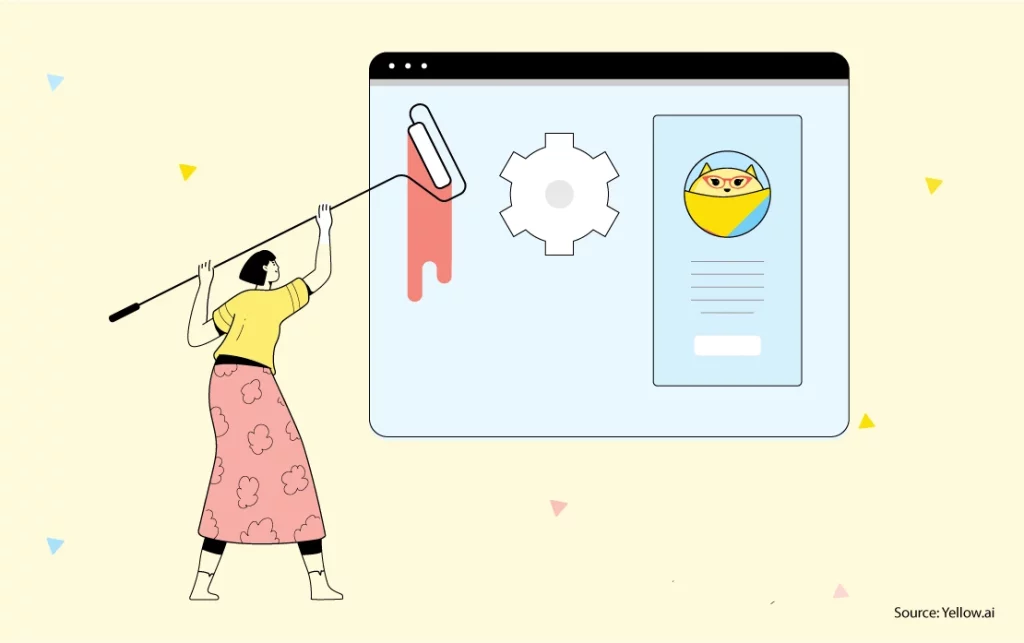 7. Make a conversation flow
This is a critical step in the process. Here we decide the structure of the conversation. For example, greeting, query, fetching answers, asking for details and ending. Once the structure is set, then you can go to the next step and the script for every step. A conversation flow is a skeleton to your chatbot conversation so it doesn't change frequently as compared to the script.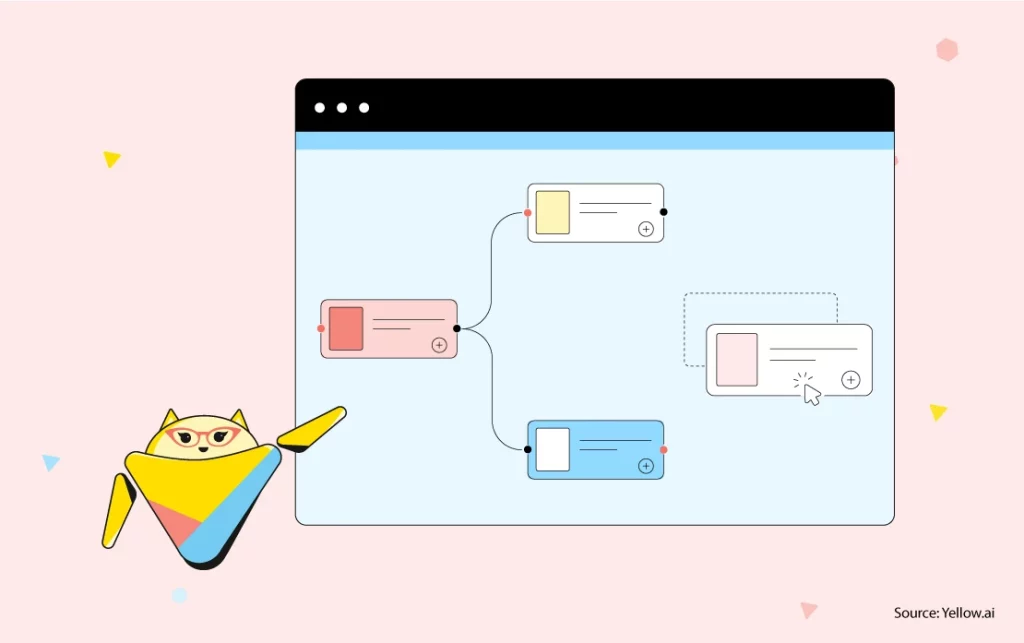 8. Add the script. Keep it short but human-like.
Think about a casual conversation with your friends. That can be the tone of the chatbot- trusting and friendly at the least. It needs to flow like a natural conversation without going on a monologue. Ensure you've accounted for all the edge cases of what a user might say and put down a script for it.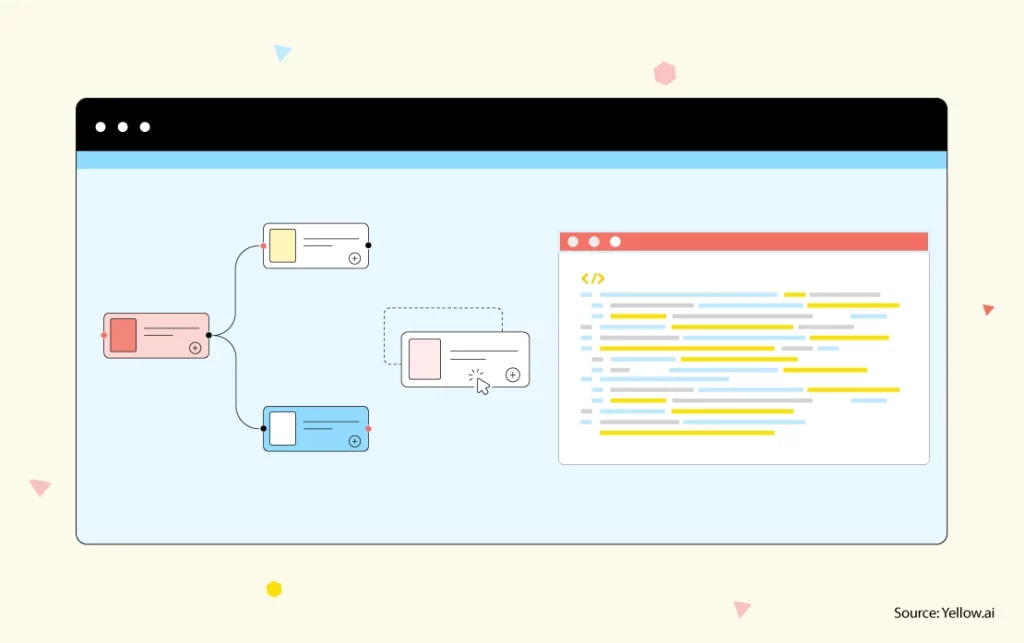 9. Ensure you've got a backup
For times when you encounter a new question, which is bound to happen sooner or later, your chatbot needs to handle it with sophistication. You may have come across chatbots that get stuck when asked a question they don't know the answer to yet. You don't want your prospects to drop off with frustration. Yellow.ai's fallback model will continue and carry the conversation gracefully so you never miss an opportunity. It's what we do with companies witnessing a knowledge debt as well.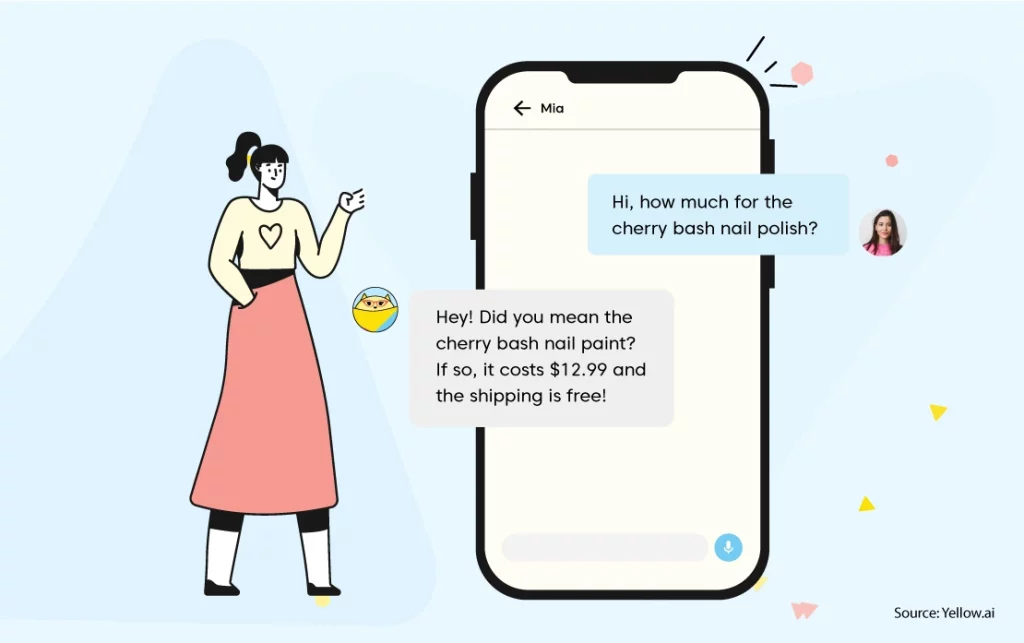 10. Use rich media like GIFs, emoji, videos, images, and voice recordings wherever necessary
With the help of images, GIFs and other supported formats, your chatbot conversation will be much faster easy and more flowing. Additional visual and verbal cues can help drive decisions faster and allow your customer to make better choices regarding buying your product and using your services.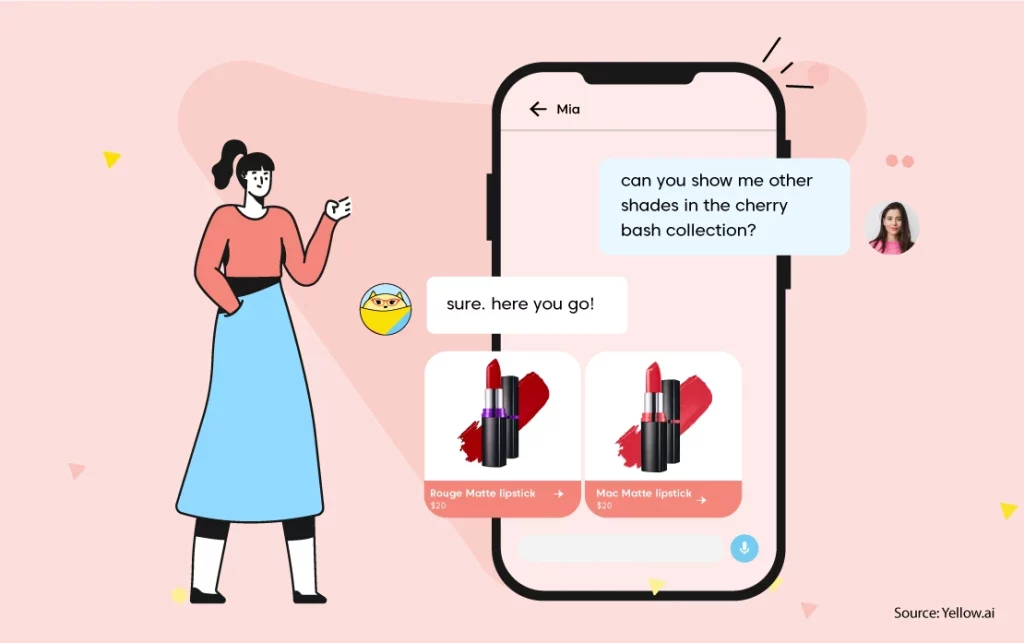 11. Keep the chatbot updated with the latest offers
There shouldn't be a disconnect between the advertisement your prospects see and the services that the chatbot talks about. Your chatbot needs to be updated with new campaign details so it can serve your prospects better.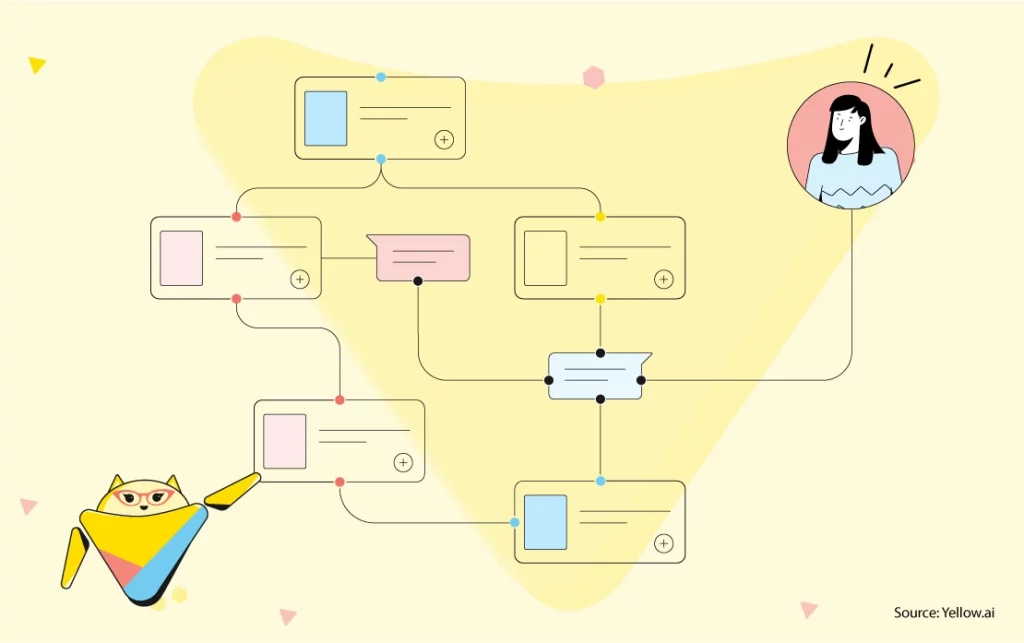 12. Integrate to backend systems for continuous data capture and more
Backend system integrations can be as varied. If you already use integration with your existing offerings (web or voice) the same could be re-used for chatbot purposes. For example, if your IVR already verifies your customer details then most likely the integration can be re-used for your chatbot. If not, you will need to build your own or choose a chatbot builder that helps with integrations and makes it simple. At Yellow.ai, our platform comes with ready connectors to ensure a smooth process and faster go-to-market for clients.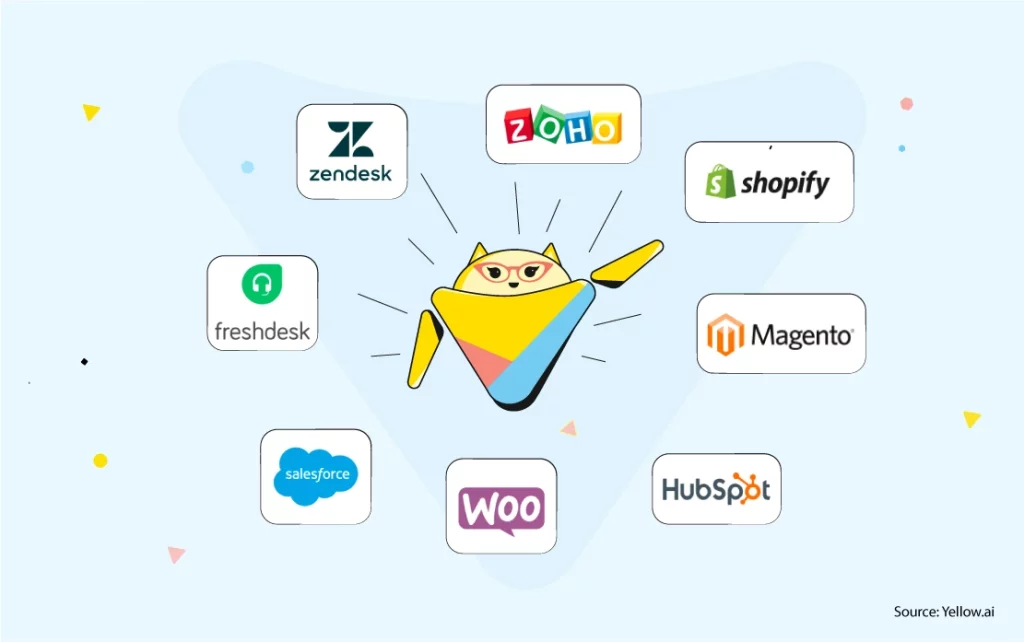 13. Test your bot
After you build your chatbot on the low-code platform, it's time to test it. Testing is important, as it eliminates any ‌errors and glitches that may arise. You don't want your users to go through a conversation with an erroneous chatbot. Test, re-test, make amends and maximise the chatbot's potential.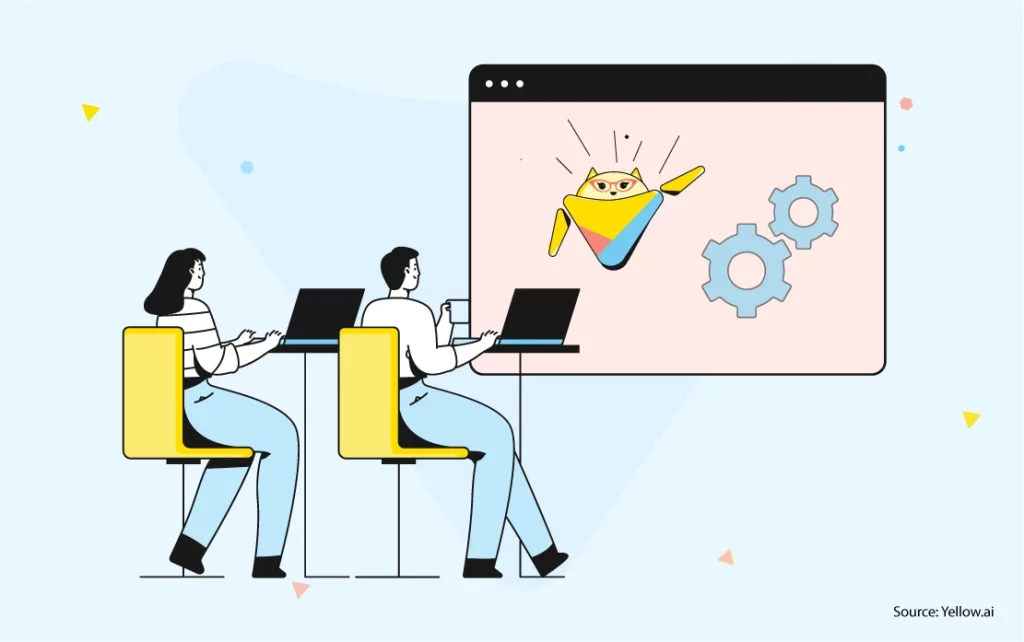 Free Resource
Use this checklist to start building highly effective chatbots
Download now!
At Yellow.ai, we help our customers build their own sophisticated chatbot on our low-code/ no-code bot builder for lead generation. Get a demo for your business. Talk to us.