Companies today value customer experience more than ever and a positive customer experience translates into a great employee experience. Recognizing people as the greatest assets and identifying what matters most to them fuels the shift from employee engagement to a more comprehensive concept of employee experience.
Attract talent, simplify the employee onboarding process and empower your employees with easy and instant AI-powered HR automation solutions.
Get started
What is employee experience?
Employee experience (abbreviated to 'EX') refers to employees' perceptions about their journey through every organizational touchpoint.
The EX journey begins when a candidate applies for a job to when they leave the company and everything in between. It includes the cultural experiences at the workplace, interaction with the management and co-workers and experiences with the workplace environment and technology. The company culture, physical workspace, people and technology are essential components of the employee experience.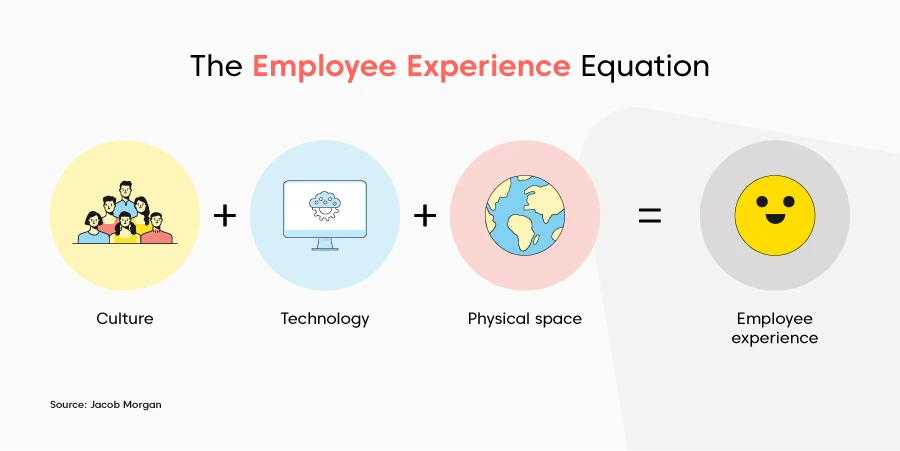 The concept of employee experience emerged as a knockdown effect of a more familiar idea known as customer experience (CX). CX is one of the most effective means to understand customers and optimize their experience in B2C interactions. Just like CX covers the entire gamut of consumer experiences with a brand, EX covers employee experiences within an organization.
The importance of employee experience
As Jacob Morgan says, "Companies that invest in employee experience are 4x more profitable than those that do not." However, profitability is just one way of looking at the employee experience advantage.
Creating a rewarding employee journey is more than a checkbox for the HR team because it has tangible impacts on business results and the overall organizational culture. The effects of a positive employee experience extend beyond what an employee learns and encounters within an organization.
Let's look at some of the critical areas that employee experience affects.
1. Employee engagement and productivity
The employee journey directly links to how engaged and satisfied employees are.
Detached and demotivated employees are a liability to the company because they contribute to low productivity and high absentee rates. On the contrary, a positive employee journey filled with enriching experiences motivates employees to engage with their work and the organization. Thus, many companies prioritize employee experience management and create an employee experience manager role to monitor the process of providing a great employee experience.
2. Talent attraction and retention
Employees today expect to be treated as unique individuals and look for meaningful, fulfilling jobs.
As much as employees care about the pay scale, they scrutinize prospective employers regarding workplace diversity, sustainability practices, benefits and inclusion policies during recruitment. A positive employee experience and a transparent, inclusive company culture differentiate employers and give more access to top talent. Employee experience also goes a long way to help retain employees. Engaged and content employees are more likely to stay and look forward to a long-term professional relationship with the organization.
3. Customer experience
Howard Schulz, CEO of Starbucks, said, "We built the Starbucks brand first with our people, not with the consumers." Emphasizing the importance of employee experience in improving the customer journey, Schulz went on to say, "Because we believed that the best way to meet and exceed the expectations of our customers was to hire and train great people, we invested in employees."
Happy employees equal happy customers and a single unhappy employee is enough to ruin the brand experience for several customers. Satisfied employees are more likely to create good vibes while interacting with customers. They are also more dedicated to understanding products and services, helping them serve customers better.
4. Business profitability
Employee experience directly impacts the organization's overall profitability.
According to the IBM Smarter Workforce Institute, organizations scoring in the top 25% on employee experience report almost a 3x return on assets and a 2x return on sales. Employee experience is equally essential to directly link with organizational business outcomes, measured through return on assets (ROA) and return on sales (ROS). The higher the ROA and ROS, the better a company performs in terms of profitability and efficiency.
Key milestones in the employee experience
Now, you have a fundamental idea of what employee experience entails. Next, we'll explore the key milestones in the employee lifecycle that contribute to the experiences employees gather during their tenure at an organization. We will also cover the role of employee surveys at each stage of the employee lifecycle.
1. Recruitment
The recruitment stage is critical to employee experience because it is an organization's first chance to introduce its company culture to a potential employee. Regardless of whether a candidate joins your company, this stage is perfect for ensuring that they become an advocate for your organization.
An employee survey at this stage would typically involve getting feedback on the process and experience of applying to your organization. Ideally, survey questions should focus on the application process, interviews, interactions with interviewers and response time.
2. Onboarding
The onboarding stage is crucial to employee retention and an opportunity to integrate the new employee into the company culture. A smooth onboarding process helps new hires understand what a company expects of them and significantly impacts their tenure.
Following up onboarding with a new employee survey gives fresh ideas and insights since new hires are more likely to provide unbiased feedback. It also helps companies get valuable information about their hiring process and identify areas for improvement.
3. Development
The employee development stage begins when new recruits start working. At this stage, organizations must invest in nurturing employees' skills and career development, show confidence and trust in employees, build clear communication channels and reward employees for their efforts.
Since employees' career development is a significant investment for organizations, it makes sense to measure the efficacy of training programs. Surveys at this stage gauge the outcome of employee training, if employees find the new skills helpful, whether the skills improve productivity, etc.
4. Retention
Employee turnover is costly and thus, talent retention is a vital stage in the employee lifecycle model. The higher a company's job satisfaction level, the lesser is its employee attrition rate – it can retain top talent within the organization. The key is to encourage open communication, listen with empathy and understand how you can help.
Employee retention surveys at this stage help employers discover employee perceptions within the organization. The survey findings, in turn, can help improve retention rates, drive employee engagement, decrease absenteeism, identify skill gaps and boost employee performance.
5. Exit
The last stage of the employee journey comes when an employee leaves the organization. No matter the reason for leaving, employee engagement is as crucial in the exit stage as it is in the recruitment stage.
Even when an employee is no longer a part of your workforce, their journey over the tenure is a window into the employee experience at your organization. Surveys at the exit stage offer an excellent window for employers to understand the employee's reasons for leaving. It enables them to collect candid feedback on the overall employee experience.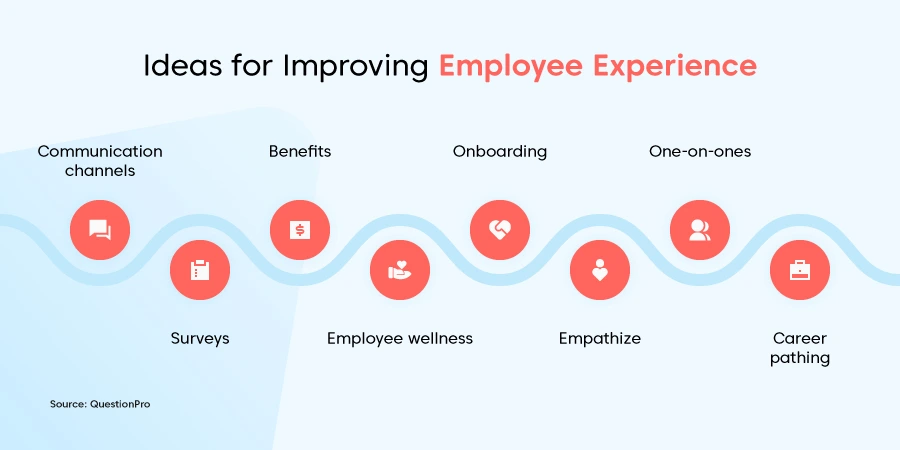 Factors that contribute to a positive employee experience
Jacob Morgan, author of 'The Employee Experience Advantage,' highlights culture, technology and physical workspace as the three basic components making up employee experience.
Three factors primarily shape the employee experience during their term at an organization: physical workspace, technology and workplace culture.
1. Physical workspace
The physical environment of a workplace includes everything from office furniture and lighting to facilities such as on-site gyms, recreation zones, coffee on tap and the like. In remote work culture, a physical workspace could also mean work-from-home setups or any workspace preferred by the employee. Employees who are satisfied with their work environment naturally concentrate better and are more productive.
2. Technology
Imagine discovering on your first day at work that all employees and staff rely on a single printer located at the far end of the office building. A turn-off, right? Investing in suitable tools and technology that help employees maximize efficiency and productivity is crucial to creating a positive employee experience.
3. Workplace culture
Put simply, workplace culture defines the attitudes, behaviors and beliefs that influence the daily atmosphere in a work environment. Workplace culture is a vibe that varies with organizations. It can either motivate and empower or suffocate and drain employees.
Strategies to improve the employee experience
Improving the employee experience means focusing on the three above-mentioned elements and designing manageable tactics to overhaul the employee journey.
Let's discuss some fundamental strategies to help you get started:
1. Create an employee experience framework
Design an employee experience strategy outlining how your organization's shared purpose and values fit into the key milestones of the employee lifecycle. Set expectations at each stage of the employee journey and measure outcomes through frequent feedback and surveys.
2. Leverage operational and employee experience data
Operational data is what you gather throughout an employee's tenure at your organization, including personal details and salary history. Combining operational data with what employees tell you about their experience will help you understand if your employees are satisfied and what you can do better.
3. Revamp the workplace environment
An employee's work environment motivates them to want to come to work. From comfy furniture and lounge rooms to subsidized canteen, the physical workspace impacts employee productivity and well-being. The autonomy to work remotely or in flexible workspaces add to a positive employee experience.
4. Invest in the digital employee experience
Progressive organizations invest in technology to boost employee performance and productivity with room for future developments. It doesn't necessarily imply spending a fortune on new apps and machines. The key is to connect all systems of your organization so that all employees can save time and deliver their tasks in time instead of toggling between tools.
5. Nurture a culture of transparency
Transparency in the workplace comes with greater levels of communication, collaboration and trust between the employer and employees. It drives employee engagement and advocacy while also strengthening the workplace culture. Transparency is crucial to making your employees feel valued, respected and trusted.
Employee experience: Old rules vs. new rules
Changing demographics, unpredictable economic conditions and the explosion of social media are the key drivers of a redefined employee experience across organizations.
Corporates have entered a new era of employee experience with a workforce that thinks and acts differently from previous generations. Hence, it is high time for business leaders to revisit the rules that define employee experience and discard dated norms.
| | |
| --- | --- |
| Old rules | New rules |
| Annual engagement surveys define employee experience | Employee experience is an all-round perspective of life at work, defined through constant action, feedback and monitoring |
| Company culture is just a fancy term with no practical implications | Organizations use tools and metrics to define and measure culture through change and behavior |
| Rewards cover salary, bonus, overtime, benefits and other financial perks | Rewards also include non-financial perks such as leaves, vacations, meals and wellness programs |
| Compensation, rewards and benefits designed with a focus on impartiality | Balance between financial and non-financial compensation, rewards and benefits with the goal to improve quality of life |
| Health and wellness programs mainly focus on safety and insurance coverage | Integrating health and wellness programs including the employee, their family and the overall employee experience at work |
| Separate leaders across different HR services such as recruitment, training, engagement and so on | A chief employee experience officer or employee experience manager responsible for the entire employee journey at the organization |
| Employee self-service portals allow employees to access and request IT, HR, or facility-related services | Mobile employee experience platforms improve employer-employee communication while increasing employee engagement and productivity |
Importance of AI in improving EX and, in turn, CX
A positive employee experience has a high correlation with improved customer experience. Your employees' experience impacts how happy your customers are, whereas the efficiency of your employees directly affects the customer experience.
Organizations are increasingly using artificial intelligence (AI)-based solutions to improve employee experience and curate personalized, customer-centric approaches. These solutions are cost-effective and foster data-driven decision-making.
Let's take a look at how deploying modern AI tools in different organizational areas improve the employee experience.
1. Recruitment – AI benefits both employers and candidates by making the recruitment process faster and more efficient. For instance, natural language processing (NLP) helps recruiters screen CVs and identify desirable traits while eliminating human bias. Conversational chatbots and application tracking systems leverage NLP and machine learning to help find the right candidates with ease.
2. Sentiment analysis – NLP can employ text analytics on feedback surveys and other communication to provide insights on employee sentiments within an organization. It aids in the identification of obstacles in the employee journey, allowing organizations to tailor their employee engagement strategies accordingly.
3. AI-enabled learning – Learning management systems (LMS) backed by AI can significantly reduce training time while helping employees learn more than they would in a traditional setting. AI-based LMS technology employs algorithms to predict the learner's next steps and behavioral patterns to enable personalized learning.
4. Content analytics – It involves applying business intelligence and business analytics to figure out how users consume and engage with different types of digital content. AI-backed content analytics help organizations understand the resources employees use to do their job and focus on fine-tuning the knowledge assets with the greatest value.
5. Organizational network analysis (ONA) – AI and machine learning can help identify knowledge communities and networks within an organization. ONA facilitates visualizing how information, communications and decisions flow through an organization. When implemented throughout the organization, ONA impacts how employees connect and share ideas within groups.
Conclusion
The concept of employee experience has evolved over the years to include a holistic view of an employee's journey in an organization. With companies realizing that a positive employee experience leads to increased profitability and increased customer loyalty, enhancing the employee experience has become a priority.
HR automation offers a way to attract, engage and retain new employees through conversational AI. Get in touch with experts at yellow.ai to learn more about how AI can help you improve the day-to-day employee experience with ease.
Frequently Asked Questions:
1. What is employee experience?
Employee experience is an employee's perceptions about their journey within an organization, from hiring and onboarding to the day they leave the organization.
2. What is a good employee experience?
A good employee experience is where employees are valued and listened to and their needs are taken care of through consistent feedback and action.
3. Why is employee experience so important?
Employee experience is important to drive employee engagement and productivity, attract and retain talent and improve customer experience. All of these eventually result in increased business profitability.
4. How do you build employee experience?
Key strategies to create a positive employee experience include building a culture of transparency, investing in technology, offering growth opportunities, responding to feedback and improving engagement.
Leverage the benefits of Conversational AI for seamless HR automation across your organization.
Request a demo