Service Level Agreement
The Support and SLA Policy, including any attachments or additional terms referenced herein (together, the "Policy"), forms an integral part of the Order Form which is read with the MSA which governs the Customer's access to and use of Services. The Policy may be regularly updated by Bitonic Technology Labs Inc. ("Company" or "yellow.ai"). References to websites hereunder include references to successor websites.
1. Defined Terms. Capitalized terms have the meaning prescribed in the Order Form and MSA unless otherwise defined hereunder.
24/7 means twenty-four hours a day, seven days a week, excluding January 1 in the relevant time zone where the yellow.ai support center is located.
Business Day means a daily 9-hour timeframe, from Monday to Friday and excluding public holidays, (i) for US Federal Customers: (a) between 12:30 PM and 9:30 PM GMT for US East Coast and (b) between 4:00 PM and 1:00 AM GMT for US West Coast, and (ii) between 9:00 AM and 6:00 PM for other Customers, in the time zone where the relevant yellow.ai support center is located.
Customer means an entity executing an Agreement with yellow.ai.
Documentation means the official documentation for Yellow Software published by yellow.ai on its website. Hosted Software means Yellow Software hosted by yellow.ai (whether on its infrastructure or by using third-party cloud providers) and provided as a service to the Customer.
Incident means the failure of the Yellow Software function as set forth in the applicable Documentation.
Scheduled Maintenance means the period of time reserved by yellow.ai to apply fixes and updates to its hosted services on a regular schedule.
Service Requests means a request from the Customer that does not meet the criteria for an Incident, and that is limited to information or advice on Software use instructions, activation and licensing.
Change Request means request to make a change in the business logic of existing deployment(code or configuration) which may or may not cause the service disruption
Software or Yellow Software means software products developed and released by yellow.ai for general availability and licensed to the Customer against payment of licensing fees pursuant to the Agreement
Ticket means the formal vehicle used by yellow.ai to receive Incident claims and Service Requests, through the yellow.ai Online Ticketing Portal.
Uptime means the level of availability of a Hosted Software consisting of the number of minutes in a calendar month, when the hosted service is both reachable and actively serving requests, minus any Scheduled Downtime, divided by the total minutes in that calendar month.
2. First Line Support. Before submitting a Ticket, a Customer will perform first line support for itself by investigating any connectivity, access permission, database provisioning or security issues related to its systems, networks or applications interacting with the Software.
3. YM Support
a. Support Plans. yellow.ai responds to Incidents in accordance with the Support plans described in Section 9 (Support Plans) below. yellow.ai provides Standard Support to all Customers purchasing licenses to Software components pursuant to an Agreement. Premium support is available to Customers upon payment of the applicable Fees. In addition, yellow.ai may send Customer Software-related information, e-newsletters, documentation and notices.
b. Support Schedule and Centers. Except as otherwise provided in this Policy, yellow.ai will provide support solely on Business Days and through its support centers located in Bangalore, India, which may be changed at yellow.ai's reasonable discretion.
c. Supported Software. yellow.ai will provide support for Software during the applicable Service Term or any Renewal Term, as the case may be and subject to receiving the corresponding Fees, as applicable. Software features released under "production preview" or "limited availability" (or similar designation) will only receive Standard Support and only until a generally available version is released.
d. Fixes and Updates. If, in relation to an Incident, a permanent fix is not feasible, yellow.ai may provide a workaround as a temporary solution to restore the use of the Software. Software updates that require substantial development or quality assurance work will be applied or delivered by yellow.ai at its discretion.
e. Priority Level Incidents. First support response time will depend on the priority level of the Incident, as assessed by the Customer and confirmed by yellow.ai. Priority levels ("Priority Levels") are defined as follows:
(i) Priority Level 1 (Urgent): is a Service Failure or Severe Degradation A major production error within the YM Chatbot platform that severely impacts the YM platform usage for production purposes.
Qualification Criteria
Any documented functionality is not working for more than 10% of users.
Bot/Agent is not able to respond for more than 5% of users for any of the journeys.
Any loss of key functions with no workaround, causing a high impact on business/financial loss.
Customer Requirement:-
Urgent Priority issues require the Customer to have dedicated resources available to work on the issue on an ongoing basis with YM. If the Customer's resources are unavailable for any reason, or if support is able to provide a temporary solution, the priority of the case will be re-evaluated.
(ii) Priority Level 2 (High): is a partial service failure or mild degradation which leads to unavailability of some business function. Bug creating a significant impact on existing service or application integration. Includes intermittent issues and reduced quality of service.
Qualification Criteria
Any documented functionality is not working for less than 10% of users.
Bot/Agent is not able to respond for less than 5% of users for a few Journeys.
Any loss of key functions causing no impact on business/finance
Customer Requirement:-
High priority issues require the Customer to have dedicated resources available to work on the issue on an ongoing basis with YM Support. If Customer's resources are unavailable for any reason, or if support is able to provide a temporary solution, the priority of the case will be re-evaluated.
(iii) Priority Level 3 (Medium): is a Non-critical bug A medium- to low-impact issue that involves partial and/or non-critical loss of functionality for production purposes.
Qualification Criteria
Cosmetic problems but no loss of functionality, e.g. Incorrect punctuation marks, Incorrect spelling.
New WhatsApp template Approvals and scheduling push notifications basis logic to a particular set of stores
Customer Requirement:-
Medium priority issues require moderate support effort from YM and the Customer, until a fix is developed or workaround is available and does not require around-the-clock effort. If the issue escalates the priority level will be re-evaluated.
(iv) Priority Level 4 (Low): Includes product questions, feature requests, and development issues. Customers are able to access almost all business resources.
How Tos,
General Queries on Product usage
Customer Requirement:-
Low priority issues require minimal support effort and do not require around-the-clock effort.
4. Ticket Submission
a. Customers will submit Incidents and Service Requests to yellow.ai exclusively via Tickets. yellow.ai will be under no obligation to reply to claims or requests received in any other manner. yellow.ai may, at its discretion, choose the most optimal method of response to a Ticket, including by email, video conference or, with Customer's prior consent, by remote connection.
b. Customers will assess the impact, urgency and the perceived Priority Level of an Incident and add these details in the relevant Ticket. yellow.ai will evaluate the Priority Level and confirm or recategorize it. yellow.ai will make commercially reasonable efforts to respond to Service Requests but is not bound by the response times prescribed in this Policy.
c. A Ticket is considered closed when a final solution to the relevant Incident is communicated by yellow.ai.
d. The registered users can raise requests by:-
-> emailing [[email protected]] or
-> accessing the Customer support portal (Jira Service Desk) or
-> sending WhatsApp Messages on +91 80684 02333.
5. Support Cooperation. Customer agrees to: (i) perform first line support and ensure a problem exists before filing a Ticket, (ii)cooperate and communicate in a timely manner with yellow.ai, (iii) provide yellow.ai with sufficient and accurate information related to the Incident, (iv) assign contact persons with the necessary technical and communication skills to collaborate with yellow.ai, (v)make
reasonable attempts to replicate, or to assist yellow.ai in replicating the Incident under the circumstances in place at the moment of Ticket submission, including by conducting diagnostic or troubleshooting activities, and (vi) resolve the Incident as indicated by yellow.ai.
6. Support Exclusions. yellow.ai has no obligation to provide support for, and the Uptime does not apply for, Incidents caused by:
a. Software made available, as designated by yellow.ai, (i) for free, (ii) for trial, (iii) as part of the Community offering, or (ii) as "early access", "private preview", "public preview", "beta", "experimental" or under a similar designation;
b. Software configured or modified by anyone other than yellow.ai and without yellow.ai prior written and binding consent;
c. Software accessed or used in breach of the Agreement, this Policy, the Documentation, or the Licensing Models
d. Software that has not been updated in accordance with yellow.ai instructions or best practices;
e. Software used with other products or software that are not officially supported, are out of support or have been deprecated;
f. Customer's negligence or willful misconduct, or Customer's failure to comply cooperate for the resolution of a Ticket;
g. use of Software with hardware or software not developed by yellow.ai;
h. Customer's failure to adhere to any required configurations, or to follow any security or acceptable use policies or practices;
i. Scheduled Downtime;
j. any customized deliverables created by yellow.ai, its partners or third-parties at Customer's request;
k. factors outside yellow.ai's reasonable control (e.g. natural disaster, war, acts of terrorism, riots, government action, network or device failure external to the data centers under yellow.ai's control);
l. features excluded from Uptime, as designated in the applicable Documentation;
m. faulty input, instructions, or arguments (for example, requests to access files that do not exist) or Customer's attempts to perform operations that exceed the Software's prescribed functionalities.
7. Personal Data Processing
a. Only to the extent necessary for the purpose of providing support, yellow.ai and its sub processors listed below under point d) may process certain Customer PII (personal identifiable information) such as employee name, surname, job title, company name, e-mail address, country, telephone number, voice and image recordings). Unless otherwise agreed with the Customer, yellow.ai does not require, and Customer agrees not to send, other types of PII or any type of Protected Health Information (PHI), as defined by the Health Insurance Portability and Accountability Act for purposes of Software support. Customers must provide yellow.ai only technical information and must anonymize or obfuscate any PII or PHI. Customers must promptly notify any disclosure which conflicts with this section.
b. yellow.ai will retain data, including PII, necessary for auditing purposes, such as data confirming that a Ticket has been submitted by the Customer, relevant timestamps and nature of the Incident. Aggregated and anonymized data will be further processed and used by yellow.ai to improve its Software and Services.
c. During live remote support sessions, yellow.ai will not copy, record or otherwise collect any PII or PHI, without Customer's consent. To the extent possible, the Customer must minimize or close any desktop application containing PII or PHI. Live remote support will be guided by the Customer.
d. For managing your support ticket, yellow.ai uses the services of Salesforce and Atlassian, which are yellow.ai's sub processors and process data on behalf of yellow.ai. Technical data sent by Customer for support purposes are processed using Atlassian.
8. Hosted Software SLA. yellow.ai will make commercially reasonable efforts to provide Customer an Uptime of 99.5% for Hosted Software. Uptime is measured per Hosted Software per region. The availability of the Hosted Service will be communicated to the Customer through channels, as appropriate. yellow.ai may adjust the measure of availability to account for any exclusions applicable to such period, as listed in the Support Exclusions section.
9. Support Plans
Option A)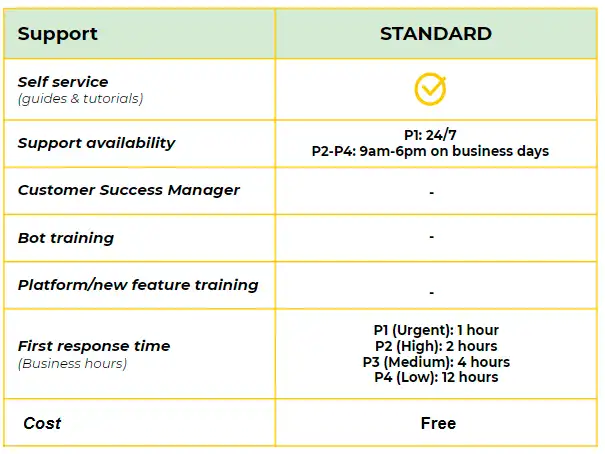 Response Email will be sent by the investigator after an initial analysis of the issue. It will contain either the solution or some queries on additional details on the issue.
10. Compliance to SLA
Response SLA: 100 %