The short answer is "yes".
These are not easy times for enterprises, for whom the business continuity is getting affected by these extraordinary circumstances. In times of social distancing, it's imperative for enterprises, employees & customers to stay connected, no matter where they may be working from.
Every company, big or small, is grappling with an influx of queries from customers and employees, given the COVID-19 pandemic. And with great challenges, emerging great solutions.
With the help of Conversational AI Chatbots, you can:
Automate Customer Support and HR FAQs on WhatsApp
Transition to Conversational IVR with Automated Voice-Bots
Automate ITSM for to enable efficient WFH
Let's dig deeper into it:
Automate customer support on WhatsApp
The common problems faced in times of Covid-19 and WHF for a Customer Support Centre:
Call centre agents are overloaded with extra calls beyond what they can handle which reduces the quality of the conversation & affects NPS & CSAT scores
Call gets assigned to random agents leading to multiple redirections for customers. Having to repeat their story over and over again causes frustration.
With reduced manpower & increase in customer enquiries; it becomes extremely difficult to maintain a consistent experience which solves user issues.
Call centre agent has to navigate multiple systems and applications while managing interaction with the customers.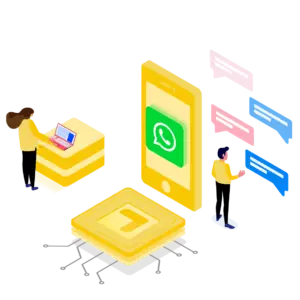 How can conversational AI help Customer Support?
By automating customer support on WhatsApp, an enterprise can delight their customers in troubled times like these. And simultaneously, ease the workload on their agents who are already grappling with issues ranging from insufficient equipment, the issue of navigating multiple systems to respond, and of course, all this while continuing to delight the customers. It's hard.
With AI-powered chatbots sitting atop WhatsApp, you can answer ~65% of your customer's queries and seamlessly transfer complex questions to a human agent. One of the greatest things about a WhatsApp Chatbot is the speed to deployment. In under 7 days, you can get a WhatsApp Business Account and a chatbot which can answer multiple FAQs, in over 120 languages. CX Automation is that fast to experience.
And why just stop at WhatsApp? Once you deploy the chatbot, Yellow Messenger's platform allows you to replicate the expertise across channels – Google Assistant, Alexa, Facebook Messenger and even automated voice-bots.
Automate HR on WhatsApp
The common problems faced in times of Covid-19 and WHF for an HR:
HR teams spent a considerable amount of time in handling repetitive & mundane queries
Since physical meetings are restricted, providing a delightful employee experience for all becomes a challenge
Employees face difficulty in setting up meetings as communication becomes a challenge
Due to a surge of issues being raised, HRs face problems in managing all the tickets, in a short period of time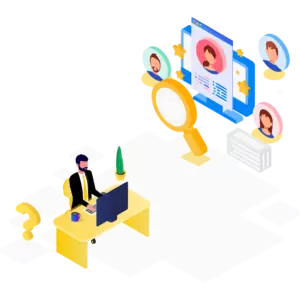 How can conversational AI help HR?
In any business, there are two kinds of people that matter the most. Your customers and your employees. Given the disruption that Covid-19 has caused, nothing is as it was before. The team's stress is high. They have questions about job security. They have questions about medical benefits. Questions and more questions. And by now, we know who can take up questions effectively – Chatbots.
By deploying an HR Digital Assistant, you can continue being a people-first company. From onboarding to on-going processes, you can enhance the employee work experience, by automating internal processes. An HR Assistant can also help your employees schedule meetings, answer FAQs, apply leaves. What's even better is that you can even track NPS, predict attrition and retain employees better with insights.
Automate ITSM to enable efficient WFH
The common problems faced in times of Covid-19 and WFH (Work From Home) for the ITSM teams:
Managing Alerts at scale becomes highly critical in situations like these
Remediation assistance requirements shoot up with a remote workforce
Integrations with Ticketing Tools, DevOps and AIops are prerequisites to handle ITSM in large enterprises
Mean Time to Acknowledge (MTTA) & Mean Time to Repair (MTTR) metrics take a hit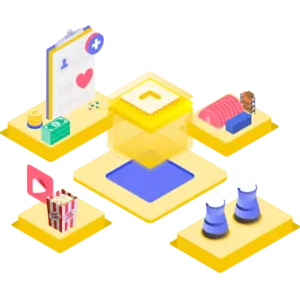 How can conversational AI help ITSM?
Modern enterprises are already using conversational AI to streamline internal processes and improve the employee experience. From simple tasks to complex support issues, IT leaders recognize the value virtual assistants bring to the service desk and are expanding their business use cases.
Given the WFH scenario, incident management, trouble-shooting, resetting passwords and many other such processes have spiked. With ITSM automation, low-level processes in the Service Desk can enable the IT staff to move away from a reactive landscape in which they are constantly putting out fires and allocate more time towards crucial business continuity activities.
So are you ready to automate your core business processes in times of COVID-19 and WFH? Click here to consult Yellow.ai WhatsApp Automation Experts