For all the customer-centric brands, customer experience is the key to running the business. By employing AI agent assist, a stupefying customer support agent, you will observe tremendous growth in your brand's retention rate, CSAT score, and an annual increase in sales by at least $10 million.
There is much more to an AI agent assist for a brand that loves its customers. Here is a detailed study about what is an AI agent assist, why one should use it- its features, and benefits, who should use it, and how can it actually help your brand grow.
What is an AI agent assist?
AI agent assist is an AI-empowered assistant that helps customer experience and customer success teams respond to customer queries by churning out all the data and creating the best possible suggestions for agents to respond. This smart assistant can amalgamate all the channels of communication for a brand and personalize conversations as per the context.

Today, in the post-covid-digitally-transformed era, CX agents have been more engaged than ever. Beginning from the top of the funnel, the awareness stage, till the end of the funnel (delight stage), CX has been more involved than ever. Yet, there is a communication gap between customers and brands, one that needs to be bridged to be a successful brand.
As per Robert Neely, a Forbes council member, and Director of marketing at Lima One Capital, a business doesn't communicate a message that really benefits the customer.
AI agent assist plays a great role to build a bridge for communication for customers and businesses. It helps a brand centralize its data, process it, and create information, that helps CX agents solve customer queries and cross-sell or up-sell products.
What are the features of AI agent assist?
To answer this question, I would like you to recall a journey where you as a customer were happy with your experience. Now think about what really made you happy?
Was it a quick response with an accurate message? Or was it that the brand had all your previous details in one place and you didn't have to juggle between different departments to get your query resolved? Or was it because of an omnichannel presence of the brand?

For any of the reasons that satisfied you as a customer, would you like to have similar features for your brand too?
You can easily implement all these features in your brand's communication. By simply using an AI agent assist you can help your brand win the hearts of your customers and give them a better experience day by day.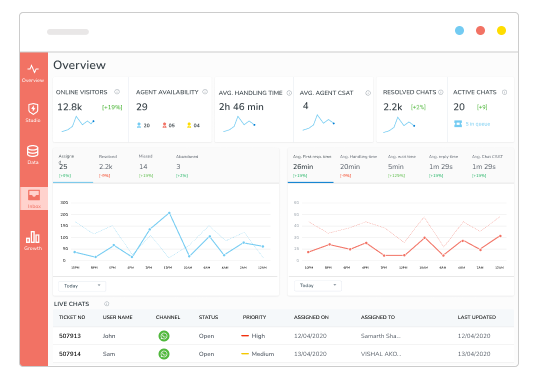 Features of an AI agent assist that can help your CX team
1. Find and resolve queries faster
Various find and resolve tools can help customer experience resolve each and every query without fail- because every customer is important.
2. 24x7x365 Stay Connected
AI agent assist can help a brand stay connected with its customers via notifications on WhatsApp and other channels. Sending proactive messages helps a brand build its recall value and helps it to be in touch with customers always.
3. Voice & Video support
For customers who don't want to chat can directly have a voice call or a video call. AI agent assist will help the CX team with instant responses as per the queries by the customers.
4. Multifunctional single dashboard
CX team can have a comprehensive view of all the tickets on one single dashboard making it easier for them to manage all the data and resolve queries quicker.
5. AI automation
With agent assist, brands can feed all the data to the AI agent assist so that it can automate responses based on the data, and help CX agents respond within no time.
6. Multilingual
Language shouldn't be a barrier in business. Therefore, AI agent assist helps the CX team respond in multiple languages. Also, the auto-translation feature can abandon the need for a translator in the team. Yellow.ai's AI agent assist can communicate in 100+ languages fluently and efficiently.
7. Reminders
Based on your service level agreements(SLAs) and escalation mechanism, AI agent assist would help your business keep its promises.
With such an upgrade to the traditional support platform, the customer support team and the customers, both will have an above satisfactory experience working with the brand.
Automation in communications with an AI agent assist is a boon for today's marketing, sales, and customer support team as it builds a rapport for the brand that can't be compromised by any of its competitors. It is extremely beneficial for the brand's value proposition and competitive advantage.
Benefits of using AI Agent Assist for brands
1. Gain customers' trust
Data-driven and personalized responses help brands gain customer trust and build loyalty towards the brand. This, in turn, boosts sales and gives high ROI.
2. Consolidated data
With the power and intelligence of agent assist, a brand can keep all its data at one center and process it to deep dive into insights, information and take faster and informed decisions.
3. Reduce data churning
Churning data while supporting a customer can be a little annoying for customers as well as for the support. With centralized and processed data, AI agent assist can give quick and 100% accurate suggestions for customers and solve their complaints within no time.
4. Invariably grow your business
The growth of a brand is directly proportional to its ability to communicate with customers at every stage of a sales funnel. AI agent assist can ensure better, smoother, and more valuable communication with customers, and that's what brands today need.
5. Improves human agents' efficiency
By giving them data-driven automated response suggestions. With this feature, the problem-solving capacity of any brand can increase considerably.
With such invaluable benefits, a brand can exponentially increase its customer life value proposition and CSAT score.
Who must use an AI agent assist?
Brands that have high volumes of inquiries on a regular basis- like retail, eCommerce, food delivery, B2B & B2C marketplaces, banking, insurance, telecom, education, FMCG, manufacturing, and many more.
Basically, brands that value their customers must use an AI agent assist. This is an extremely bold statement, but it is 100% practical and true.
Customer-centric brands need to communicate with their customers in a way that customers never feel the need to shift to the brand's competitors. This can happen only if the brand has unmatched product quality and an excellent customer experience.
AI agent assist is a solution to an excellent customer experience. With its abilities, agent assist can prove to be a great value addition to a brand's CX team and can help the team to create new and better experiences for customers.
Today, in a world where every business has shifted online, brands need to be powerful in terms of customer experience, and to fulfill the need of the hour, Yellow.ai introduces INBOX, an AI agent assist for your brand.
Yellow.ai's INBOX is an AI agent assist designed to deliver a seamless experience to customer support teams with access to all communication channels through a unified user interface.
INBOX is an AI-powered multilingual assistant for the CX teams that comes with a motive to give customers customer service beyond satisfactory.
A quick demo video of INBOX for a better understanding of how it can be helpful for your business.
If you feel your business needs an AI agent assist and the benefits that come along with it, request for a demo of Yellow.ai's AI agent assist- INBOX