Every day, Consumer Goods Brands lose a chunk of their sales due to the inefficiencies in their sales teams. While the traditional SFA technology of the last few decades has been able to boost sales, it hasn't been able to do much about the above inefficiencies. However, things are changing with many forward-thinking Brands using intelligent virtual assistants creatively to reduce human error, cut costs, grow revenue, engage customers, and elevate customer service. Many Brands are inviting their Retailers to place orders and further engage with them through a 24*7*365 available virtual assistant.  A virtual assistant can not only engage with 1000s of retailers simultaneously, but it does so with higher efficiencies and lower costs. With the virtual assistant efficiently looking after repetitive and routine tasks, the sales teams can focus on more important activities such as relationship building and business development. Below we'll cover a few features of Yellow.ai's intelligent virtual assistant that gives added capabilities to a brand, increasing retailer engagement and boosting Sales.
1. Intuitive UI/UX
Yellow.ai's intelligent virtual assistant's conversational UI makes communication very intuitive. After all, that is how humans communicate with one another.
With virtual assistants now being available on conversational platforms such as WhatsApp and Facebook Messenger, brands can now be present where their retailers already are, with no app download required.
Furthermore, the multilingual capabilities of a virtual assistant not only bring retailers from all backgrounds closer to the brand but also increase their trust in the brand.
Above human-like capabilities reduce the dependence on regular salesman visits, thereby reducing costs significantly for the brands.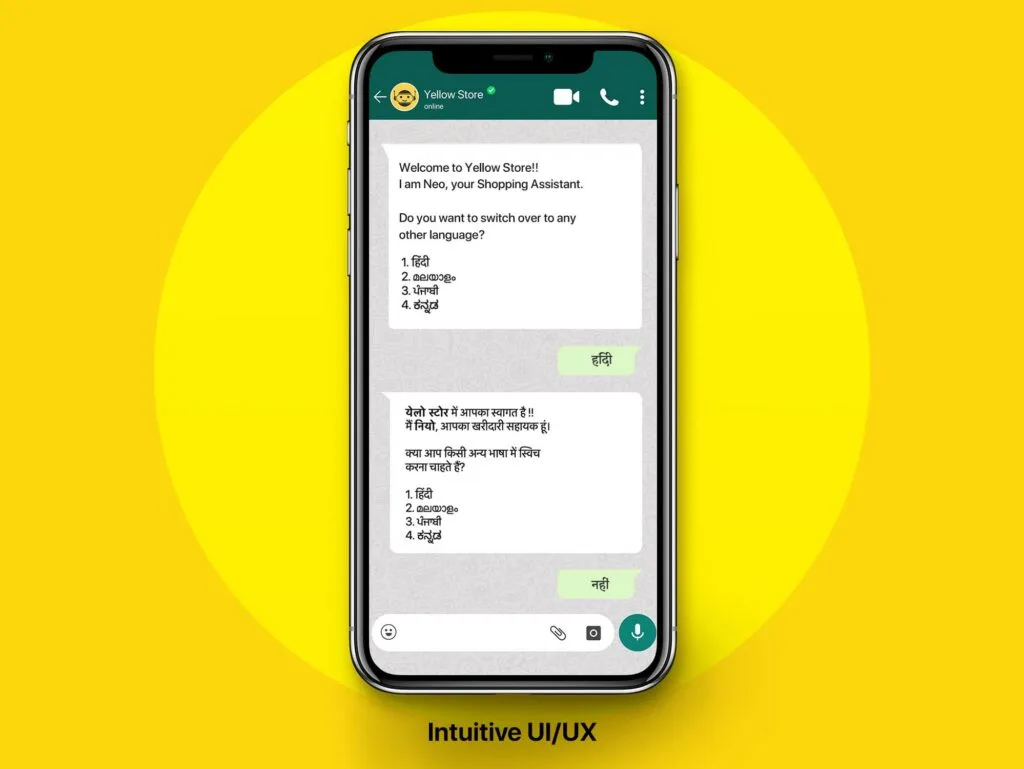 2. Retail Intelligence
With various middlemen out of the way, virtual assistants help brands engage directly with the retailers
This not only leads to a homogeneous brand image but also a free flow of insights from the retailers
Conversational analytics can help brands decode these insights to understand what their retailers are looking for, which in turn helps with making better business decisions related to product innovation, supply management, marketing, and pricing.
With a better understanding of various retailer segments, campaigns can be fine-tuned for a more targeted reach.
Issues of Retailers can be understood better and be fixed in a timely manner.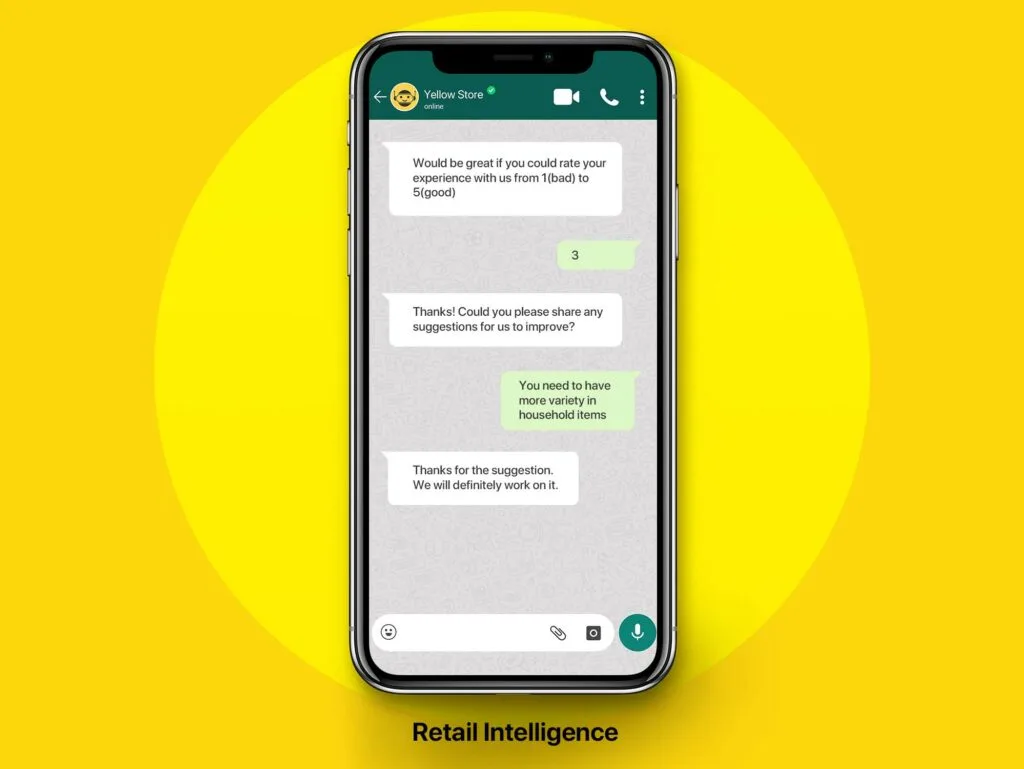 3. Proactive Reminders
Abandoned Cart Reminders – No matter how good the pre-purchase experience, about 70% of the carts are abandoned. With a 90% open rate, reminders sent by virtual assistants are highly effective in reclaiming most of the abandoned carts.
Order Day Reminders – Waiting for retailers to place orders through salesmen leads to a delay in revenue realization for brands, and also opens up voids for their competitors to fill. Virtual assistants send smart order day reminders even before the demand is raised by retailers, ensuring rapid fulfilment, zero stockouts and stronger business moats.
4. 1-tap Ordering
Since Retailers normally do a bulk purchase of similar products almost periodically, features like Suggested Orders, Repeat Orders, and Subscriptions make the ordering experience seamless.
Suggested Orders simplify the decision-making by giving a curated order based on the retailer's purchase history, top-selling products, and new product launches.
Repeat Orders as the name suggests, make it convenient to repeat orders from the past through a single click.
Subscriptions set an automated recurring order, not only taking away the worry of stockouts from the retailer but also ensuring that brands have recurring revenue.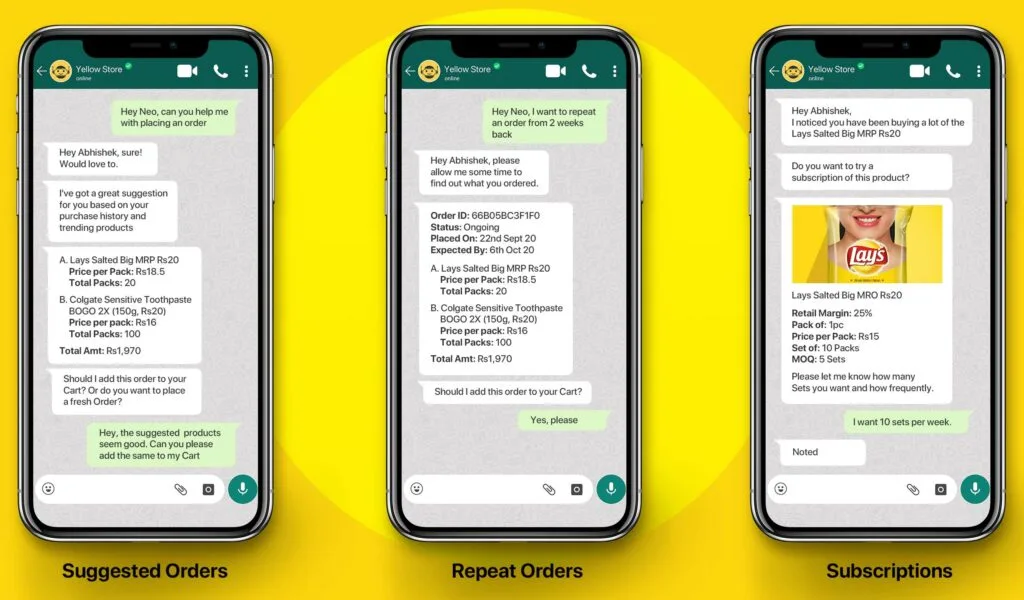 5. Buying Assistance
Simplified Search – Retailers can easily search for products based on a variety of attributes such as Aliases, Color, Weight, Size, Product Margin, Popularity, MOQ, Top Brands, Offers, etc. This ensures transparency on the Brand's part and enables Retailers to make sound purchase decisions. Virtual assistants offer these insights almost instantly and accurately, ensuring a faster sales conversion.
Product Recommendations – With new products being launched all the time, it gets increasingly difficult for retailers to stock up their shelves with the most relevant products. This is where virtual assistants' recommendation capabilities come into play. Retailers are suggested which products would go well together (cross-sell) and are also suggested better alternatives to certain products (upsell), thus ensuring a richer product portfolio.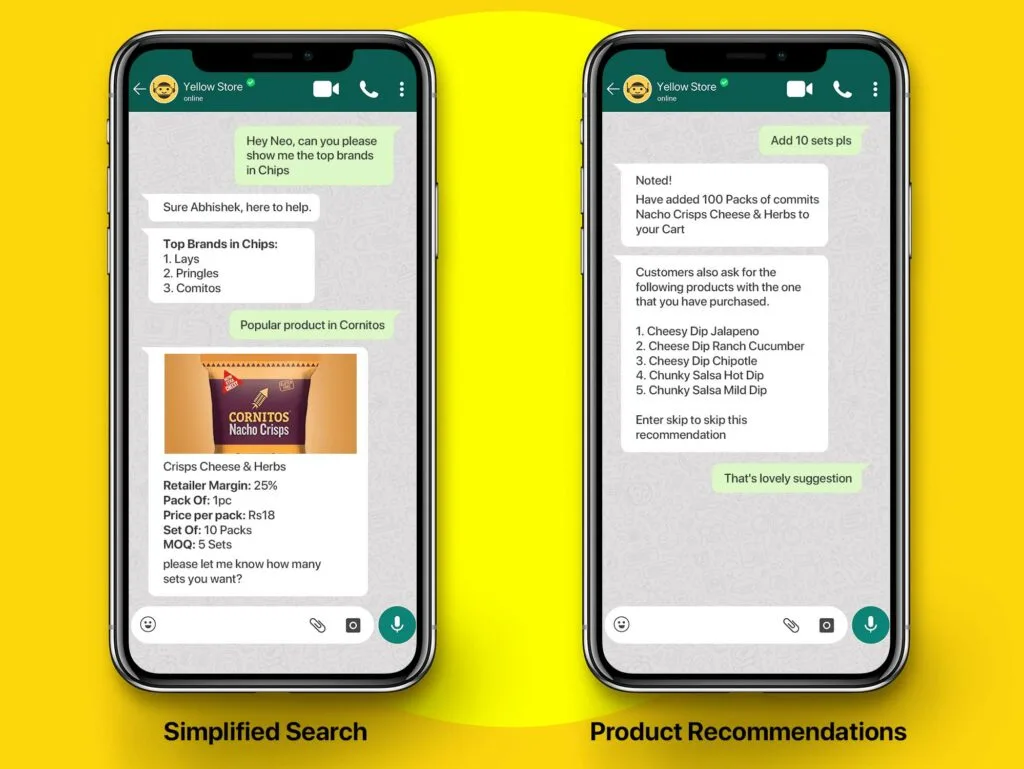 6. Order Updates & Management
Shipping updates form the most important part of the after-sales experience. Since the updates sent by virtual assistants have a high open-rate, retailers are more likely to view and engage with them.
Option to reschedule or cancel orders not only increases Retailer Satisfaction but also allows Brands to plan shippings better, thereby reducing last-mile delivery costs.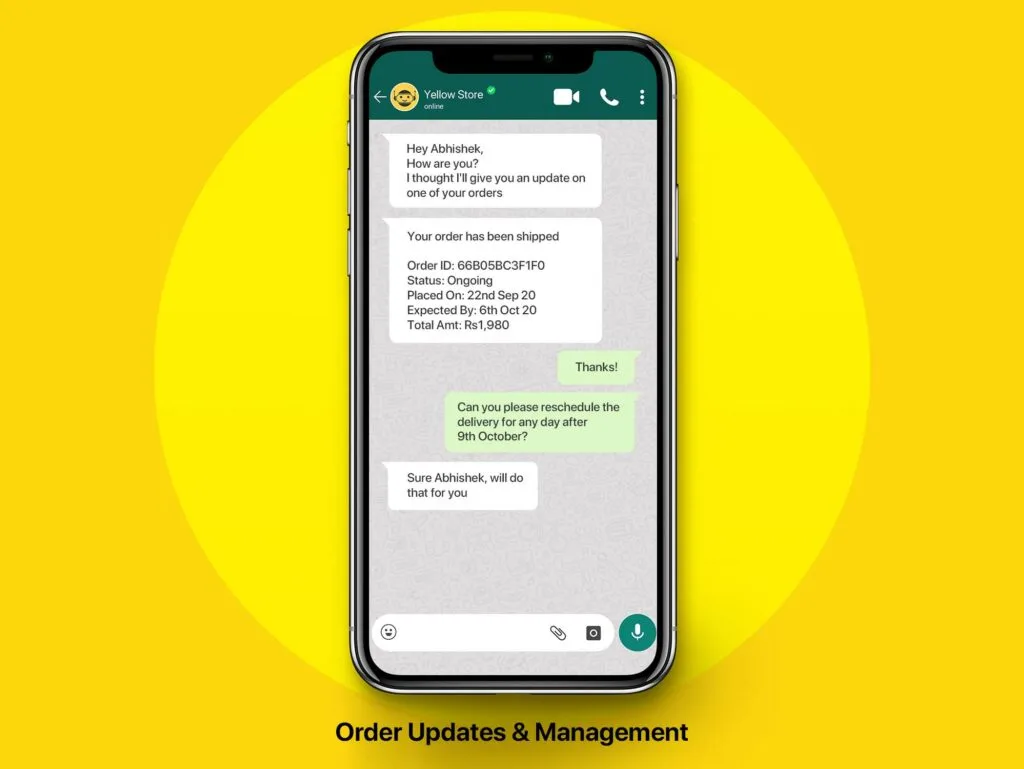 Unlike the end consumers, Retailers are more analytical when it comes to associating with a brand. They want to invest in brands that work with transparency and have friendly policies.
Virtual assistants are available 24*7*365 to handhold the Retailer at every step. Be it any payment related issue, or shipment query, the quick and accurate response ensures a faster sales conversion.
After-sales service is equally important and decides whether the retailer will return for another purchase or not.
With support for order exchange & returns, refund status updates, or any other help, the retailers' trust and loyalty in the brand remain intact.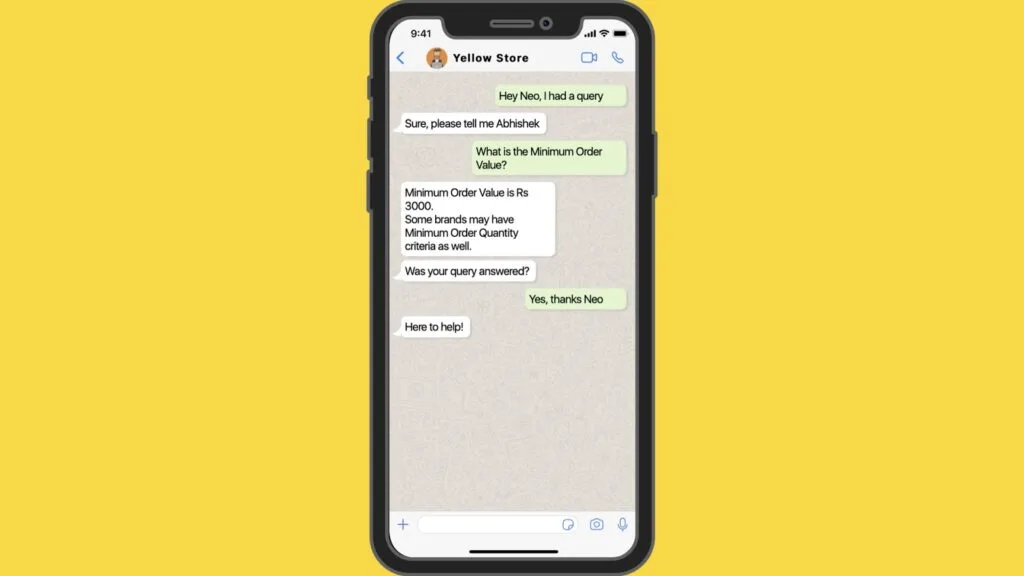 8. Engagement Tools
Retailers aren't always buying from the brand. During such dry spells, it becomes increasingly important for brands to ensure that retailers don't lose brand recall.
Through Campaigns, brands can keep the retailers informed of product launches, ongoing offers, or any other important updates.
Quizzes and Surveys can be great gamification tools to engage with retailers, extract any valuable information, and even subtly push products in the process. Retailers can also be rewarded in the form of coupons or reward points, for the information shared, thereby driving repetition and increased opt-ins.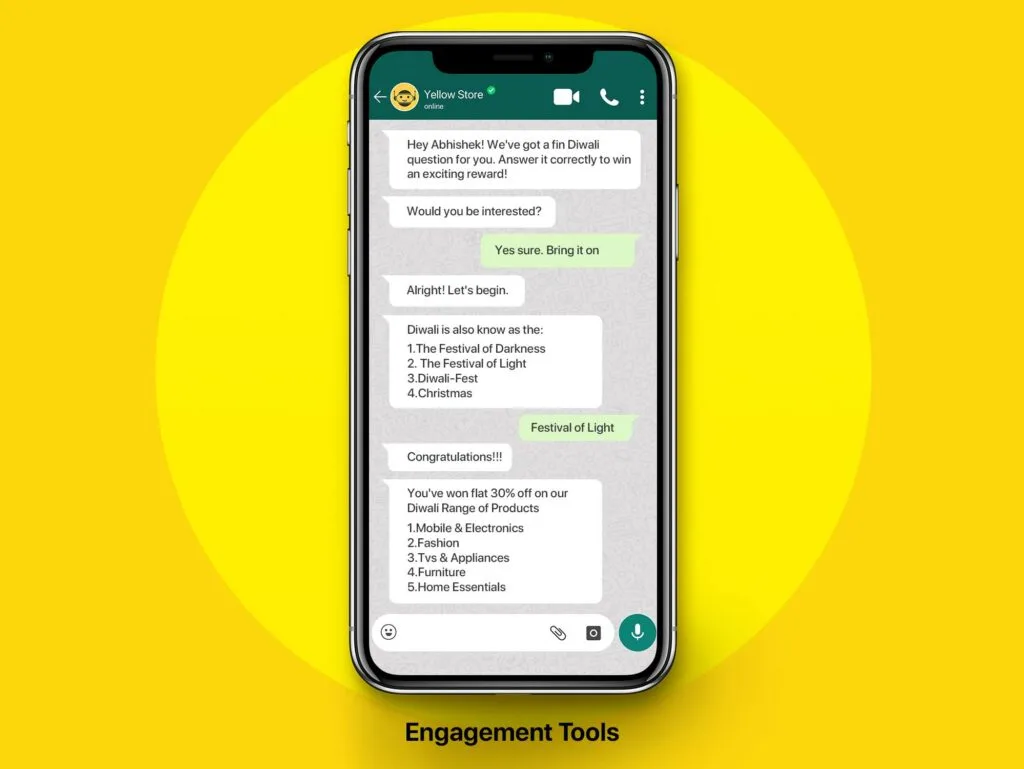 9. Personalisation
With goods being purchased periodically in high volume, Retailers want to be recognized by the brands. When recognized and rewarded for their loyalty, these retailers then become brand evangelists, bringing in more retailers and end-consumers to the brand.
Virtual assistants give brands the capability to create custom pricing and discounts for various retailer groups.
Retailers can also be rewarded in the form of coupons or reward points, which ensure that they return back to the brand on the next Order Day.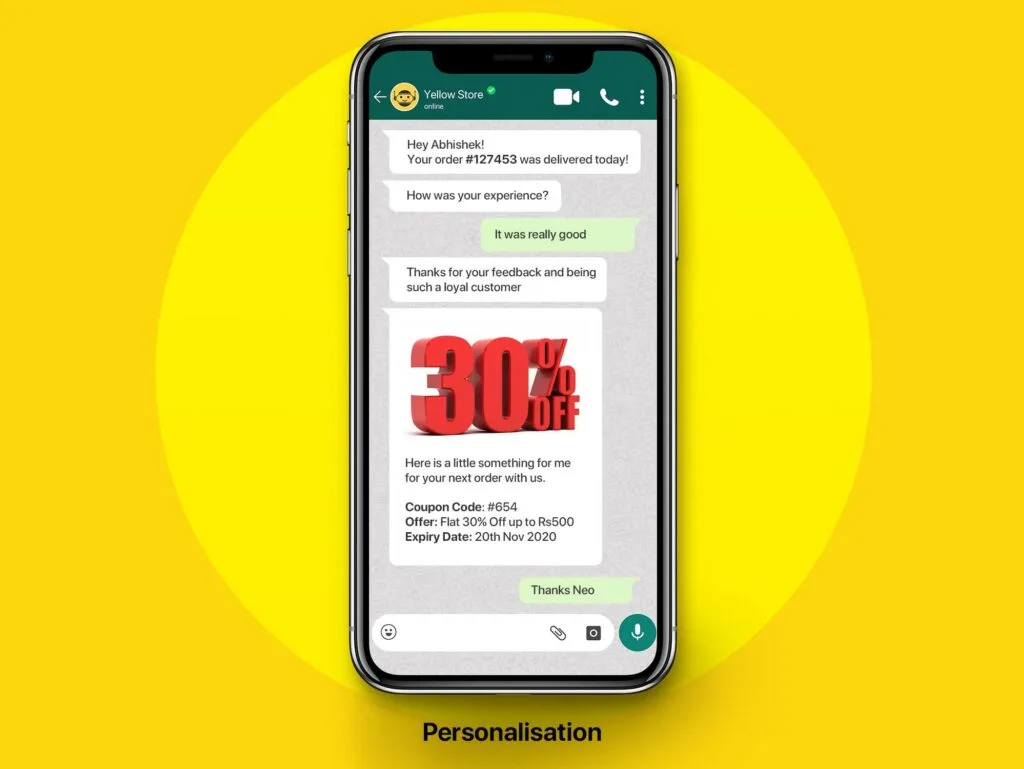 Conclusion
With virtual assistants, brands can boost their sales, reduce operational costs, increase retailer loyalty, and unlock significant retail intelligence. Building an effective conversational AI e-commerce strategy is an incremental process. The sooner a brand adopts it, the faster the returns will come into play. Also, as of 2020, virtual assistants are no longer the tools of the future and are already being used by abundant brands all over the world. With things evolving fast in this space, early adopters will be the ones to see maximum gains.
Get ahead of the curve and unlock the true potential of your business. Get a competitive edge with Yellow.ai.