Do you know what your employees think about your organization's new benefits and policies? What's your organisation's first impression? Would people stick around even if offered a higher remuneration? How much time do they really spend doing meaningful work versus worrying about their payroll, reimbursements, and so on? Is your organisation's skill set compatible with the needs of the future? Is your OKR strategy working? How do customers perceive your products in the field?
The very face of the new age workforce management has changed over the last two decades with ‌AI and NLP. By 2030, over 85 million jobs could go unfilled according to a report by Korn Ferry, even with new technology springing up. Organisations have realised that employees expect the same level of experience as consumers and with remote work on the rise, there is even more competition in gaining, nurturing and keeping quality talent globally. With CHROs sitting on the center table, Human Capital and Human Potential have become a distinct advantage for companies worldwide.
Employee well-being is necessary to be adopted by organisations looking to give every employee a personalised experience throughout the key moments that matter in their journey with the organisation.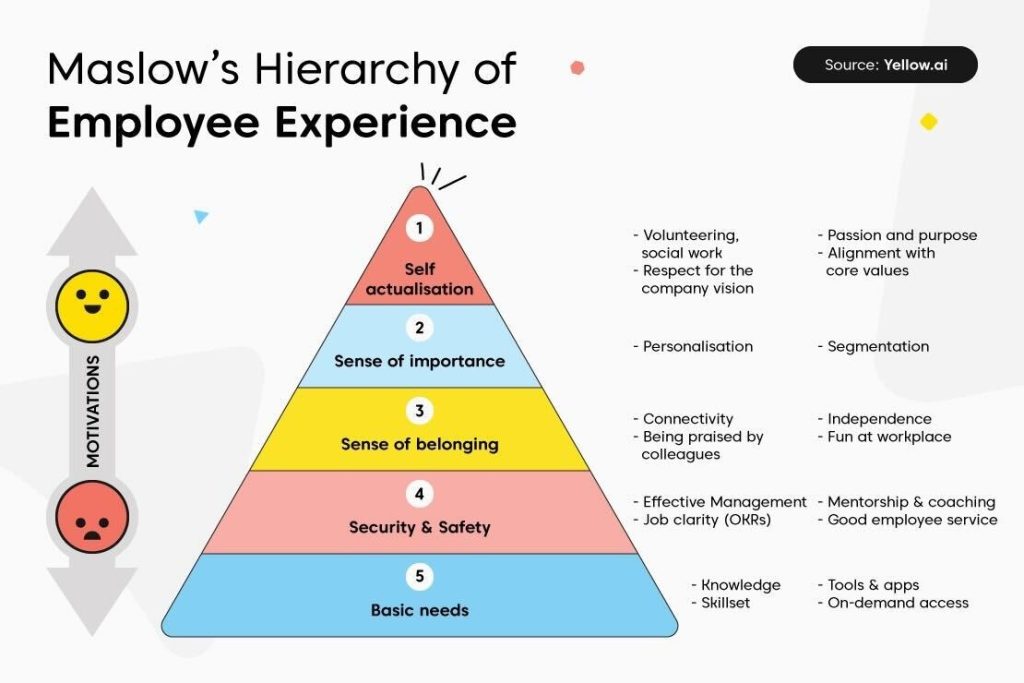 Imagine if you could hire an HR Business Partner for every employee to support them throughout their career. With that vision in mind, an HR dynamic AI agent – a truly intelligent, personalised and contextual virtual agent can help you scale your HR operations.
An HR dynamic AI agent has over 100 unique skills that it's trained on across HR and IT Support, employee engagement and people analytics, learning and development, employee productivity, and so on. It supports multiple languages and any custom language so that you can increase hiring across the globe.
Life as an HR manager, Donna.
Donna is a fun-loving person, who loves watching Netflix and unwinding with a glass of wine. Since the pandemic, she is under lockdown and working from home. Typically, she gets up at 7 am with a cup of coffee, but today she got up at 6 am because it's Thursday and she has to send her weekly reports by Friday. But before she can start on that she customarily checks out her email – There are 3 new requirements and all are urgent, there are some emails from Rhea and John regarding leave policy during COVID-19, and Rachel – her HR assistant who is reminding Donna to onboard the college interns.
Now she dreads the time it would take to reply to all while finishing her work on time.
Do you see the challenges?
Recurring tasks.
Less time for reporting and analysis.
People reaching out to her through multiple communication platforms.
Lack of a single secure interface for all data, communication, and providing data with analysis reports!
Now, let's see how Donna's life can transform with an HR dynamic AI agent
It's a typical Thursday, but Donna gets up at her usual 7 am. Makes her coffee and checks her conversational AI dashboard. The new joiner's documentation is done, and all information is fed into her report through the dynamic AI agent. Donna has to send the onboarding documents with a click. She checks the dashboard for old employees' queries – she is happy to see most of their queries are already taken care of. She checks her list of candidates she has to interview today and their details. The interview guidelines she had sent over through the dynamic AI agent and set the calendar invite with a meeting link. She takes out the customized reports and starts working on plans for up-scaling the company's resources. The HR dynamic AI agent helps Donna in saving her time for important tasks, by handling all the recurring, tedious tasks.
Benefits of HR dynamic AI agent
Campaigns: Launch targeted campaigns on WhatsApp, LinkedIn and many more.
Resolve query: Resolve candidate queries through an HR FAQ dynamic AI agent.
Candidates selection: Filter resumes and pre-screen candidates.
Automate hiring: Automate the hiring process from interview scheduling to offer letter generation.
Conversational survey: Automate reference checks with conversational surveys.
Engage: Engage with candidates during the notice period.
Automate onboarding: Automate employee onboarding processes like document submission, training & assessment & buddy connection.
Automating mundane-repetitive work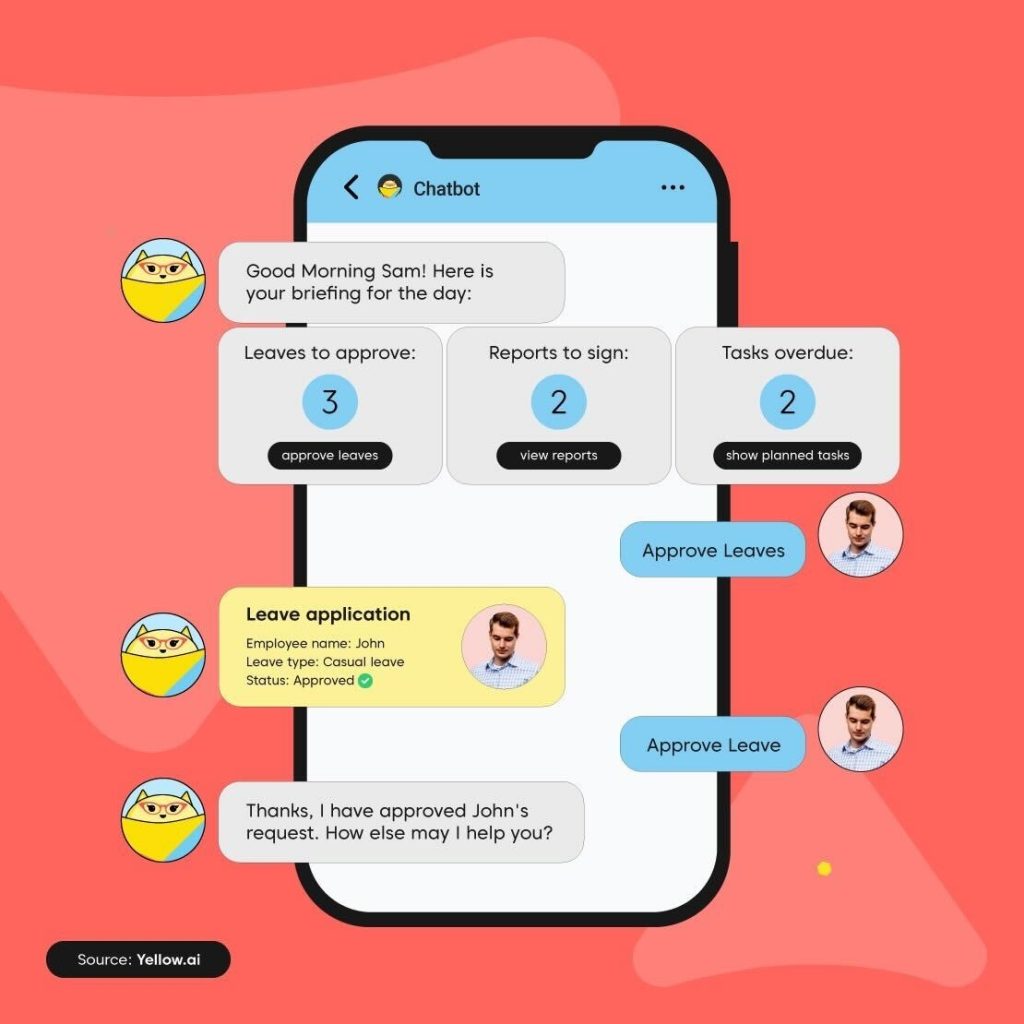 Leave management: Make it easier to apply & approve leaves.
Send calendar invite: Avoid switching tabs & windows to manage calendars & meetings.
Payroll management: Provide employees Payroll, ESOPs, and benefits related services easily.
Automate reimbursement: Automate claims & reimbursements.
Attendance tracking: Make attendance tracking & regularization seamless.
Automate personalized exit process: Automate exit feedback & maintain alumni relations.
Grade ticket management: Empower your HR BPs with a consumer-grade ticket management tool.
Supercharging employee and team productivity
Conversational survey: Capture 180 and 360 feedback.
Automated customised reports: Use a daily journal to send an end of day report to the manager.
Set appointments and send reminders: Ensure employees never miss 1:1s with their managers.
Capture and analyze KRAs: Implement continuous feedback by capturing KRAs and achieving weekly goals.
Set reminders: Nudge employees to complete goal setting.
Set incentives: Send quick rewards and recognition through the bot.
Platform agnostic: we can deploy The HR dynamic AI agent over any and multiple platforms like WhatsApp, Slack, MS Team, etc. This helps the first-line workforce to access the HR bot from anywhere in the world, irrespective of whether or not they are near their laptop.
Amazing, right?
Now let's get back to our story of Donna. Do you remember the 3 new candidates for recruitment and other countless employees who had some or the other query? The dynamic AI agent can help these employees by providing a secure personalized channel for getting all their queries resolved in a jiffy.
Employees can just chat with the dynamic AI agent, apply for leave, check company policy or add personal documentation.
A dynamic AI agent can help employees by:
Secure conversation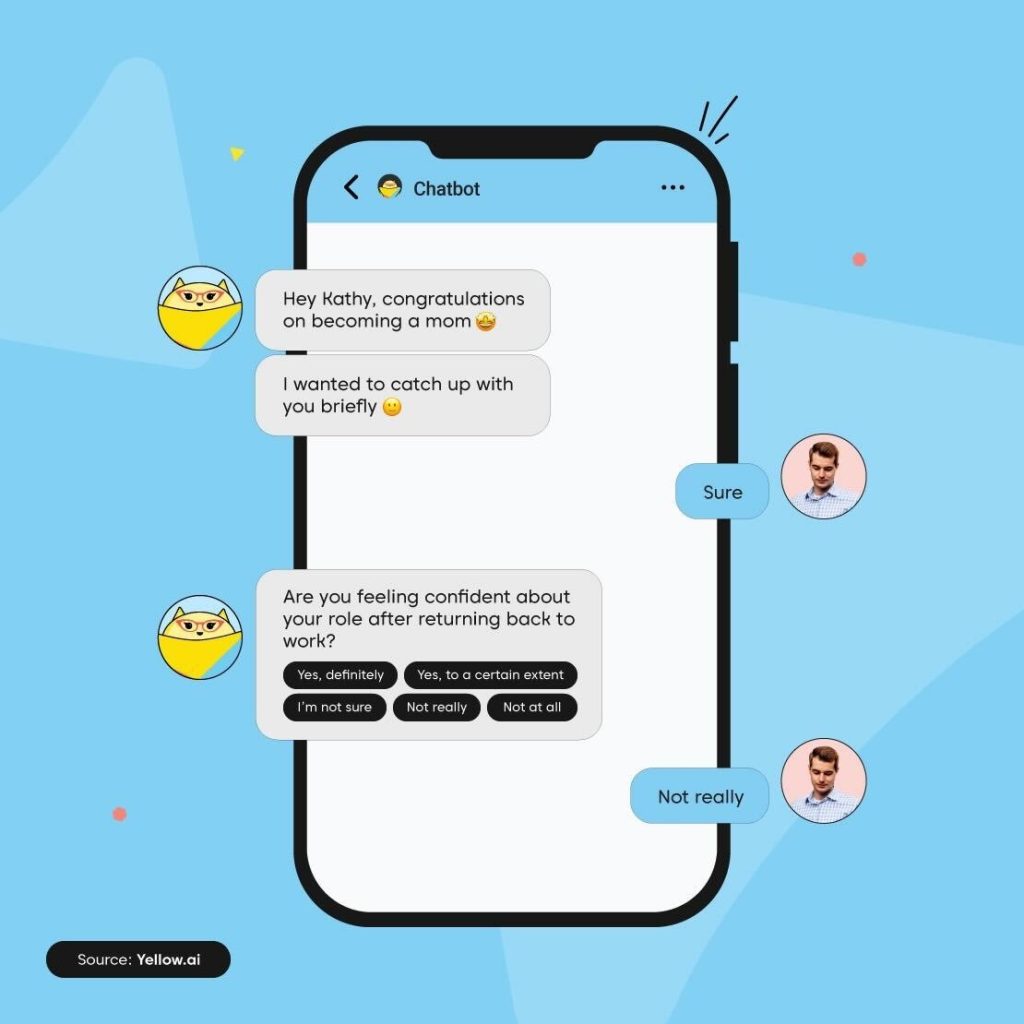 Set tenure survey: Schedule dipstick and tenure employee surveys for moments that matter.
Conversational survey: Customize from a host of pre-designed surveys or create your own.
Special day's event reminders: Segment your audience by events or tags.
Analytics on employee data: Capture anonymized feedback on sensitive issues.
Analytics and reports: Capture insights like turnover intent and theme-wise analysis.
Feedback: Perform entity detection and topic modelling on verbatim feedback.
Security: Restrict data access to authorized people only.
Fun and flexible upskilling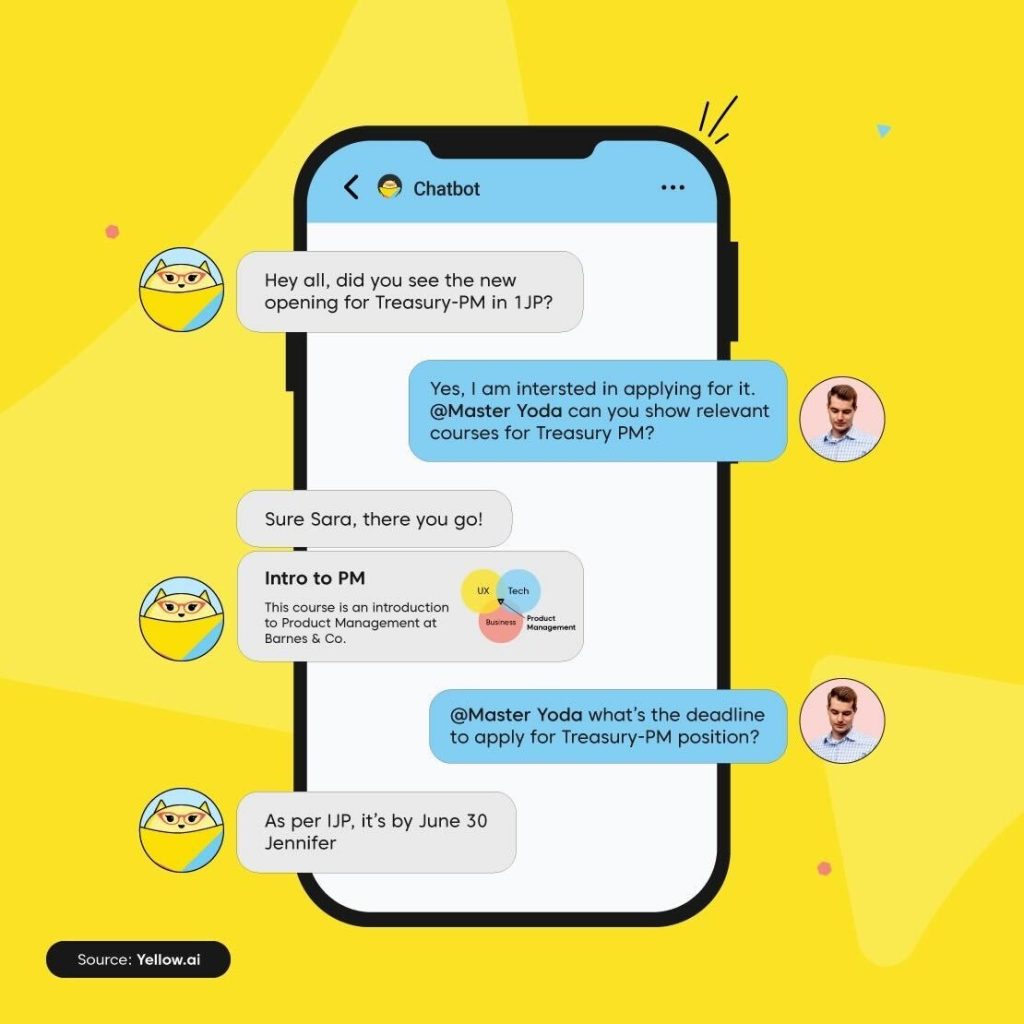 Skill gap analysis: Perform skill-gap analysis for succession planning.
Upskilling: Recommend training based on employees' goals and interests.
Connect with a mentor: Facilitate allocation of and connect with mentors.
Reminders: Send automated and personalized reminders for mandatory employee training.
Send content: Push micro-learning content on the go.
Certifications: Perform assessments and generation of certificates.
Updates notification: Notify employees of IJP openings for internal mobility.
Best buddy system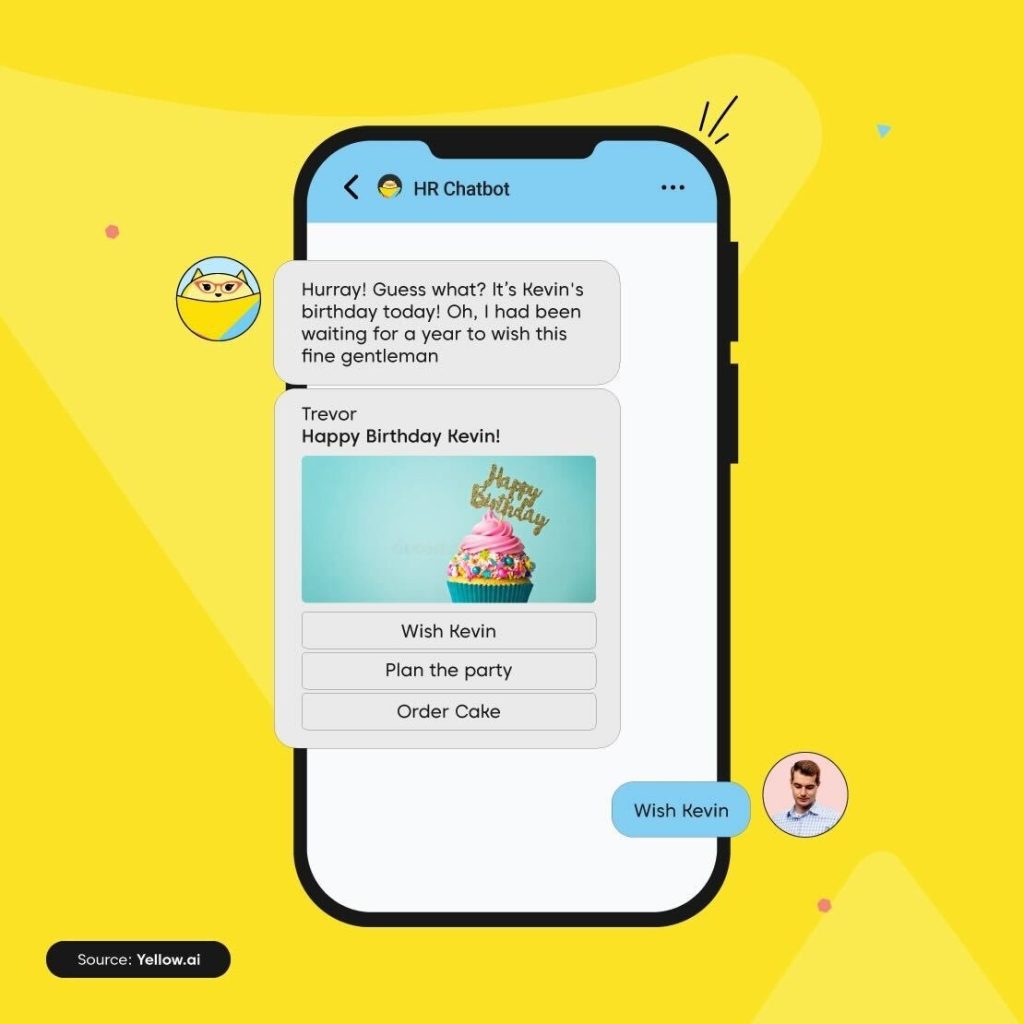 Right buddy: Help your employees find the right person to connect with for any problem.
Personalized greetings: Have a mini-celebration & send a personalised greeting on special occasions.
Custom polls: Use the poll feature to send team-wide polls.
Employee support: Encourage employees to appreciate their colleagues' efforts.
Events organising: Play icebreaker quizzes and games like secret Santa within the team.
Announcements: Send organization-wide announcements and collect anonymous feedback to capture the pulse of the organization.
Find tools and knowledge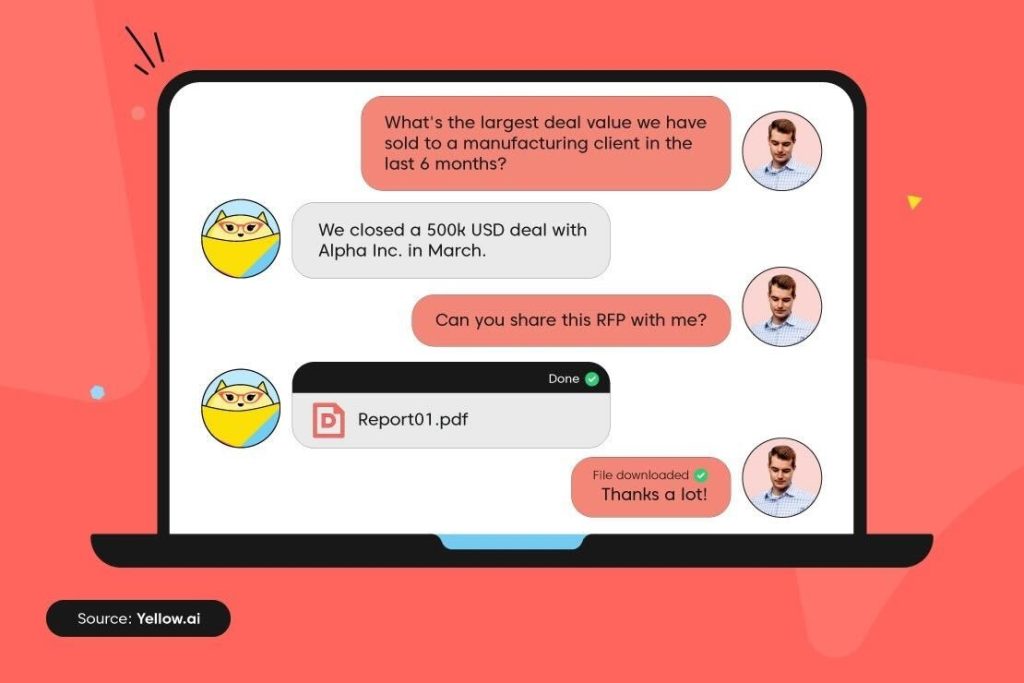 FAQs: Train and launch an FAQ bot in less than 10 minutes.
Knowledge management: Integrate with a knowledge base like ServiceNow and SharePoint.
Easy search: Use Machine Comprehension to search through semi-structured documents.
Provide quick information: Help employees find the right application through quick links.
Update knowledge bases: Provide employees with an interface to rank and update KBs.
Insights: Capture insights on the accuracy and relevance of documents.
In a nutshell, a dynamic AI agent can save a whole ton of time for HR professionals by automating the manual and administrative process and providing a friendly, personalized HR virtual assistant with whom employees can chat. This would help HR to focus on designing engaging employees' policies and tasks and scouting for the best-suited talent.
A dynamic AI agent can help an enterprise by providing:
Personalized contextual conversations – Yellow.ai NLP engine is contextual to continue any conversation where it left off in a human-like manner.
Conversational insights – Give HR insights on employee engagement by accessing the intent and sentiment of conversations with the dynamic AI agent.
Omnichannel service desk – Manage all employee tickets across email, apps, and bots from a single portal with integrated Knowledge Management.
Business process designer – Design and customize your workflows without relying on IT using a visual flow builder.
Gartner's Hype Cycle for Human Capital Management Technology, 2020, states the need for technology with applications in human capital management (HCM) transformation. It includes technologies for:
Administrative HR
Talent management
Workforce management (WFM)
Integrated HR service management (iHRSM)
A dynamic AI agent can do all the above and more. With HR Automation, enterprises can automate the onboarding, schedule meetings, answer employee queries, and make document and knowledge management efficient. A dynamic AI agent can help by providing personal conversations to all employee's queries, or surveys.
At Yellow.ai, we help our customers build their own sophisticated dynamic AI agent on our low-code/ no-code bot builder. Get a demo of the bot builder for your business. – Talk to us