The foundations of voice-enabled technology were laid in 1952 with Audrey, the first ever documented speech recognition software, and continued with Eliza, an early natural language processing program created 14 years later. Human ingenuity and the pursuit of innovation continued for decades that followed. Today, we have automated assistants who can talk, understand, and perform actions based on our commands.
In 2011, Apple released the iPhone 4 and made waves by introducing Siri. Other major tech companies followed suit; Amazon launched Alexa in 2014, Microsoft introduced Cortana as part of its makeover in the same year, and Google gave us Google Assistant in 2016. These AI-powered virtual assistants are more than just talking alarms—they can issue reminders throughout the day, perform queries, control smart homes, and manage our connected devices.
Yet with the ubiquity of AI-powered smart assistants and conversational bots, voice-enabled technology offers the most personal communication experience. It preserves the human presence in the tech-driven smart world that we live in.
Now, as social distancing becomes the new normal, no-touch, voice-enabled technology is taking off in several Asian countries where consumers are conscientious and proactive about avoiding infection. The concern that mobile devices—which are touched more than 2,600 times a day, according to one study—can spread the coronavirus is one of the factors expediting this growth.
KrASIA spoke to India-based conversational AI startup Yellow.ai and Taiwan-based voice-enabled dating startup Goodnight to delve deeper in the matter.
Conversational AI on the rise
"The first quarter of 2020 was one of our busiest quarters since 2017," said Raghavendra Kumar Ravinutala, the co-founder of Yellow.ai.
In 2018, the global market for conversational AI platforms was valued at around USD 2.364 billion, and it is expected to grow at a CAGR of 26.75% until 2025. The adoption and deployment of voice-enabled technology is on the rise all over the world, and India is not far behind. According to a recent report titled "Voice technology in India: Now and future – Consumer and business perspective," India's voice market is set to leap from USD 21 million at the end of 2019 to USD 58.4 million by the end of 2020—growing by around 40.47% within a year.
Voice commerce, meaning an arrangement where consumers can use verbal commands to search for products and make purchases, is an essential service in countries like India, where about a quarter of the population is not literate and spoken language is their only medium of communication.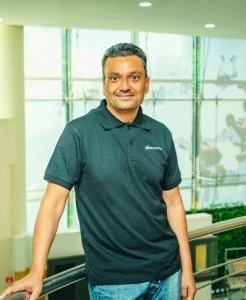 Raghavendra Kumar Ravinutala, co-founder of Yellow.ai.
Since March, Yellow.ai has seen a surge in demand for conversational AI, especially from players in e-commerce, banking, insurance, retail, healthcare, and FMCG industries, all of which are looking to digitize their call centers, automate their sales engines, and drive direct-to-consumer commerce and services.
Owing to massive business disruptions due to COVID-19, as well as the urgency to adopt solutions to stay afloat, companies are turning to conversational AI. Ravinutala said, "Deals that would normally take at least three months to close, are now being closed and implemented within three days. We are also seeing FMCG and retail companies offer 'direct-to-consumer (D2C)' [sales] on WhatsApp." As one of the most popular ways to communicate, WhatsApp provides the perfect environment for conversational commerce. With WhatsApp Business, companies can integrate voice commerce features for faster, smoother, more accessible customer outreach.
According to research and consulting firm Ovum's report titled "Digital assistant and voice AI-capable device forecast for 2016 to 2021," by next year, there will be more than 7.5 billion voice-enabled devices in the hands of consumers around the world, and the next generation of users will expect their web-based interactions with financial institutions, retail outlets, telecom service providers, and other businesses to be voice-first. However, keeping in mind the wide adoption of WhatsApp across countries and how easy it is to build a chatbot, even one that responds to spoken responses, many enterprises are developing these capabilities on the messaging platform before applying them to other contexts in India and all over the world.
Yellow.ai stands out in the current climate, in that it managed to raise USD 20 million in Series B funding at a time when investors are extra cautious and many startups are in survival mode.
Yellow.ai's key product merges voice tech, AI, and multilingual capabilities with tools that many businesses already use
The company's key product merges voice tech, AI, and multilingual capabilities with tools that many businesses already use, like enterprise resource planning software, human resource management systems, and customer relationship management systems. "Our platform has consistently offered a scalable solution by delivering meaningful and measurable results to enterprises across the globe. We've seen massive demand for our conversational AI platform since the very beginning, achieving fivefold growth in bookings, year-over-year, since 2017," said Ravinutala.
He told KrASIA that Yellow.ai was able to woo investors because of several reasons. In less than three years, the company managed to establish itself as a leader in conversational AI, powering 30 million conversations on chatbots for more than 100 clients each month. And that roster of customers includes recognizable names—Accenture, Dominos India, Flipkart, Grab, MG Motors, Royal Enfield, Schlumberger, and Xiaomi India.
Integrated voice tech systems are not merely bells and whistles. They're necessary now.