ITSM is broken
IT agents have always struggled with the volume of queries they receive. Despite the organization's best efforts to make IT ops self-serve, employees usually resort to raising a ticket or directly contacting an agent for every small thing. Messaging your IT agent on Slack is much easier than finding the right article from the knowledge base on your own. These repetitive L1 queries are what IT agents spend most of their time and energy on, leaving little for high-impact problems that require creative solutions.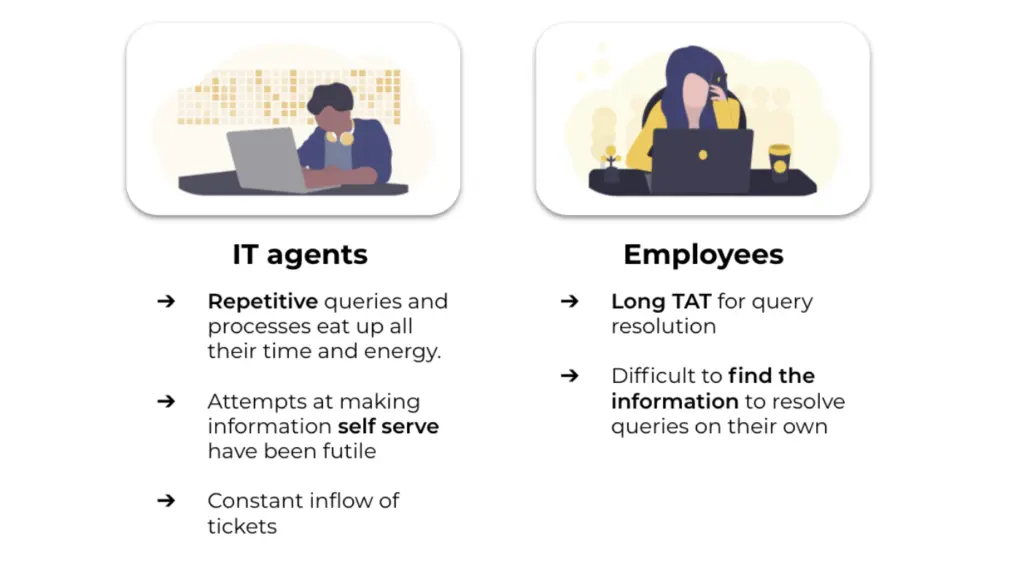 Common issues faced by employees and IT agents
Flax, by Yellow.ai
Flax gives your IT agents superpowers. It does so using the AAA framework-
Agents: Virtual agents conversationally resolve employee queries. These enterprise virtual agents(also known as EVAs) are powered by conversational AI and live on internal communication channels. Just talk to an EVA like you are talking to an agent and they should be able to help you out. Flax EVAs come pre-trained with common IT workflows. They can also use Yellow.ai's Document Cognition engine to pull up information from unstructured internal documents. Moreover, these virtual agents can seamlessly transfer control to a human agent if required. All aspects of the EVA (look, name, personality, etc.) are fully customizable.
Automation: Flax automates repetitive processes such as password resets, procurement flows, troubleshooting, and much more. This frees up time for IT agents to tackle problems that require creative solutions. We can work with your organization to identify and automate repetitive processes. Flax also natively integrates with several RPA tools, unlocking hyper-automation.
Analytics: Flax provides IT agents with comprehensive analytics. Organizations can build custom dashboards and visualizations over Yellow.ai's powerful analytics engine.
Why Slack?
Slack is one of the biggest players in the enterprise communication space. Most internal communication, particularly in the remote world, happens in tools like Slack. Over the past year, Slack saw its usage spike to all-time highs. It went from being a workplace chat solution to serving as the virtual office.
Number of paid Slack users – YOY growth
The initial instinct of someone facing an ITSM issue is to message the relevant person through Slack. Flax allows you to follow through with this, making ITSM truly self serve. Simply DM the Flax EVA and it will instantly resolve your query.
Why leave your virtual workspace for your ITSM needs?
Flax brings everything needed for a great IT ops experience to within Slack. This includes
Incident management: You can view, edit, resolve, escalate and delete tickets conversationally. Flax lets you convert any message to a ticket in 3 clicks. Flax can also convert your home tab to a custom dashboard.
Knowledge base search: Flax makes knowledge base search accessible from within the chat. Flax can also search through your unstructured internal documents using the document cognition engine.
Asset and account management: Flax helps you instantly resolve permission/access-related issues. Flax can help keep remote workstations updated and secure.
Alerts and monitoring: Flax EVAs will let you know if there is a change in the status of something you are associated with
Distribution list management: Flax allows you to easily edit your distribution lists
Process automation: Flax can automate processes end to end by using EVAs to guide employees through them.
Password reset process
Customizable home tab
Flax makes all these features available through chat, slash commands, and shortcuts. Since Flax makes all these features available through a conversational interface it solves one of the biggest reasons adoption of self-service portals has remained low- discoverability. Unlike portals, you can add functionality while maintaining a consistent end-user experience. Moreover, you can observe what your employees are asking Flax EVAs and add features as and when required.
Architecture
Flax is a subset of Yellow.ai's enterprise automation division. Flax is divided into use case-specific modules, each is further split into feature-specific submodules. You can either deploy Flax vertically for end-to-end ITSM automation or mix and match modules to create a solution that is perfect for your organization.
Flax acts as a smart layer over your existing infrastructure. This means that Flax talks to all the tools and services your organization uses and makes them accessible through one conversational interface (like Slack). Flax comes with pre-built workflows and domain-specific training ensuring time to deploy is minimal. Flax has out-of-the-box integrations with most products in the ITSM space. If your organization uses software that Flax is not currently integrated with, we can make Flax compatible as long as APIs are available.
We at Yellow.ai strongly value data and privacy and consider it to be part of the service experience. We are ISO certified and GDPR compliant. All of Flax's interactions are end to end encrypted with AES 256
Can I try Flax for free?
Yes!
We want everyone to have a taste of what conversational ITSM automation feels like. We have a basic version of Flax(integrated with ServiceNow) available for free. Just head over to the Slack App Directory and search for Flax(or click here for a direct link). Connect your ServiceNow instance according to the in-app instructions and you are good to go. You can reach out to us if you want a demo ServiceNow instance.
Click here to learn more about Flax+Slack. For more about Flax and to book a custom demo visit Flax.