Vartika Verma, Director of Marketing, Yellow.ai discusses how businesses can automate their customer support, HR, and ITSM in just 7 days at a webinar conducted by TiE Delhi in association with Yellow.ai. Below is the transcript of the Webinar
Nitin Agarwal, TiE Delhi: Business continuity is the biggest challenge for all the companies in the world, whether it is a big, medium or small business. The same is true for local or multinational businesses. These are the times which businesses have not faced in their lifetime. These are not local phenomena for which business continuity plan would be in place.
Things need to be done in quick succession.  Do we have any options? Can automation help businesses in times of Covid-19? Can conversational AI chatbots help businesses? Looking for an answer to these questions, TiE Delhi in association with Yellow.ai brings to you Vartika Verma, Director of Marketing will share her experience and solutions which Yellow.ai's conversational AI platform will provide to businesses in a matter of weeks. We would like to congratulate Yellow.ai on announcing fresh funding of $20 Mn in Series B.
Vartika Verma's professional journey of 11 years has been invested in the area of brand marketing for technology companies. Working shoulder to shoulder with founders and core team members of Directi, Rocket Internet, Hike Messenger, Payoneer has given her an inside view of building billion-dollar companies.
Using a consumer-first approach, able to influence the culture of an organisation across product, sales, marketing, and engineering teams to create winning products and customer experience. Her posts have been published on Adage, Huffington Post. Over to you Vartika.
Vartika: Thanks Nitin as well as people who are part of the webinar.
Topic is how we can maintain business continuity and use technology to drive that. Why we think that this is the great opportunity to talk this is over the last 3-4 weeks, we have seen a lot of enterprises large or small across USA, South East Asia, India and across the globe, businesses are facing challenges to carry out their business.
In times of work from home, when colleagues don't have access to each other, don't have access to systems, most of the BCPs were never designed for such times. So we are just going to talk about BCPs and how to place them in just seven days. As we know, businesses need to overcome this issue quickly and effectively.
Yellow.ai is an enterprise conversational AI platform that is based out of Bengaluru, India and has offices in the US, Brazil, Singapore, and Hongkong. We are helping enterprises to automate their internal and external use cases across customer and employee engagement. We have helped more than 100 companies in automating their different processes and handling more than 30 million conversations on a monthly basis across voice and text.
The purpose of automation is of little importance if it can't deliver value to customers as well as the company. Our services have a positive business impact on a yearly basis to the tune of $100 million. This is measured by account of cost savings, incremental revenue to their existing channels or savings by reducing headcounts. It shows automation not only good for digital transformation but also practical to improve the business processes as well as revenue to the company.
In times of Covid-19, companies are trying to maintain business as usual. These times are affecting everyone physically as well as emotionally. To simply put, these are not normal times but we have solutions that can be deployed within 7 days whether you are looking for customer engagement automation, employee engagement automation, sales automation, or enterprise-level automation.
For example, a lot of FMCG companies rely on dealers to distribute their products to retailers. Whole supply chain has been disrupted and this is something that no one was prepared globally. Companies BCP was that if one center is not functional the other would support. This BCP is not working in Covid-19 times.
If you read messages from companies, you will find that they are either working with limited manpower or they can service few customers for a given day or call only if it is urgent.
We have tech enterprises, like us, who are delivering digital transformation to companies from banking, retail, insurance, FMCG, airline, etc. These are existing solutions and part of the management agenda for years but didn't find many takers. Now digital transformation has become the need of the hour. This is where conversational AI comes into the frame.
When we look at any BCP analysis, it has addresses 3 important points: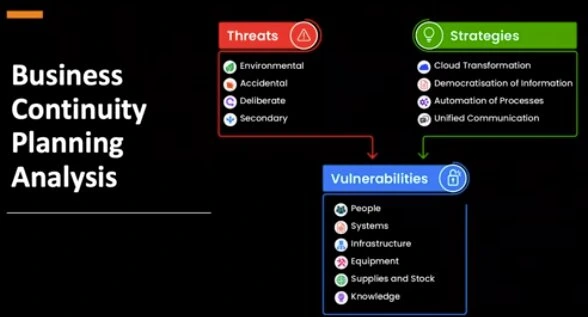 Threats: Threats can be environmental, accidental, deliberate, and secondary. These threats primarily affect your employees, systems, and equipment. In some cases, it might affect your knowledge you acquired for some business functions. A lot of companies have already migrated to cloud solutions, some are in process and a big chunk is planning to migrate after being hit by Covid-19.
Strategies: Keeping in views of threats, strategies are designed and deployed. Strategies can be categorized into Cloud Transformation, Democratisation of Information, Automation of business processes, Unified communication.
So if you see the entire crux of business continuity is how to ensure business processes don't get disrupted in any situation. Now if you look at, what is causing business disruption at this point in time is a complete breakdown of business processes.
Many of the software developers don't have access to their systems, some don't have internet connectivity, they are managing with their mobile hotspot. Call centers are not functioning, customers are not getting their queries resolved, or even if some are working, they are working with a fraction of original manpower.
Vulnerabilities: Vulnerabilities can be people, systems, infrastructure, equipment, stock & supplies, and knowledge. At the center of any business, you have customers and employees. Every business is set up around these two components. Pretty much all employees matter the most and good is that they communicate via different channels. We think that with automation, we can make ITSM and HR function seamlessly and provide effective as well as productive work from home solutions.
Conversational AI automation will enable you to handle 60% of your support call volumes through conversational automated chatbots. You could convert your physical call center to a digital contact center in just 7 days. Can't Believe This? Well, it is being done across industries.
As per the Gartner report, if you look only 10-15% of enterprises can provide effective work from home via VPN and provide access to data and have processes in place. IT teams haven't designed such a lockdown around the world.
Imagine a scenario where 60-70% of customer queries can be automated. Instead of humans, chatbots handle these queries and the remaining critical ones can go to the customer support agents. What if this could happen?
We work with one of the largest non-banking financial institutions of India and they have completely moved their customer support from call center to Whatsapp chatbots. They have been doing it for some time now, well before Covid-19 times and it has helped them greatly improve their business processes and efficiency as well as address the present situation. They are now focused on launching new policies or products.
Conversational AI automation really makes everyone happy. Customers don't have to wait on the call to get their queries resolved, employees are handling critical and important queries. Management is super happy as it increases productivity and profits.
Conversational AI is uniquely positioned to streamline people, business processes, and communication. What we mean by that is there are a lot of backend systems, customer support, itsm, hr, and management team who use different backend systems.
In the frontend, people might be using Slack or Microsoft Teams or email or ERP systems to look at the information. When people are not able to connect with their backend systems, frontend systems get overwhelmed. So Conversational AI basically orchestrates and triggers workflows across processes and gets information from the backend and gives it to frontend, customers, and employees. Conversational AI takes care of the entire process seamlessly.
Example can be an employee wants to know about leave policy, when the office starts, is his job under threat. You would reach out to the HR team. HR teams are working on new employee onboarding and how new joinee can be given the laptop? Probably, they themselves don't have an answer. There are a lot of activities in HR that can be automated and chatbots can do it without breaking a sweat.
We need to understand that in most business processes, 60% of conversations are repetitive and mundane. It might be from HR, sales, or customer service. In most cases, customer support agents get the same queries and these can be automated with ease.
Low Hanging Automation Use Cases
I am going to talk about three aspects of any business. Customer Experience, Human Resources, and IT Service Management.
These three aspects can be easily automated using the Yellow.ai conversational AI platform and it can be done well within 7 days' time frame. Especially channels like WhatsApp, Slack, Microsoft Teams, IVR can be automated within 7 days. We have done that with Adani Wilmar, Bajaj Finserv, Spencers, Grab, etc. HR, ITSM, and Customer Support has been automated for these companies. We have seen good success stories here.
We have picked up these use cases because if we focus on these, you will be able to focus on people across internal and external use cases and that would set you right for the next 30-40 days of lockdown or may be more.
Customer Support Automation: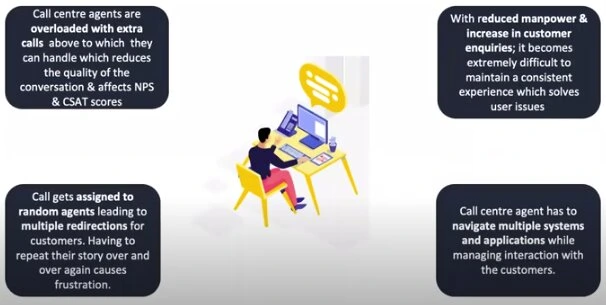 Talking about customer support, call center agents are overloaded with extra calls above to which they can handle. This reduces the quality of the conversation and affects the Net Promoter Score and CSAT scores. Banking, retail, and healthcare are the most affected ones and it is getting harder with each passing day.
Calls get assigned to random agents leading to multiple redirections for customers. Customers are forced to repeat their stories again and again which causes frustration to customers.
I am hoping there won't be internet connectivity issues while we are conducting this webinar. You never know what kind of issues you can encounter. People are spending a lot of time with their family, they have to take care of other things as well. Right from getting their groceries to cooking their food. With reduced manpower and increase in customer inquiries, it becomes extremely difficult to maintain consistent experience which solves user issues. In a normal scenario, it is easier to service the queries for an agent.
Call center agent has to navigate multiple systems and applications while managing interaction with the customer. It is easier to automate your customer support across Alexa, Google Assistant, WhatsApp, web, and app. So you can pretty much figure out what are your threads or what your most common questions or queries, feed into chatbot and any customer comes up with those queries can be answered in less than 3 seconds.
We also work with the world's largest oil services company which deployed our conversational AI solutions and chatbots. And what we see is that earlier they were spending about 3 hrs to resolve a query because they were working across time zones. Now it has reduced to 3 mins and for all the complex queries, there is always an agent to assist. Usually if something can't be handled by chatbots, chatbots can connect with you with an agent.
What it does is that people are not very stressed out and can provide better customer service or query resolution. So this is how customer support automation can happen across chat, voice, and IVR
HR Automation:
Another area that we were talking about was HR. So, if you look at it you know something relatively all of us can understand. Let HR teams are also handling a lot of mundane tasks, queries about when will the office open, what is the health policy, how can I get my salary slip, etc. Also they are not able to offer the same kind of employee engagement as before because physical meetings have reduced, providing a delightful employee experience for all becomes a challenge.
Employees are also finding difficulty in setting up meetings as communication becomes a challenge. Because of all these, there is a huge surge in managing HR requests and a lot of global large companies manage by assigning tickets to queries. What we are seeing is similar to customer support, even HR services are being disrupted. What we feel is that for HR as well a lot of HR conversations can be automated across the channels.
You can basically look this HR assistant as Q&A partner but it can also do a lot of things for you, like you can apply for leave, talk to you about leave policy, look at your reimbursements, file them for you, talk about team hierarchy, give you phone numbers of your team members as never needed their numbers in a normal scenario. You can always use the chatbot and say hey I want the phone number of Shubhi Saxena. And it can work as a virtual assistant cum chatbot answering FAQs. This is also possible across channels. What we are seeing is that it is very useful for employee onboarding or even before an employee has joined. You can actually have them connect with the team, know more about the culture right over WhatsApp.
Another place where WhatsApp automation comes in very handy is tracking sentiments of the employees. So WhatsApp is a more casual place, they can chat with the virtual assistant at a time convenient to them. Share what they are like or don't. It helps the enterprise to predict what is working out in a team or not. Beyond the employee onboarding, it goes a few steps ahead and positively impacts the productivity of employees. So there are a lot of things which HR automation can do for the enterprise and all of this can be automated within seven days.
Conversational AI Automation for ITSM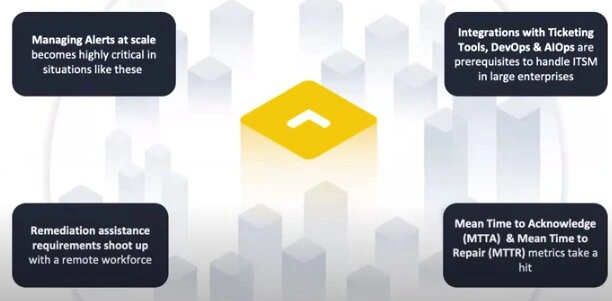 To survive, it is very critical for businesses to provide IT infrastructure to its employees. With so many people working from home, so many people setting their VPN, so many people have queries to password reset, some software on their laptop, a lot of people need to deliver laptops for the first time, or have the Microsoft suite in their system. So people have a lot of questions and bottlenecks for ITSM. Until and unless IT processes are not streamlined, many a time, employees are not able to start their work.
So we have a lot of business impact in terms of productivity, revenue, savings, and overheads. We look at ITSM in a large way and if you look at it, alerts need to be managed, ERP systems tracking in enterprises but they are not communicating with the right people. So how do we connect the frontend with the backend and effectively communicate this further with people required to know what's happening at the backend of the company on a conversational platform like WhatsApp or any such platform.
Also, a lot of people are suffering because they don't have the right integration with ticketing tools, dev ops, and AI ops from home and while they are the biggest modules, they themselves are unable to move forward with their work.
Mean Time to Acknowledge (MTTA) and Mean Time to Repair (MTTR) metrics take a hit. Conversational AI could actually integrate your backend systems and automate trigger workflows accordingly. If there is a password reset request, it could check if the person's id matches or what the alternate email ids are in the database and deliver the password over there. It could tell people for a VPN to be set up. It is a workflow, like step 1 then step 2, and so on.
So conversational AI comes very handy in also assisting people through various steps because it can see at what step you are or at the step you are stuck and point you accordingly and still if you are not able to get through this then there is always a live agent to assist you. Conversational AI assists ITSM professionals and enables them to concentrate on things that can't be automated.
So these are the three customer support, HR and ITSM which can adopt automation immediately. Basically, it enables their people, members and customers to maintain business as usual.
Efficient Orchestration of Business Processes
When times are tough, a lot of people are insecure about their job market, about whether I need this product or not. Only those companies are going to survive well who actually take care of their customers as well as employees. This is the time where we feel that better customer support will help you retain the customers and win their loyalty for a long time because anything good that happens will be remembered for longtime to come and the same is true for bad customer experience.
Yellow.ai works with industries of various domains and offers different solutions to them. While we take HR for banking as well as we do entire enterprise automation for many industries. There are 10-12 large industries we work with across solutions. Basically, if you deploy a conversational AI assistant that is sitting implemented across sales, marketing, HR, and ITSM, you will orchestrate your workflows in a very lean manner, one system on one platform. That is what we mean by efficient orchestration of business processes that yield better RoI, revenue, productivity, and efficiency for enterprises.
Re-Imagine Enterprise Conversations with AI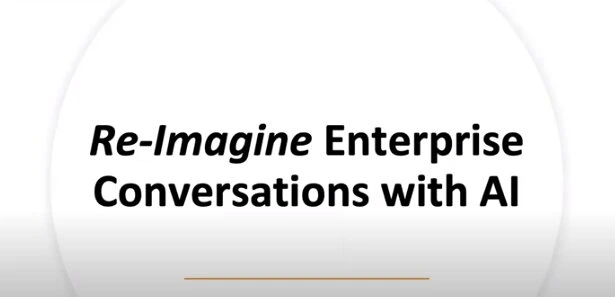 Yellow.ai is also working with a lot of enterprises to drive their business continuity and extending pro bono WhatsApp Chatbots for few questions. For example, you are grappling with telling people that your business is closed and you are moving online, that's a straightforward message, and having a team of callers to do the same doesn't make sense. So we are offering free WhatsApp chatbot and web chatbot to enterprise customers to help them during such times.
If this is something of your interest to you, you can contact us and we will do our best to drive business to you and be up and running as soon as possible.
Virtual Assistants are your new team members
We are seeing that virtual assistants have become your team members and while they are not human, there is a lot of humanizing of conversations happening. It's not just simple Q&A, chatbots learn, they are sensitive, deliberate and talk to you. They make small conversations, understand sarcasm a little bit. They will be able to interact across platforms. So if you talk to a chatbot on WhatsApp, interact on Facebook, and later on Alexa, they know your profile, they know your feelings and they react emotionally and all of this can be built-in today. Within a couple of years, a lot has changed in the conversational AI domain, which is very fascinating.
Conversational AI is helping you to redefine the way you converse and drive business continuity.
Some Facts on Conversational AI: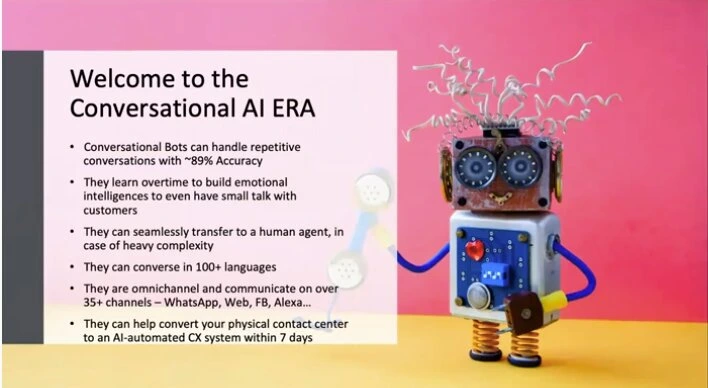 Conversational AI bots can handle repetitive conversations with 89% accuracy.
They learn over time to build emotional intelligence to even have small talk with customers
They can seamlessly transfer to a human agent in case of complexity.
They can converse in 100+ languages
They are omnichannel and communicate on over 35+ channels like Facebook, WhatsApp, Alexa, Web, etc.
They can help convert your physical contact center to AI-automated customer service within 7 days
Case Study – Customer Experience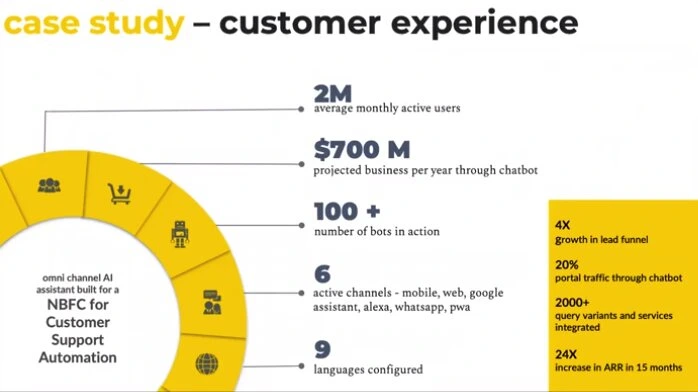 Yellow.ai works with India's largest NBFC and has created an omnichannel AI assistant built for customer support.
Some data on what conversational ai is doing:
Handling 2 million active users
$700 million projected business per year through chatbot
More than 100+ bots in action
6 active channels – mobile, web, Google assistant, Alexa, Whatsapp, PWA
Configured for 9 Languages
Benefits to the company:
4X growth in the lead funnel
20% portal traffic through chatbots
2000+ query variants and services integrated
24X increase in ARR in 15 months
Case Study – Productivity Experience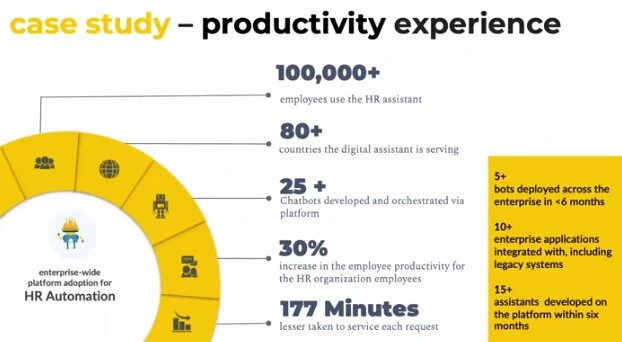 Yellow.ai has implemented enterprise-wide platform adoption of HR automation for one of its global clients engaged in the petroleum sector.
Ways it is working to improve the productivity of the company:
100,000+ employees use the HR Assistant
HR assistant is serving employees from more than 80 countries
25+ chatbots developed and orchestrated via platform
30% increase in the employee productivity HR department
177 minutes less time take to service each request
Implementations:
More than 5 bots deployed across the enterprise in less than 6 months
More than 10 enterprise applications integrated with, including legacy systems
More than 15 assistants developed on the platform within six months
Powering Automation for 100+ Global clients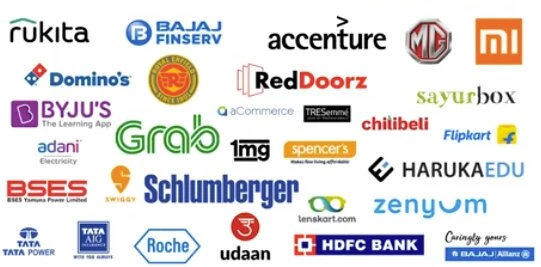 Technology Partners: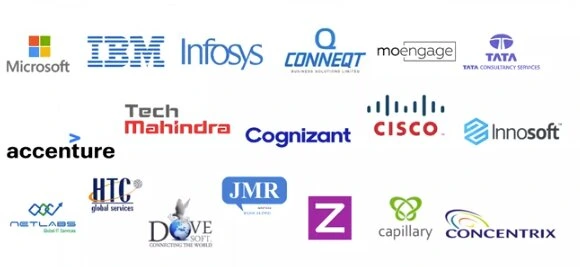 Q&A Session with Shubhi Saxena