During the past decades, programming or 'hard coding' was the way to go for developing digital solutions, especially AI-driven ones. However now, businesses are deploying various AI-powered enterprise applications using no-code platforms.
No-code technology can empower anyone to train a machine learning model by configuring the system. This leads to a generation of 'citizen developers' who can develop AI-driven solutions.
Let us learn about what no-code technologies are and why they are becoming increasingly popular.
Deploy a fully-functioning chatbot within minutes using next-gen no-code Conversational AI platform
Get Started
What is no-code??
No-code development refers to application or service development that does not require you to write code. Low-code and no-code are different as low-code development still involves a bit of coding.
On the other hand, no-code development lets you build and deploy applications without writing a single line of code. No-code tools offer an end-to-end solution for developing services by configuring components or blocks.
According to GitHub's CEO Chris Wanstrath, programming is not always about writing lines of code. Instead, it is a process that requires thinking. Planning how to go about the development process and conceptualizing your service or application is as crucial as developing the product itself.
No-code development involves the evaluation of business requirements and then developing a service by adding available features. These development processes enable us to remove huge barriers such as writing hundreds of lines of code when trying to materialize concepts or ideas.
How no-code development works
No-code development does not require any prior coding knowledge. You can use no-code tools to develop IT services.
There are already a few popular no-code platforms for web development, such as WordPress, Wix and Shopify. Such tools also aid in AI development and software service development and hence, are gaining ground among tech professionals.
No-code development uses drag and drop interfaces or reusable components (building blocks) to build applications or solutions. Instead of a code editor or an Integrated Development Environment (IDE), no-code development works through Graphical User Interface (GUI).
One of the best ways to approach no-code development is with the help of AI. Using automation, businesses can directly skip to deploying a service by providing their requirements. All you have to do is provide your service requirements and most no-code platforms will develop the service for you.
The entire point of no-code is to make service and application development a straightforward process for businesses and professionals. This is where a no-code platform comes in handy with intelligent tools and AI-driven development processes to streamline development operations.
Why use no-code to build chatbots?
No-code development is one of the fastest ways to build a chatbot, primarily due to the growing list of no-code tools that simplify the AI's training process. No-code development fundamentally accelerates the process of developing models such as a Natural Language Processing (NLP) model.
No-code does not take as much time as traditional Machine Learning models since the solutions are already pre-trained. Businesses can skip tedious manual training of chatbots with data for long durations. Using no-code tools allows them to set up the chatbot with company-specific functions.
Rather than manually coding the foundational architecture and features of the AI model, you can dive into more specialized features straightaway. No-Code also allows you to skip the manual development of the User Interface/User Experience (UI/UX). Additionally, no-code tools let you easily drag and drop various UI/UX elements, components and features.
Ways to use no-code in AI and for building dynamic agents
When working with no-code tools, you can seamlessly configure the AI through toggles rather than adding 'if', 'or' and 'then' syntax to influence the response of AI agents to a specific condition.
Moreover, the actual responses of the dynamic agents are customizable and you can control the AI's workflow and actions through options and settings. For instance, the GUI lets you visually design the AI's workflow and manage the data used by the AI.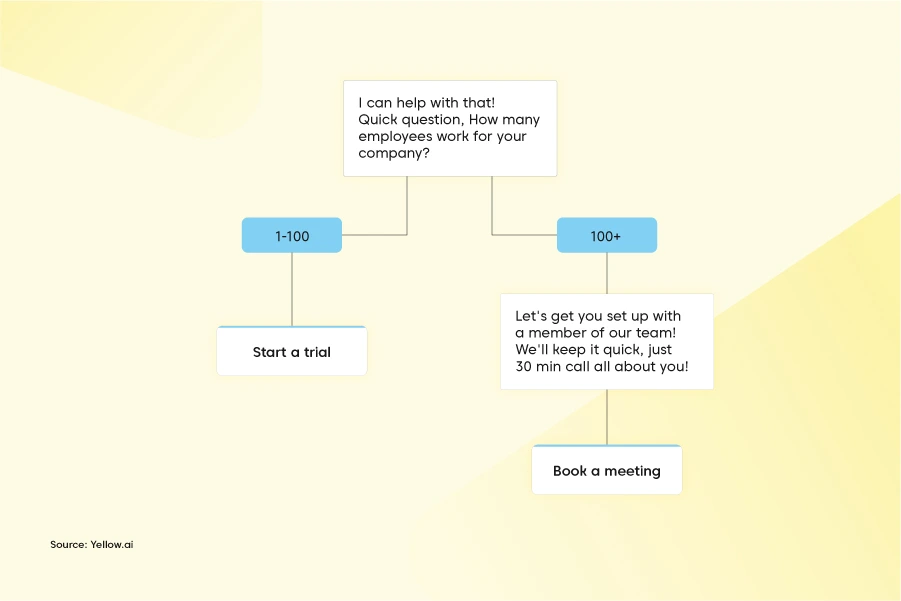 Processing and managing data with the help of no-code tools have further simplified things for businesses. Instead of employing data scientists for developing and training an ML model, professionals can now do it themselves without any prior knowledge of Data Science.
A GUI also provides more freedom in the no-code platform and offers endless possibilities in terms of customization. For instance, it is highly time-consuming and tiresome to code a specific set of responses for every customer interaction. However, if you are working with no-code, you can effortlessly customize responses by altering specifications and components.
When it comes to AI models, companies can reuse small components of pre-trained models to create new solutions. This leads to faster development pipelines and offers incredible flexibility. A few no-code platforms offer block-based interfaces for development.
Designing is essential for enhancing the usability and features of your service. As for the UI/UX, you can directly use the existing designs and layers to create the look and feel that sits right with you.
When it comes to Yellow.ai innovations, you can train our AI using simple workflows and logic that anyone can modify regardless of their coding knowledge or skills.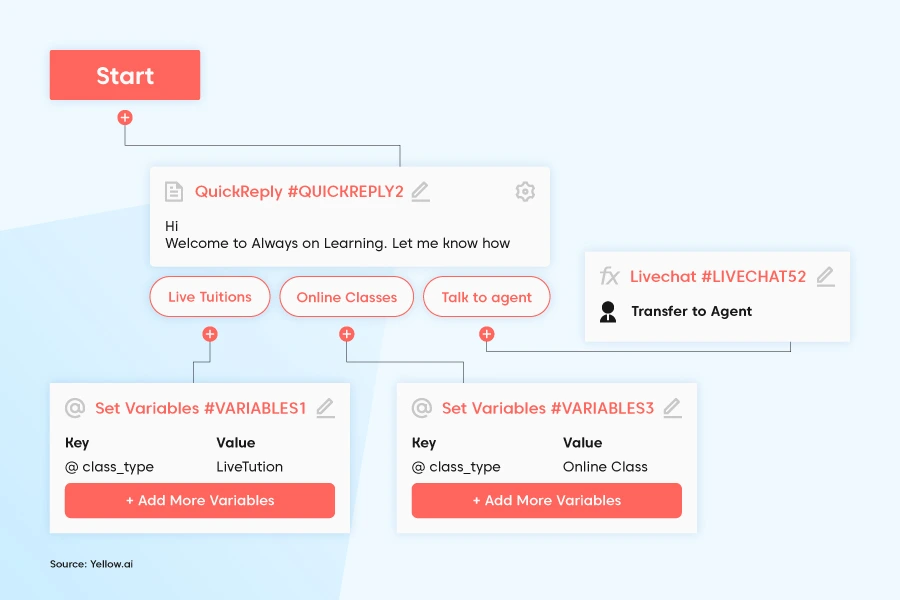 Using simple drag and drop reusable logic and components, you can program these' conversational bots'. There are also many UI features the user (developer) can customize to create rich user experiences for customers (end-user).
There are many available integrations to connect to external data and services. These integrations help the chatbot learn and make the customer experience more interactive and personalized.
Top no-code tools available in the market to build chatbots
Here are some of the most popular no-code tools that are available in the market:
This is one of the best no-code solutions for building a highly interactive chatbot. Yellow.ai provides one of the easiest ways to develop a chatbot. Using simple workflows and pre-trained AI base models, you can deploy your chatbot within minutes.
Unlike most popular chatbot development tools, the AI-Chatbot Studio allows companies to build chatbots designed to converse across multiple languages.
Wotnot.io also offers easy-to-build chatbot services. The company already has a pre-designed pipeline for receiving leads and automating customer support.
Haptik.ai is known for its powerful virtual assistants and engaging chatbots. The company promises to increase your lead conversions and customer engagement.
Joonbot offers a simple way of building a chatbot without writing code. The company provides an intuitive chatbot builder and supports simple logic flows that anyone can develop.
Konverse AI works in a similar fashion to the AI-chatbot Studio and offers support for Whatsapp, Facebook, Instagram and other platforms. It is a popular chatbot development platform.
Benefits of using no-code/low-code solutions
No-code and low-code-based chatbots offer many benefits, evident from the answer to 'What is no-code?' After all, what's better than not having to write strenuous lines of code?
Moreover, no-code development can reportedly be up to ten times faster than traditional development procedures that involve coding.
However, the benefits of no-code/low-code go beyond speeding up the development process. Here's an overview of some of the advantages no-code and low-code offer to organizations.
Streamlined IT processes – No-code and low-code help in accelerating development processes.
Optimized IT resources – Companies can use their IT teams for other essential purposes instead of keeping them occupied with building a chatbot.
Easy customization – Chatbots made with no-code or low-code are easier to customize and do not require rewriting chunks of code.
Independent services – Different teams can develop their services without waiting for a product that satisfies all the teams.
Cost reduction – No-code and low-code allow companies to save money on development by saving time and reducing developer expenses.
Specializations – No-code provides more room for domain-related specializations such as HR, operations and customer interaction.
Flexibility – No-code tools lets services have a certain amount of flexibility. As a result, companies can change and modify later.
No need for prior training – A no-code platform eliminates the need to train employees in coding or complex development procedures.
Validation of ideas – Anyone can validate their ideas, removing the possibility of promising ideas getting buried before seeing the light of day.
Easy testing – It is effortless to deploy and test services using no-code platforms.
Fast prototyping – With no code, you can build a prototype in a few minutes (it takes a bit longer for more complex services).
Modular development – No-code and low-code methodologies make room for adding more features and functions in later stages of the development.
Compliance – No-code platforms make it easy to keep services compliant with industry standards and regulations.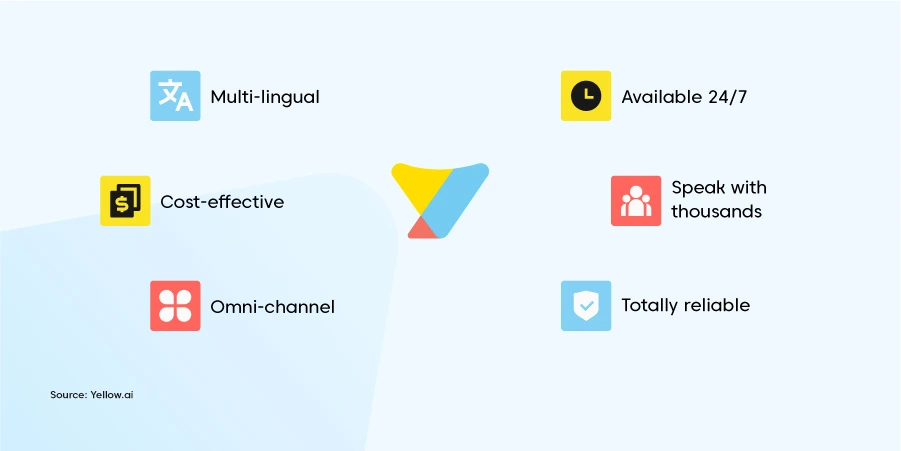 How can Yellow.ai's no-code platform help you build chatbots?
The AI-chatbot Studio by Yellow.ai offers a one-of-a-kind service. We combine all the valuable features that most other no-code platforms provide along with our in-house advanced technologies.
What is AI chatbot Studio?
The AI chatbot Studio gives businesses the ability to rapidly build and deploy an advanced chatbot without writing a single line of code.
With the AI chatbot Studio, you can build an interactive chatbot with just ten clicks – so everyone can use our no-code platform. As long as the users know how to use their browser, they are good to go.
Here is how Yellow.ai helps:
One of the aspects of the AI-chatbot studio is that it gives enterprises the ability to integrate external services.
AI-chatbot Studio allows users to connect the chatbot with the enterprise's ERP processes and other internal systems. A host of integrations and extensions are also available for these chatbots.
You can reuse pre-built templates for building the chatbot's workflow and responses. Likewise, pre-trained logic and nodes are available for processing the chatbot's model.
The chatbot Studio handles customer problems without escalations on 'first contact'.
It removes the need for IT backlogs and separate development pipelines.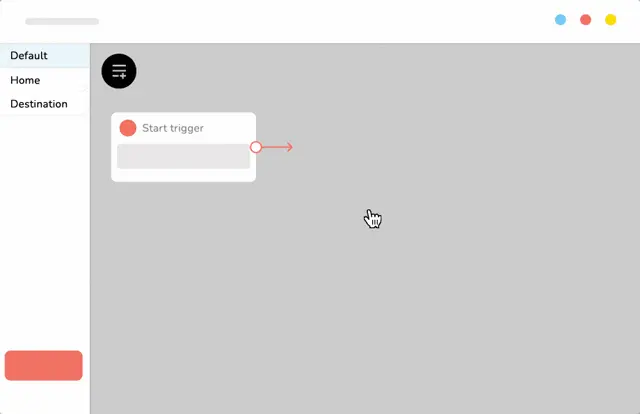 AI-chatbot Studio is empowered with the historical data of years of human-machine interactions. The base model also keeps improving with time, allowing businesses to deploy their most successful chatbot till date. More than anything, the chatbot keeps getting better with upgrades and suggestions.
Using Yellow.ai chatbots to target the right audience
Although NLP (Natural Language Processing) drives the foundation of the chatbot models, Yellow.ai chatbots are even more powerful. This is possible with the help of NLU or Natural Language Understanding, making it easy for the chatbot to understand your target customers better.
Understanding the needs of your target audience goes beyond just processing the meaning behind textual or auditory data. It also involves analyzing the intent behind the customer's speech and the context of the conversation. The AI-chatbot Studio allows businesses to leverage these capabilities and serve customers in the best possible way.
Customers never feel like they are just talking to a bot, yet the AI solves their issues long before a human representative gets involved. Customer service and troubleshooting are becoming much more accessible with advanced chatbots.
Most AI-powered chatbots can solve customer queries with 99% accuracy. Not just that, AI-chatbot Studio-powered chatbots can address the concern of the customers most effectively, encouraging immediate responses and fast problem resolution.
Yellow.ai chatbots don't limit themselves to a single language. Our AI chatbot Studio lets you build intelligent AI models that can converse across different languages and dialects with ease. These chatbots can also process cultural references and location-specific slang, making it easier for businesses to understand their customers spread across global markets.
Conclusion
While no-code is extremely popular in the industry now, it is still at the nascent stage. However, this is not a cause of discouragement but something to look forward to.
More powerful no-code technologies will evolve in the years to come. We already have the technology to design, build and deploy powerful enterprise-grade applications with no-code development. Hence, the software or tools we can build with no-code tools or low-code platforms in the future is beyond our imagination!
Imagine building a social media network such as Facebook with all the different features that Meta offers in 2022 without needing to code. While it may sound far-fetched now, we may be able to crack the code in a few years. We already have social media platforms with plugins, extensions and block-based interfaces, such as WordPress.
No-code technologies also help build powerful chatbots and other customer interaction/customer engagement services. Thanks to the automatic compliance with industry standards, these chatbots are almost as good as manually coded ones, if not better.
According to Charles Lamanna, Corporate VP of Microsoft's Business Apps and Platforms, AI can automate more than half of all organizational tasks. The only way for most organizations to transform this into a reality is by adopting no-code tools accessible to all. This way, more people will be equipped to develop personalized solutions based on their requirements.
No-code is the future and the faster we adopt no-code technologies, the more time and energy we can save. The cherry on the cake? Businesses can save thousands of dollars with such pioneering technologies.