Yellow.ai is revolutionizing customer service across the globe, by providing on-demand and instant query resolution across customer's preferred channels and now Genesys customers can leverage Yellow.ai's Omnichannel Connector on AppFoundry to enable delightful experiences for the end user.
Yellow.ai can integrate with Genesys PureCloud in a few clicks to ensure that customers are directly connected with a live agent and get effective resolutions. Scale your customer support operations with live chat on Yellow.ai's Dynamic Automation Platform.
What can you do with Genesys Integration?
Seamless transfer to agent
Self-serve can help provide quick and effective resolutions to customers but what about complex queries which need a human touch? Enable seamless transfer of calls from dynamic AI agent to human agent for customers queries needing in-depth understanding of issue and resolutions.
Intelligent handover with continued context
Transfer contextual information and history of conversation with AI agent white transferring the call to human agent to ensure consistent experience and effective resolution.
Omni-channel customer support
Enable seamless transfer to human agents across multiple channels to ensure connected experiences and query resolution over text, mail, voice and more.
How to install the connector from Genesys AppFoundry
Users can install Yellow.ai Omnichannel Connector from the Genesys AppFoundry. Listed as a premium app on AppFoundry, Genesys customers can leverage the omnichannel connector to quickly enable agent support over multiple channels and go live.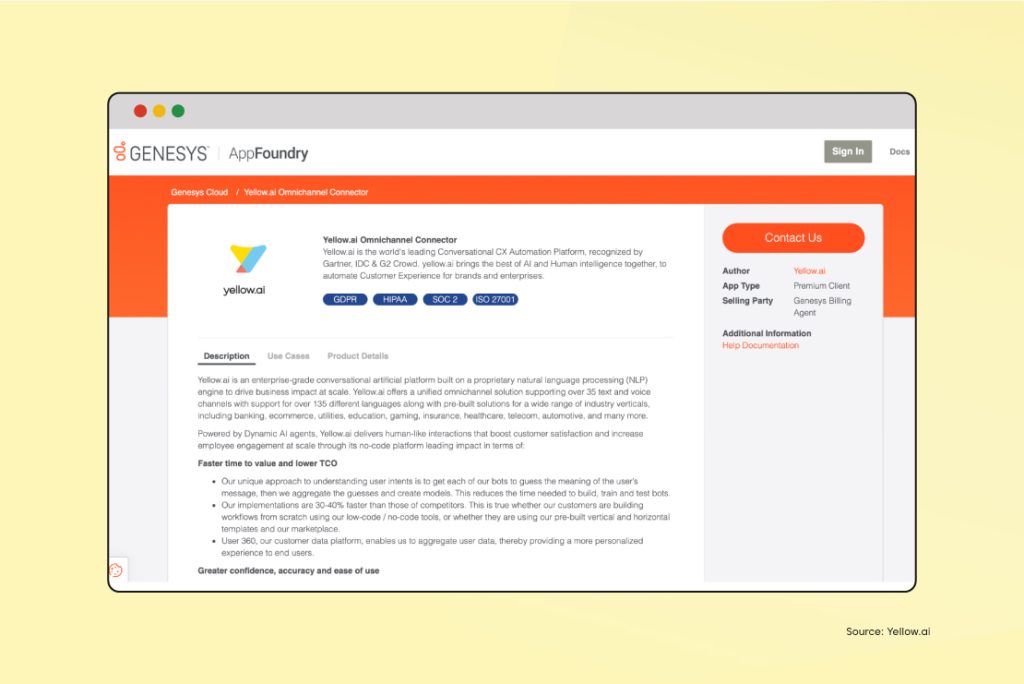 How to integrate Yellow.ai with Genesys PureCloud
1. Login to Yellow.ai platform
2. Launch 'Integration' module
3. Search and select 'Genesys PureCloud'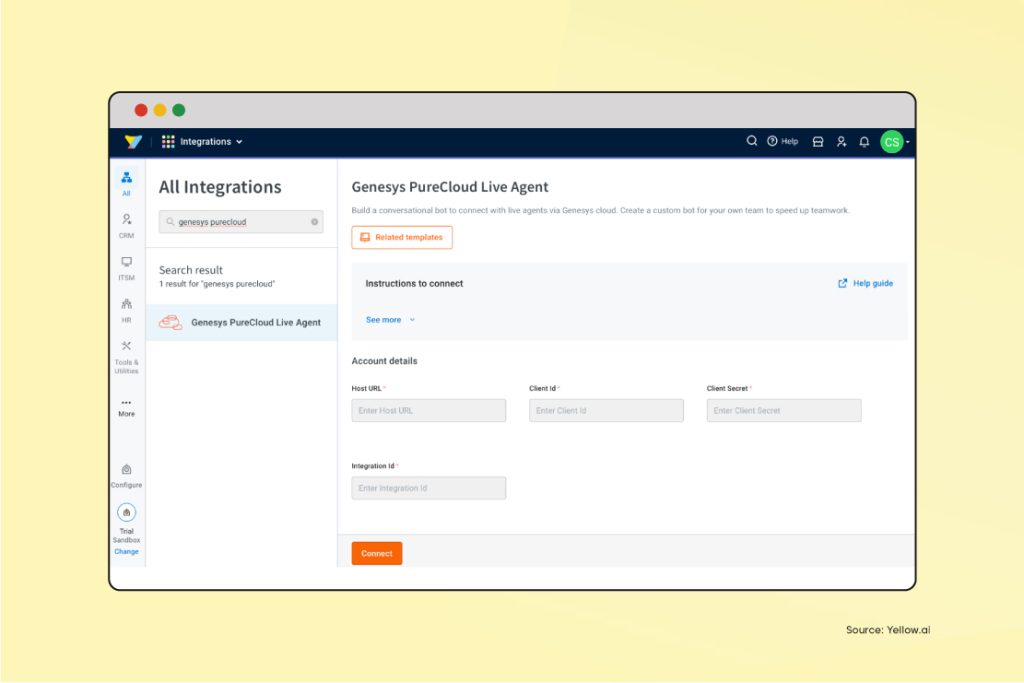 4. Copy following data from Genesys PureCloud
Host URL
Client ID
Client Secret
Integration ID
5. Click on 'Connect'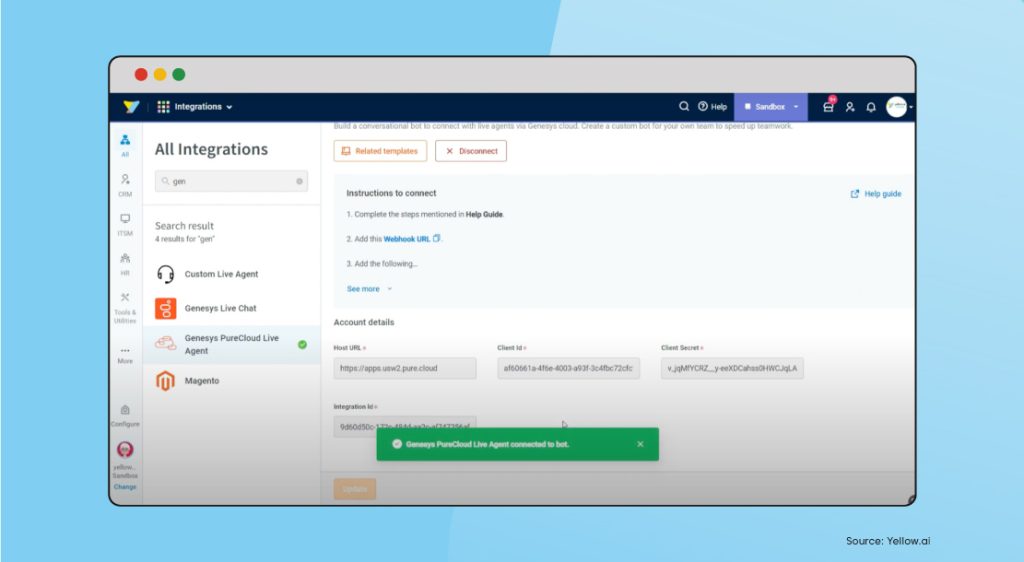 How to add Live Chat on Chatbot
1. Launch 'Studio' module
2. Click on 'Create new flow'
3. Search and import 'Genesys Cloud' template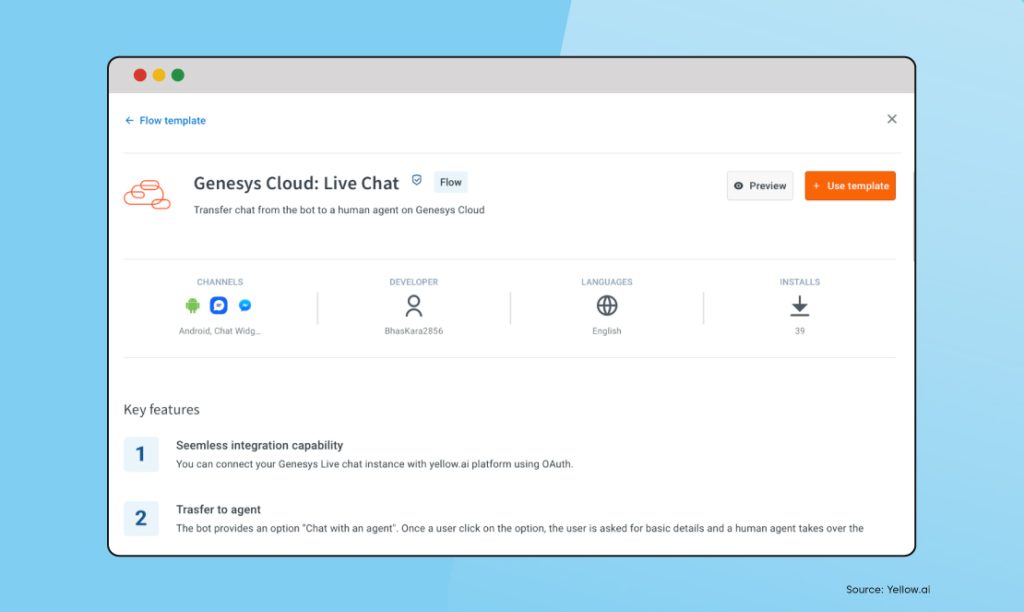 4. Test the flow, and go live!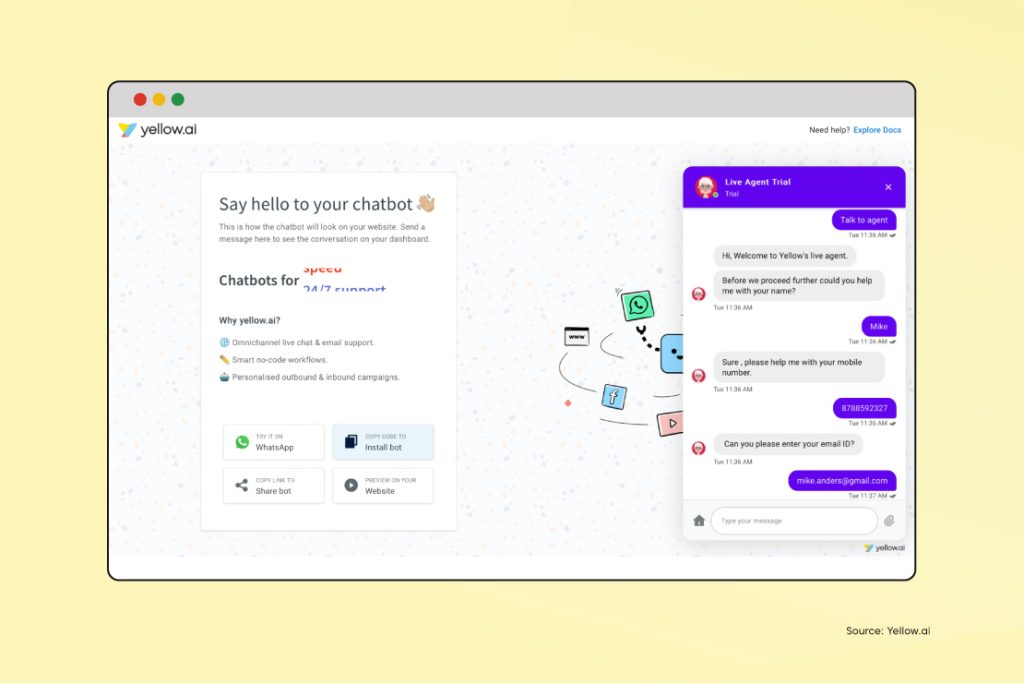 Enable live chat for your customers in few easy steps!