Over 60% of consumers use social media to decide where to spend their money and what brands they can invest in. As per recent digital marketing statistics, Instagram has more than 1 billion users every month and 200 million of them visit a business page daily. In other words, the opportunities for generating leads are limitless.
Managing your account and responding to queries on time can be quite exhausting. For accounts with a large following, responding to all DMs can get nearly impossible. That's where Instagram automation comes in handy. Brands and businesses worldwide are increasingly starting to leverage the power of automation to increase engagement and sales.
5 Reasons Your Brand Should Adopt Instagram Automation for Customer Support
Automating your Instagram account can boost the number of your brand's followers and will engage your businesses with more accounts, while letting you interact with them to know their interests.
Save time and bandwidth of the team
Instead of spending countless hours on Instagram and other social media platforms just for likes and comments, you can set up automation tools to do your duties for you while you're busy doing more productive work!
Get high engagement and boost your sales
By trusting automation to handle your Instagram's engagement, you can receive tremendous organic and targeted viewership. Engaging with your target audience is the first step towards having a good brand resonance in the market.
Instagram automation can help you engage with them in the form of likes, follows, DM or comments, resulting in good customer satisfaction scores (CSAT) and improving your sales.
Respond to queries instantly
Instagram's Messaging API helps brands to automate and streamline how they tackle valuable customer interactions with their Instagram accounts. Rather than sending a standard response to anyone who engages with them, brands can program the API to send specific messages, personalized for each action taken or keyword mentioned by users for a quick resolution of user queries.
Get faster results
Manually engaging with your audience is possible. However, it is not easy. Instagram automation can enable you to automate the entire process and maintain consistency. You don't have to spend hours to get more engagement or look for new prospects. Automation helps relieve the pressure of managing all aspects of Instagram activities when it comes to conversations with your fans.
Be available 24×7, round the year.
Respond to customer queries without the need for human dependencies and automate conversations to support your customers in using your products or even buying them.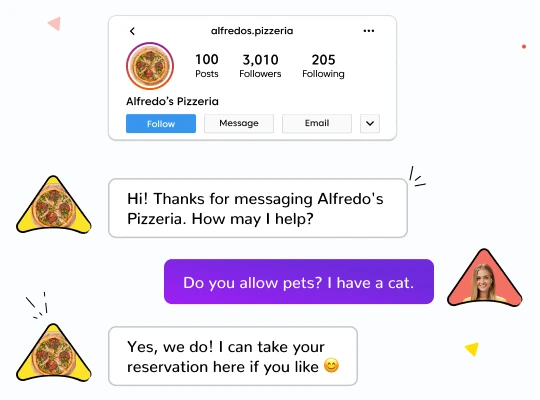 Features of Yellow.ai Instagram Automation for customer support
From a business perspective, Instagram automation can offer the following features for businesses.
Break the ice and quickly send personalized replies when a prospect visits your chatbox.
Optimize the operating expenses in your business related to goods and service production.
Increase sales bandwidth.
Promote offers.
Offer 24/7 and 365 delivery support.
Help collect payments from the customers
Increase engine visibility by comments automation.
Using the Messaging API, you can run AI-powered campaigns like contests and giveaways using Instagram automation, track participants, get analytics, and tweak campaigns any time.
You can automatically respond to queries and feedback privately in Direct Messages (DM) from the comments.
Instagram messaging API can help automate responses to stories or Instagram posts.
Instagram chatbots can also share product links in DM as per inquiries.
Instagram messaging API can transfer complex queries to your live agents.
Instagram chatbots can answer your customers' queries in multiple languages.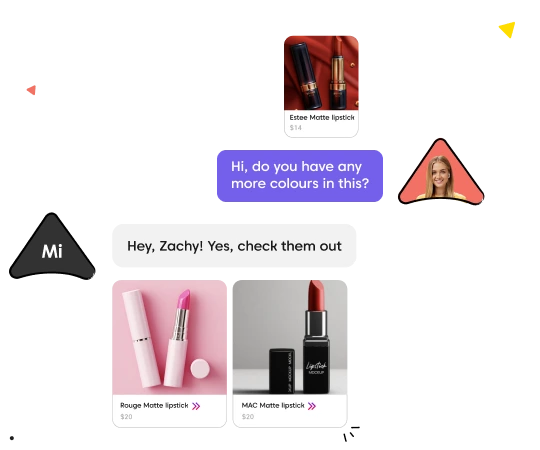 How is Instagram a prominent part of the omnichannel strategy of customer-centric brands today?
With people spending a prominent part of their screen time on Instagram, customer-centric brands need to have Instagram automation in their marketing strategy. With automation, you can provide instant support to your customers and leads. You can enhance your customer journey and make it even more personalized and interactive across all the channels. Instagram automation enables you to connect with your audience on a human level and boost brand visibility.
Here are some facts related to how omnichannel strategy can benefit a business:
Companies having a strong omnichannel customer engagement can retain 89% of customers.
Businesses using omnichannel strategies have been estimated to achieve 91% year-over-year growth than their counterparts who have not adopted it.
About 71% of shoppers use smartphones for in-store research.
Omnichannel customers have been observed to be spending 10% more time online and 4% more in-store rather than the ones using single-channel.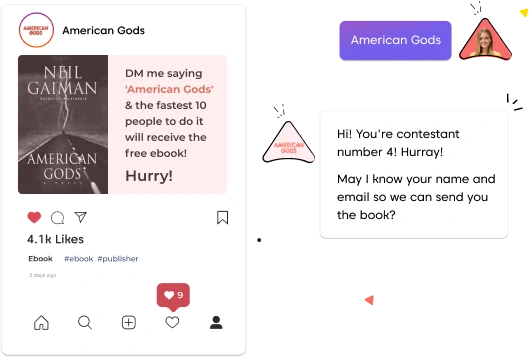 Implementing Instagram in your CX strategy with Yellow.ai
Yellow.ai is recognized by Gartner & G2 and is trusted by over 1000+ global enterprises such as Bajaj Finserv, TATA AIG, Asian Development Bank, Domino's, Schlumberger, Sephora, PepsiCo, and BMW, and is known to deliver more than promised results.
Yellow.ai platform accelerates the time to value with assisting businesses to access a variety of reusable components and bots. The core components in this marketplace are code snippets, integration, journey, and validators and are industry, solutions, and channels specific for easy search and access.
Instagram automation with the Yellow.ai platform is the easiest way for you to automate your customer experience strategy. With us, you can increase the followers' count. You can turn them into loyal customers by promoting, automating responses, cross-selling, and upselling your products with Instagram DM automation. This will help take your business to new heights.
You can leverage Instagram automation for boosting sales and commerce, turn inquiries into sales by automating product inquiry responses offering a guided buying experience and a complete checkout through Instagram.
Here is how yellow.ai can help you offer superior CX with Instagram automation:
Offer automated and personalised quick replies
Run AI-powered campaigns to enhance the number of followers and analyse its performance with the analytics dashboard
Follow up on public inquiries using automated replies
Respond to relevant Instagram posts or stories
Leverage product templates for direct product links to purchase and deal
Qualify leads for proactive selling and upselling
Resolve customer queries with AI-powered virtual assistant
Integrates with CRM tools, inventory management software, and analytics
Wrapping up
Managing your account, engaging with your audience, and responding to queries on time is quite tiring! That's why Instagram automation is becoming more popular with brands and businesses worldwide because now they can keep their number of followers growing without having a big team.
If you use Instagram, you should give Yellow.ai a try! Yellow.ai empowers you to effectively leverage automation to execute your customer experience strategy. We hope you enjoyed reading our blog about Instagram automation.

Talk to our experts if you have any questions or concerns about how to automate your Instagram using APIs.