In this fast-paced, fast-food, fast-moving world, we have become accustomed to instant gratification. It has become so ingrained that we've been conditioned to think, be instant, or don't be. Unless we're talking about aging wine or whiskey. Coming to business, consumers are expecting no different. Because there is always another company that would.
And why not? If businesses can deliver our pizza in 30 minutes, why not address inquiries at the same speed? And who best to understand this than Google. We've searched for things everywhere, from content to maps. We've started searching for more and more.
And how better to engage than this? You'll wonder. Today we're launching Chatbots atop Google's Business Messages. A whole new way of connecting businesses and consumers.
With Google's Business Messages, consumers can now chat with a company, just like how they could search for directions or call a business from Google Search and Maps! That is some business-class treatment now!
Considering we're all locked up with limited travel to do, let's dream of travel. Tread with us on this storyline…
Consider a travel company called My Yellow Travels and its competitor Red Travelers. Yellow travels and Red travelers are both listed on Google My Business, but My Yellow travels have taken access to Google my Business chat from Yellow.ai and automated its entire customer engagement with Yellow.ai chatbots.
Now let us consider two characters Noel and Sonia, both love traveling. Sonia is a planner, she plans everything in her life, even her traveling plans, but Noel is the opposite, he is always scavenging for travel tickets as he always makes a sudden plan.
Sonia vacation time is coming up, and she runs a Google Search for traveling companies in her city to help her with vacation plans. On her search, she finds both My Yellow travels and Red travelers, but she notices something interesting, My Yellow Travel with its listing has a messaging option available with it, she finds this very interesting and new and tries it.
Voila, it amazes her to see that she can not just book her tickets but also get some amazing tips for traveling and get the hotel's brochure while chatting with Google's Business Messages feature!
Noel, on the other hand, forgot about his vacation and did not book tickets. Before leaving his office he searches for a traveling agency near him and finds both the business mentioned in the Google Maps, but, My Yellow Travels has a chat feature helping him to book to his tickets on Google Maps, and helping him with directions directly leading him to the station.
In both cases, our characters choose My Yellow Travels. Here's why:
Novelty: The convenience of engagement with business on platforms where it was not possible
Time saver: Convenience and instant gratification is something we all look for.
Personalized experience: The chat is not a window to a mass information board. Instead is it highly tailored, specifically addressing what you need.
Let's see how chatbots on Google Business Messages can reimagine your customer engagement forever!
Real-Time Engagement: Brands can connect with customers from the Google Search result page itself, that too in real-time. Research by HubSpot states that 82% of consumers look for an immediate response from brands.
Personalized Engagement: Conversation is the most personalized mode of engagement. 79% of customers prefer chatting with businesses over talking over the phone.
SERP Ranking: Google values business engagement as one of the key factors for business ranking on its SERP page. And what better way to engage with customers than initiating conversations on the search result page itself.
Customized Welcome Message: With the help of the Business Chat feature, you can set up a customized welcome message for customers.
Respond to Reviews: Whenever any user leaves a Google review on Brand Google My Business listing, the brand can respond to the review through the Business Messages.
Gather Insights and Analytics: Google provides insights on customer engagement on Google Analytics, and Yellow.ai provides custom analytics as per business requirements.
 Apply for Google Business Messages + Chatbot Access for your Enterprise.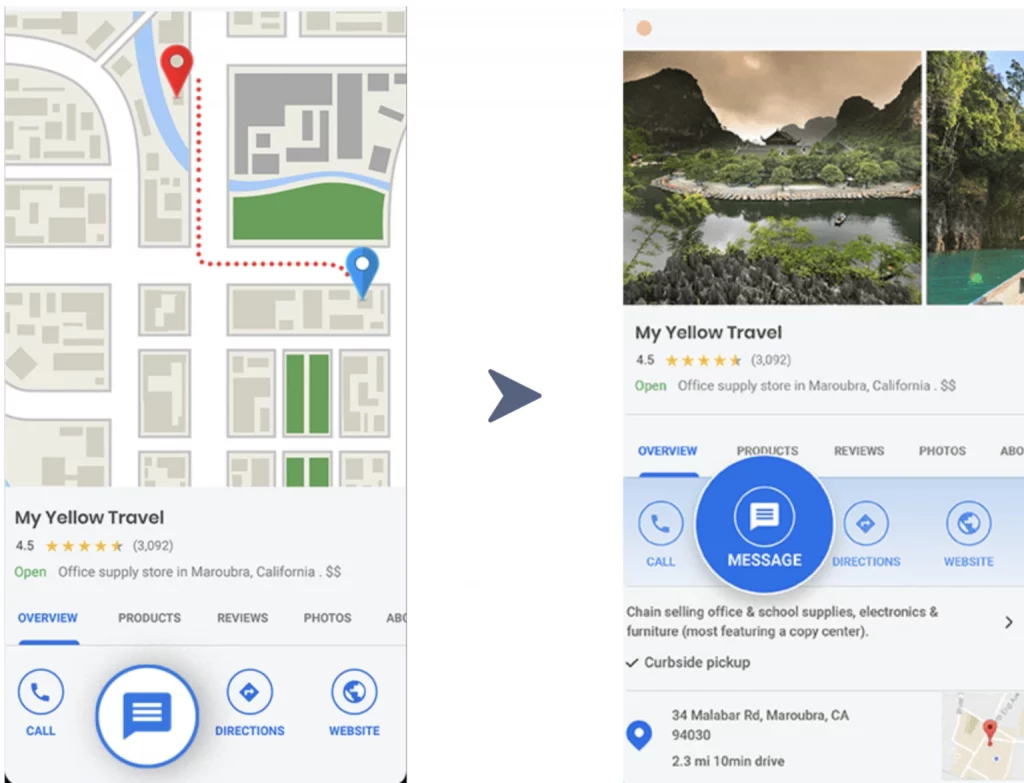 That's great! Where can your customers access Google's Business Messages from?
Google's Business Messages in Google Maps & Google Search
Google processes over 5 billion searches every day. And with email open rate, form leads at a decline, Google's messaging feature is the finest way businesses can shift their platform for customer engagement. With Google's Business Messages, brands can schedule meetings, send directions, purchase, upsell, and drive loyalty through its rich media features. Business Messages is providing a comprehensive messaging platform right in the search result page and Google Maps.