The pandemic changed the way we worked and where we worked, bringing in a plethora of tools and technologies to help us sustain through the pandemic. From collaborating online to resolving system queries, we have been able to do all of that and more. The HR teams have played a crucial role in making this transition as smooth as possible on both emotion and work-front.
Remote working – for few – came as a blessing in disguise providing the flexibility to work on one's terms irrespective of location, device and time. It allowed us to equally focus on our personal lives – from family to hobbies. The freedom to work improved productivity indicating that remote work was here to stay for the greater good of the organizations.
But sooner or later, the cracks started to appear and the ability to work from home at any time that had been a USP started to showcase early signs of burnout with "blurring of lines between personal and professional lives".
The endless meetings exacerbated the problem with everything being digital from routine tasks to connecting with colleagues and friends leading to digital fatigue. Teams were hired and onboarded during these times to make themselves acquainted with systems, processes and people, virtually. But any amount of virtual collaboration or once in a while team catchups could not replace the warmth of human interactions, regular team hangouts.
The past one and half year has made everyone from employer, employee to HRs – rethink on how the future of work looks like. Will it be full remote or in the office or flexible?
The employee needs and wants from their current organization has evolved and is not just limited to remuneration or ESOPs alone but expands to various areas from flexibility to choose where to work from to their current growth in the organization. These changes in employee needs can be directly seen from the current trend of exodus from existing organizations to switch to roles/organizations that better align with their needs.
HRs are at the forefront of overcoming the current challenges of attracting and retaining the right talent and should lookout for 6 trends that'll define employee experience for 2022.
1. Shift in workspace dynamics
– Remote working has become a permanent feature of the workplace and hybrid work is here to stay. It certainly has fueled the need for organizations to build the culture of flexibility from scratch. There is a disconnect between HR/leadership priorities and employee sentiments on the outcomes and is shaped by the shift in new work environment dynamics.
– For instance, a recent Gartner survey found that 75% of leadership believe that they run a culture of flexibility, but only 57% of employees agreed. The same percentage of leadership also felt that they incorporate employee voice in decision making, while only 47% of employees agreed.
– HR leadership can leverage a new age HCM solution that captures employee sentiments at every step of the journey – from usual query resolution to process specific feedback. Unified view of an employee's journey that details out the need gaps to HR leaders can help close the gaps with necessary resolution – policy change, detailed conversation, shift in workspace technologies, improved employee wellbeing support.
– HR systems alone cannot smoothen the transition to a new work environment – i.e hybrid. Rather, IT and HR must work together in building digital experience that is comprehensive and consistent across touchpoints.
2. Employee wellbeing will be top most priority
– Teams are struggling with burnout as they work throughout the day with no clear start or end to the workday. As a result, people's wellbeing and resilience has suffered at the cost of remote work.
– Well-being and resilience have a huge impact on employee engagement, productivity and mental health. Unfortunately, organizations are choosing to improve in these areas with traditional ways such as webinar sessions or onboarding mental health apps, rather focussing on building a culture that provides precedence over self care and flexibility to choose time off with no questions asked.
– Remote work is here to stay in either full or partial capacity, old ways of one-sided communication will not result in significant impact on engaging employees in these areas.
A culture of openness and transparency should be encouraged where employees are encouraged to raise their opinions/feedback on the current work environment without any biases and how it's misaligned with their needs & wants.
3. Walk the talk with D&I initiatives
– Diversity has always been an important driver for business growth. As per McKinsey, companies in the top quartile for gender diversity in leadership were 25% more likely to have above-average profitability than their bottom quartile counterparts.
– Unfortunately, many organisations are yet to fully invest in diversity & inclusion (D&I) as a key cultural as well as operational tenet.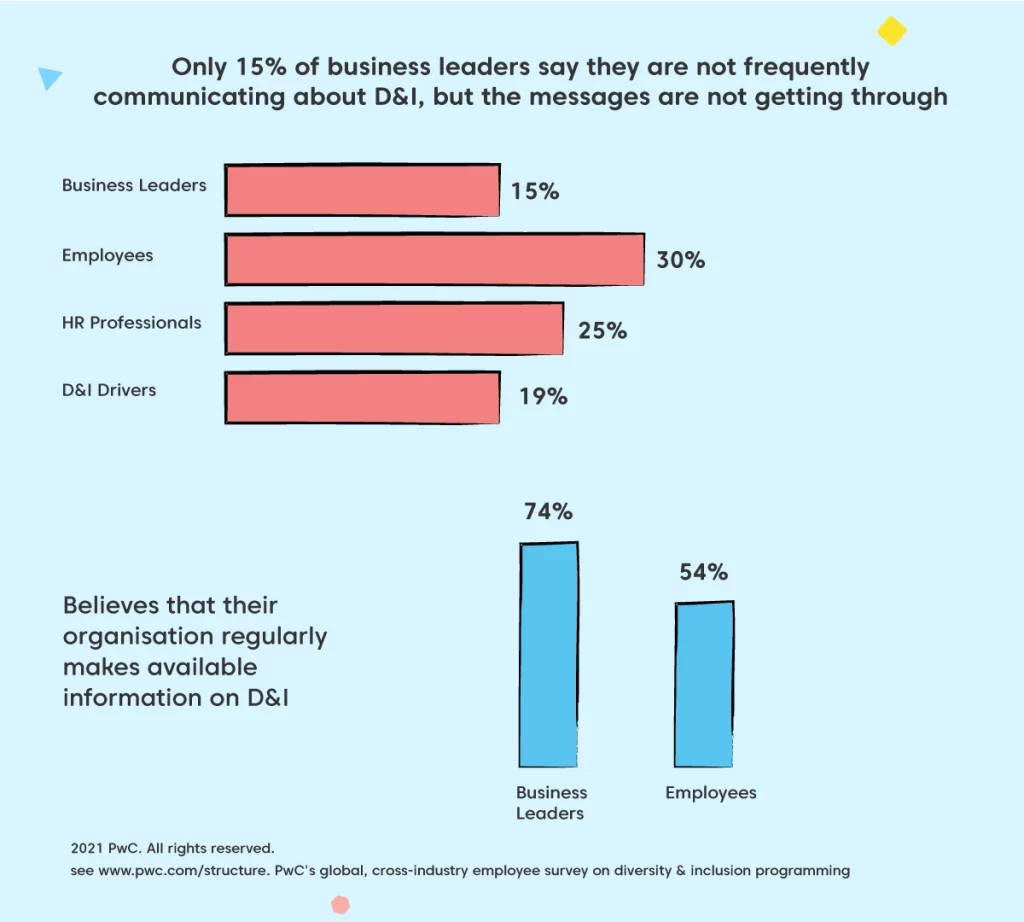 – It should be noted that the current and future workforce ( millennials and gen z) value D&I as a key determinant for joining an organisation. D&I is no more just limited to gender based equality, but expands diversity in thoughts, diversity in opinions, diversity in culture.
– HR policies prioritizing D&I initiatives will improve employee engagement, drive more productivity and attract better talent.
4. Make HR decentralised and lean
– HR teams for long have been and still are centralised and are the driver from talent acquisition to employee retention. In the current work environment dynamics where everyone is distributed, a centralized way of working is no longer the solution and HR teams alone can't do everything to provide last-mile delivery to employees.
– Instead of a reactive approach of HRs deciding the roles being played by managers during employee journey, a more proactive approach needs to be incorporated where managers are trained and equipped with tools to nurture teams at the ground level.
5. Conversational AI in HR processes
Automating routine HR processes has become a thing of the past with multiple solutions aiming to automate and transform the way HR works but fail to overcome the limitations of siloed processes and lack of integrated data.
Conversational AI will not only automate processes, it also can reduce the siloed-ness between your internal systems by deeply integrating with enterprise stack. Taking away the need to switch between systems and screens and enabling a single chat platform to access information instantly.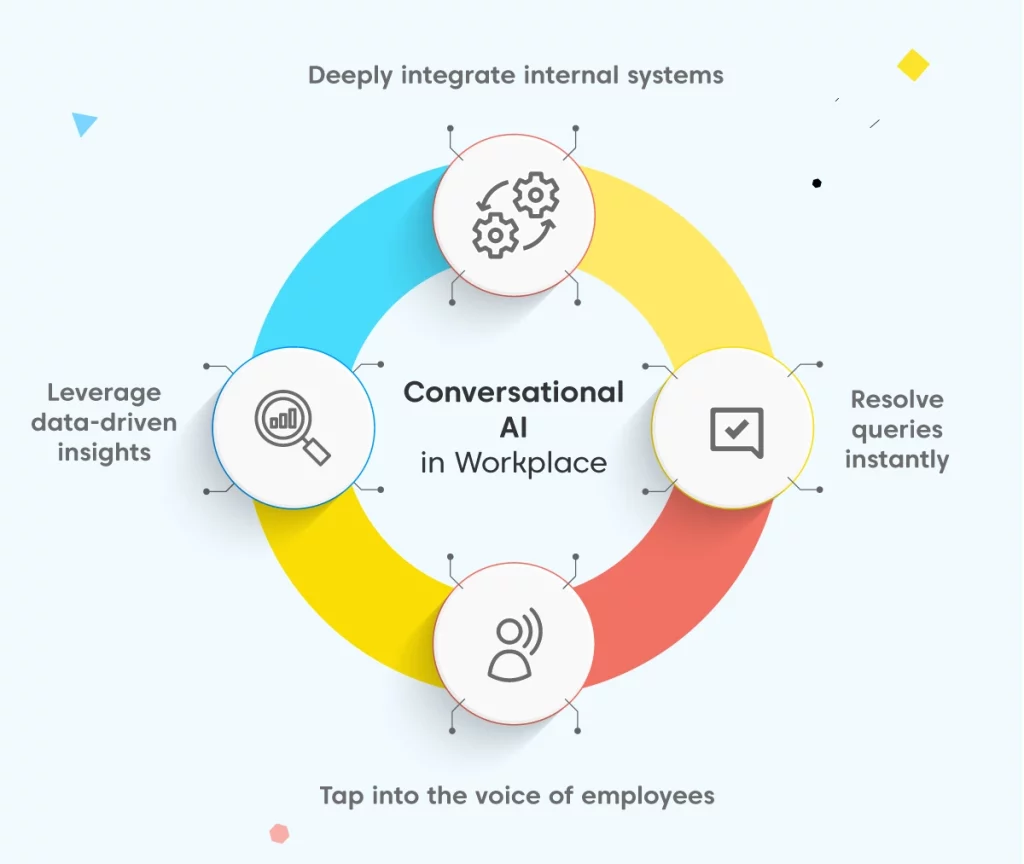 – Gartner predicts that by 2023,75% of HR queries will be initiated through conversational AI platforms.
6. Put insights into action with people analytics strategy
– Since everything is digital and distributed, data and analytics will help us bridge the gap by providing a detailed look into employee engagement, experience and sentiment with the organization. It would allow HR teams to make more informed decisions that would align with employee needs.
– People analytics skills are no more nice to have, but must have for current organizations.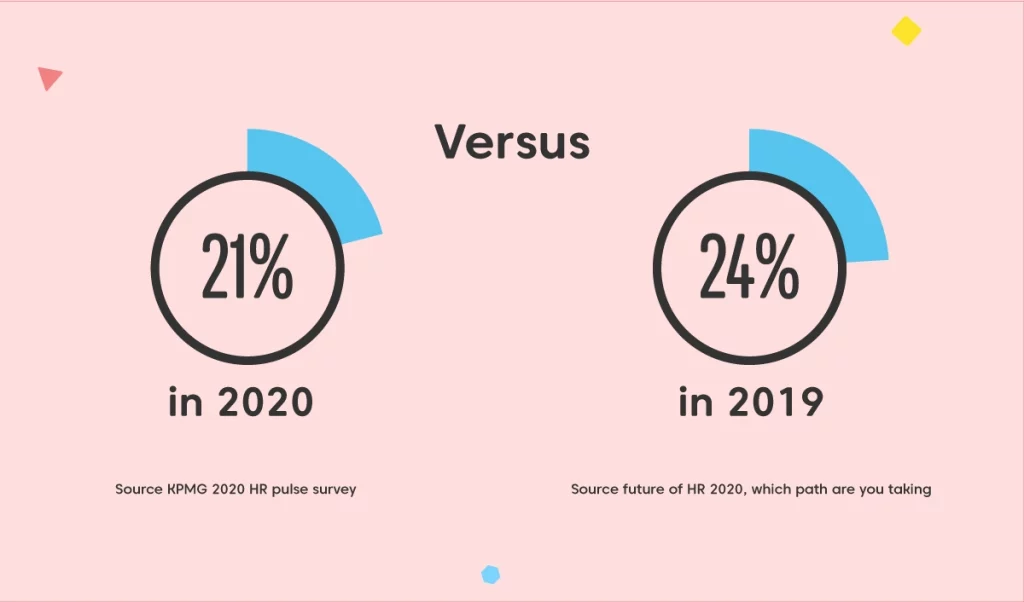 – Invest into HR teams to build analytics, strategy and value generation skills to help bridge the gap.