A recent study has found that call center jobs are one of the ten most stressful jobs in the global economy. Call center workers are often under intense pressure to meet stringent performance goals while dealing with frequent outbursts from angry customers.
This leads to increased stress, absenteeism, exhaustion and employee turnover, ultimately translating to poor customer service. To make sure you can identify the signs of agent burnout early on, let's look at the top call center stressors and how you can fix them.

Signs of call center burnout
Burnout should not be taken lightly. If your agents are exhausted, they may not be able to give your customers the best support – which could lead to a negative customer experience and a decrease in customer satisfaction. To avoid this, let's explore the most common signs of call center burnout.
Increased conflicts
Your agents are becoming increasingly irritated and frequently running into conflicts with customers and peers.
Lowered productivity
If your agents are not able to meet predefined goals and not putting as much effort into their work, it may be a sign of burnout.
Reduced motivation
An employee who is burnt out is unlikely to go above and beyond for their job. Instead they will perform the bare minimum to get by.
Absenteeism
Upto 17% of employees who call in sick do so because they are tired and have work-related stress. If your agent is suddenly taking a lot of leaves, it can be a sign of burnout.
Agent turnover
Nearly 40% of employees in the US leave their job because of burn out. When employees feel they have to overwork and compensate for the lack of resources, they tend to quit easily.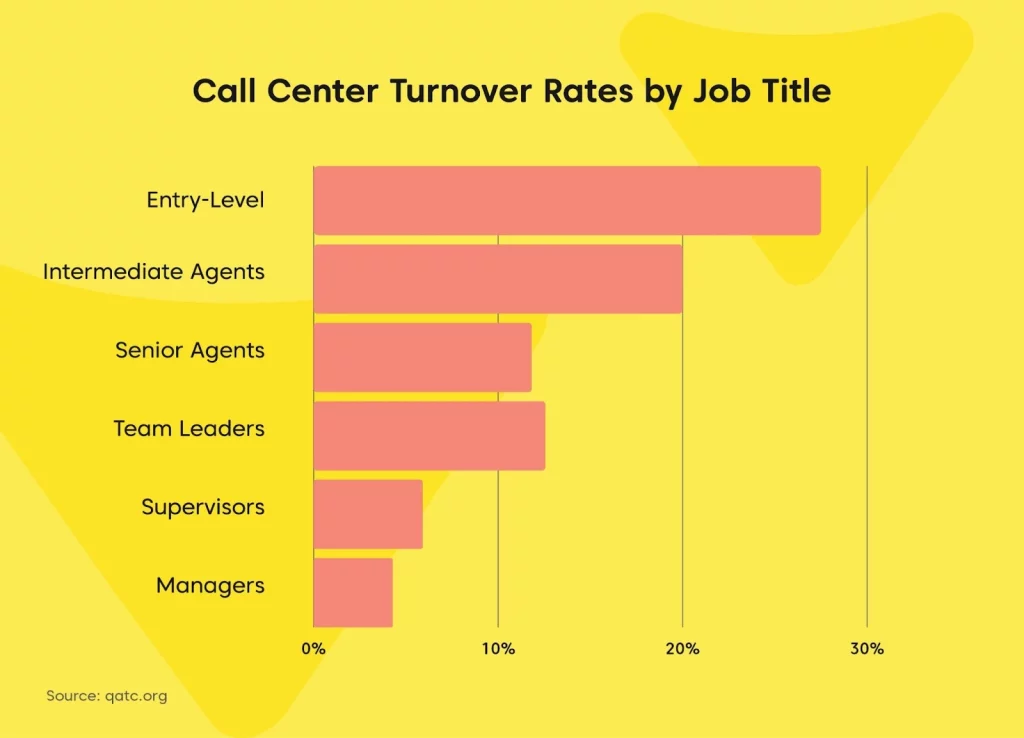 Top factors leading to call center stress and wellbeing issues
1. Doing repetitive work
Call center agents often have to perform the same tasks over and over again. For example, agents are required to follow scripts for both inbound and outbound calls which can make the work tedious.
Besides that, there is a lot of after call work (ACW) that agents do, that is also repetitive in nature. When agents send most of their time on mundane tasks, they will not feel motivated enough to do their job. Although these repetitive scripts and processes ensure consistency, they can lead to a monotonous workday with little opportunities for growth.
2. Handling multiple customer conversations simultaneously
This is a typical customer service issue where agents take on too many customer queries in order to meet their goals and be more productive. Your agent could be handling multiple live chats at the same time, or they could be dealing with a rush of emails from unhappy customers.
The issue is that overloading your team with too many simultaneous tasks will reduce their productivity owing to burnout and the mental strain of juggling multiple tasks constantly.
Overburdening your agents might also leave your consumers waiting in a queue with no updates, making them feel unimportant. Customers value speed above everything else, and they expect you to respond instantly, not doing which can lead them to switch to your competitors.
3. Managing a surge in query volume
Ever since the advent of the COVID-19 pandemic, call centers have been experiencing a spike of up to 10 times in call volume and it doesn't just end at that. Customers are also expecting brands to offer 24/7 support.
This means, agents not only have to handle more than usual queries, but also work night shifts and on the weekends to accommodate more customer interactions. This can inevitably lead to burnout and agents resigning from their jobs due to a lack of work-life balance.
4. Obtaining customer context
Nobody likes to be unprepared, especially when it comes to dealing with angry customers. When you have access to your customers' data across several channels, such as email, phone, social media and live chat, it's much easier to respond thoughtfully and appropriately.
However, combing through every channel and database to learn more about a customer can be tough. Agents may find it challenging to efficiently answer customer queries without access to data.
That's the problem, customers expect your company to understand the context of their query. When customers shift to a different channel, they don't want to repeat themselves, which leads to customer dissatisfaction and attrition.
5. Dealing with angry customers and escalations
Every once in a while, call center agents are exposed to an angry customer. Customers can lash out for a lot of reasons. It can be possible that they receive a wrong or a damaged product for an order they were too excited about or maybe your service has frequent down times. They can get even angrier if you cluelessly transfer their call from one agent to the other.
Most agents dread talking to angry customers as they can get abusive and it's emotionally taxing to deal with such situations. Also, not having the right flow of communication and control or not knowing the right person to escalate the call can be aggravating.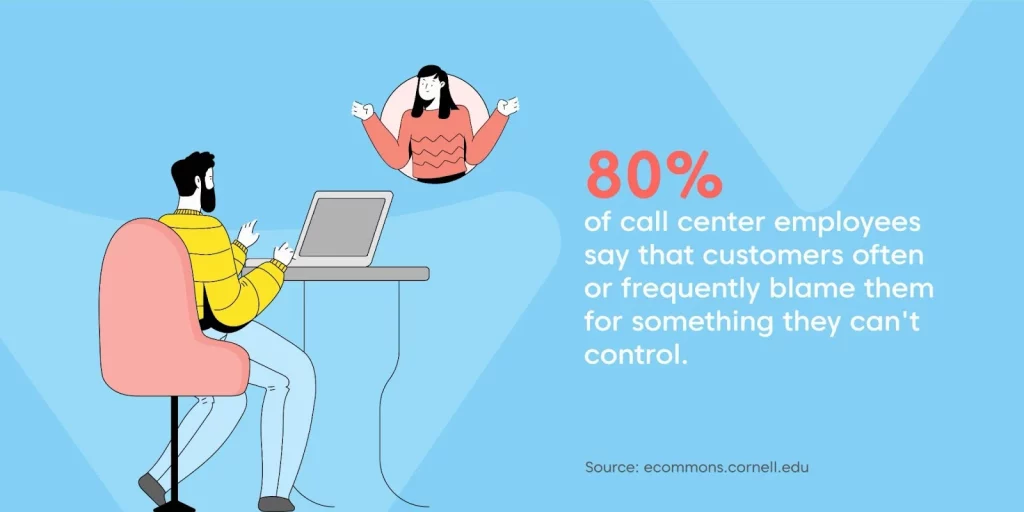 6. Lacking cross-functional collaboration
One of the most common call center issues is a lack of coordination between different teams and agents. Customer service is the duty of everyone in the company, and it extends beyond your frontline agents who engage with consumers directly.
For every customer issue, responsibility must be evenly distributed so that the agents can provide the best service possible. If a pricing or shipping issue occurs, support will need to work closely with the finance and logistics team to ensure that the issue is instantly resolved.
7. Working with technology that's difficult to navigate
Not being able to work efficiently due to out-dated technology can be frustrating for agents. Moreover, poor technology makes handling each phone call all the more challenging for employees and customers alike.
When an agent has to navigate through various systems and customers have to wait on hold for a long time, it negatively impacts the total user experience.
How to fix the causes of call center stress?
The key to fixing customer service stressors is to equip your call center workers with the right tools and technologies. Let's look at a few solutions that can help improve your agent experiences.
1. Deploy voice bots to automate your support calls
With intelligent voice bots that understand and respond to natural language, you can efficiently automate your customer support calls. Voice bots are available 24/7 to resolve repetitive customer queries.
They also help you enable customer self-service, handle inbound and outbound calling as well as escalate to the right agent in real-time. This way your agents do not have to take on more work than they can chew and focus on more complex customer issues.
The best part is bots are not affected when a customer is rude to them. However, they can understand a customer's emotion and respond with empathy.
Get in touch with our experts to build your own NLP-powered voice bot that gives your brand a voice to remember!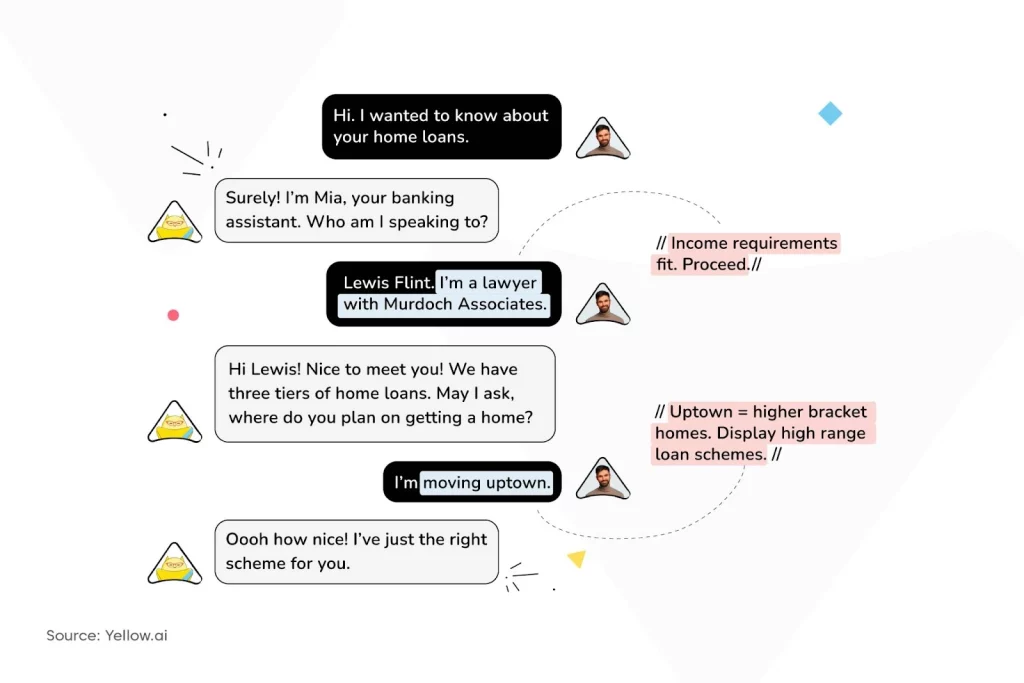 2. Use integrations to your advantage
Integrate your billing software, shipping tools, and CRM with your helpdesk so that agents have complete visibility into each customer's history. Context is very important to understand where your customers are coming from and tackle their problems efficiently. Once. you know their
Look for a customer service software that integrates with your internal systems and supports different APIs.
3. Employ an automatic ticketing system
With all inbound queries that you receive, you should be able to automatically categorize and route them to the relevant team. With customer service automation tools, you can automatically identify keywords in the customer's query and escalate it to the right agent.
If particular issues are pushing SLAs, the automation platform can help you prioritize and auto-trigger workflows for time-based escalations.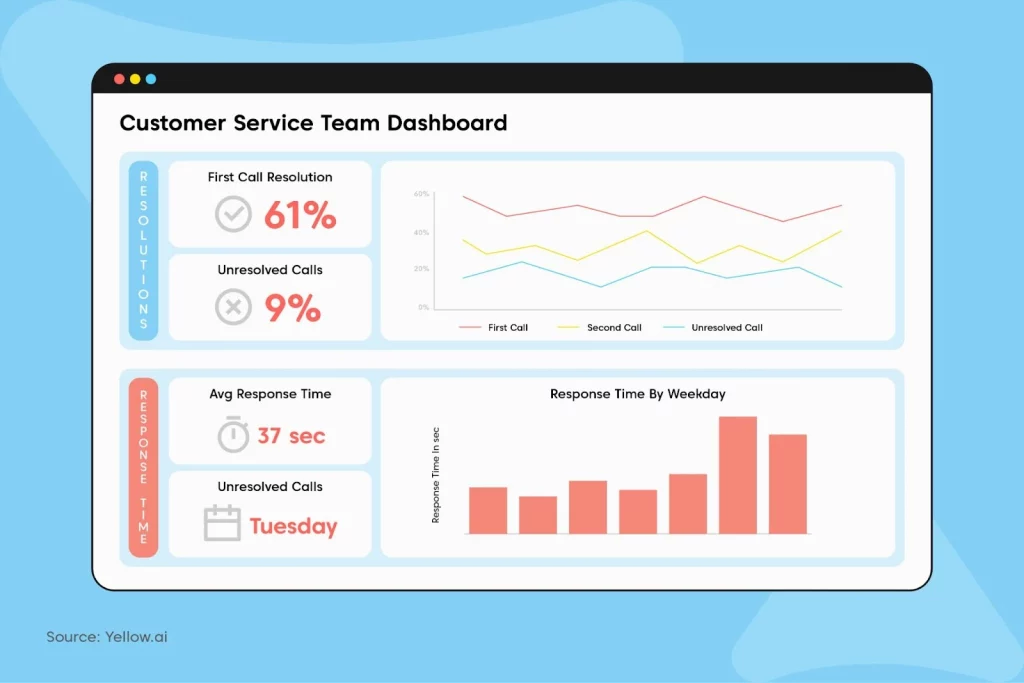 4. Use a customer service dashboard
Get a unified view of the status of all your customer queries at one place. Also, track and analyze key customer service metrics like first response time, call abandonment rate, average wait time, etc, to understand how your call center is performing, improve call experience and increase goal completions.
You can also identify top customer questions, pain points, interests, user journey, etc. to know what your customers are often talking about to modify call scripts and workflows accordingly.
How can Yellow.ai help?
At Yellow.ai, we help you create a customized dashboard for your call center so that you can manage all your tickets from one place and improve agent productivity. Our AI-powered voice bots can handle up to 80% of your repetitive customer queries and calls so that your agents get the time to focus on more pressing customer issues.
Request a demo to know more about how our customer service automation platform can help you improve your agent and customer experiences.