The automotive industry has always been competitive as buyers have a wide variety of options to choose from. Providing seamless assistance to the customers prior to and post-sales can help them get rid of yet another pushy sales pitch. It's time for AI chatbots in the automotive industry to proclaim their benefits and expand their reach to every vehicle. With AI chatbots, you can get a competitive advantage and enjoy easier conversions.
Before making a decision, customers tend to study a lot about the company, the vehicle, its features, customer support policies and a lot more. They usually end up buying for an extra feature or maybe a slightly better experience.
We are living in the era of an experience economy, where consumers don't just buy stuff, they buy experiences. No customer prefers waiting for 15 minutes, for a quick inquiry from a salesperson or a customer service representative. If brands want to win customers, they should keep up with the latest customer experience trends and technologies, especially artificial intelligence.
Top 15 use-cases of AI chatbots in the automotive industry
The importance of conversational AI in the automotive industry is self-evident. Every business has its own reasons and use-cases for deploying AI chatbots to their communication channels. In this section, we will focus on some of the broadly used use-cases of AI chatbots that will definitely prove to be helpful for your business, as well as your customers.
1. Attending customers and answering their questions
AI chatbots when used to interact with the customers lead to many business benefits that otherwise might include a lot of human resources and expenses. Businesses can see how their brand awareness improves with the use of conversational AI.
Due to the high competition in the automotive industry, your business needs to be quick with responses. There must be zero wait time for the customers seeking product information and other details.
2. Scheduling test drives
It is quite difficult and mundane for the employees to take customer's data who intend to take a test drive. This task can be easily completed without any human intervention. AI chatbots are well equipped to collect the data and schedule a test drive for the customers.
With chatbots in play, it becomes easier and hassle-free for both the employees and the customers to schedule a test drive without any waiting time.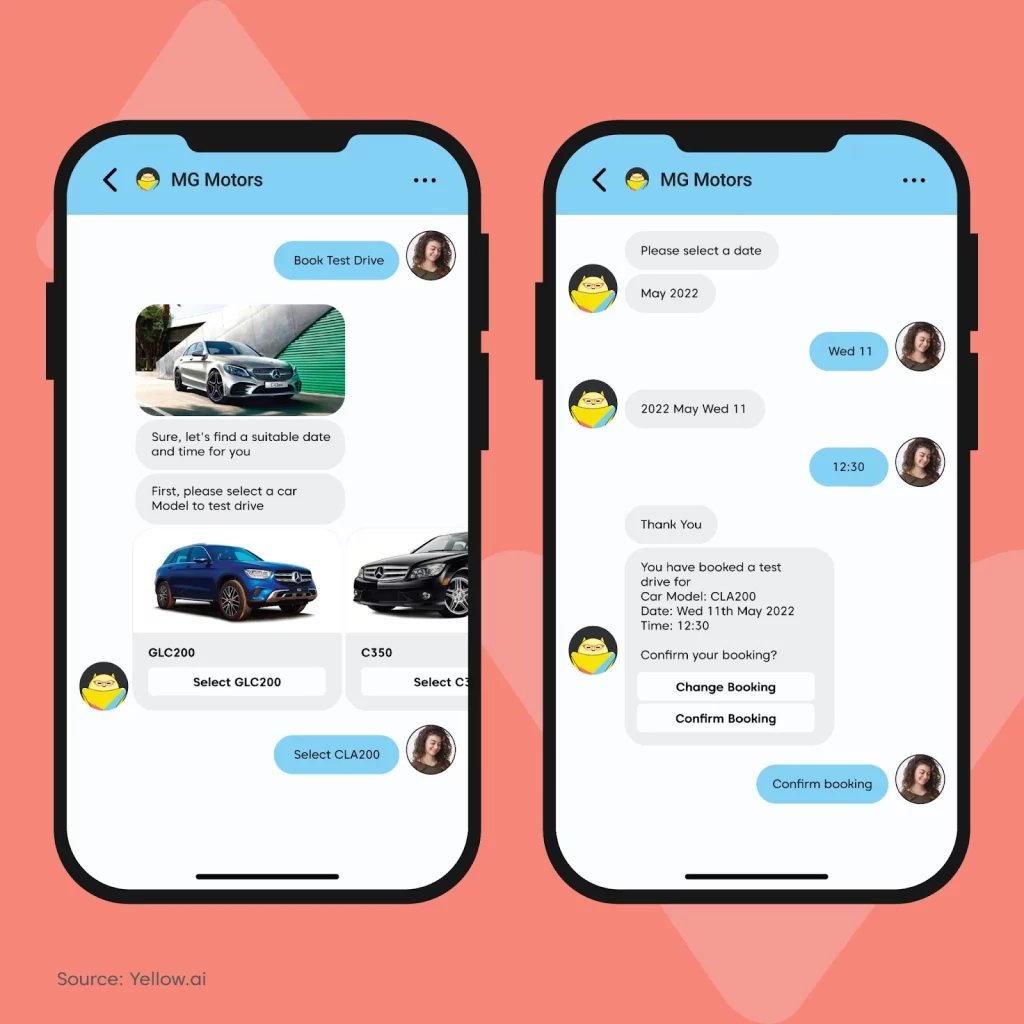 3. Offering purchase assistance
Customers need a lot of information once they decide to purchase a vehicle from your brand. What would be the on-road price, what are the EMI options, when can the vehicle be delivered, what are the available colors and what are the available models, questions like these can be answered instantly by AI chatbots in the automotive industry.
With chatbots, companies can be present round the clock to answer such questions and enable a smooth purchase process for their customers.
4. Calculating loans quickly
Buying a vehicle is a calculated and well-planned decision taken by the customers. Your company can help them by providing accurate information about the loans and EMI options available to purchase your vehicles.
Chatbots can help you do that by quickly fetching and calculating available loans and interest rates. Customers can easily select the best deals and move forward with the buying process.
5. Providing an efficient buying experience
Once your business has provided all the information to the customer, it's time to improve the buying experience. Businesses must provide the customers with instant information about their booking, when can they expect their vehicle and all the other important details.
AI chatbots in the automotive industry can easily do that by automatically fetching information from the databases and sharing it with the customers.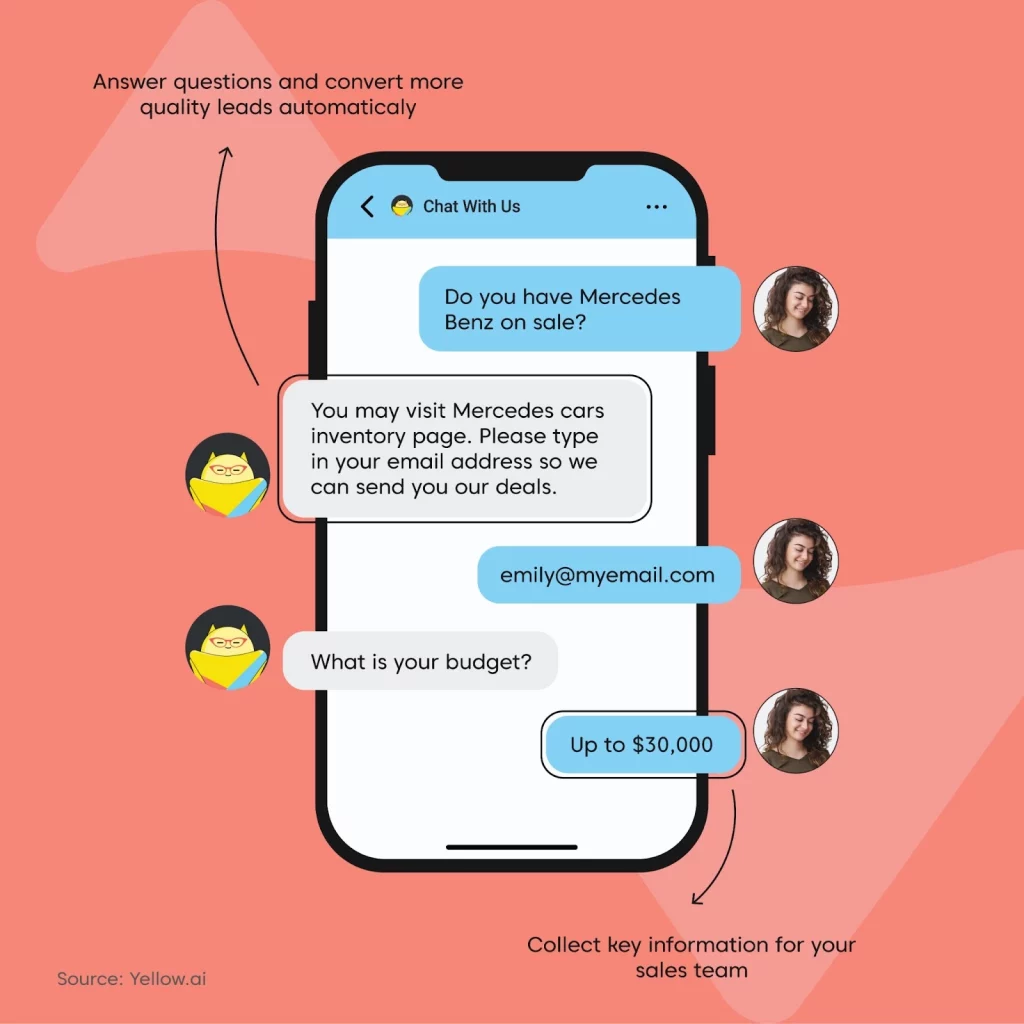 6. Delivering after-sales services
Customer experience does not stop once a customer pays and the vehicle is sold. After-sales service plays a very important role in the overall experience.
AI chatbots are efficient in solving easy and mundane customer queries in a natural language. For complex queries, customer queries are seamlessly handed to the appropriate teams for handling.
7. Gathering customer feedback
Customer feedback plays a vital role in improving the customer experience. Chatbots in the automotive industry can gather customer feedback for each part of their buyer's journey. Businesses can understand the hurdles and work on them for a better customer experience and improved satisfaction.
8. Supporting easy documentation
In the automotive industry, there are quite a number of documents that need to be submitted by the customers as well as the organization. AI chatbots can help in collecting the documents and putting them in the right places. With artificial intelligence, document cognition is also possible with chatbots.
9. Assisting customers on the road
Customers need instant response when on road. They need answers to their queries quickly and accurately. What better resource than an AI chatbot to help and respond to the customers on road.
Chatbots can provide instant assistance whenever needed by a customer and can process their requests in no time.
10. Tracking customer data
Chatbots are very efficient in tracking and managing data. They can track customers' data throughout the journey and deduce useful information. This information can be used to personalize and give customers relevant deals and offers.
Data breaches are also reduced considerably with artificial intelligence as the data is stored in layered databases.
11. Sending service reminders and managing appointments
Timely service is extremely essential for vehicles in order to keep the environment safe and the vehicle smooth and trouble-free. Most companies have assigned human resources to remind the customers about their service dates and appointments.
Scheduling and managing service appointments can be made by conversational AI. It is a repetitive and mundane task and must not involve any human personnel. Voice bots and chatbots in the automotive industry can complete the task.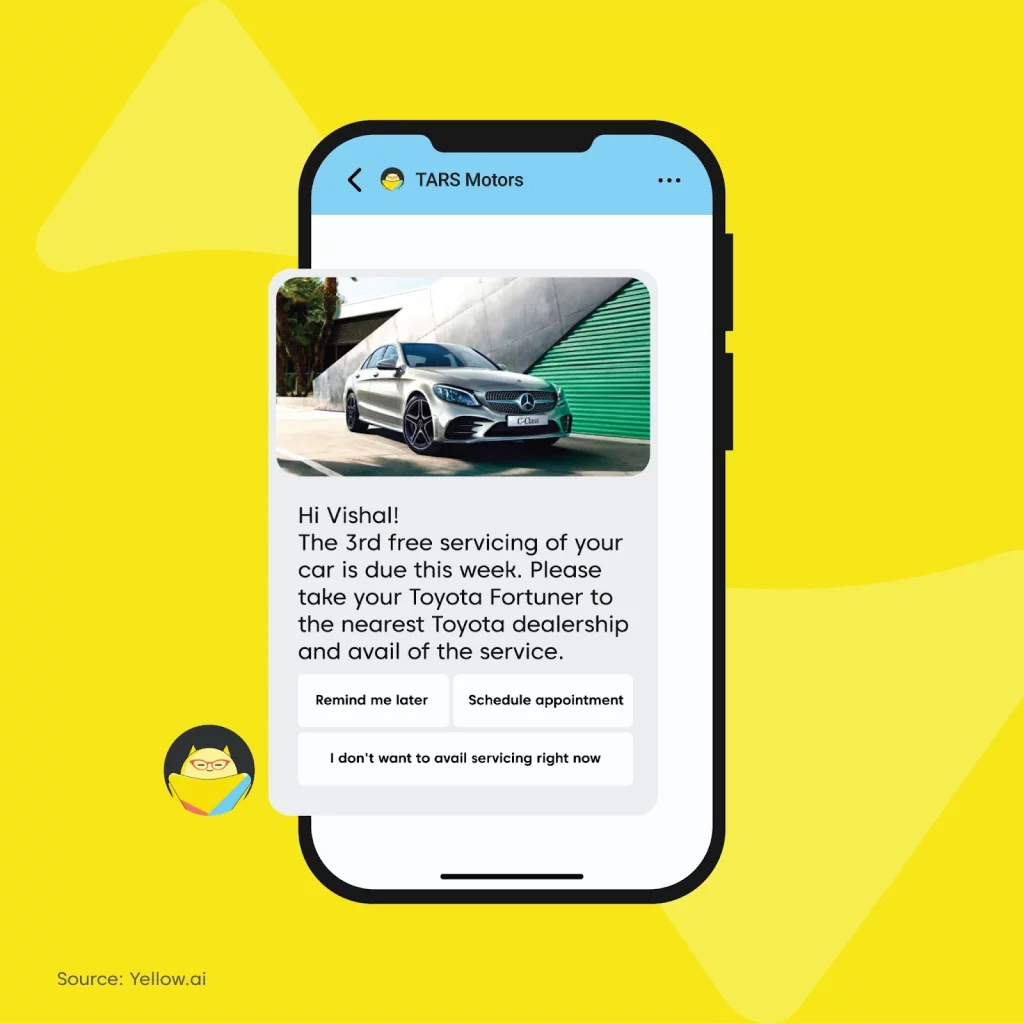 12. Sending notifications for insurance renewals
Businesses in the automotive industry can double the insurance renewals through timely reminders and renewals. AI chatbots can help them achieve this and expand their bottom line.
Customers can be reminded on daily-use channels such as WhatsApp or Facebook. It is a benefit for both businesses and the customers as both of them gain profits from insurance renewals.
13. Enhancing the customer-business relationship
Chatbots today are smart and emotionally intelligent. They can help businesses build a relationship with their customers such that the customers won't go anywhere else if they want to buy a vehicle.
In the automotive industry, AI chatbots share all the details related to mileage, latest customization and designs and a lot more about vehicles. Customers can share their love for their vehicle and communicate their hearts with a chatbot.
14. Providing dealership information
People visiting your website are not just customers. They might be dealers or competitors looking for information about dealerships. You can train your AI chatbots with all the information about your dealership proposal.
If you want to simply redirect them to a call or email, you can do that by simply sharing a link, contact number or an email address.
15. Capturing new leads and nurturing existing
The complete cycle of using automotive chatbots begins and ends with capturing leads. Suppose a customer scrolls through your website, finds some relevant information and bounces off. Another customer comes to your website with a chatbot, interacts, shares their requirements, and leaves their number, which is an easier way to capture leads?
AI chatbots in the automotive industry can be extremely helpful and can help businesses automate a lot of tasks that would otherwise need human intervention. Your business can easily achieve customer satisfaction and customer retention with chatbots in play.
What can you achieve with AI chatbots in the automotive industry?
Looking at the use cases you might have understood that there are a number of benefits that can be achieved by deploying AI chatbots in the automotive industry. Below are a few of them that can be observed instantly after the use of conversational AI.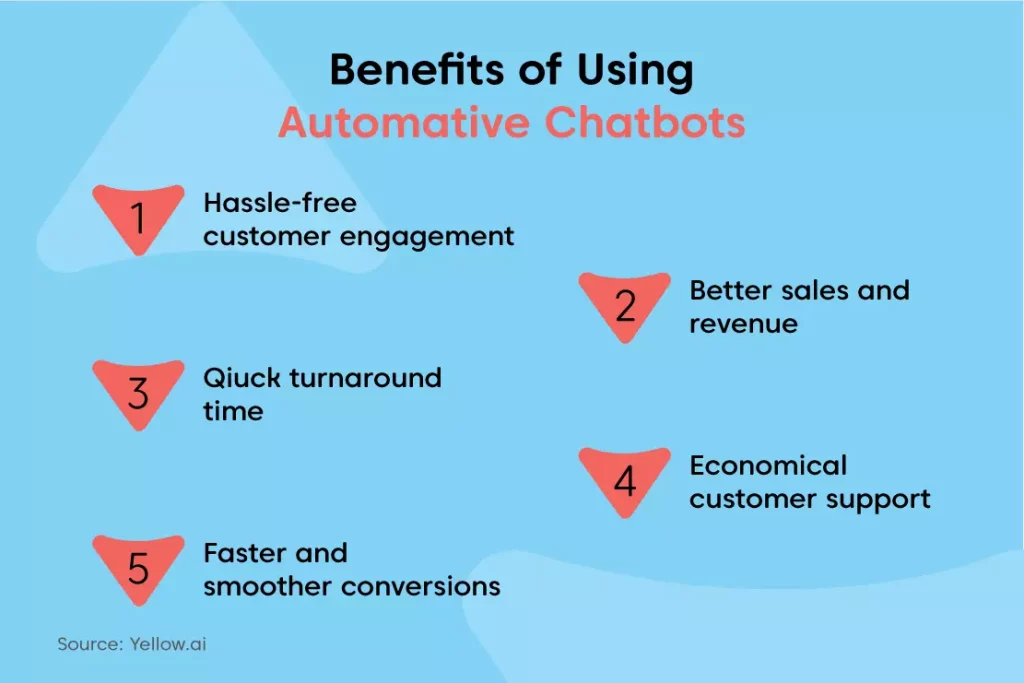 1. Hassle-free customer engagement
Businesses can automate customer engagement with conversational AI. There is no need to engage human resources for the first line of interaction as it can be easily handled by chatbots.
This makes the complete process of customer engagement hassle-free and error-free. An instant improvement can be noticed in the speed at which customers are getting engaged and converted with the help of artificial intelligence.
2. Better sales and revenue
With better customer engagement and improved customer satisfaction, sales and revenue are bound to go up. With chatbots capturing and nurturing leads, customers begin to trust your company and end up making the buying decision in your favor.
Automotive chatbots help build trust among the customers and deliver an exceptional customer experience due to which customers become brand ambassadors.
3. Quick turnaround time
Chatbots are available round the clock to respond to the customers no matter the time of the day or day of the month. They respond as soon as a customer comes up with a query or concern.
Achieving a quick or instant turnaround time is not possible humanly because human beings need time to process the query and type the response. This can be only achieved with automation.
4. Economical customer support
If not AI chatbots, businesses need to hire individuals to do all the repetitive tasks such as sending reminders or calculating loans. This results in spending a lot more on customer support.
Rather, deploying a chatbot is an economical deal for customer support, where chatbots become employees' assistants and help the customers by resolving their queries while human resources work on complex queries.
5. Faster and smoother conversions
The ultimate benefit of improving customer experience is conversions. AI chatbots in the automotive industry can help businesses have faster closures and better deals. Through regular communication and continuous interactions, businesses retain customers and pave a path to loyalty.
The benefits achieved by using AI chatbots are evident and will lead your business to a roaring upsurge in sales and customer loyalty. You don't need to trust us, you can try it out on your own and see the results.
Our customers have seen enormous improvements in customer satisfaction and overall customer experience with AI chatbots in the automotive industry. If your business is ready to take the next step towards being customer-centric, schedule a demo today.
Yellow.ai is the world's leading Total Experience automation platform and would love to help your business with a platform to cope-up with all your conversational needs. Connect with our experts now.