Competition in virtually every sector has become so fierce that businesses are resorting to any and all available tactics to gain the attention of their target clients. As a result, every other business is running multiple marketing campaigns to sustain in this competitive market space. What will set your initiatives apart from the competition? It's effective campaign management.
Read this guide to learn what campaign management is, it's different types and how Yellow.ai can help you in running a successful campaign.
What is campaign management?
Campaign management is the process of organizing, executing, tracking and analyzing a marketing activity, which is sometimes based on a new product launch or an event. Campaigns typically consist of multiple pushes to potential customers via email, social media, surveys, print materials, giveaways and other means, all of which are focused on a single topic or theme.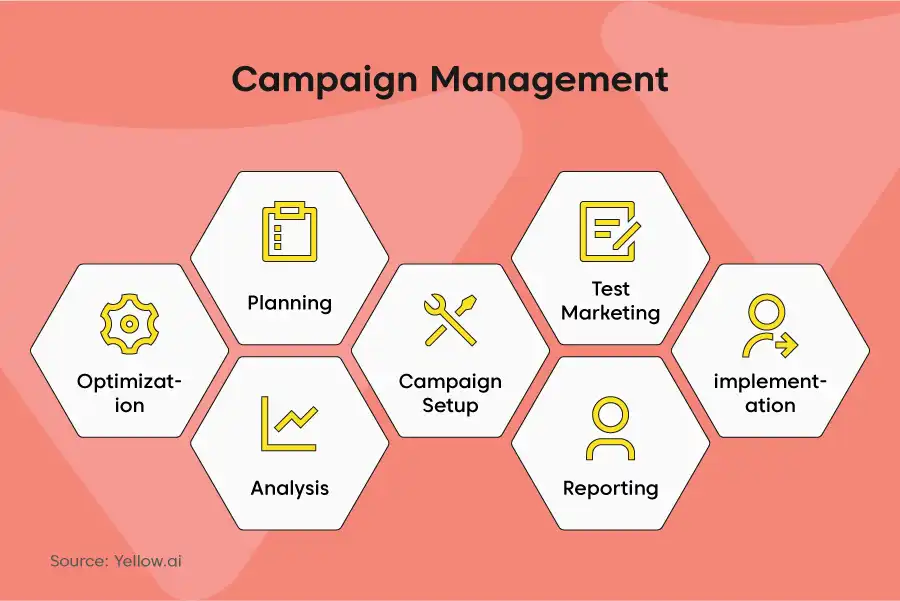 The goal of most marketing initiatives is to convince potential customers to think about a specific problem they are experiencing – a problem that can be solved by using your product or service. These initiatives are essential for engaging your target audience and raising awareness for your company in the marketplace.
For successful multi-channel campaign management, you must gain an understanding of what your target audience is looking for. What kinds of difficulties are they trying to solve? Where do they go to find solutions, and what captures their attention?
Building a marketing campaign that generates conversions starts with setting some goals.
Generating demand for your products and services
Increasing sales and profits
Expanding the reach of your brand
Introducing a new product
Establishing a brand image
Reducing the impact of negative publicity
Types of marketing campaigns
There is no such thing as a standard marketing campaign. In addition to helping your brand name become more widely known, some advertisements are meant to offer a specific service or inform existing clients about product upgrades.
It's important to choose the marketing campaign that will best achieve your company's objectives.
1. Conversational marketing campaigns
Website visitors are encouraged to engage with conversational marketing campaigns, which are designed to be more personalized than traditional marketing.
A conversational marketing strategy engages with your visitors in real time using automated conversations, as opposed to asking them to send you an email or call a customer service number.
Campaigns based on conversational marketing give your company the opportunity to interact with visitors on a large scale as well as on a personal level.
2. Brand awareness campaign
There is only one purpose for a brand awareness campaign: to raise knowledge about your company's identity and the services it provides.
A successful marketing effort should go beyond simply getting your brand or logo seen by the public. The actions of your campaign should expose people to the nature of your company's operations and the quality of your products or services.
The next time the person comes into contact with your brand, if your campaign is a success, they will not only know who you are, but they will also know what your company is about and how you're different from your competitors.
3. Rebranding campaign
Those that are most successful constantly find a way to change their products while remaining relevant.
Exactly for this purpose do rebranding initiatives exist: to bring back popular products or to communicate your company's new set of values to your target audience.
Any way you look at it, the goal of a new branding campaign should be more than just a change of typeface. A comprehensive effort must be made to update a product or demonstrate to your clients that you are gradually transitioning to something new.
4. Search engine marketing campaign
Customers who utilize search engines can be targeted with search engine marketing. You can target people who search for a particular term or a keyword by placing a relevant paid ad in their search results.
Search engine marketing campaigns are a terrific approach to draw potential buyers to your website because up to 80% of new visitors now reach websites through search engines.
5. Social media campaigns
Social commerce or buying directly from social media is highly gaining momentum. So much so that 71% of people prefer social media over websites to make a purchase from brands.
You must determine whether or not you will publish your marketing campaign organically (for free) or through paid advertisements—or both—as well as the platforms you will employ for your campaign.
There are a plethora of different objectives that can be achieved through social media marketing. Visitors who have bounced from your website can be retargeted with ads, and consumers who have abandoned their shopping carts can be pushed to complete the sale.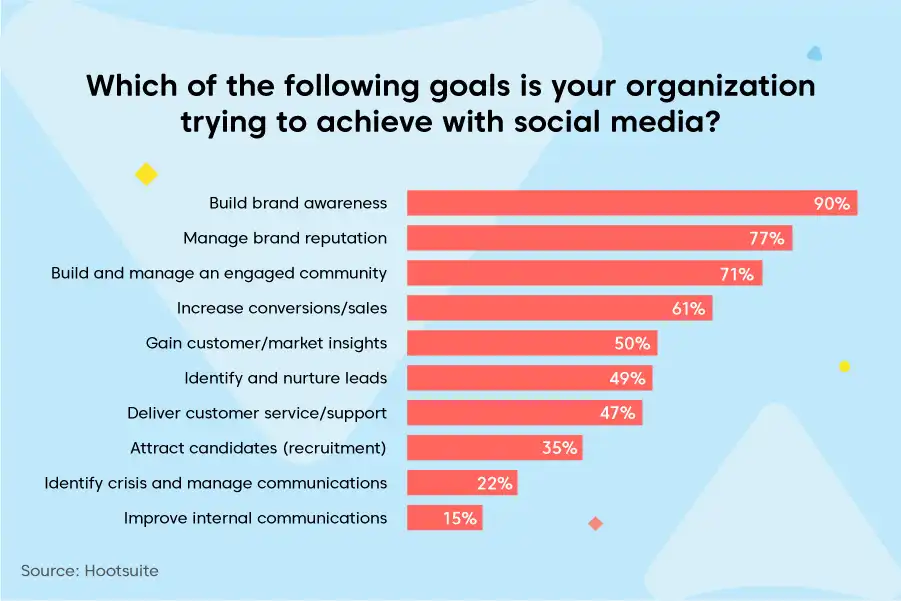 6. User-generated content (UGC) campaigns
The goal of user-generated content (USG) marketing initiatives is to get your audience to create content for you.
The reason for this is straightforward, if your audience believes you're attempting to sell them something, they may get disinterested in what you have to say. Their attention will be much more focused on the content if their friend or a colleague is doing the talking, as it increases the trustworthiness of a campaign.
7. Email marketing campaigns
One of the most popular and widely-used promotional tactics in a marketer's toolbox is email marketing.
It is an effective method of communicating with consumers, both present and potential. Email is still used routinely by 90 percent of adults and, more surprisingly, by more than 70 percent of youngsters.
A well-executed email marketing campaign provides your business with the opportunity to have one-to-one interactions with customers, encouraging them to check out your latest product or simply keeping them informed about upcoming events.
8. Public relations campaign
The goal of a public relations campaign is to spread awareness about an upcoming event or a product launch.
It is designed to ensure that your message is heard by a bigger audience, who will subsequently spread the word about it to other people. It goes without saying that the ultimate goal of PR campaigns is to attract the attention of a different kind of target audience: the media.
Choosing the proper campaign will provide you with a newsworthy angle that media companies may leverage to make it into a narrative and generate even more excitement around your announcement.
9. Product launch campaigns
Creating enough excitement around your product launch to build anticipations and excitement in people is essential to a successful product launch campaign.
A majority of recent product releases aren't getting the attention they deserve, as a recent report highlighted that three-fifth of the audience are unaware about them. This makes it all the more important to design campaigns that create buzz around your product.
10. Referral campaigns
Customers get the best of both worlds by participating in referral campaigns. Not only are they able to recommend a product they love to their friends and family, but also earn rewards for their efforts.
Customers trust recommendations from their peers nine out of ten times, and 83% of people say that if a friend or family member recommends something to them, they are more likely to purchase it as well.
This is why referral campaigns are an effective way to expose your company to a wider range of customers who are willing to give your product/service a try. It is important to not go overboard with rewards or push customers too much for referrals as it can be counterproductive.
11. Search engine optimization (SEO) campaigns
The use of search intent, keywords and content in search engine optimization campaigns can help drive organic traffic to websites.
Several elements such as titles, metadata and keywords need to be optimized in order for your content to appear in search results. There are a variety of other factors that influence how high your content and website rank in a search engine such as your domain authority and page load speed.
To get the best results i.e. higher conversions and better brand presence, it's important to strike a balance between paid and organic search engine campaigns.
12. Partner campaigns
Marketing campaigns involving two non-competing companies working together to promote a product or service to a similar target audience are known as partner marketing campaigns.
The idea is that, if the campaign is a success, both brands will be able to benefit from each other's existing customer base, resulting in a profitable crossover.
13. Influencer marketing campaigns
Influencer marketing is like referral marketing on steroids. Instead of asking your customers to recommend your product to their family and friends, you could hire a popular social media influencer or blog writer to promote your product.
The campaign's success could potentially expose your brand to thousands (or even millions) of new people, allowing you to expand your customer base significantly.
14. Video marketing campaigns
Due to the fact that over 2 billion people watch videos on YouTube every month, video marketing campaigns are an extremely effective tool that every marketer should take advantage of.
Video marketing can be used to achieve a variety of objectives, ranging from increasing brand awareness to promoting products and services. Nonetheless, the simplicity of video marketing campaigns is their appeal: they provide your audience with a quick and simple means of consuming your content without having to read or scroll through a large amount of text.
6 Ways to ensure effective campaign management
Effective campaign management solutions ensure that brands and enterprises deliver relevant, personalized experiences to customers across a wide range of channels and touchpoints. However, managing marketing campaigns comes with its own set of challenges, such as channel overload and ROI attribution as well as automation and personalisation, among others.
So, what can marketers do in order to overcome these difficulties and achieve success?
1. Setting specific goals and identifying your target audience
It is not enough to simply say that you want more clients; you must also be clear about your goals. Whether you want more sales, more new customers or existing customers to buy something new, you should have specific goals before you design a campaign.
The next step would be to always keep your target audience in mind when validating your goals. You need to know who you're targeting and what kind of campaign will resonate with them. If your marketing effort is relevant and meaningful to your target audience, you will have a higher response rate and better conversions.
2. Integrating your social channels with CRM
Customers today want efficient, consistent, and personalized experiences across all channels, including online and offline. This means marketers have to meticulously maintain records of client data (socio-demographics, transaction data, campaign responses, behavioral data) in order to enhance customer experience, which is a tremendously difficult task!
By integrating CRM with other social channels, marketers can have a single and reliable data source on each contact. This way they are better informed about their customers' behavior and purchasing habits, which can help them plan an effective campaign.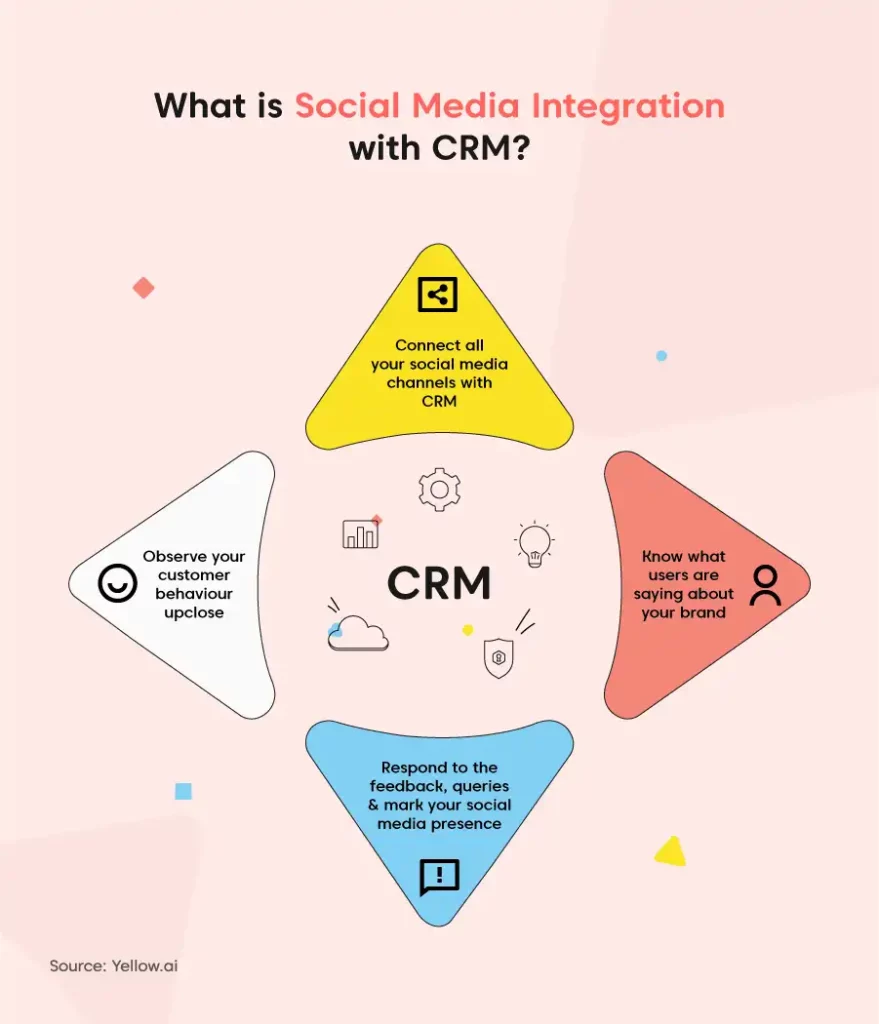 3. Adding real-time marketing to your campaign mix
Real-time marketing is marketing that is done 'on the fly' in order to decide the most appropriate approach to take with a particular customer at a specific time and location. It's a dynamic form of marketing which is more personalized and different for every customer. 84% of companies see the primary benefit of real-time marketing being a 'better customer experience' vs 72% who cite improved conversion rates.
While marketers can stay on top of customer data to identify trends in real-time, it can be a painstaking process. On the other hand, by deploying intelligent chatbots that are integrated with your internal systems like CRM, you can implement real-time marketing with a better ROI.
Chatbots can extract customer data in real-time from your CRM to offer tailored promotions and discounts to a customer. Research indicates that 75% of consumers agreed that they are keen on buying from brands that offer personalized digital experiences.
4. Choosing the best channels
CRight Channeling is devising a contact strategy to reach the right persons at the right time using the right communication channel with a relevant offer, product or message. This allows marketers to correctly align their spend with their return on investment.
An omni-channel approach to marketing campaign management is essential for effective right-channeling. Every channel should be seamlessly connected to ensure that each consumer receives the most relevant offer or message at all times, regardless of the channel through which they are interacting.
5. Tracking your campaign to optimize results
Marketing campaigns are not something that you set and forget. In order to measure ROI and ensure that your marketing initiative delivers the desired results, it's important to implement campaign analytics.
It is now more crucial than ever to have precise analytics for your marketing campaigns. Consumption has evolved to the point that consumers are quite discriminating about which branded media they engage with and which media they avoid. Rather than relying on broader demographics, marketers must rely on analytics to develop targeted personal campaigns based on individual interests.
6. Using a campaign management software
Now, marketers won't have to navigate from one channel to another to manage a campaign. A campaign management software built on top of your enterprise's existing tech architecture can help you manage everything from campaign design, collaboration to execution from a single location.
When campaign management is done correctly, it can result in increased top-line revenue, reduced customer acquisition costs and better ROI. However, along with these opportunities come an equal number of challenges. As a result of not picking the right software for their requirements, marketers run the risk of incurring expensive development and operating expenditures.
How can Yellow.ai help?
Yellow.ai campaign management platform can help you automate and build successful omnichannel campaigns using a drag and drop visual designer. The software facilitates collaboration among marketing teams while also reducing the likelihood of mistakes and delays by breaking down campaign planning and execution into smaller tasks and assigning those tasks to the appropriate team member.
In addition, the platform also assists in testing, monitoring and measuring the success of multiple campaigns across all marketing channels, allowing marketers to gain valuable insights into what is driving performance and what isn't.
Key functionalities of Yellow.ai campaign management software
1. Develop multistage marketing initiatives
Our campaign management dashboard has an intuitive and dynamic user interface that allows you to plan marketing activities ahead of time and schedule the sequence in which your campaigns should run.
You can also create multistage campaigns in just a few clicks using our pre-built templates. If you have a lot of people working on your campaign design, our platform enables you to check the history of the changes made as well as grant or restrict access to capabilities, functionalities and sensitive data.
2. Design omnichannel interactions
Like we discussed, it's important to enable omnichannel interactions so that you are able to meet customers where they are and communicate in a way that resonates with them. Our platform helps you engage your visitors on the channels of their interest, or suggest a more apt. journey – all through our intent-triggered inbound automation.
Not only does it automate the entire campaign management process, but it also identifies trends in customer behavior that may be used to create individualized, highly engaging customer experiences. Determining which channels will be used to conduct a certain campaign as well as the scheduling and sequencing of the campaign, can all be done from a single location.
3. Create customized workflows
Using an intuitive drag-and-drop editor, you can design bespoke processes in addition to the conventional workflow methods that are available. Our workflow templates allow you to create sets of defined activities that will be automatically assigned to a specific type of campaign, avoiding the need to create them from the ground up each time you create a campaign.
In addition, you can rapidly assign responsibilities and tasks to the many stakeholders in a marketing campaign. You may also streamline cooperation within your marketing team by incorporating built-in features such as comments, attachments, and automatic reminders for tasks.
4. Identify and target the right audience
Our platform uses customer data to segment the audience on the basis of qualitative and quantitative demographics like channel preferences, previous shopping transactions and campaign history. This data allows you to identify the type of customers you wish to target for a particular campaign so that you make the best use of your budget as well as drive higher conversions and revenue.
5. Track the progress of your campaigns in real-time
Yellow.ai campaign management platform allows you to keep track of your campaign objectives in a more efficient manner. Tracking the progress of a campaign and evaluating its performance can help you derive useful insights that can optimize your future marketing efforts.
Campaign analytics reveals which messaging and content performs best, as well as how your prospects are responding to your campaign to help you make better decisions.
6. Test and iterate your campaigns
Campaign management does not end when a campaign goes live. You also need to test and optimize the performance of your campaigns for a better ROI. You can perform A/B tests, that are one of the most fundamental techniques for determining client preferences or interests. Multivariate testing adds complexity to the process, but it has the potential to improve personalization for every member of your audience.
Our platform is backed with advanced machine learning capabilities that provide the opportunity to evaluate data that most marketers do not consider and personalize each and every message marketing message.
Add a smart campaign management tool to your Martech stack and set your business up for business
Request Demo